I have admit that when I first played a Williams
Funhouse
, I was not impressed at all. I even recall rating the game very low on Pinside.com and attacking it for being overly difficult and crowded in the center.....I was quickly reprimanded by members of course.

Are these points about Funhouse valid? Well.......yeah, but I think at the time I was more frustrated with the game because I was new to it and well, dammit, it was difficult. I constantly asked myself, "Why in the hell did people like this machine so much and rate it so high?" Something about this machine had to be redeeming, right?
Continue reading Banana's Pinball Top 10 - #5 Funhouse
At #6 on my Top 10 pinball machine countdown is none other than William's
Monster Bash
. Monster Bash is the total package, great gameplay and great theme. I can actually remember growing up and watching the old black and white Universal Monster movies on late night television, dressing up as Dracula year after year for Halloween (you know, when kids use to dress up as monsters), and who can forget 1987's
Monster Squad
, which I saw in the theater.
The classic monster theme is further entwined with, and enhanced by, a rock n' roll theme. The purpose the game is to collect all of the band members, Dracula, The Creature, Frankenstein's Monster, Bride of Frankenstein, The Wolfman, and The Mummy, by hitting specific shots on the playfield, and putting the band together for one big MONSTER BASH! The Creature joins after repeated shots to the left saucer, Frankenstein's Monster by hitting the left stand up targets under the Monster's table, Bride of Frankenstein by traveling down the left and right ramps, The Wolfman by shooting the right and left loops, The Mummy by hitting the pop bumpers and lighting the right scoop, and Dracula by completing the right stand-up targets and lighting D-R-A-C-U-L-A. Completion/Collection of each character starts that character's mode and lights specific shots on the playfield for additional scoring bonuses; modes can be stacked.
While assembling the band, you can also work to collect each monster's instrument by shooting the ball into the Mosh Pit. Instruments can also be collected by finishing each associated monster's mode. Once all six instruments are collected, "Monsters of Rock" mode lights for additional scoring. The "Mosh Multi-ball" feature can also be lit by ripping the center spinner 6 times.
Monster Bash is a fun, loud, and exciting pin. The call outs are some of the funniest out there and are integrated well with the shots and objectives. Another of those high priced pins due to it's popularity (in the Top 5 on most pinball enthusiast's lists), Monster Bash is rarely found now on location, but it can't hurt to check out your area:
http://pinside.com/pinball/map/where-to-play
. However, if you do run across one out there, be sure to throw in some quarters and enjoy. Wolfman certainly has nards, and so does this pin!
Well, I'm halfway through my Top 10, so here is a recap of my picks:

#10 - High Speed
#9 - Banzai Run
#8 - Attack From Mars
#7 - Diner
#6 - Monster Bash

Say tuned......
Coming in at #7 on my Top 10 list is Williams' Diner. In the mid-80's, Williams made some of the most incredible System-11, original concept pinball machines ever created. I might be biased, since these are the machines I played during my late childhood/young adult years, but I guess every list is biased to some degree. Diner is a restaurant themed pin where the object of the game is to wait on, some fairly non-PC by today's standards, customers. Customer's call out their dishes (an appetizer & an entree) and they are served by hitting the two banks of drop targets in the center of the machine, which are located in the middle and to the right. Once you have served all 5 customers, the "Dine Time" jackpot is activated and you must make the release shot and collect the value on the backbox clock, which can be up to 12 million points (increased during the game by continually ripping the left ramp)!
The backbox area is one of the most innovative and fun features of this game. The artwork is great and depicts a classic streamline diner. The customers located on the playfield that you are serving, also appear in the diner windows and actually bounce around as the machine moves. They are actually plastics on springs that are located behind the backglass and help to give the backbox a sort of 3-D effect. As previously mentioned, the clock plays a big role in scoring for this game and is also a prominent and fun feature on the backbox.
Another great feature in the game is the cup and saucer shot located at the back of the playfield. If you are able to spell out D-I-N-E-R by shooting the right ramp multiple times, a timed cup shot activates for the right ramp. During this time, a ramp diverter moves and instead of your ball traveling around the ramp in it's normal fashion, the ball spins out in the cup for a big score. (**See 2:25 of video)
Multi-ball is another fun and high scoring feature of Diner. For multi-ball, you must also complete D-I-N-E-R via the right ramp shot to light the LOCK. What is really interesting is that completing D-I-N-E-R gives the player the option to either lock a ball, or shot the cup shot depending on preference; once you active one of the features, the other one disappears. After lighting the LOCK, the left ramp raises and ball must be shot beneath the ramp in order to capture it. After plunging your second ball, the object is to start multi-ball by making the release shot to the left of the right ramp. During multi-ball, make the Rush 1 (same as release shot) to light Rush 2 (located at the kickout hole to the right of the right ramp). Making both Rush shots results in a super scoring bonus.
The left ramp can be shot multiple times for cash register bonuses and to light the extra ball. Many tournament players will continually rip this shot, since it is fairly simple to make and provides decent points and very low-risk shot.
Not only is Diner a fun machine to play, but the artwork and stunning incorporation of the theme really pull it together as a complete package. Diner is a great machine that after much careful consideration, deserves a spot on this Top 10 List. It is an older machine, but if you can find one, PLAY. IT......or better yet, BUY. IT. You won't be disappointed.
"Order Up!"
Coming in at #8 on my Top 10 pinball countdown is a highly sought after machine from 1995, Bally's "Attack from Mars." Attack from Mars (AFM) is a fun, flashy, and brilliantly themed pinball machine, and is in no way related to "Mars Attacks," the film which came out a year later. Being a fan of the monster films of the 1950's and 60's, AFM is a not only a well-constructed machine, but also one that is comical and keeps you involved in the game. It's no surprise from the title, but the game centers around Martians attacking the Earth. As the player, you take on the role of a military agency moving from city to city (France, Germany, Italy, England, and the U.S.) in an attempt to destroy all of the Martians and their saucers and thwart the alien invasion (aka achieve "Total Annihilation").
One of the best features of AFM is that it is a good game for all levels of players. The main shot in the game is the center drop bank/saucer area. Continually bashing the drop bank causes it to eventually lower and allows you to shoot at the saucer stand-up targets. After multiple hits to the saucer targets, the center drop hole is opened and putting a ball through it, captures the ball, and destroys the saucer (a great display animation and a super light and toy feature - *see video below*). Scoring is also very high in this game and even the poorest score looks very grand to the more novice player.
AFM also has several modes that can be activated by multiple shots to left and right ramps, the left and right loops, and a shot to the scoop when lit. Another fun feature of AFM is the "achievements" that light up at the bottom of the playfield (near the flippers), as you activate them. These include: super multi-ball, super jets, 5-way combo, total annihilation, Martian attack multiball, and conquer Mars. Completing all of these achievements gives you a huge bonus called "Rule the Universe."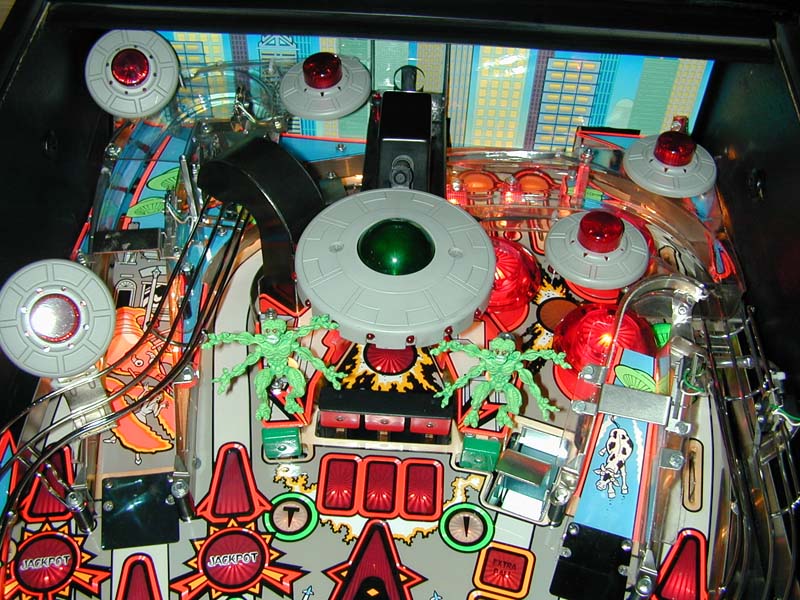 One of the most fun modes in the game is the Martian Attack mode. This is activated by completing the M-A-R-T-I-A-N stand-up targets located all around the playfield. Once all are lit, a shot to the right scoop actives this mode. During "Martian Attack," the small, rubber martians located around the playfield begin to bounce up and down. To make them stop, you must hit the stand-up target in front of them. Destroying all four of them actives the Martian Attack 2-Ball Multi-ball.
AFM is loads of fun and a machine that will keep you pumping in quarters. It is a highly prized machine for collectors, and as a result, is not only difficult to find on location, but is very expensive to purchase (I've seen them sell for anywhere between $5,000 - $10,000+, depending on their condition). If you ever have the chance to play one, do not pass it up. A sequel to AFM, "Revenge From Mars" was created in 1999, and was one of the last made by Bally/Williams before closing their doors. It was released as part of the Pinball2000 series and included a monitor over the playfield onto which color animations were projected.
Attack From Mars Tutorial
When we last left our hero, he had just purchased a Fathom pinball machine from a local estate auction. She was really nasty and needed a bit of TLC. She was not playing 100% and our hero and his friend came to the conclusion that the game was stuck in tilt mode. The appropriate wires for the tilt were disconnected and she was brought back to life. Now it's time to make her pretty again.....Here comes Part 2 of Singlebanana's exciting pinball restoration blog!
After getting the old girl in working order, the next step was to do a thorough cleaning of the machine. I typically start out with a bucket of water and a few soft cloths to rub down the playfield, plastics, cabinet, etc. (never do this with the machine on). Once it's clean, I tackle tougher areas with a damp Magic Eraser and rub slowly to ensure that I don't work off any of the paint. As I go through the machine, I make sure to have a pen and paper to write down any parts that I feel the machine may need; if I don't I typically forget some parts when I order. Typically parts companies use USPS flat rate shipping, so it's best to get it most of your parts at one time. It sucks to have to pay $5 in shipping on a $2 part. If you have friends who have machines as I do, give them a call to see if they need any parts while you are ordering. This way, you can not only help them out and have them call you when they put in an order, but you can also split up the cost of shipping.
After the cleaning the machine, I was fortunate enough to have some white rubbers lying around, so I began disassembling small areas of the machine to replace them. If you ever have left over parts, or even used parts, it's good to keep them around if they are in decent condition. I can't tell you the number of times that I have needed some random part and have just happened to had it from a previous restore. While replacing rings, I also cleaned the colored posts with Novus #1 plastic cleaner. I was able to replace a majority of the rings, but decided to add a rubber ring kit for this machine to my ordering list. Rubber rings are typically sold in packs in which sellers have already sorted them by machine title; they have all of the sizes you need for your machine and some sellers will even insert a guide to help you place them in the correct spot. Rubber rings and balls should be replaced for every machine you buy, unless the seller has just replaced them and they look new/almost new to you. Rings get stretched out and loose their "bounce" over time and balls can pit and cause damage to your playfield.
While putting on new rubbers, I also took off the playfield plastics and used a standard plastic cleaner on them (Novus #1). They ended up looking really good, but one of them was cracked around a screw (from an apparent over-tightening...NEVER overtighten anything, especially around plastics, they need a little give) and they were yellowed in the clear areas from age. I made the decision to buy a new set, but considering I bought the machine for a lower price than I expected, I had planned for new plastics, just in case, and since the new set came with a sweet topper, I decided to order them. I'm also a bit of a perfectionist when it comes to the machines I am going to keep.

Initial Parts Order:
New plasticsRubber ring kitLeg leveler - 3" long nylon base
- these are the feet which attach to the legs of the machine. Typically, these look bad and rust out very easily. These are cheap and essential in keeping your machine level. They make special slider feet if you are putting a machine on hardwoods.
Nuts 3/8-16 hex 5/8" flat to flat
- usually not included with the feet and must be ordered separately, this nut keeps the feet in place.
Bally Coin Door sticker
- just a cool sticker on the coin door, mine had faded severely
FATHOM (Bally) Drop target set (15)
- drop targets discolored from fading, some of the center targets had been replaced at one time and were not correct for this machine
Springs
- for each drop target, like rubbers, they get stretched out over time and need replacing
Flipper & shaft
- current white flippers discolored and dingy looking, cheap to replace.
Coil sleeves
- these go inside the solenoid which fires the flippers. The end of them mushroom over time and can affect the power of your flippers, very cheap and should be replaced for older machines
Bushings (flipper)
- the plastic that goes through the playfield and houses the flipper shaft, another cheap replacement, since they wear and gunk up, improves flipper performance
Spring (barrel ball shooter)
- mine has rusted out, but was working fine, another cheap cosmetic fix
Cabinet protectors 4 piece set (YELLOW)
- these plastics protect your cabinet where the legs and cab meet and keep the metal from digging into the wood, plus they look cool.
The rubber rings and plastics came in on Friday (had to order parts from two places), so I was able to replace all of these on the machine this weekend. Also waxed the playfield (with pinball specific wax, Mill Wax) after a through cleaning and used chrome polish on pertinent parts. I also had some blue LED lights that were incorrectly sent to me from another order (again, glad I kept them) and I installed these in the pop bumpers. Not the clearest pics, but hopefully you can tell the improvement from before and after.
My other weekend project consisted of sanding and adding some fresh paint to the legs. I picked up a coarse sanding bar and some black Rust-o-leum textured spray paint at Lowes. Luckily, this machines original legs were black, since chrome is a tough repaint and rarely comes out well, new legs are pretty expensive. They turned out well and I ended up putting some new leg bolts with black heads on order, since the current ones are a little rusted out. It's tough to repaint bolts, because the paint tends to rub off when you tighten them.
When purchasing the spray paint, I also picked up some new 6-1/2" screws and 6-32 hex nuts. These are very cheap items and do wonders in making your machine look great. Some of the old screws were rusty and this cheap fix really stands out. The hex nuts replaced the white rubbers which secured the plastics down; the chromes gives it a great look and a much more stable device to hold down the plastics. You can see some of the new hex nuts, screws, and rubbers in this photo:
So far everything is coming along nicely. I'm really not looking forward to replacing those drop targets, which will be tedious, time consuming, and put the machine out of play for a week or more, but I know that I will be very pleased with the results. However, until the new parts get here, it appears that someone else in my house is really enjoying banging away at our new toy....
As many of you on the site know, along with collecting classic video games and systems, I have a big interest in playing and working on pinball machines. I bought my first machine on August 6, 2011, an electromechanical pin called Spanish Eyes (1972) and I've owned a total of 9 machines since. Many of them I have fixed up, played for several months, and sold. I recently picked up one of my favorite machines, Bram Stoker's Dracula (1993) and am currently restoring a favorite from my childhood, Taxi (1988), a machine I picked up in February earlier this year. In April of next year, I will be driving up to Pittsburgh to attend, maybe play in, Pinburgh 2013.
http://papa.org/pinburgh2013/
Anyway, while my Vectrex Interview Series #3 is in the works, I thought I might do a Top 10 list of my favorite pinball machines for those who might be interested. I'm a member of Pinside.com, a great source for pinball collectors and enthusiasts, and through their rating system, I have been able to keep track of the pins that I have played (currently 112!) Though I've rated the machines on this site, the categories for ranking don't necessarily reflect my favorite machines. Though I recognize the flaws in some of my favorite machines, they are often not such that it takes away from my enjoyment of them. Sure, the artwork might not be the greatest on some, but the features, the experience, or even the nostalgia may outweigh what others might see as imperfections.
Coming in at #10 is a machine I played quite a lot growing up, High Speed. High Speed is an early alphanumeric solid state machine that was made by Williams in 1986. The game was designed to simulate a high speed chase from the cops in which the ultimate objective is to escape their pursuit. The game's designer, Steve Ritchie claims that the concept of the game is based on the true story in which he was once chased by the police in his 1979 Porsche 928 and charged with reckless driving. What I really appreciate about High Speed is how the concept is well integrated into the design of the machine. Ramps and loops are designated as freeways and when you plunge the ball, you hear the sound of an engine reving and a car peeling off. The machine even has a red light topper that flashes during the pursuit and police call outs simulating a call into the station and instructing you to pull over. High Speed also has a side ramp, which presents a greater challenge, since it can only be reached using the 3rd flipper located in the upper right playfield.
What makes High Speed especially attractive is the history of the machine. It wasn't the first machine to have sound (Gorgar - 1979), but it was the first to have an original musical score. High Speed was the first Williams pinball game to use alpha-numeric displays and was the first game that allowed players to enter their initials for a high score, which was very revolutionary since it gave players an incentive to pump in more quarters. Over 17,080 units were produced, so it's a fairly common title to find; however, due to its popularity and age, they are typically in pretty poor condition. High Speed was basically remade in 1992 as The Getaway: High Speed II and had the same basic playfield layout, but included a metal Supercharger centrifuge ramp to left center, an animated dot-matrix display, and ZZ Top's "La Grange" as the score.
**Gameplay and Tutorial (be sure to watch in full screen**
Just wanted to post a few new pics of the game room. I think it's coming along well. Not going to post all my pics on this blog, but am providing a link for the curious:
http://s1029.photobucket....necrom99/Game%20Room%202/
You've come a long way baby.....
Entrance:
Long view, with back wall and controller peg board (no Crabby, I haven't painted it black yet.....):
Console shelf, well it was wire-free for presentation, but I decided to hook up 10 systems to my TV and make it more function (hence wires). The Coleco is hooked up to the small Space Saver TV on the shelf. I have 14 systems in my house ready to go at any given moment. You will notice that since last time I added an upper shelf to give myself more room as I was running out of space.
no lie....
Work station table where I clean games and play 2600 and Vectrex. That orange thingy is a pretty cool 8-track player I found at a thrift shop. Maybe a few of you actually know what that is:
Drawers for handheld systems and games. These are opaque, but with the flash you can see through them a bit:
Probably my coolest local find:
Classics:
Some of my 2600 collection:
My favorite collection VECTREX!!!!
Fami collection. Yes, I do labels on the ends of the carts....what of it?
Other random room stuff:
And last but not least. The best apology letter I have ever received from a seller in Japan. I ended up getting two games for free from this standup gent. It also came with some cantalope Halloween candy which of course I saved. Whaaaaaaa???

Well well, it has been too long since we have done one of these, and honestly, too long for me to be away. This summer was really busy working on our house & my job and family. With winter coming soon, and more time being laid off due to the freezing temps and piles of snow, I will have more time to be active on the site. So i figured we could pick up where we left off, with a new interview! Also look for new reviews, interviews and other content. As well as a ton of updates in the DB. This time I ask singlebanana a few questions. He joined in summer of last year and has been a great contributor of articles and is currently on staff as a blog writer. READ HIS
BLOG!
Rich aka singlebanana
Preview
Location:
Summerfield, North Carolina
Where does your screen name come from?
The name actually comes from my frustration with the game MarioKart 64. My friend and I played the game when we would unwind during grad school. We noticed that every time you were in the lead and ran over a box, the majority of the time all you got was a dreaded single banana.
MarioKart has wasted many hours, How did you find RFG?
A guy I went to high school with, DevIancE on RFG, knew I was a collector and directed me to the site.
What made you stay and become part of RFG?
I enjoyed the articles, blog posts, and the ease and thorough nature of the database. Plus, I've met some great people to trade games with.
Have you ever met or personally know anyone at RFG?
Just DevIance.
Basics
Number of Games Owned (at time of printing):
1,605 (a mere infant compared to some on here)
Number of Games on Wishlist (at time of printing):
140
Number of Systems:
Around 25
When did you start collecting?
I guess I've been "collecting" since I was five (1982 to be exact), but I just realized I was an addict this year when the volume of games I was buying really started to increase.
What was your first system you owned?
Sadly, the notorious Atari 5200. Asked for an "Atari" for Christmas expecting to get a 2600, which all my friends/family had. Neither I, or my parents knew that a new system had just been released. It was an awkward Christmas morning. Ironically, I'm looking to purchase one now...go figure.
What was your first game?
Got a few games all at once that fateful Xmas morning, so here goes: Congo Bongo, Galaxian, Pac-Man, and Popeye.
Man, Santa didn't like you much, What was your first game you bought yourself (if different from above)?
T & C Surf Designs for the NES, had that sucker on layaway for 6 months...enter disappointment.
6 months of waiting for that? What made you decide to buy that particular game?
I was into skateboarding at the time, guess I thought it would be "gnarly."
First game you ever beat?
Contra for the NES. I actually beat it the first time I played it over at a soccer team sleepover at a local rec center. 30 men code of course.
I was gonna say, first time, holy crap. Have you ever broken anything due to frustration from a game?
I kicked a folding chair once that just happened to fold up and topple directly toward my bedroom window in slow motion. Luckily, only one pane of the window broke. My parents still don't know about this, so I'd like to keep this information hush hush. I believe the game was Kid Icarus, which yes, I finally beat.
Kid Icarus was really fun, hard but fun, and I can see why you broke a chair with that haha! But we will keep that on the down low.
Interview
Are you collecting now, if so what anything specific?
I'm a cartridge guy. I primarily collect for the Atari 2600 and NES that I grew up on, but I'll grab a few of the more popular/recommend games for SNES, Genesis, SMS, and N64 when I can. I also have a Vectrex fetish that stems from spending summers at my great grandparent's lake house and a convenience store within walking distance that had a Tempest cabinet.
When did you feel a tipping point from gamer to both gamer and game collector?
Earlier this year when I found myself going to flea markets every weekend to "hunt."
More of this flea market hunting, we never have them around me, sucks

What are your goals as a game collector, how have you developed them, and how do you feel about your progress toward them?
I'd like to put together a complete collection of loose NES games and grab as many 2600 titles as possible, though I know the impossibility of doing so. I feel like I have a pretty good start on the former.
Big goals are good to have, how many games, systems, etc. are "enough"?
enough? - "does not compute"
What's your proudest moment as a game collector?
Finding a prototype of Gremlins for the Atari 2600, which I bought at a local thrift shop in NC for $2.16.
What's your least proud moment as a game collector?
Passing up on a complete boxed 5200 system and about 8 games for $40. In my defense, the controllers were beat up and missing grips. I felt that if someone had treated the controllers that bad, then the system was probably shot as well. The flea market where I saw it was a few hours out of town and when I returned a few weeks later, it was gone. It still haunts me.
I know we all have those stories, don't worry, they happen to us all! If you had to give part of your collection away for a worthy cause what part would it be, and why?
Definitely the N64, I converted from Nintendo to Playstation in college and never had one until this year. Wow, giving up a fairly cheap system...upon reflection, this answer is pretty selfish.
Wow really the N64? Where/how do you store it all?
I just moved into a new home in April of this year. Luckily, it has a third floor with a playroom for my kids and a small office for myself. My wife has been kind enough to let me turn it into my gameroom.
Nice, I need to add on to our house for that! What's your favorite part of your collection?
Right now it's my Vectrex, but I suppose that's subject to change. I get pretty geeked over the vector graphics and the overlays.
What about a favorite series?
Big fan of the Bust-A-Move puzzle games.
What is your guilty pleasure when it comes to gaming?
The kids games on the 2600, especially Cookie Monster Munch and Big Bird's Egg Catch. Ironically, I don't have the latter yet, but I remember the bouncing hens on their nests well.
I am seeing a trend here in these interviews, always going back to the kids games. What is the most valuable part of your collection(Value or sentimental)?
There is nothing too valuable in my collection, but I'll go with my Vectrex.
What game do you have the most nostalgia for?
Probably Grand Prix on the 2600. My grandmother use to play it with my cousin and I when we were very young. I distinctly remember the electrocution sound of running into other cars in the game and my grandmother's high pitched scream when she would crash.
A grandma that plays is cool in my book. What would you like to improve in your collection?
I'd like to beef up my 2600 collection, which is currently around 336 games.
What do you think was your best deal while game buying?
Snagging Aero Fighters (SNES) from a flea market vendor for $5.
What item in your collection do you feel you overpaid for?
Pole Position and Polar Rescue (CIB) for the Vectrex.
Good spending is crucial in collection. What do you feel is the strangest or weirdest item in your collection?
Several months ago, I purchased a Panther light gun that looks like a semi-automatic handgun for .99. From the research I've done, I have only been able to find one online that is similar and plugs into a PS1. This one has an Atari/Genesis plug on the end. I'm sure it's for a bootleg system, but I think it's cool.
What item(s) do you not have in your collection that people are surprised to hear you don't have?
Probably an XBox 360 or a PS3. I'm not adverse to having newer consoles and do own a Wii, but I honestly wouldn't even know what to buy if I ever considered purchasing one. I'm just the kind of person who is not in a hurry to get his hands on a new system or game. Even with Wii titles, I tend to wait to buy used copies or new ones that have dropped in price considerably.
Not to surprising, I don't have any of the new age systems at the moment! Is there any way you'd ever stop collecting?
Maybe if my wife put her foot down. She's not a gamer (though she can be tempted by the occasional game of Warlords), but she's very cool and supportive of my collecting.
Nice, sounds very similar to mine. She did ask me to get rid of a few things that weren't my favorite and I was fine with that. Do you have a funny story about your collection?
My friends and I will call in for a mental health day about once a year to game. We fittingly refer to as "Nintenday." There have been songs written about our exploits. Is that too weird?
That is awesome, I would do the same but I get the entire winter off to play!

Have you ever had to move your collection to another house? What was it like?
Yeah, I recently moved my collection in April. At the time, I had just under 1000 games. Our old house was very small, so I had everything in our guest room and boxed up to keep it out of site. Since everything was already boxed, the move was quite easy....except for hauling everything up two full flights of stairs at the new place. We used movers for the larger stuff, but of course I did the games myself and wouldn't let anyone else touch them.
If your significant other told you no more games, what would you do?
I'd probably have to concede. If she told me I'd have to sell the ones that I already have, then there would be an issue.
What percentage of your games are still sealed?
less than 1%
What percentage of your game have you actually played? Completed?
probably about 50% played; as far as completed, probably well under 5%. Can you ever really "complete" Atari games though? I could totally score some Activision patches if they would still let me send off for them.
Do you own any complete collections (every game for a certain system)?
No, but I'm working toward a complete NES collection at the moment and am very close to completing an originally released Vectrex collection.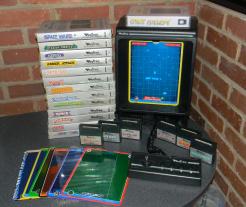 I am the evil interviewer with these questions....

What is your favorite game of all time?
Missile Command is my favorite. I'm not sure why, but I've always loved this game and pick up copies for various systems whenever I can and Warlords would be my multiplayer selection
Least Favorite?
Since E.T. is too generic, I'll go with the Swordquest series on the 2600. What a bunch of nonsense!
Others
Do you collect anything else besides games?
Vinyl, a few G.I. Joe action figures (1982-1987 exclusively) when I find them, DVDs, and many books which I'll probably never read.
What do you outside of games?
Work, spend time with my wife, wrestle with my 2 year-old daughter and newborn son, drink with friends, listen to indie music and attend shows.
What other features would you like to see more of at RFG (Example: Reviews, Articles, Interviews, Previews, etc)?
I'd like to see more pre-NES game and console reviews.
Agree, if I played more Pre-Nes games I would love to review, I just don't get into to many. Do you have a question for the next interview?
What is your favorite gaming cabinet of all time?
Sweet look for that question coming up in the new interview. Thanks for your time!
Click the banner below to check out more of singlebanana's, collection, RFG Profile and many more picture of his awesome collection.

In anticipation of a new addition to our family, I've been working non-stop to get my new house in order. Among these projects is my upstairs game room, which I've posted a few pictures of when I first moved in. Well, after a lot of hard work, I've gotten most of my collection organized, except for determining what to do with displaying all of my controllers and housing my hookups so that I can locate them easily. Please feel free to comment on the pics and as always, any advice is greatly appreciated.
Continue reading UnoNanerCade Update #2
I want to begin by apologizing for my lack of production on the blogs recently, but some current life changes (i.e. moving into a new house, a family plagued with upper respiratory infections, and the preparation for a new baby) have forced my hand into worlds of both joy and displeasure. However, on a more fortunate note, the new house came with a gigantic playroom on the 3rd floor (a converted, fully-finished attic) for the kiddos and a nice separate "office".....errrrr, game room for yours truly. So in the midst of all the moving hubbub, I have decided to chronical the progress of my game room from start to finish. The purpose of this blog is to communicate with other gamers about ideas for my room to help me decide what the overall finished product will be. Hopefully, with all of the experience on this site, I will determine what changes might benefit my room and ultimately what things other people have tried that didn't work, which I can avoid. I hope this portion of my blog is a slight bit entertaining and please....please give any feedback you feel is necessary.
To start off, I'm just going to provide pictures of different parts of the room and give you my ideas as to what I think may happen over time. Any suggestions/warnings are greatly appreciated.
Continue reading UnoNanerCade 2011