I have admit that when I first played a Williams
Funhouse
, I was not impressed at all. I even recall rating the game very low on Pinside.com and attacking it for being overly difficult and crowded in the center.....I was quickly reprimanded by members of course.

Are these points about Funhouse valid? Well.......yeah, but I think at the time I was more frustrated with the game because I was new to it and well, dammit, it was difficult. I constantly asked myself, "Why in the hell did people like this machine so much and rate it so high?" Something about this machine had to be redeeming, right?
Continue reading Banana's Pinball Top 10 - #5 Funhouse
At #6 on my Top 10 pinball machine countdown is none other than William's
Monster Bash
. Monster Bash is the total package, great gameplay and great theme. I can actually remember growing up and watching the old black and white Universal Monster movies on late night television, dressing up as Dracula year after year for Halloween (you know, when kids use to dress up as monsters), and who can forget 1987's
Monster Squad
, which I saw in the theater.
The classic monster theme is further entwined with, and enhanced by, a rock n' roll theme. The purpose the game is to collect all of the band members, Dracula, The Creature, Frankenstein's Monster, Bride of Frankenstein, The Wolfman, and The Mummy, by hitting specific shots on the playfield, and putting the band together for one big MONSTER BASH! The Creature joins after repeated shots to the left saucer, Frankenstein's Monster by hitting the left stand up targets under the Monster's table, Bride of Frankenstein by traveling down the left and right ramps, The Wolfman by shooting the right and left loops, The Mummy by hitting the pop bumpers and lighting the right scoop, and Dracula by completing the right stand-up targets and lighting D-R-A-C-U-L-A. Completion/Collection of each character starts that character's mode and lights specific shots on the playfield for additional scoring bonuses; modes can be stacked.
While assembling the band, you can also work to collect each monster's instrument by shooting the ball into the Mosh Pit. Instruments can also be collected by finishing each associated monster's mode. Once all six instruments are collected, "Monsters of Rock" mode lights for additional scoring. The "Mosh Multi-ball" feature can also be lit by ripping the center spinner 6 times.
Monster Bash is a fun, loud, and exciting pin. The call outs are some of the funniest out there and are integrated well with the shots and objectives. Another of those high priced pins due to it's popularity (in the Top 5 on most pinball enthusiast's lists), Monster Bash is rarely found now on location, but it can't hurt to check out your area:
http://pinside.com/pinball/map/where-to-play
. However, if you do run across one out there, be sure to throw in some quarters and enjoy. Wolfman certainly has nards, and so does this pin!
Well, I'm halfway through my Top 10, so here is a recap of my picks:

#10 - High Speed
#9 - Banzai Run
#8 - Attack From Mars
#7 - Diner
#6 - Monster Bash

Say tuned......
After finishing the major maintenance issues on Fathom (still working on the knocker, the tilt, and need to replace two light canisters), I decided to take care of some of the more cosmetic features of the machine. The overwhelming majority of pinball machines, even those produced today, are lit with your average incandescent bulb. However, with the more recent production of LED lighting, there are many in the hobby that like to "bling" out their toys with LEDs. LEDs provide a much brighter, longer-lasting, more energy efficient, and in some cases, cooler (temperature wise) alternative to incandescents.
Though my Dracula has LEDs in it, I was a bit weary of putting LEDs in my more classic Fathom machine. I think it's hard not think about the integrity of the machine with older pins and some collectors even feel that LEDs in older machines are off-putting. I'm not one of those guys. I like a machine to look nice and bright and if I can run it cooler and more energy-efficeint, then by all means count me in. Besides, it looks cool as hell. I should also add that LEDs are great for older machines with backglass because not only does it make them brighter, but the lower temperatures of the bulbs keep the paint from flaking.
I received an order of lights last night for my machine and a Data East Batman I am working on for a co-worker (pics of that to maybe come later***UPDATE: see pics below) and decided to go ahead and begin putting them in. Luckily, older games like Fathom have no ramps or crazy plastics to remove to get to the lights; however, the old 555 size sockets are super tight and my hands are extremely cut up and sore this morning from merely changing bulbs.....
Anyway here are some pics:
BEFORE
AFTER
Also, I am restoring my 1988 Williams Taxi machine at this time as well. My good friend decided that he would help me out and actually offered to repaint and clearcoat my playfield, put on new decals, and sand down current and replace some inserts. This is really tough and tedious work, but I think it turned out really well (still waiting for some warm days to clearcoat). I am forever indebted to my friend for such great work and super pleased with how it came out. Here are some before and after pics:
BEFORE
AFTER
Here are some follow-up pics of the Batman machine that I put LEDs in last night. Turned out pretty good.
Coming in at #7 on my Top 10 list is Williams' Diner. In the mid-80's, Williams made some of the most incredible System-11, original concept pinball machines ever created. I might be biased, since these are the machines I played during my late childhood/young adult years, but I guess every list is biased to some degree. Diner is a restaurant themed pin where the object of the game is to wait on, some fairly non-PC by today's standards, customers. Customer's call out their dishes (an appetizer & an entree) and they are served by hitting the two banks of drop targets in the center of the machine, which are located in the middle and to the right. Once you have served all 5 customers, the "Dine Time" jackpot is activated and you must make the release shot and collect the value on the backbox clock, which can be up to 12 million points (increased during the game by continually ripping the left ramp)!
The backbox area is one of the most innovative and fun features of this game. The artwork is great and depicts a classic streamline diner. The customers located on the playfield that you are serving, also appear in the diner windows and actually bounce around as the machine moves. They are actually plastics on springs that are located behind the backglass and help to give the backbox a sort of 3-D effect. As previously mentioned, the clock plays a big role in scoring for this game and is also a prominent and fun feature on the backbox.
Another great feature in the game is the cup and saucer shot located at the back of the playfield. If you are able to spell out D-I-N-E-R by shooting the right ramp multiple times, a timed cup shot activates for the right ramp. During this time, a ramp diverter moves and instead of your ball traveling around the ramp in it's normal fashion, the ball spins out in the cup for a big score. (**See 2:25 of video)
Multi-ball is another fun and high scoring feature of Diner. For multi-ball, you must also complete D-I-N-E-R via the right ramp shot to light the LOCK. What is really interesting is that completing D-I-N-E-R gives the player the option to either lock a ball, or shot the cup shot depending on preference; once you active one of the features, the other one disappears. After lighting the LOCK, the left ramp raises and ball must be shot beneath the ramp in order to capture it. After plunging your second ball, the object is to start multi-ball by making the release shot to the left of the right ramp. During multi-ball, make the Rush 1 (same as release shot) to light Rush 2 (located at the kickout hole to the right of the right ramp). Making both Rush shots results in a super scoring bonus.
The left ramp can be shot multiple times for cash register bonuses and to light the extra ball. Many tournament players will continually rip this shot, since it is fairly simple to make and provides decent points and very low-risk shot.
Not only is Diner a fun machine to play, but the artwork and stunning incorporation of the theme really pull it together as a complete package. Diner is a great machine that after much careful consideration, deserves a spot on this Top 10 List. It is an older machine, but if you can find one, PLAY. IT......or better yet, BUY. IT. You won't be disappointed.
"Order Up!"
I last left off with my restore the weekend before Thanksgiving. I had some "me" time on Sunday, so I decided to take off the legs to sand and spray paint them with a nice flat black textured finish from Rust-o-leum. They turned out as good as expected, which is often pretty rare for paint. After a few days of letting the legs dry, I received another parts order in the mail. The wife was kind enough to take over the nightly duties with the kids on Tuesday (kind in that we hosted her entire entire family for Thanksgiving from Wednesday to Sunday) and I was able to knock out a few hours working on my machine.
I had ordered a new set of levelers for the legs, since the others were a bit rusted out. Getting your game level is essential for good play, so spending the $10 or so it costs for new levelers is a no-brainer; I replace the levelers on every pin I get, unless they are already very nice. I also ordered some cabinet protectors, which not only keep the legs from digging into the wood of the cabinet, but also look fantastic. I went with yellow for this machine, but I might switch them out with green or light blue the next time I put in an order. You will notice from the picture, that I also put on a new Bally sticker on the coin door, the color on the previous one had completely faded to gray.
I purchased some chrome polish/rust remover a few days earlier at an auto parts store and shined up several of the ball throughs on the playfield, the chrome which holds the glass, coin door, lock down bar, and side rails. The majority of the night was spent installing some new white flipper bats. Since the flippers were playing pretty strong, I decided not to do an entire rebuild for this machine. Instead, I replaced the coil sleeves and plastic bushings that house the flipper rods on all three flippers. These parts tend to mushroom, bend, and muck up, and for less than $15, I was able to replace the bats and get them operating smoothly. With new flippers, new rubbers, balls, levelers, and a waxed playfield, I could already tell that the game was playing completely different than before; shots that were more difficult earlier, became a lot easier to make, the ball bounced better off of slings and posts, and raising the pitch made for a faster and less "floaty" game. **Sorry, not picture of the flippers. I'll try to include one next time**
Though it was getting late, I pushed through and decided to install the new topper. While not a part of the original machine, I thought that the 3-D topper (which came with my plastics order) was so well done, that I decided to use it. It really goes well with the theme of the machine and basically plays off the backglass. The artwork for the topper is actually original to the machine and can be found above the rollover lanes. I think it really adds to the experiece and I might rig up some way to light it up in the future.
Well.................I did manage to fudge during my wife's familys visit and sneak out to my machine to put on the spinner decals that arrived in the mail on Friday.
After a long and arduous Thanksgiving, I decided that I would like to go ahead and tackle the drop targets that I had been dreading. I called my buddy over and we decided to tackle those tonight (Monday). It wasn't quite the major pain in the ass that I was expecting. but it still took us a few hours to dismantle some of the mechanisms and ensure that they were working properly. Completely worth the effort:
BEFORE
and.........AFTER
It seems that the game is playing top notch now and that the only thing left are a few minor repair issues (replace knocker coil), cosmetic addtions (new pop bumper caps, black leg bolts), and install some brighter and more efficient LED lights to really make it pop. I have sunk a few hundred additional dollars into this machine to get it in great playing and physical condition. I was reassured on my investment after I followed this listing on eBay:
http://www.ebay.com/itm/1..._trksid=p3984.m1423.l2649
. Though this lisitng included a new reproduction playfield, if I ever decided to sell this machine, I feel confident that I could at least triple my investment. Not bad.

Coming in at #8 on my Top 10 pinball countdown is a highly sought after machine from 1995, Bally's "Attack from Mars." Attack from Mars (AFM) is a fun, flashy, and brilliantly themed pinball machine, and is in no way related to "Mars Attacks," the film which came out a year later. Being a fan of the monster films of the 1950's and 60's, AFM is a not only a well-constructed machine, but also one that is comical and keeps you involved in the game. It's no surprise from the title, but the game centers around Martians attacking the Earth. As the player, you take on the role of a military agency moving from city to city (France, Germany, Italy, England, and the U.S.) in an attempt to destroy all of the Martians and their saucers and thwart the alien invasion (aka achieve "Total Annihilation").
One of the best features of AFM is that it is a good game for all levels of players. The main shot in the game is the center drop bank/saucer area. Continually bashing the drop bank causes it to eventually lower and allows you to shoot at the saucer stand-up targets. After multiple hits to the saucer targets, the center drop hole is opened and putting a ball through it, captures the ball, and destroys the saucer (a great display animation and a super light and toy feature - *see video below*). Scoring is also very high in this game and even the poorest score looks very grand to the more novice player.
AFM also has several modes that can be activated by multiple shots to left and right ramps, the left and right loops, and a shot to the scoop when lit. Another fun feature of AFM is the "achievements" that light up at the bottom of the playfield (near the flippers), as you activate them. These include: super multi-ball, super jets, 5-way combo, total annihilation, Martian attack multiball, and conquer Mars. Completing all of these achievements gives you a huge bonus called "Rule the Universe."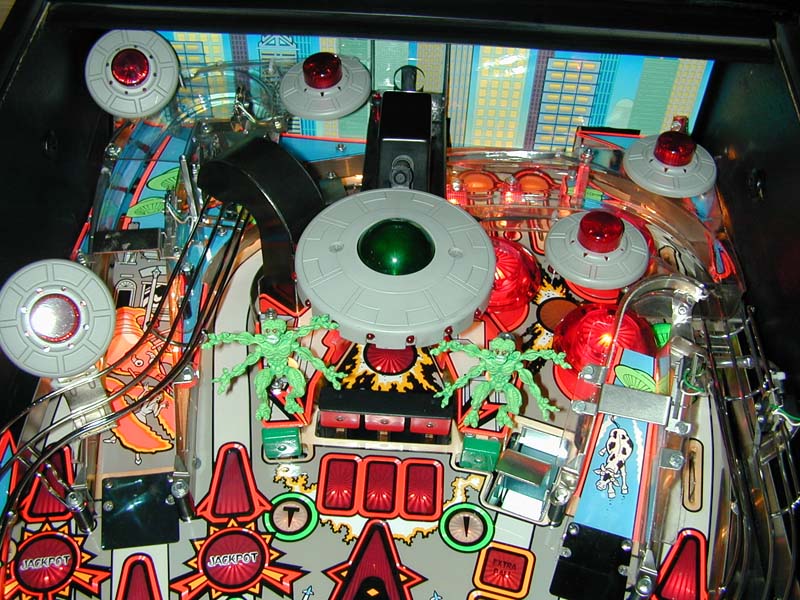 One of the most fun modes in the game is the Martian Attack mode. This is activated by completing the M-A-R-T-I-A-N stand-up targets located all around the playfield. Once all are lit, a shot to the right scoop actives this mode. During "Martian Attack," the small, rubber martians located around the playfield begin to bounce up and down. To make them stop, you must hit the stand-up target in front of them. Destroying all four of them actives the Martian Attack 2-Ball Multi-ball.
AFM is loads of fun and a machine that will keep you pumping in quarters. It is a highly prized machine for collectors, and as a result, is not only difficult to find on location, but is very expensive to purchase (I've seen them sell for anywhere between $5,000 - $10,000+, depending on their condition). If you ever have the chance to play one, do not pass it up. A sequel to AFM, "Revenge From Mars" was created in 1999, and was one of the last made by Bally/Williams before closing their doors. It was released as part of the Pinball2000 series and included a monitor over the playfield onto which color animations were projected.
Attack From Mars Tutorial
When we last left our hero, he had just purchased a Fathom pinball machine from a local estate auction. She was really nasty and needed a bit of TLC. She was not playing 100% and our hero and his friend came to the conclusion that the game was stuck in tilt mode. The appropriate wires for the tilt were disconnected and she was brought back to life. Now it's time to make her pretty again.....Here comes Part 2 of Singlebanana's exciting pinball restoration blog!
After getting the old girl in working order, the next step was to do a thorough cleaning of the machine. I typically start out with a bucket of water and a few soft cloths to rub down the playfield, plastics, cabinet, etc. (never do this with the machine on). Once it's clean, I tackle tougher areas with a damp Magic Eraser and rub slowly to ensure that I don't work off any of the paint. As I go through the machine, I make sure to have a pen and paper to write down any parts that I feel the machine may need; if I don't I typically forget some parts when I order. Typically parts companies use USPS flat rate shipping, so it's best to get it most of your parts at one time. It sucks to have to pay $5 in shipping on a $2 part. If you have friends who have machines as I do, give them a call to see if they need any parts while you are ordering. This way, you can not only help them out and have them call you when they put in an order, but you can also split up the cost of shipping.
After the cleaning the machine, I was fortunate enough to have some white rubbers lying around, so I began disassembling small areas of the machine to replace them. If you ever have left over parts, or even used parts, it's good to keep them around if they are in decent condition. I can't tell you the number of times that I have needed some random part and have just happened to had it from a previous restore. While replacing rings, I also cleaned the colored posts with Novus #1 plastic cleaner. I was able to replace a majority of the rings, but decided to add a rubber ring kit for this machine to my ordering list. Rubber rings are typically sold in packs in which sellers have already sorted them by machine title; they have all of the sizes you need for your machine and some sellers will even insert a guide to help you place them in the correct spot. Rubber rings and balls should be replaced for every machine you buy, unless the seller has just replaced them and they look new/almost new to you. Rings get stretched out and loose their "bounce" over time and balls can pit and cause damage to your playfield.
While putting on new rubbers, I also took off the playfield plastics and used a standard plastic cleaner on them (Novus #1). They ended up looking really good, but one of them was cracked around a screw (from an apparent over-tightening...NEVER overtighten anything, especially around plastics, they need a little give) and they were yellowed in the clear areas from age. I made the decision to buy a new set, but considering I bought the machine for a lower price than I expected, I had planned for new plastics, just in case, and since the new set came with a sweet topper, I decided to order them. I'm also a bit of a perfectionist when it comes to the machines I am going to keep.

Initial Parts Order:
New plasticsRubber ring kitLeg leveler - 3" long nylon base
- these are the feet which attach to the legs of the machine. Typically, these look bad and rust out very easily. These are cheap and essential in keeping your machine level. They make special slider feet if you are putting a machine on hardwoods.
Nuts 3/8-16 hex 5/8" flat to flat
- usually not included with the feet and must be ordered separately, this nut keeps the feet in place.
Bally Coin Door sticker
- just a cool sticker on the coin door, mine had faded severely
FATHOM (Bally) Drop target set (15)
- drop targets discolored from fading, some of the center targets had been replaced at one time and were not correct for this machine
Springs
- for each drop target, like rubbers, they get stretched out over time and need replacing
Flipper & shaft
- current white flippers discolored and dingy looking, cheap to replace.
Coil sleeves
- these go inside the solenoid which fires the flippers. The end of them mushroom over time and can affect the power of your flippers, very cheap and should be replaced for older machines
Bushings (flipper)
- the plastic that goes through the playfield and houses the flipper shaft, another cheap replacement, since they wear and gunk up, improves flipper performance
Spring (barrel ball shooter)
- mine has rusted out, but was working fine, another cheap cosmetic fix
Cabinet protectors 4 piece set (YELLOW)
- these plastics protect your cabinet where the legs and cab meet and keep the metal from digging into the wood, plus they look cool.
The rubber rings and plastics came in on Friday (had to order parts from two places), so I was able to replace all of these on the machine this weekend. Also waxed the playfield (with pinball specific wax, Mill Wax) after a through cleaning and used chrome polish on pertinent parts. I also had some blue LED lights that were incorrectly sent to me from another order (again, glad I kept them) and I installed these in the pop bumpers. Not the clearest pics, but hopefully you can tell the improvement from before and after.
My other weekend project consisted of sanding and adding some fresh paint to the legs. I picked up a coarse sanding bar and some black Rust-o-leum textured spray paint at Lowes. Luckily, this machines original legs were black, since chrome is a tough repaint and rarely comes out well, new legs are pretty expensive. They turned out well and I ended up putting some new leg bolts with black heads on order, since the current ones are a little rusted out. It's tough to repaint bolts, because the paint tends to rub off when you tighten them.
When purchasing the spray paint, I also picked up some new 6-1/2" screws and 6-32 hex nuts. These are very cheap items and do wonders in making your machine look great. Some of the old screws were rusty and this cheap fix really stands out. The hex nuts replaced the white rubbers which secured the plastics down; the chromes gives it a great look and a much more stable device to hold down the plastics. You can see some of the new hex nuts, screws, and rubbers in this photo:
So far everything is coming along nicely. I'm really not looking forward to replacing those drop targets, which will be tedious, time consuming, and put the machine out of play for a week or more, but I know that I will be very pleased with the results. However, until the new parts get here, it appears that someone else in my house is really enjoying banging away at our new toy....
I recently posted in the "small scores" thread about a recent addition to my pinball collection, Fathom. I decided that for those interested, I might blog about how I procured that machine, which is fairly interesting, and the steps I am currently taking to get it back to good, if not great condition. So here goes....
HOW WE MET
Several weeks ago, my wife and I made plans to travel to the mountains this past weekend with another couple for a little R&R. We had planned to drop the kids off at my parent's house and have a much needed weekend of sleeping in (well...8:30 a.m., as we are not conditioned to sleep late anymore) and hangout with a couple that we use to hang out with a lot, but who in the past two years moved to Beirut.
While sitting in my office on Thursday and trolling Craiglist for pinball machines, I came upon an ad from an auction company that stated that there was an estate auction about and hour and half away from my house that Saturday and that they were auctioning off two pinball machines (however, the titles of the machines were unlisted). I quickly Googled the auction company, fumbled through their horribly designed website, and finally came upon some pictures of both machines (a Fathom and a Speakeasy). Needless to say, I was very excited to find a Fathom for sale in my area. Fathom is one of those machines I had added and crossed off my wishlist several times within the last year, not because I didn't want one, but because they are super hard to find and even harder to locate in good condition.
I stared at the solitary picture for several minutes and like a P.I. from an old film noir, I broke down the components of the image and calculated the cost to repair it if needed. The positives were that the auction company had plugged in the machine and turned it on. From the image, I could tell that the lights in the backglass and the general illumination on the playfield was good. The scoring displays also looked nice and bright, and eliminated the cost of new displays (probably a little over $200). I wasn't sure whether it play, but everything about the picture indicated that it would be work checking out (or begging someone to check it out for me, remember I had weekend plans....).
One of the first things I did was call one of my good friends who lives in town and who I have known for over 10 years. We sort of got into the hobby together and he is very handy with electronics and restoration projects; it's been a lot of fun for us in terms of helping each other out and learning "trial by fire" techniques in order to repair machines (he is currently repainting my Taxi playfield). I told him about the machine and about my "unfortunate" weekend plans and he immediately said, "Send me the info and I'll check it out to see if it's worth a trip." A mere few minutes later, he (and his pinball-loving girlfriend.....I know right!) offered to get up early and attend the auction if I was still interested.
I quickly checked out all of the local parts vendors online to determine what was out there in terms of the essentials for restoring a machine. Things like backglasses, playfield plastics, specially made pop bumper caps and targets, stencils, and decals can be impossible to find for older machines and if you can locate them, they can be very expensive to obtain depending on their rarity (sometimes almost the cost of the machine....). Many mechanical parts, screws, flippers, posts, etc. are common for many machines and are typically stocked by pinball part distributors. Checking out parts availability is something I definitely recommend before even going to see a machine I was pleasantly surprised that I was able to locate everything I might need for a possible restore for Fathom.
After checking for parts, I called my buddy back and we discussed bid amounts and different scenarios depending on how the machine looked up close. He was basically bidding with my money while I wasn't there and wanted to ensure that I would be happy with the money spent and the quality of the machine. Everything was set and I couldn't wait to wake up Saturday morning and get a text telling me about the machine and whether I had won it.
I woke up Saturday morning and had breakfast and around 10:00 a.m. I got a call from my friend. He told me that the machine was in a pretty funky basement and that though the machine was lighting up, it wouldn't start a game. After watching several videos on the game, I knew it was a 3-ball machine and we concluded that maybe the issue was that it did not have enough balls in the machine to play. You see, older machines will not specifically display that they need an extra ball like newer ones will, they simply just will not start a game. Still feeling pretty good, we talked again about price based on what he saw and I hung up feeling pretty good..........until.........
In about fifteen minutes after ending our call, my friend sent me a text telling me that several "pinball people" had shown up at the auction. When you get into the hobby of pinball collecting and repair, you get to know the local collectors and operators, and this was a bad sign. I had been checking the local collectors' website all day Friday to see if the cat had been let out of the bag regarding this local Fathom, but all was quiet and I was feeling good about getting the machine cheap. This text was disheartening, and caused me to rethink my bid amount and our strategy, so I sent a text back to up the amount a little.
A hour or so passed and I was sitting at a restaurant with my wife and one of our friends and I got the text, "It's yours, $900 after commission." I literally flipped out at the table and delivered high fives to both my wife and our friend, who in all honesty, both could have probably cared less. I thought the price was great considering what I would have to spend restoring it and what the book value was in my Mr. Pinball 2012 Price Guide. Even though this is an older title, it is very desirable by collectors and is listed at $1800+ (+ means rising). I had even saw a fully restored one sell recently for over $4500 on a local site, so as you can imagine, I was pretty stoked about the price.
THE PICK UP
I arrived home on Sunday evening and called my buddy to work out picking up the machine. We decided Tuesday might be good, so we agreed on that night. After work on Tuesday, I arrived at this house, loaded it up in my SUV, and drove it over to my garage. From first glance the cabinet looked very much above average, espicailly for its age, but more importantly, the backglass on this machine had been removed for transport and when I saw it my jaw dropped; it was original and minty (no flaking) The top of the machine was still covered with a blanket and the head was unhinged, lying face down, and strapped; I still had not seen the playfield on this machine. We backed it into my garage, pulled it out, put the legs on, and sat the backbox upright. This is what I saw:
Now, many people seeing this (including my wife) might go into panic mode, "You spent how much on this???" But to the trained eye, you realized that it's been in a basement and the backglass is merely just covered in dirt. Before the auction, my friend was smart enough to slide the glass down and check it out before bidding. Once we took the glass off, this is what we saw. Not bad.... Notice the difference in the right slingshot plastic in comparison to the left, we merely wiped if off with our fingers, so you can imagine how much dirty is on the entire playfield.
Yes, it's very still very dirty under the glass, but it's nothing a wet rag and a Mr. Clean Magic Eraser won't take care of. We spent most of the night cleaning it up and replacing some of the rubbers with extras I had. I don't have any more recent pics, as I wanted to save those for my next restoration post, but here is an email I sent to some local pinheads to give you an idea of how I accessed the condition and what we did to get her playing:
"Backglass is original and MINTY!!!! Cabinet looks above average, playfield has some fading and ball circles, but only has a few very unnoticeable spots of wear. Game was stuck on tilt and [my friend] and I tried to trace it, but could not locate the source to fix it and get it out, removed the tilt wiring on the boards, and BAM! she's rollin' and playing 100% (without tilt of course). Cleaned her up really well last night and put in new balls. Just ordered new CPR plastics, rubbers, drop targets, springs, spinner and coin door decals, coil sleeves, yellow cab protectors, flippers, and levelers. Bought some new chrome screws and acorn nuts from Lowes and am going to repaint the legs (which are already black - originals). Also bought some chrome polish, since the game was sitting in a damp basement and has a few places that need some serious cleaning."
I'm getting really stoked about having this machine up and running completely. I hope that some of you will enjoy the restore blog and below I've included some great pics of the fantastic artwork from this machine. If any of you are ever interested in purchasing a pin, please feel free to contact me with any questions. I will do my best to answer them and hopefully help you find a pin that is right for you.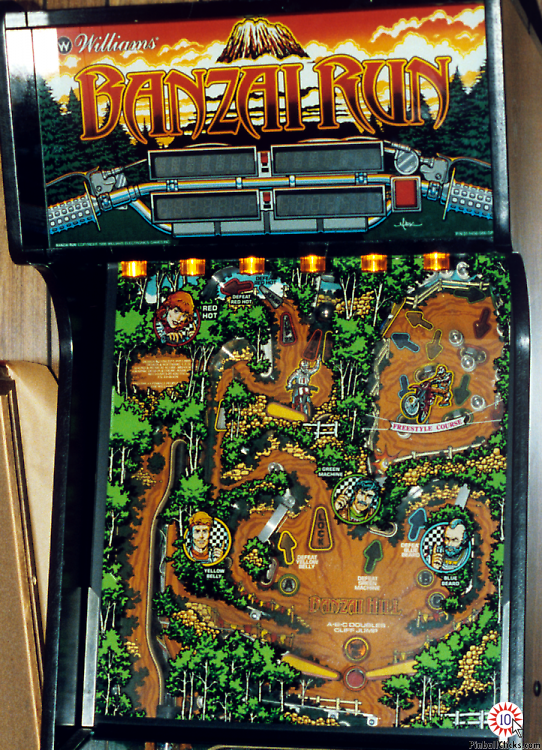 Number 9 on my Top 10 list is a motorcycle themed pin called Banzai Run. There are a few things that make this pin special, the most notable of which is the playfield backbox. When a shot is made through the spinner in the upper left corner of the lower playfield, a magnet carries the ball to the upper playfield, which plays a significant role in the game. Before heading to the upper playfield, it's important to light your "competition;" the riders Red Hot, Blue Beard, and Yellow Belly are lit by hitting 3 color coordinated stand-up targets and Green Machine is lit by sending the ball into the knockout hole between the pop bumpers. Once these are lit, the player shoots through the spinner to send the ball to the upper playfield. There, a shot representing each opposing rider is lit and hitting each shot causes you to "pass" that rider in rank on the leaderboard. Once all riders are defeated, the lock on the upper playfield or lower playfield knockout hole is lit and sending a ball into either, locks a ball and allows you to plunge a second for multi-ball. The object here is to put one ball into the knockout hole for a timed lock and send the other to the upper playfield for a very difficult captured ball shot. Hitting the captured ball allows you to pass The King (the ultimate rider) and move into first place to win the race.
**The King defeated just after the 4:00 mark**

Banzai Run is a fairly simple game. It doesn't have a large number of shots and the goal is fairly simple once you understand it, but I find that the excitement in trying to achieve this goal is overwhelmingly addictive. The shots on the upper playfield are difficult due to the pitch, but once you have a feel for them, they are relatively simple. The game has a total of 6 flippers, which are all really important to master and each play a key role in the game.
For those who really appreciate the history of pinball, the most notable feature of this pin is its designer, Pat Lawlor. Lawlor is one of the most well-known pin designers and arguably, regarded by many, the best. A list of his most notable pins include: Twilight Zone (#1 on several lists), The Addams Family (the best selling pin of all time), Whirlwind, Funhouse, and Monopoly. Banzai Run is special because it was actually Lawlor's first.
As many of you on the site know, along with collecting classic video games and systems, I have a big interest in playing and working on pinball machines. I bought my first machine on August 6, 2011, an electromechanical pin called Spanish Eyes (1972) and I've owned a total of 9 machines since. Many of them I have fixed up, played for several months, and sold. I recently picked up one of my favorite machines, Bram Stoker's Dracula (1993) and am currently restoring a favorite from my childhood, Taxi (1988), a machine I picked up in February earlier this year. In April of next year, I will be driving up to Pittsburgh to attend, maybe play in, Pinburgh 2013.
http://papa.org/pinburgh2013/
Anyway, while my Vectrex Interview Series #3 is in the works, I thought I might do a Top 10 list of my favorite pinball machines for those who might be interested. I'm a member of Pinside.com, a great source for pinball collectors and enthusiasts, and through their rating system, I have been able to keep track of the pins that I have played (currently 112!) Though I've rated the machines on this site, the categories for ranking don't necessarily reflect my favorite machines. Though I recognize the flaws in some of my favorite machines, they are often not such that it takes away from my enjoyment of them. Sure, the artwork might not be the greatest on some, but the features, the experience, or even the nostalgia may outweigh what others might see as imperfections.
Coming in at #10 is a machine I played quite a lot growing up, High Speed. High Speed is an early alphanumeric solid state machine that was made by Williams in 1986. The game was designed to simulate a high speed chase from the cops in which the ultimate objective is to escape their pursuit. The game's designer, Steve Ritchie claims that the concept of the game is based on the true story in which he was once chased by the police in his 1979 Porsche 928 and charged with reckless driving. What I really appreciate about High Speed is how the concept is well integrated into the design of the machine. Ramps and loops are designated as freeways and when you plunge the ball, you hear the sound of an engine reving and a car peeling off. The machine even has a red light topper that flashes during the pursuit and police call outs simulating a call into the station and instructing you to pull over. High Speed also has a side ramp, which presents a greater challenge, since it can only be reached using the 3rd flipper located in the upper right playfield.
What makes High Speed especially attractive is the history of the machine. It wasn't the first machine to have sound (Gorgar - 1979), but it was the first to have an original musical score. High Speed was the first Williams pinball game to use alpha-numeric displays and was the first game that allowed players to enter their initials for a high score, which was very revolutionary since it gave players an incentive to pump in more quarters. Over 17,080 units were produced, so it's a fairly common title to find; however, due to its popularity and age, they are typically in pretty poor condition. High Speed was basically remade in 1992 as The Getaway: High Speed II and had the same basic playfield layout, but included a metal Supercharger centrifuge ramp to left center, an animated dot-matrix display, and ZZ Top's "La Grange" as the score.
**Gameplay and Tutorial (be sure to watch in full screen**
| | |
| --- | --- |
| | --- |
A new arcade/game store just opened up in my area, and needless to say, I've become a pretty frequent customer since its inception. The guys that own it are really nice and have been very helpful in introducing me to new games and systems. Along with several standup and sit-down machines, they keep a nice stock of pinball machines going (always ten at a time and they frequently swap them out). As a result, I've been bitten by the pinball bug and am working on saving toward my first machine. Luckily, there is a fairly strong pinball community in my area and I should benefit from knowing some of its members in my local search. Unlike video games, pinball is something you have to work to find locally, unless you have unlimited funds to blow. For my first machine, I though I might go with something more nostalgic to me. I was a big fan of the Williams machines of the late 80s/early 90s, such as Taxi, Cyclone, and Whirlwind, so I am going to start there, since those machines tend to be more affordable than the newer dot matrix models.
Continue reading The Pinball Bug