---


If you've paid attention to my gaming tastes over the years, it would likely be easy to peg me as a guy who loves old school, action games. I'm super comfortable with platformers, fighters, shmups, run 'n guns, and I've also got a soft spot for JRPGs. I tend to talk about these types of games the most, but there are some extremely modern genres that I enjoy just as much as those I grew up with. In this case, it's a the decision based, cinematic, story driven game Detroit Become Human. I have yet to play Indigo Prophecy, but have drawn a great deal of enjoyment out of Quantic Dreams previous titles, Heavy Rain and Beyond Two Souls. Based on my past experience with these two titles, as well as the intriguing setting of a near-future, pre-sci-fi world in which Androids have become common place in the homes and work forces around the U.S., I had no hesitation picking this one up day one to dig into.


Continue reading Detroit Become Human: Review





2018 is now upon us! That means a whole new year of games to look forward to! Here's a few that I can't wait to dig into this coming year in no particular order

Spider-Man

I said no particular order, but Spider-Man is the exception. I am more excited for Spider-Man than any other game on this list by a significant amount. I have high hopes for this game as well as licensed franchise games in general. My hope is that Insomniac is able to tell a new unique Spider-Man story as they see fit and build the game they want to build around that story. Batman Arkham Asylum was so special and I believe this game can have a similar impact. I don't necessarily want it to become a franchise or even have a sequel. I just want Insomniac to put out a great game and get rewarded with great sales to match. Hopefully it's significant enough that other companies take notice of what Batman and Spider-Man have done and see that if they put their licensed properties in the hands of caring studios and don't require them to tie it to an upcoming movie (or other property), they can be rewarded with critical and commercial success that helps their brand overall. I want to see better Star Wars games, Ninja Turtle Games, Transformer Games, and of course, better superhero games in general. I believe this game is the next stepping stone on that path.


Continue reading A Lot To Look Forward To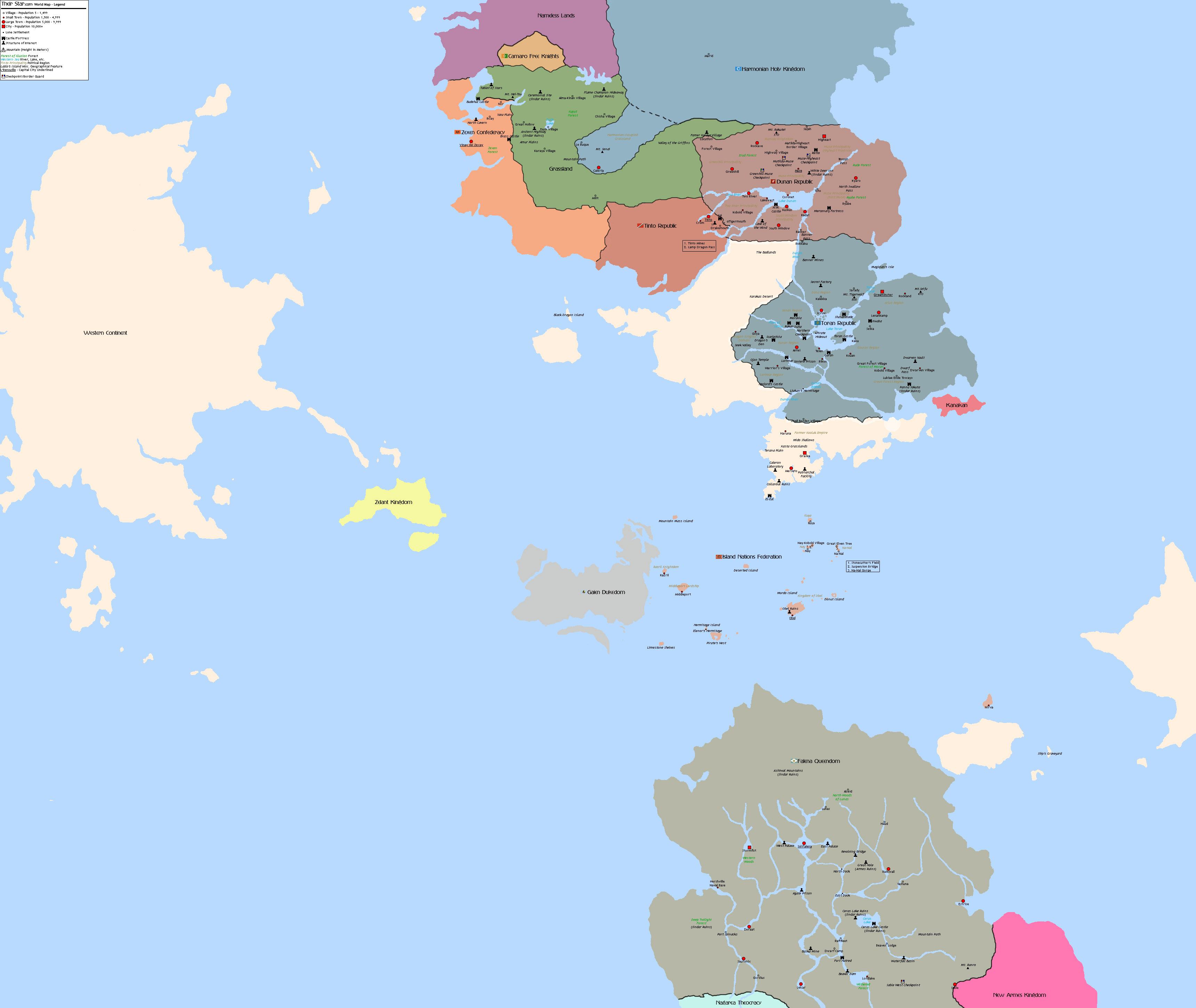 Since the beginning of role playing games, many details have been taken into account by everyone from the top tier game designers down to the dungeon or game master building their first campaign. However, few details are thought about as much as the design of the world the players inhabit. For most gamers, it is nothing more than passing scenery made to make you stop and enjoy the beauty before you move two steps forward and completely forget about it.

In modern video gaming, there are a few different kinds of world designs at play. Most Japanese developed RPGs, from the beginning to this day, are the world spanning epics. No stone is left unturned on these worlds as many are developed without the idea of direct sequels in mind. The juggernauts of Final Fantasy and Dragon Quest almost always take place in a completely new world with linearity in mind. Dragon Quest I and II are notable exceptions to this, where the world of the first game is revealed to be just one small part of the full world that is revealed to the player in Dragon Quest II. This is the idea that Suikoden takes, as it will likely never will reveal the full world in one game.


Continue reading Summer of Suikoden: A Treatise on World Design


2017 Collecting goals:

1. Reach 500 games total with as little sports titles as possible (currently low 400s)
2. Get new shelf/shelves that fits all loose and complete games.
3. Get cases and print labels for loose disc/Gameboy games
4. Get the basic Sega Genesis games. (Just rebought one so have almost no games)
5. Figure out what to do when school comes around. (I can't bring collection with me, but would like to continue collecting)
6. Complete my ROB the Robot pre deluxe set. (Just need manuals, poster, and male hand)
7. Make collection look more presentable. (Very messy and currently in a set of lockers)

I will be documenting every game I get through my collection page and will have overviews of what I have found until I have reached these seven goals. Pictures of collection will be added throughout the year.




Galerians is considered a bit of a hidden game for Sony's first Playstation. The game was released in 1999 in Japan, and the following year in Western markets. It was developed by Polygon Magic, published by ASCII Entertainment, and carries the Crave logo for distribution. It seems to have been hidden as a result of the game's late timing on the system, coming just as the hype for Playstation 2 was in full gear. It's also a game that does little to advance the survival horror design formula, other than giving you a different story and weapons that fit the story.


Continue reading Spooky Plays: Galerians




Certainly, I can't be the only one on this site who gets a little jealous when they read slakur's articles and hear about his weekly nights of gaming with friends. As I've mentioned before, I don't have a lot of friends who game and even fewer that actually collect games. However, over the last few weeks, a buddy of mine has been coming over to the house on Thursday nights to game. We have a great deal of fun playing some of the new games I've purchased (some of which I'm playing for the first time) and pulling games off the shelf that maybe he or I have never tried out. The best part of the night is that he always has a plastic grocery bag in his hand when I open the front door to my house and I feel like a kid at Christmas eagerly awaiting to see what goodies are in that bag. Our game nights are definitely making my wishlist increase and my bank account lessen.

This past Thursday, we had another great night of gaming and played such awesome titles as: Castlevania: Bloodlines (Genesis), Soldier Blade (TG16), Air Zonk (TG16), The Combatribes (SNES), and Choplifter III (SNES). As is always the case, we played a few stinkers as well and that night the list included The Tick (Genesis) and Tail of the Sun (PSX). However, out of all of the games we played, none of them surprised us more than Mobile Light Force for the original Playstation.


Continue reading Banana's Rotten Reviews: Mobile Light Force




I have been excited about the release of Tales of Xillia 2 since I played and reviewed the first one a few months ago (http://www.rfgeneration.c...-Tales-of-Xillia-2755.php). I greatly enjoyed the main characters and writing of the original game and thought that the plot took plenty of nice turns that were not as predictable as an RPG veteran would expect.


Continue reading Psychotic Reviews: Tales of Xillia 2




Welcome back to a world of horror and fright. You may remember last year when I did a review of a game (Thief: The Dark Project [http://www.rfgeneration.c...The-Dark-Project-2639.php]) that many would not consider when pondering their options to step into a good atmosphere that sends chills down your spine and squeals up your throat. The real "horror" came from the masterpiece's years spent in "Development Hell" where its focus was changed about a half dozen times. In contrast to a jumbled mess of juxtaposed design and experimentation that somehow worked brilliantly, this year I bring you D. Just "D." The letter "D." No more. No less. "D."


Continue reading Spooky Plays: D




The international success of the first Crash Bandicoot allowed Naughty Dog to get started on a sequel, and most of the team members remained intact for this transition. This let them build on the ideas from the first game and polish up problems, while adding new ideas. Sadly this created quite a few new problems. Despite all these new issues, Crash 2 was more successful than the first game, making it the best selling Western developed game in Japan when it was released. However, its international sales caused the game to fall a bit short of its predecessor in total sales.



Continue reading Psychotic Reviews: Crash Bandicoot 2: Cortex Strikes Back





Many remember Crash Bandicoot being an unofficial Playstation mascot after his release until the launch of the Playstation 2. The first trilogy of his games are fondly remembered as early 3D platformers done right. The series was created by Andy Gavin and Jason Rubin of Naughty Dog, who went on to develop it for Universal Interactive Studios. Sony Computer Entertainment joined for publishing and marketing after the game's E3 showing in 1996, making these early games exclusive to the Playstation. One of the reasons why Crash was chosen as an international mascot by Sony was due to its success. At the time it released Crash Bandicoot became the most successful Western developed game in Japan, mix that with the overwhelming sales in the Western markets and Sony had a killer app on its hands.

What about the game helped it become such a success though? Crash was instilled with tight art and design philosophies. While it can be said to be a 3D platformer it is not a full roaming 3D platformer like its peers at the time Super Mario 64 and Croc. Those games and many other games using the 3D perspective up to this day would suffer from camera issues. Crash avoided this by having linear paths to follow, while also mixing up the gameplay with areas based on 2D platformers, with side scrolling action. This helped keep the game from having a crippling camera that could quite literally be your lifeline. How many of us remember making leaps of faith because the camera sucked? Crash avoids this by keeping the path straight and keeping the camera in front of, behind, or beside our bandicoot hero.



The controls in this game feel a bit stiff. The game controls quite well overall, but there is a bit of a pause in starting the running, as well as jumping control. Just holding the button down while you're jumping feels fine, but having to make precise, short jumps can be rather annoying at times. There are a few levels which are almost sadistically designed to exploit this issue with the controls. Most of the levels are quite tight, and there is variety between the themes and worlds on top of the perspective. The game is anything but boring and predictible for your first playthrough. Boss battles are easy. They are spread throughout the worlds though, so the big boss fight is not always at the end of a land.

The music fits the game quite well. Crash is set in a chain of Pacific islands, so the Tiki styled theme is quite strong with it. The music and the levels fit in with this design quite well. The final world is mostly machine based though, and that has to do with Dr. Neo Cortex and him being a mad scientist and all that jazz.

Its quite easy to see why Crash would be the sensation it was, and why the once wombat, now bandicoot became the face of a system. Naughty Dog would develop two more Crash platformers, and a racing game, before moving onto another series for the Playstation 2, Jak. These three early Crash games are still considered the best in the series, and after playing the first one now and with nostalgic memories of Crash Bandicoot: Warped, I do remember why this is believed. These games are not too expensive, and are quite common. This first game can sell in the $20-30 range, but 2 and Warped can be bought in the $10-15 range and have that extra polish. I found all three of them at a thrift store run for $4 each, so deals can still be had for them with local hunting.


Bane of my existence.




Zagnorch Productions

in association with

presents

SEVEN-DAY SCORE CARD: NINTY MEGA-HAULS

Week of 28 April to 3 May 2014

This week's episode sponsored by

Leon's Firewater and Boomstick Emporium

Now with two locations in downtown Cincinnati to serve you





Monday 28 April: The first day of this thrifting week commenced with the acquisition of a grape Game Boy Color with nine kiddie-game carts and carry case for $19.99 (the case's back zipper pocket stored a Disneyland autograph book for some reason). Then it was off to the local Savers, which yielded a loose GBA SP with F-Zero: GP Legend cart for $6.99. Rounding out the day's finds was a sealed box of ten 5.25" floppies for my C64 for $1.99.






Tuesday 29 April: This day belonged to PlayStation, as I picked up three back issues of PlayStation: The Official Magazine for $0.29 each, as well as the CIB PS2 games Barbarian, Defender, Jumper: Griffin's Story, and Romance of the Three Kingdoms IX for $2.99 a pop.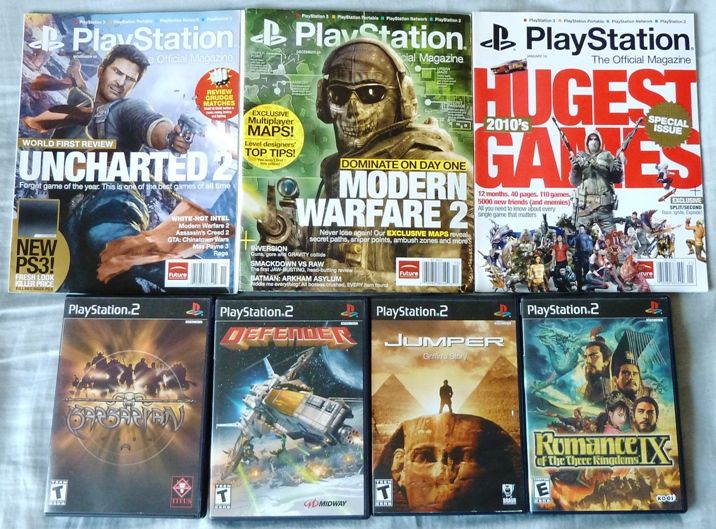 Wednesday 30 April: "Hump day" was a fitting term for this day, as it plateaued with a mighty stack of Ninty goodness. The timing was absolutely perfect as I caught the Goodwill clerk rolling out a large assortment of N64 and Genesis carts on its way to the electronics showcase. From that assortment I dug out Super Smash Bros., GoldenEye, Pokemon Stadium, Yoshi's Story, Diddy Kong Racing, and Banjo-Kazooie, along with Out of This World and Earthworm Jim 2 for Genesis, all for $2.99 each. I also snapped up Pokemon Gold and Silver for $1.99 each, and a CIB Dream Pinball for $2.99.





Then it was off to Savers, where I discovered a complete hardcover Piggyback CE Assassin's Creed IV: Black Flag strategy guide for $4.99 $3.49. This was a rather surprising find, considering how recently the game was released. Then there was the GameCube unit with memory card and WaveBird receiver that I grabbed for $6.99 $4.89. I'll take any and every opportunity to make sure WaveBird components don't fall into the hands of a certain deranged individual whose name rhymes with Gus Beeman.



Force yourself to gaze upon the man's horrific handiwork, and be sickened.



Thursday 1 May: Starting this rather light day was a grab bag of video-game-related tchotchkes including several Skylanders dog tags and a couple Marioverse character dangly-charm thingies. Then there was the GameShark Game Codes for PS2 box that contained an odd assortment of code discs for both PS2 and PS1. Ending the day was a CIB Flashback and Techno Clash I spent some trade credit on... along with a pack of Chuckles. Which I didn't know they even made anymore.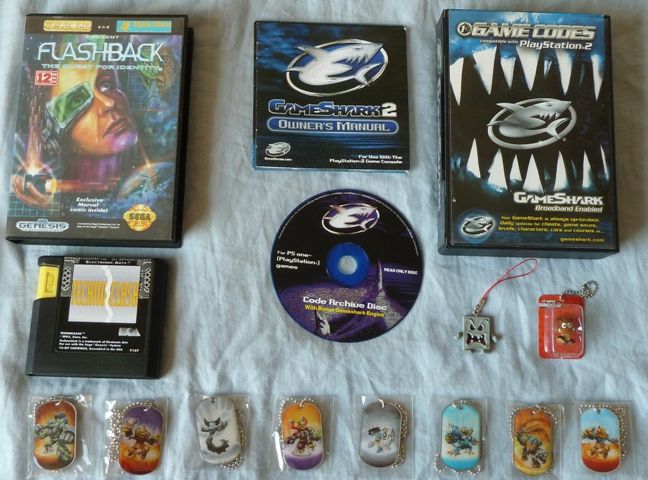 Friday 2 May: Another light day as I managed to wrangle a CIB Medievil Resurrection and XBox Live Arcade Game Pack at one place for $4.99 each. Then it was off to Savers where I discovered a Skylanders Book of Elements: Magic and Tech for just $0.69.





Then there's the showcase find of the day: a loose Tiger Mega Man 2 handheld for $2.99, a score that's likely bumming Crabby and RetroRage out something fierce right about now. Just wait 'til they see the next day's scores...



Saturday 3 May: The week concluded with the picking up of several NES carts at my workplace Goodwill for $4.99 each, including Donkey Kong Classics, Donkey Kong 3, Mario Bros., Xenophobe, Seicross, Kirby's Adventure,, a gold Legend of Zelda,...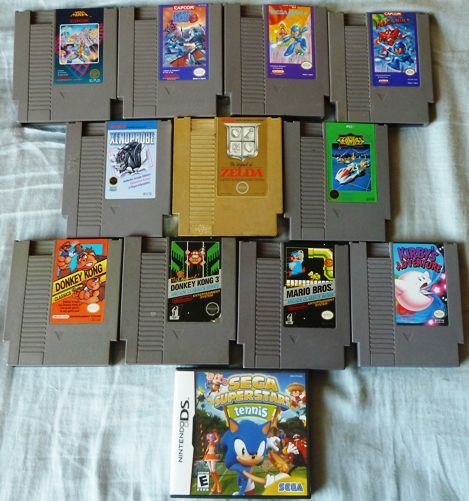 ...aaand Mega Man 1,3,4,and 5. That's right, I got the first 5 Mega Mans (Mega Men?) in just two days!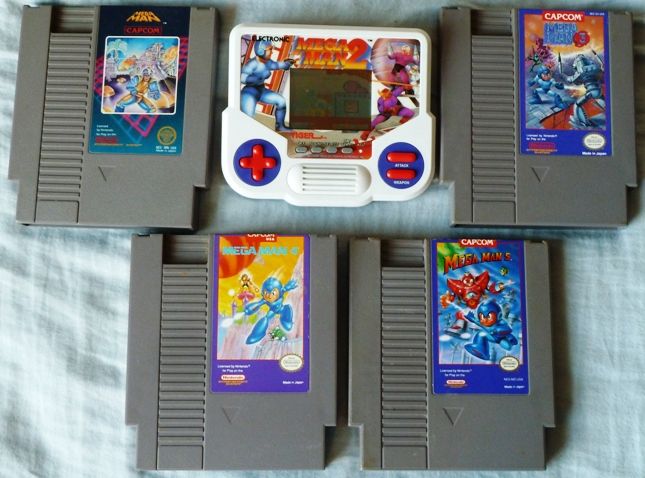 Whattaya have to say to that, Crabs and Rets? Hmmm?



Oh, I also grabbed a CIB Sega Superstars Tennis for DS... not that you care or anything.



NON-VIDYA BONANZA: Just the usual suspects, including a Yamaha YT-2200 Tuner device for $0.79, and a slipcased HP 15C calculator for $4.99.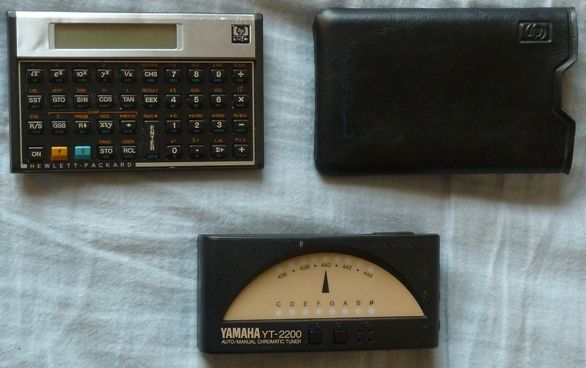 The big number-crunching hit of the week however, was this HP 48G...





...which came with all this other stuff...





...all for just $25.00.

Hey Nupes, whattaya think of that, huh? Pretty impressive, isn't-- whoah, what the hell are you-- oh, that is just disgusting! Stop that right now! What the hell is wrong with you?! G0dd@mn, get a room next time!


Until next week, this is your Thriftmaster Admiral signing off.



'Late


Greetings from Terra...



Zagnorch Productions

in association with

presents

SEVEN-DAY SCORE CARD: LONE STAR NUMBER-CRUNCHING AND FANTASTIC
RISING SUN FUN WITH THE COUNTERFEIT KOOPA KIDS

Week of 14 April to 19 April 2014

This week's episode sponsored by

The Psychotic Knight Fanfic Drama Dinner Theater

Your favorite songfics performed by Mary Sue and the Yaoi Wowies every Friday night

and

McKnight's (no relation) Preposterously Panoramic
Palace of Perilously Powerful Peripherals

The gloves are off now



Take it away, guys...


Monday 14 April: Nothing to speak of vidya-wise. However, I did dig up a sizeable batch of other geekin' goodness, with Texas Instruments products dominating the lot. Products like a complete boxed TI-37 Galaxy Solar, a TI-83 Plus, and a couple small mono speakers that put out surprisingly good sound. Also discovered was a Panasonic combo mini-piano/AM radio, a Rokenbok controller pad, and a Radio Shack EC-4051 calculator.






Tuesday 15 April Sweet f*ck all was to be had on this day.



Wednesday 16 April: This all but dead week sprung to life a little when I discovered the first TurboGrafx 16 games I've ever encountered at a thrift: CIB Boxxy Boy and Devil's Crush Pinball for $2.49 each. I even picked up Keith Courage in Alpha Zones, 'cuz it's never a bad idea to have a backup copy of this ultra-rare gem.

I also discovered a couple NES 18-cart shelves for $3.29 each. Each one holds 18 sleeved NES carts. I tried to place the bare NES carts in the case slots, but they were too loose.



Huh-huh-huh, the slots were too loose.



Then I checked to see if my full boxed carts fit in there, but they were too tight.



Heh-heh-heh, yeah, tight slots! FIRE, FIRE, FIRE!



Sleeved carts, however, were just right.



Ohhhh yeeaahhh *UNNNGGGH*



Rounding out the day's scores was a CIB Frogger's Adventures: the Rescue for GameCube and a Duke Nukem: Zero Hour N64 cart with manual for $2.99 each.






Thursday 17 April: Picked up my very first Japanese PS1 titles for $4.99 each, including JoJo's Bizarre Adventure, Master of Monsters: Akatsuki no Kenja Tachi, and Torneko no Daibouken 2: Fushigi no Dungeon (AKA Torneko: The Last Hope). I also scored a platinum GBA SP for $8.99, a grab bag of PlayStation promo tchotchkes, and the greatest, most awesomest Star Wars game of all time, Knights of Teras Khasi for the PS1! W00T!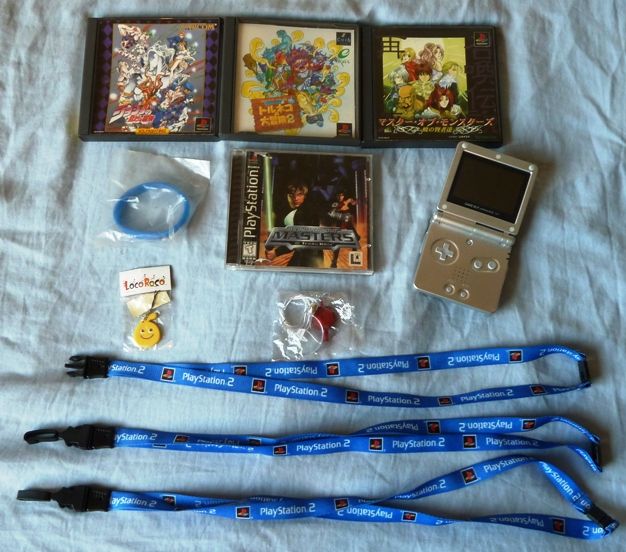 Friday 18 April: Totally dead today.



Saturday 19 April: A light week ended with a nice uptick, as I nabbed a Skylanders Swap Force Wii U starter kit at Toys-R-Us for half price. I picked it up so I'd have the regular versions of Wash Buckler, Blast Zone, and Series 3 Stealth Elf in my collection. I was also curious to try the Wii U version of the game and all the different controller schemes it supports. While I was there I also grabbed an Easter Fryno, and a Series 2 Jet-Vac. I finished my thrifting day when I hit a Goodwill that's not exactly known for good game prices, and was pleasantly surprised to discover the CIB PS1 titles Final Fantasy VII, VIII and IX, as well as Resident Evil 2, for just $3.99 each.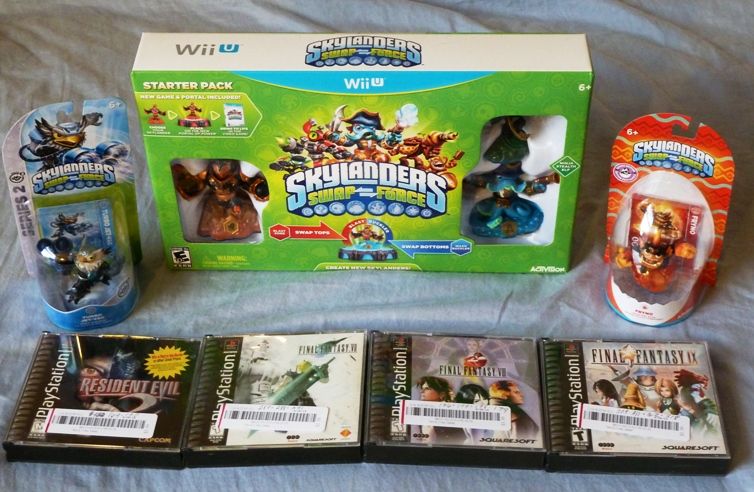 Oddball Score of the Week: The Grow Your Own Monsters manual from Scholastic.





The guy on the front cover up there looks kinda familiar, doesn't he? You don't suppose... nahhh, it's just gotta be a weird coincidence. Probably just a case of deja vu... which got progressively stronger with the turn of each page: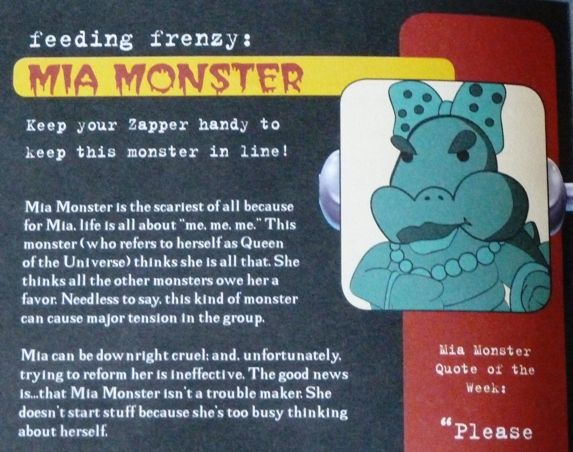 Japan is presently planning another Pearl Harbor attack to avenge this outrage... and who can blame them.




Until next week,

'Late


What a strange special edition PS4 I got...



Anyone else pick up the PS4 at launch?


In order to save some space as I post on the Forums for my Collection each time it will be moved to this blog when I post new stuff in the forum :-)

Yesterday I posted a few teaser pictures of part of my collection today I am going to post pictures and some information on those pictures (there are quite a few) of PS1 through PS3 & PS Vita games I have. If you have any questions or anything please comment. Note none of it is for sale sorry

But I started this thread to talk about games in my collection or anyone else who wants to talk about games. After the teaser pictures will be the new pictures. So scroll on down and please comment away! Also this will not be in a blog anymore so if you want to check out my older parts of my collection please do so on my blog ALSO I will still be making blogs just not of collection parts I think the thread gets it out there better and who doesn't like to show off their collection.



UPDATE - SCROLL DOWN FOR 32X, SMS, TG16, NGAGE AND MORE!!! 05/03/2013



NES Shelving for Now - Muwahahaha NEED MORE check out my wanted NES forum and my fs/ft for anyone who can help. Thanks again for those who have or are going to!!






Teaser Pictures:

Picture 1: Big Boxed PC collection
*I recently obtained a substantial amount of big box PC games from ixtaileddemonfox (again thanks) which helped a large collection grow to an even larger collection of Big Box PC games.




Picture 2: The Not so big boxed PC games



Picture 3: Playstation 1 & 2
*That DVD rack used to be full of DVD's and Blu-Rays it has now dwindled as I have been selling off most of my movies to replace them at another time with Blu-Ray only. SO my PS1 collection has grown tremendously as of late and I finally have enough room to put my PS1 & PS2 games on a shelves again together.




There will be more to come eventually if you want to read back on my blogs of my collection of findings, my Nintendo Collection (which will be updated) and many other fun stuff in my blogs so check it out! Also please feel free to comment.

Picture 1 - PS1 Long Box Games



Picture 2 - PS1 Games #1


*Few things in this picture to note -
--3D Baseball as you see I have two copies one actually has the manual the other just has the manual cover but this game like the Saturn Version has kind of spiked a little for a sports game.
--The Beyond the Beyond has the original 3D Glasses in them.

Picture 3 - PS1 Games #2



Picture 4 - PS1 Games #3



Picture 5 - PS1 Games #4



Picture 6 - PS1 Games #5


NOTE -- Starting to notice the trend of Square Games & RPG's?
*NCAA March Madness 2001 - Brand New Sealed
Picture 7 - PS1 Games #6



Picture 8 - PS1 Games #7


*NOTES -- ALL CIB
--Arc The Lad Collection
--Lunar: The Silver Star Story
--Lunar 2: Eternal Blue

Picture 9 - PS1 Games #8 - GameSharks & Imports


**Love the Imports I already have looking forward to hopefully finding more down the road. **

Picture 10 - PS2 Games #1



Picture 11 - PS2 Games #2



Picture 12 - PS2 Games #3


**Notes**
--Innocent Life - Brand New!

Picture 13 - PS2 Games #4


**Notes**
--Radiata Stories - Brand New!

Picture 14 - PS2 Games #5


**Notes**
--Samurai Legend Musashi - Brand New!
--Shepard's Crossing - Brand New!

Picture 15 - PS2 Games #6


**Notes**
--World Heroes Anthology - Brand New!

Picture 16 - PS2 Games, Complete Sets, & Imports


**Notes**
--Dragon Quest VIII - 2 Copies - 1 is Brand New!
--Growlanser Heritage War CE - Brand New!

Picture 17 - PSP Games


**Notes**
--Castlevania Dracula X Chronicles - Brand New!
--Final Fantasy 1 & 2 - Brand New!
--Knights in the Nightmare - Brand New!

Picture 18 - PS2 & PSP Collector's Edition


**Notes**
--SORRY CUT OFF DEVIL SUMMONER 2 CE - BRAND NEW!
--ALL GAMES IN PICTURE ARE BRAND NEW Except one of the Copies of Prinny

Picture 19 - PS3 Games


**Notes**
--Demon Souls - Brand New!
--Disgeaa 3 - Brand New!
--Heavy Rain - Brand New - Game Stop Pre-Order Edition
--Tales of Graces F - Brand New!
--PES Evolution is an Import

Picture 20 - PS3 - Special or Limited Editions


**Notes**
--Atelier Rorona: The Alchemist of Arland [Premium Box] - Brand New!
--Atelier Totori: The Adventurer Of Arland [Premium Edition] - Brand New!
--Disgaea 4: A Promise Unforgotten [Premium Edition] - Brand New!
--Gran Turismo 5 Collector's Editon - Brand New!

Picture 21 - PS3 - LOTR War In The North - Brand New!



Picture 22 - PS Vita



NEW STUFF ADDED TO LOOK AT - 05/03/2013

Picture 1 - Boxed Sega 32x Games


**NOTES**
-BC Racers, Cosmic Carnage - Sealed

Picture 2 - Cart Only 32X some have manuals just forgot to dig them out, EXCEPT FOR THE ONE :-)



Picture 3 - Sega CD 32X



Picture 4 - Boxed Sega Master System



Picture 5 - Rare Sega Master System Games or Semi Rare :-)


**NOTES**
-Sega Mega Drive Game is Sailor Moon
-Gauntlet SMS is PAL
-Mega Key - Allows players to play MD and PAL MD games on Sega Genesis
-Action Replay For Sega Genesis

Picture 6 - Cart Only Sega Master System



Picture 7 - Boxed Intellivision Games



Picture 8 - Boxed Intellivision Games Part 2



- My cart only Intellvision games are somewhere in the storage unit.

Picture 9 - CD-i



Picture 10 - N-Gage



Picture 11 - Odds & Ends







Noriyuki Iwadare: Chapter 2

When we last left off with Iwadare's career we just stopped at Der Langrisser, and covered the big Lunar games and one remake, now its time for a new series to rise, and Lunar to continue with its remake train.

In 1996 Iwadare and Pack-In-Video worked together to make Monstania, a short tactical RPG for the Super Famicom that you guessed it, was never localized anywhere. It was quite late in the Super's lifecycle by then and Japan already had the Nintendo 64 to play with. Also, Pack-In-Video almost never localized their games anyway.



In the same year Iwadare and Game Arts released the Playstation remake of the first Lunar, adding Story to the end of the title for some reason. Anyway, this is more than just a simple remake, since the Playstation has more power than a Sega CD the developers were able to upgrade graphics, sound, music, everything, and with the upgrades came new songs.



A year later saw the Japanese exclusive release of Langrisser IV for the Sega Saturn, Iwadare worked with a couple of others to produce the music for the game. The aforementioned remake of Lunar Walking School, Magic School Lunar, also released for the Saturn and only for Japan in 1997.

What the rest of us got from the wonderful year of 1997 is another work from Iwadare and Game Arts, a new project, one that's not Lunar. Grandia. Grandia originally came out in 1997 for the Sega Saturn (for Japan only of course), but it was ported to the Playstation and released internationally in 1999 (2000 for the Euros out there). Because of its similarity to Xenogears in appearance and camera control it is the cause for some finger pointing ire amongst RPG fanboys, or did back when people cared.



1998 would see a couple more big projects from Iwadare. Langrisser V would release for the Saturn and Playstation (what geographical area do you think it was released in?) This is currently the latest game of the Langrisser series until Schwarz releases. Iwadare is credited as the composer for this upcoming game as well. But, the big news, at least internationally, was the remake of Lunar 2, getting the full Playstation treatment just like the first game got.



The next year was fairly quiet for the international Iwadare fan. None of the games would release outside of Japan but one did start a brand new series. Well, it is a new game in a way. Growlanser released in Japan only in 1999, but we would get some of the later games in the series.

In 2000 the world of role playing would be shaken to its core, or it should have been if it didn't, because Game Arts and Iwadare came out with an all new Grandia for the new at the time Sega Dreamcast! I consider this game to be in the Holy Trinity of Dreamcast RPGs alongside Skies of Arcadia and Phantasy Star Online. Just ignore the PS2 port and get the DC version!



Let us start the 21st century by saying that the next couple games had no chance of releasing outside of Japan. Mercurius Pretty is a remake of an old Japanese PC-98 game, there was no exposure when it was originally released and most likely not going to attract even a niche fanbase at the time. True Love Story 3 is a dating sim, that's about it for that one.

So the next music the international crowd was introduced to is a Grandia spin off, Grandia Xtreme. I have not played this game yet as I have never owned it and did not rent it back in the day, it is on my hunting list though as I have been digging the music.



Another True Love Story would come out along with an... 'adult' visual novel called Wind: A Breath of Heart. All the good stuff is in the PC version as it was cut for the console market. 2003 would see Iwadare work on that timeless PS2 classic Mega Man X7 with an entire music crew. Counting him, there are 9 credited composers for that game. Yikes!

Anyway I'll skip the Mega Man X7 for now and move onto something else completely awesome. Lawyers. Namely, Capcom's resident lawyer Nick Wright and crew. Yes, Iwadare started in the Ace Attorney series with the 3rd game, which we know as Trials and Tribulations. These games originally released as Game Boy Advance games. They were later remade for the Nintendo DS and released internationally a few years later, when I got in on the series.



Iwadare finally got to work for the big name in console RPGs, Square Enix, to compose the soundtrack to Radiata Stories before going back to compose the music for the Grandia I wish I could forget, Grandia III. After this he went back to making music for some Japanese exclusive sims primarily he made a return to the Ace Attorney series with Ace Attorney Investigations: Miles Edgeworth in 2009, and its UNLOCALIZED sequel Gyakuten Kenji 2 in 2011.

Alongside the new Ace Attorney spin off Game Arts and Iwadare made ANOTHER Lunar remake for the Playstation Portable. Lunar: Silver Star Harmony came out in 2009. The awesome Limited Edition has some sexy Lunar girl cards and a sweet CD soundtrack of all the music in the game! This is more of a slight enhancement to the PS1 remake than a different overhaul of the Sega CD original.

Grandia Online released in 2010 with Iwadare composing the entire soundtrack. Yes, this MMO is exclusive to Japan. I think its getting quite clear why Noriyuki Iwadare might not be as well known as he should be. Half his music never made it across any body of water!

The most recent games that Iwadare has worked on are the aforementioned Grandia Online, Gyakuten Kenji 2, and Kid Icarus: Uprising. Upcoming games with his music are the newest Ace Attorney game and Nick's return; Phoenix Wright: Ace Attorney - Dual Destinies, as well as Langrisser Schwarz.

Composer Compendium LP - Stewart Copeland

Introducing the Composer Compendium Limited Play, or LP for short. The idea behind the LP is to highlight a short career in video games. Perhaps a life was tragically cut short, or an artist made music for a handful of games and moved on, or, and this is the most common one, they exist as a popular entity outside of video games already. They have a made name with clout behind it, whether the person was in a famous band, does Broadway music, movie and TV soundtracks, whatever else they were doing beforehand does not matter.

As an extra to the conclusion of Noriyuki Iwadare here is the Limited Play of The Police's drummer Stewart Copeland's work in the video game industry.

Sadly, he only worked on one series of games and one other random game, but the best games in that series. Mr. Copeland composed the music for the first four Spyro games. He started work on the very first one for the Playstation, and finished with Enter the Dragonfly on PS2.



This time coincided with many musicians outside of the realm of video games entering the medium in the West. They no longer needed in depth knowledge of a system's sound capabilities with the rise of CD gaming. The CD brought incredibly high quality music with it since NEC first introduced the Turbo CD as an add-on to the Turbografx-16. You did not need to be Yuzo Koshiro and create your own music coding language just to create high quality music. This brought many new audio styles to the world of mid-late 90's gaming.



I love me some Insomniac, and part of that reason is that I grew up with the PS1 trilogy of games and this music. I still like to try and play through them every other summer for some fun and nostalgia. Even back then I thought the music was much different from anything I had played on the Super Nintendo and PS1 beforehand. This may have to do with Copeland's lack of experience with the overall gaming market. He wasn't listening to the soundtracks of other games to get a style of what a game should sound like, he just made great music to fit the style of the one game he was working on at the time.



The one non-Spyro game soundtrack Copeland did is Alone in the Dark: The New Nightmare. I have not played this game so I don't know how it holds up, but I know its supposed to at least be creepy and mildly scary at times. I'll leave you with this nice, pleasant, limited little Spyro sample and this interview footage of the man himself.





Blog Navigation
---
Browse Bloggers | My Blog
We are a community of collectors, gamers and the likes, and some of us enjoy to let the world know what is on our mind. For those members, we have the community blogs, a place where they can publish their thoughts and feelings regarding life, universe, and everything. Some of those members might even choose to write about gaming and collecting! Whatever they write about, you can find it on their blog. You can either see the latest community blog entries in the feed you see to the left, or you can browse for your favorite blog using the menu above. Interested in having your own blog hosted on RF Generation? It's rather simple, first be a registered member, and then click the "My Blog" link that you see in the navigation above. Following those two steps will certainly get you on your way to blogging.

Sit back, relax, and enjoy our entries, rantings, and completely unrelated series of thoughts. We write for you to read, so we certainly hope that you enjoy our material.
Hot Community Entries
---
Hot RFG Blog Entries
---