---



I recently stumbled upon a game that surprised me with its presentation, cultural flavor, and overall fun. Kenka Bancho: Badass Rumble for the Sony PSP was the perfect game to play after finishing Yakuza 5, as there are similarities between the two games, although Kenka Bancho is distinct in many ways. Though there are many entries in this series, this is the only one we've gotten in North America. Let's check it out!


Continue reading Kenka Bancho: Badass Rumble


Hello To All Sony PlayStation 1 Fans!

I have been on RFGeneration for the past 7 1/2 years but never had made a post as the SP1SC! I would like to introduce myself to all Sony PlayStation 1 Fans. My name is Jimmy Lynn Sanchez, I am 34 years old, and reside in Philadelphia, Pennsylvania (Formerly of Virginia Beach, Virginia).

I have collected all things Sony PlayStation 1 since 1997 and have ran the Sony PlayStation 1 Sanctuary Channel on YouTube since May 2015. Prior to that I was once the owner of the Lancaster City Dragonrats, a very popular YouTube page that ran from 2007-2010 before I was forced to shut it down by my former employers. I am the proud owner of nearly 2,000 Sony PlayStation 1 Games, and a bunch of the PS1 Models from North America, Japan, and Europe.

Now that have established a firm fan and subscriber base on YouTube and I also would love to engage more with collectors and gamers alike, I finally bring this blog to the masses, or at least to the RF Generation Website.

My YouTube Channel is nearly all things PS1, I very rarely put up something not for the PS1, usually PS4, or something very random to the site and I invite everyone that sees this blog to check it out. I always am taking requests on what should be put on the channel. I run a Pickups Video every week I get something in, lately I have started a Let's Play Series and also put up a random quickie for something obscure, but eventually want to put a video of every game ever made for the PS1 as I am working towards that goal. Anyone that is a user of RFGeneration can see what I have for the PS1 and that makes it a lot easier to request, since you know I will have the item available. To find me on YouTube, you can search Sony PlayStation 1 Sanctuary Channel or go to www.youtube.com/c/JimmyLynnSanchez

I am also on Patreon, Facebook, Twitter, Google+, and Twitch as well!

Hope to hear from all of you and hope you like the channel!

Sincerely,
Jimmy Lynn Sanchez
Sony PlayStation 1 Sanctuary Channel

www.youtube.com/c/JimmyLynnSanchez
www.patreon.com/JimmyLynnSanchez
www.facebook.com/PS1SC
www.twitter.com/PS1SC
www.twitch.tv/JimmyLSanchez



It's amazing for me to think that I don't like indie games as much as I "should." When I was growing up, I tended to restrict myself to listening only to bands who were on a short list of only the most exalted independent record labels. Everything else was "sold out" or "too trendy." Yeah, I was one of those kids in high school.

You might think given that kind of holier than thou upbringing I'd be heralding the current indie boom in video gaming, but quite frankly, I'm not really feeling it. Don't get me wrong. I am certainly cheering on smaller teams making games that are touching a select amount of players with whom their work resonates. After all, month after month on the RFGPlaycast it seemed I would try to break down the "problems" with modern triple-A video game design, and the indie movement is providing so many answers to my pleas for innovation. Having said that though, every time I try an indie game, I rarely get into it enough to bother finishing it, despite the fact that they tend to be shorter than mainstream titles. There have been a few exceptions like Limbo, but I haven't gotten deep into an indie game in a while.

I recently sat down with The Unfinished Swan and although I can't say I have changed my tune on indie games, I did enjoy it more than most others.


Continue reading The Unfinished Swan



Sorry guys, you won't be getting a Top Games of 2015 list from me. For one, I don't own a current generation console to play games released this year on, and secondly, my list of my favorite games I played it 2015 will be available early next year when you listen to the RF Generation Playcast (http://rfgenplaycast.podbean.com/) .....shameless plug!! Instead, I'll be focusing on a topic that has baffled and frustrated me (and probably you) for years and that is, "What import games can I play on my North American consoles without having to import systems?" I certainly won't be able to cover every system, but I'll try to cover the more well-known and most-owned consoles. I understand that some imported games can be burned or pirated for play on North American systems; however, since this method is frowned upon by a large majority of the community, I will not be covering or suggesting this method for any system here. I hope many of you will find this article useful and please think of it and my research as my holiday gift to you!

**DISCLAIMER: Please be advised that I have not tried several of these methods myself and that the great majority of the information that I have assembled here has been compiled through research. I have verified as much of the information as possible, but some of it may be incorrect. If you find that something is incorrect, please send me a PM and I can verify and edit this post. Thank you!**


Continue reading Is it Region-Locked or Region-Free?



Let's be honest here for a minute. You WHAT? I'm... sorry, I think I have to call the police.

Er, let's start over. If we're truly honest about it, people tend to be pretty picky, and that includes gamers being picky about their games. And that's fine! After all, we're dedicating our most valuable resource; time, and usually at least some of our income toward a leisure activity. It only makes sense that we are discerning about how and what we play, and cater our playtime to match our preferences, as we do most other things.


Continue reading Good Thing My Bias is the Right One



Welcome back to a world of horror and fright. You may remember last year when I did a review of a game (Thief: The Dark Project [http://www.rfgeneration.c...The-Dark-Project-2639.php]) that many would not consider when pondering their options to step into a good atmosphere that sends chills down your spine and squeals up your throat. The real "horror" came from the masterpiece's years spent in "Development Hell" where its focus was changed about a half dozen times. In contrast to a jumbled mess of juxtaposed design and experimentation that somehow worked brilliantly, this year I bring you D. Just "D." The letter "D." No more. No less. "D."


Continue reading Spooky Plays: D


Another summertime weekend for picking and searching. No yard sales this time though. Thunderstorms and hail as big as baseballs in some areas stopped me from exploring those, but thrift stores were fair game.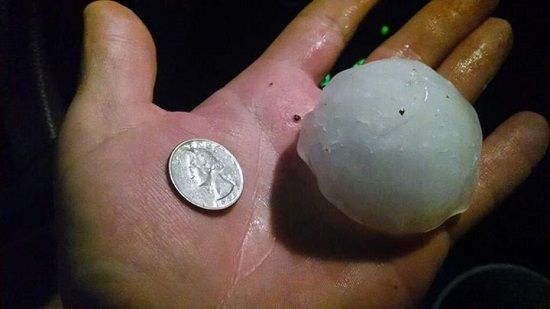 Firstly, got an early Father's day gift from my wife. No idea on what she spent, because it was a gift and she doesn't disclose price on the gifts she buys me, but I know it wasn't extreme.

Sega Genesis core system
3 controllers: (1 SEGA, 2 Blockbuster Video third party with blue colored start button)
7 Games: NBA Jam: T.E., NHL '94, Sonic the Hedgehog, RBI Baseball 3, Fatal Fury 2, Joe Montana II: Sports Talk Football, Jammit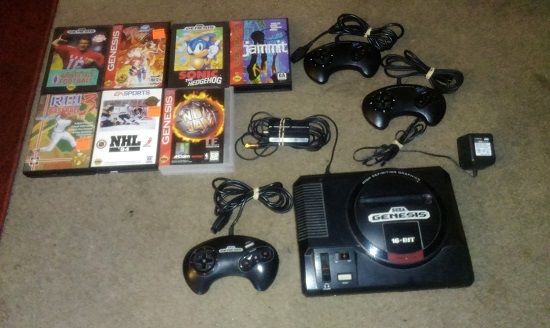 It seems now that I own a 2600, games will start falling in my lap. Snagged all of these for 50% off, making them all $0.50 each.

24 Total Games:

2600: Space Invaders, Star Raiders, Warlords, Asteroids, Defender, Laser Blast, Centipede, Robot Tank, Vanguard, Pac-man, Video Chess, Combat, Starmaster, Solaris, Space Wars, Missile Command, and Yars' Revenge.

PS1: Disney's Treasure Planet, Speedball 2100, Tetris Plus, Bravo Air Race, Colony Wars III: Red Sun, and Intelligent Qube

PC: Steel Panters III Brigade Command: 1939-1999 (Sealed)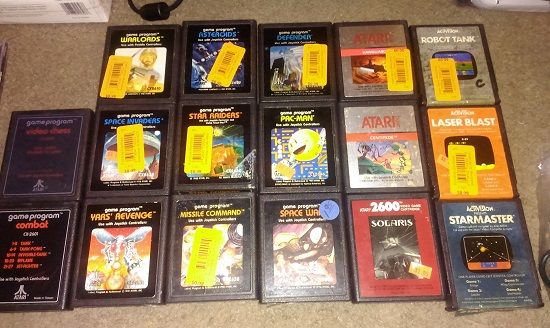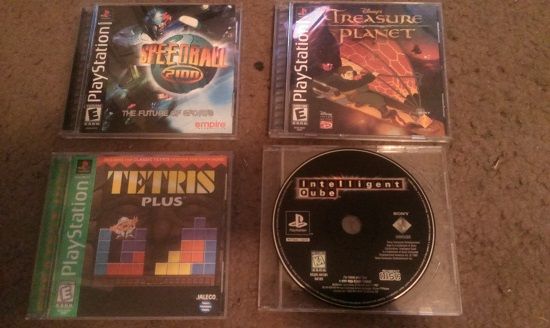 Finally, grabbed some systems for pretty darn cheap:

$10: Original PS2 with one original black memory card, an original black dualshock 2 controller, a clear black dualshock 2 controller, and a surprise inside: Kingdom Hearts.

$4: Game Boy with Super Mario Land 2 inside

$6: PSone with A/V cables and Power supply

$3: Clear green Dualshock 2 controller and two original black PS2 memory cards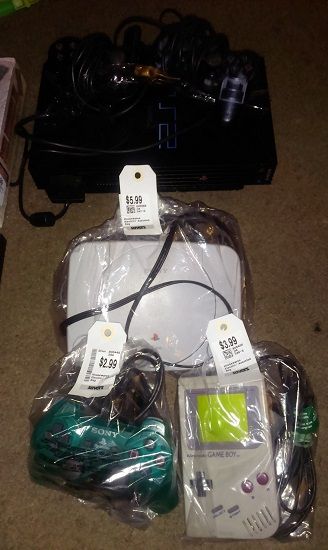 I am very happy with the amount of systems I got this time around and how cheap I got them for, since I'm thinking all of these games are pretty common finds. I wonder about the colony wars title though. I haven't seen that one before.


What a strange special edition PS4 I got...



Anyone else pick up the PS4 at launch?


I have almost given up on blogging or even commenting on here because I feel my words come out sounding like something my 12 year old brother would type. That being said, sometimes I read something on here and wonder how it is possible that my thoughts are typed in a way that sounds so much better than what I would type. A blog I saw today is one of those times.

My point of view on the next generation has come down to my past, The Wii U will be my next console for the exclusives as I am tired not only of the nitpicking and mud-slinging, but of one of the corporations as well. Microsoft as well as "Cliffy B" (Cliff Blezinski of Gears of War fame) are taking this "Piracy" of console gaming too far. When Microsoft announced they would require online only gaming and prevent my from sharing games with my friends and family, (as well as other reasons), I decided to go elsewhere for my future. Even though they changed their stance, I chose to return to my roots, Nintendo.

I miss the Mario and Zelda franchises, and gaming in groups in one building instead of online. This brings me to my next topic, multiplayer next-gen gaming.

I have played many multi-player games with my brother and our friends over the years. In middle school, it was mostly Super Smash Bros., Mario Party, and Goldeneye 007; in high school, it was Timesplitters 2, Soul Caliber 2, Halo (first and only time I system linked, and it was with four consoles for 16 players), and Super Smash Bros. Melee; in college, Super Smash Bros. Brawl, Halo 3 split-screen, and Mario Kart (multiple systems).

With that said, I also spent a great deal of time on two player experiences with my bro, namely Kirby Super Star, TMNT 2, 3, and 4, (Beat 3 with 1 pellet of life left between us and no continues remaining), and the Donkey Kong Country series; as well as some current gen multiplayer as we are living in different states. Dead Rising 2, Army of Two, and Resident Evil 5.

So where does that take us? To the Wii U. I have been missing the old days of single console play and nintendo's first party releases so far are more than enough to satisfy that...with my younger brothers in their teens and my son getting older, it is time to really get back into one room.

What multiplayer experiences defined your childhood? Do you prefer the Call of duty-like multiplayer of today over the old school? What would you like to see from the future in regards to multiplayer?


To put this in the simplest of terms, the way the title of this article can happen is if either or both of these hardware manufacturers do one thing, charge the gaming public to activate used games. The news releases of EA ending their online pass program is just the first reason why trying to extort extra money just for buying a game that's already been played will not work. For those of you that have not yet read about EA ending a much maligned policy of theirs their reasoning is as follows "Many players didnt respond to the format. We've listened to the feedback and decided to do away with it moving forward." This translates from business speak to layman's English as 'We were not making a profit.'

Take heed Sony and/or Microsoft. If the 2nd largest 3rd party publisher has already tried and abandoned the tactics that you may well be on the cusp of unveiling to the public then your system is doomed from the start. It is one thing to have individual games lock content up behind a pay wall, but an entire system? The incredible poostorm that has surrounded EA and other companies using online passes to access their multiplayer components after a copy has moved from the 'new' to 'used' bin will be incredibly miniscule compared to having a paywall thrown up blocking me and other gamers from playing a single player game, let alone multiplayer.



Please be smarter than the Discworld Dibblers.

I know I'm only one person and this is anecdotal evidence but I spend almost 90% of my purchasing power on used games and almost never buy a game at launch. When I do it is something I have eagerly been waiting for months to come out and hone in on my targets with the precision of a falcon. I do not pre-order something if I have any shred of doubt that the game might not be good, hence I tend to stick with only a few series which see sporadic releases. Most of the used games I buy are in the $5-10 region and I'm perfectly fine waiting 1 or 2 years for the price to get there. So if either Sony or MS want to charge me an extra $5 to activate a used game and essentially double my investment, they will lose 100% of my business.

No hardware, no pre-orders, no software, no collector's editions, no used games, nothing, nada, zilch.



I will say this once, do not forget it. Your customers are your backbone, defy them and you lose them. Your publishers are greedy snobs, listen to them and you defy your consumers. If these rumors end up being confirmed I will happily go out and buy a brand new Wii U and 4-5 brand new games just to support more level headed and less obvious cash grabby, greedy business tactics. I don't care how weak the hardware is compared to the PS4 or possible NextBox specs, and I know Nintendo is far from perfect. That said, they will have 100% of my gaming budget if Sony and/or Microsoft is really this stupid.




Now here's another scenario, only one of the two unlaunched systems will have a used game activation fee and 'feature'. Given how close the sales are between 360 and PS3, this is just asking to get completely reamed in the backside through marketing techniques. What was once a close race turns into a landslide victory. I can see it now, "No fees just to play," "We don't charge a disc insertion fee," etc. etc. Millions of potential system sales are at stake here, and those millions of systems can support hundreds of millions of software sales. We're talking billions and billions of dollars at stake here, trillions of yen, you will not Cut-Your-Own-Throat will you?


Sometimes you have to open things up to clean them. It doesn't really take much to convince me to do this. Even though my knowledge of circuit design is fairly low, I enjoy looking at the little cities laid out in solder, resistors and ic's on that green board.

This is a PSone, model no SCPH-101, made in December of 2000. It really wasn't that dirty but there was some dust and hair I couldn't get to without opening up the case.

Six screws hold it shut, one of them under a warranty seal. These were actually tough screws to loosen, they require a small phillips and a bit of effort.




Continue reading What's Inside a PSone


Anyone who experienced Gaming in the 90's knows about the fierce (and awesome) War fought between Nintendo and Sega. In the end, Nintendo won, but it was, without a doubt, the biggest War in Gaming History.

People know me as a huge Nintendo Fan, but I love Sega too. Only a few of my friends are aware that I grew up with a Genesis and SNES in my house.

Anyway, with the 16-Bit War over, it was time for the 32-Bit War. The competitors? Sony and Sega.




(This was before God of War and Crash Bandicoot was Sony's mascot, see...)

Sega would go on saying "Hey! We've got TWO CPUs in our Console! Sony only has one! Plus, ours will be in stores first!". So what went wrong? Sega broke street date, so that turned off fans who were unprepared for it's arrival. Also, the inclusion of a second CPU made it difficult for Game Programmers to make games for the console. It also didn't help Sega that Sony was releasing games that people thought were better. They also released (way) more than Sega did for the Saturn. With victory all but guaranteed for Sony, Sega eventually gave up, and the 32-Bit War came to an end.

Am I saying people hate the Saturn? Hell no. In fact, as far as I know, it has a bigger cult following than the PS1 in this day and age. I could be wrong though, so don't quote me on that. Also, if it's any consolation to Sega fans, Sony's first batch of PS1 Consoles had overheating problems due to poor construction materials. In fact, I think I once read about that batch of consoles actually melting somewhere!



Anyway, that's it for the story of the 32-Bit Wars. Keep an eye out for my next article!



It's October again! And that means horror gaming! While noiseredux is really going above and beyond the call of duty with his excellent blog, with an ongoing featurette for this month covering the console and handheld world of horror, I figured I'd offer him some backup with another entry on that most terrifying of genres.

Extermination has the honor of being the first survival horror title released for Sony's PlayStation 2, beating out Silent Hill 2 by several months and Resident Evil: Code Veronica's PS2 port by just two weeks with its March 8, 2001, NTSC-J release date. The title was published by Sony Computer Entertainment and created by a team of developers that included several creators of Resident Evil. Reminiscent of the genre's flagship title and games like Carrier, the game has also drawn comparisons to the films The Thing and The Abyss.




The story revolves around Dennis Riley, a Sergeant in the USMC Special Forces Recon. Riley is one of a team being sent to infiltrate Fort Stewart, a secret research base in the Antarctic which formerly housed some of the United States' nuclear stockpile. With the end of the Cold War, the installation was converted into a research & development facility. As Riley's team approaches Fort Stewart via airplane in an ice storm, they receive a distress call from the base requesting it be the target of an air strike. But before they can respond, the plane malfunctions and crash lands, spreading the marines across the base. Riley and his combat buddy Roger Grigman are then forced to sneak into the base and meet up with the team.

While the Marines in the game come off as ballsy bad asses, the dialogue ranges from decent to absolutely terrible, and the quality of voice acting fluctuates throughout. Riley's voice is particularly bad, and at times he sounds like a whiny high school kid. The subplot involving his dead friend Andrew and Andrew's girlfriend Cindy also feels tacked on and unnecessary.

Riley must navigate the facility, facing strange mutations and living water puddles with his modular SPR-4, or Special Purpose Rifle. That weapon represents one of the most interesting elements of the entire game: instead of finding new guns to use, the player instead switches out attachments on the fly, so your weapon can always suit your situation if you have the parts. And those parts range from a sniper scope to an underslung grenade launcher, a forward grip with flashlight, enemy detector, night vision scope, and much more. The player can also switch between single round and 3-round-burst firing modes.

The ammunition system is also innovative: an infinite amount of ammo is found in dispensers through the facility, but only a limited amount can be carried, based on the number of magazines Riley happens to be carrying. If you want more ammunition, find more magazines scattered throughout the base. But the dispensers will not give ammunition for the variety of modular weapons to attach to the SPR-4, so once you're out of grenade rounds, shotgun shells, napalm juice, or whatever else you're using, you're out.




Adding to the action emphasis, the game features the use of a laser target, four years before Resident Evil 4 would implement its usage. And while The Ring: Terror's Realm predates Extermination with its laser sight by slightly over six months, Extermination offers far better control. Players can aim in third person perspective, moving the pointer around until it passes over a creature, generally auto-aiming at that target. But those that want to go for more precise shots can also enter a first person perspective which doesn't feature auto-aim. Unfortunately Riley can't move when his weapon is raised, and the sensitivity is too low to make it a truly effective tactic in close corners, but it's a great means for popping enemies from far off. The game also features two knife buttons, resulting in a slash or a stab, which don't require the weapon to be raised.

While this sounds like a good design on paper, it does suffer from some serious flaws. First, enemies are bullet sponges. Though that's not so bad considering there's ultimately infinite ammunition, dispensers are few and far between. To make up for this, enemies have glowing weak points that can be hit to drop them faster. Unfortunately they were designed to be hard to hit, and the third-person auto-aim feature does not automatically target them, making it difficult to kill some of the tougher varieties of mutants at close range. Aiming with the knife can also be difficult, so slashing minor enemies at one's heels can be a pain.

The camera also doesn't help as it can't be effectively manipulated, so the player can't swing it quickly to look around the corner or see an enemy right behind him. Instead, the player must turn and then either raise their weapon or press a button to center the camera behind them, wasting precious time.




The game's health system is also interesting, though cumbersome. The player has health, based on a 100-point numerical value, and an Infection rate. Every time an enemy hits the player, their infection goes up while their health goes down. And most healing items will not lower one's infection rate. Instead, the player must use vaccines to bring down infection, and the field-use variety aren't very common. If Riley's infection rate hits 100%, his max health decreases from 100 to 60, he takes damage over time, his character model changes, he starts taking damage from sources that previously didn't hurt him, and he can only be cured by using the MTS vaccine, which can only be administered at MTS beds...so if you wander too far from one and become infected, you won't make it back.

Extermination also features an unusual save system, revolving around battery power. Forget the ink ribbons of yesteryear, save stations now require batteries, which can be recharged at special power stations similar to the ammunition dispenser. And larger batteries will be found throughout the facility, so don't sweat saving. It's also a good idea to save often, as the game doesn't allow continues. Die, and you must reload.




Extermination is a decent game with some solid ideas that never really rises to greatness. Horror fans who enjoy such titles as Resident Evil, Carrier, Dino Crisis, The Thing, or non-horror games like Syphon Filter and Metal Gear Solid will likely appreciate this game more than those looking for experiences similar to Silent Hill, Fatal Frame, or Haunting Ground. It's something I would recommend to players who have experience with the genre's big names and are looking for something more obscure. And while its ideas aren't always successful, they are interesting enough to warrant a look. Another nice perk is the game's low price tag: not including shipping, it can be found on eBay for as little as $2.

For those interested, here's the introduction to the game:




So, Heavy Rain. Pretty awesome PS3 exclusive. One of the big memes it spawned was from the very early scenes in the game, when Ethan takes his family to a mall and hisson, Jason, gets lost. During this segment you have to run through the mall yelling for him: pressing X to Jason. Ethan's recorded line of him screaming Jason kind of caught on because, well it was amusing. First there was the flash game. Now there's the song/music video:



As I said, there's no spoilers in here. This happens in the first 15 minutes of the game. Enjoy!




OH GOD! SOUND THE FANBOY ALARMS! Insomniac Games, longtime developer of exclusive Sony properties like Spyro (before it got sold to Universal), Ratchet and Clank, and Resistance have sold their souls to the devil! They are teaming up with EA Partners and making a new IP that will appear on PS3 and 360! This is the first time Insomniac has made a game for anything other than a Sony platform, and Sony fanboys are going absolutely apeshit with negativity over the announcement. "RATCHET AND RESISTANCE ARE GOING TO EA! THEY SOLD THEMSELVES OUT TO THE DEVIL! THE WORLD'S ENDING! HAVING A GAME ON ANOTHER SYSTEM ONLY SPELLS DOOM!" hahaha no.

Insomniac has been never owned by anyone. They're independent and will remain so, but they still have strong ties to Sony. Sony still owns the big franchises, AND Insomniac is going to be doing further games in those series exclusively for Sony. As Insomniac's CEO Ted Price said, they will continue working on games with Sony. It's just this new IP that's going to be done with EA that will be on 360. However, some Sony fans can't really understand that and throwing huge fits about it. They just see the words "Insomniac making a 360 game" and go into instarage mode.



no see you just took a huge shit on sony so no-one who has a ps3 will like you no excuses sell outs

You money grabbing tossers. Im telling you now, if Ratchet and Clank standards continue to slip, and us PS3 owners get a WORSE game to conform to XBOX mechanics, i will never buy another Insomniac Game again.

i just wanted to say !!WHAT THE F***!! joining with EA that's one of the dumbest shit i ever heard in my gaming history. EA is going to f*** you over so bad i can't wait to see your faces and what you guys have to say. GOOD LUCK. the only thing that doesn't bother me is at least it's not with Activision and that it's going multiplatform.

you guys just lost alot of fans and respect for going multi!!! you aren't getting any money from me anymore jackass and trust me LOYALTY and RESPECT goes along way so f*** you Insomniac games!

Couldn't care less right now. I feel like your any other game studio out there and it's all about the $$$.

I will never buy an insomniac game ever again and I own every single one you have ever made. Congrates, your fan base that you have built on for over a decade is now gone and all the respect with it, have fun with those 360 fanboys


This deal is kinda unique though. As Kotaku said, there's never been a situation like this before. It's not really like Rare because Rare was owned by Nintendo then got sold to MS. Not really like Bungie because they still appear to be loyal to Sony and are willing to work on the franchises that made them a big name in the first place. It's not like Square because they aren't leaving one company to go to another (like they did with Nintendo to Sony). Not like Factor 5 or Sega either. It's a pretty unique deal and I'm excited to see what comes of it.

I wish the best of luck to Insomniac with their new IP, and hope it's a huge hit. They really deserve it. In the meantime, let's just laugh at all the fanboy hilarity that this move has generated.

In conclusion:


Stupid decision Insomniac, Hope your new project fails!!!





Blog Navigation
---
Browse Bloggers | My Blog
We are a community of collectors, gamers and the likes, and some of us enjoy to let the world know what is on our mind. For those members, we have the community blogs, a place where they can publish their thoughts and feelings regarding life, universe, and everything. Some of those members might even choose to write about gaming and collecting! Whatever they write about, you can find it on their blog. You can either see the latest community blog entries in the feed you see to the left, or you can browse for your favorite blog using the menu above. Interested in having your own blog hosted on RF Generation? It's rather simple, first be a registered member, and then click the "My Blog" link that you see in the navigation above. Following those two steps will certainly get you on your way to blogging.

Sit back, relax, and enjoy our entries, rantings, and completely unrelated series of thoughts. We write for you to read, so we certainly hope that you enjoy our material.
Hot Community Entries
---
Hot RFG Blog Entries
---