Here's the post that makes the weekly release list look like child's play. The black friday deals! For those of you in Euroland or where ever and don't know what Black Friday is, it is the day after Thanksgiving here in the US in which all the stores try to get people to come in and buy stuff for Christmas by offering insane deals. Of course, many stores entice gamers to come in and get stuff, so here's what's being offered this year. Before I get into it, I want to give props to cheapassgamer.com, bfads.net, and blackfriday.info for all the information found in this post.

Please note that the deals in bold are the ones I recommend most of all.

To get started, choose a store below to see what they have to offer.

External Link: Amazon.com deals from Cheap Ass Gamer

Best Buy
Circuit City
Costco
Game Crazy
GameStop
KB Toys
K-Mart
Meijer
Sam's Club
Target
Toys R Us
Wal-Mart


Continue reading 2008 Black Friday Deals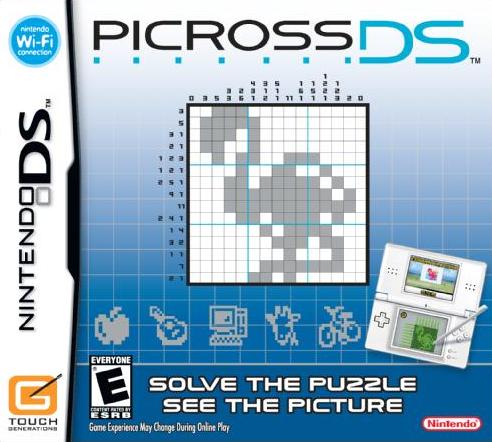 Nintendo has finally added some downloadable content to its DS puzzler, Picross DS. The puzzle packs, released for free over the Nintendo Wi-Fi Connection service, are a collection of 20 puzzles split up into two packs. Both of the packs are comprised of puzzles from Nintendo's only other Picross game that has come out in North America, Mario's Picross for the original Game Boy. The puzzles can be downloaded for free by going to Nintendo Wi-Fi Connection on the main menu of Picross DS, selecting Community, and Classic Puzzles.

I am an extreme Picross DS addict, and I have been waiting for at least three weeks for Nintendo to upload some puzzles. I haven't completed every puzzle that is included with the game yet, but it is nice to know that I have 20 more puzzles waiting for me when I am done.

If you haven't picked up Picross DS yet, then shame on you. It's one of the greatest puzzle games to ever grace Nintendo's little dual screen portable, and it will only cost you $20 new. If you have it already or do get it in the future, add me as a friend and let me know your friend code, so we can exchange puzzles and play each other online! My friend code can be found on my collection profile page.



Someone on YouTube has uploaded the intro to the new Zelda game on DS. The game is released in Japan tomorrow and in the USA sometime later on this year. Honestly, I can't wait to get it because Zelda is one of my favorite game series, and I love the return to Wind Waker style graphics. Hopefully the game won't be disappointing like Twilight Princess. Yes, I went there. Twilight Princess was kind of mundane and stuck to the Zelda formula too much in my book. Okami did a far better job of being a "Zelda" game than Twilight Princess did.

Don't take this to mean that I didn't like Twilight Princess, because I did enjoy it. It's one of my top 10 games of last year. However, Okami just beat it in dang near every aspect.

Anyways, here's the intro. Enjoy!

[youtube=425,340]Ot5cdC9bAMM[/youtube]