Accessory Snapshot
Monoprice 8X1 Enhanced Powered HDMI Switcher
High Def Switching Station

I jumped on the HDTV bandwagon relatively early with the purchase of my Toshiba 52HM84 DLP television set back in 2004. At that time, the war for a standardized digital input was still raging and HDMI was not yet an industry standard. Not willing to sink a great deal of money into a fledgling format, my set came equipped with just one (1) HDMI port. With today's gaming systems (and other HD devices) fully embracing High Definition technology, I am once again begging for more television inputs. The Monoprice 8X1 Enhanced Powered HDMI Switcher (Monoprice 8X1) was the answer I was looking for.
This externally powered device features a robust eight HDMI 1.2 compliant inputs. This easily accommodates my current set up (Xbox 360, PS3, Cable Box), but more importantly allows plenty of room for growth. The unit is self-aware and will automatically switch to the active HDMI device (a definite plus). I have not experienced any freezing of images when switching (manually or device driven) between connected systems, though there is around a 5 second delay for the Monoprice 8X1 to determine/display the correct source. The performance is exceptional - the quality of picture and sound is unaffected by the use of this switcher. A RS-232 serial interface is also provided for controlling this device from your computer. I have not messed around at all with this feature (RS-232) so I can not comment at all on its ease of use or performance in this area.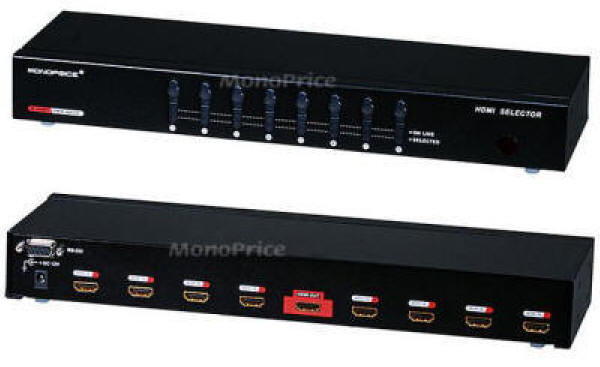 The black matte, solid steel casing of the Monoprice 8X1 is exceptionally sturdy. It is packaged with mounting brackets to easily place this switcher within your existing A/V cabinet. The front facing is elegant and simple, but the red and green LED lights to indicate the active device are truly abrasive. They are so bright that it is rather bothersome when you are in a gaming session. When all HDMI devices are inactive, the LED board is fully alit (pictured below) and so luminous that I could actually read the manual in an otherwise completely dark room. Now if this isn't overkill, I don't know what is.
The Monoprice 8X1 also is accompanied with a bank of various electrical convertors, which enhances this product's attractiveness to those outside North America. The plug itself is mounted on a convenient swiveled pedestal allowing you to customize the electrical connection (a.k.a. squeezing it into your surge protector). Installation and set up is a breeze - plug it in and you are all set to go. This unit does come with a small remote, but I have yet had the need to use it due to the HDMI auto-sensing capabilities of this device.
Prior to purchasing this unit, I did a great deal of research on HDMI Switches. The general consensus was that, as of today, all of these are basically toasters - the brand doesn't really matter for basic HDMI switching. One has to be aware of potential compatibility issues, signal "freezes" and ease of RS-232 support, but price overall is the determining factor in one's purchasing decision. Similar Monoprice products had been rated well by CNET and other independent review sources, especially when evaluating the value quotient. I purchased this unit around four months ago (July, 2010) and have been very pleased thus far with its performance.
Pros

Significantly increased High Def ports on your TV by providing eight HDMI connections for your gaming systems

Auto-sensing capabilities basically eliminates the need for further interaction once you have all of your HD devices connected

Cons

The LED indicator lights are abnormally intense and somewhat distracting when gaming

Externally powered by an included AC adaptor, so you will need to free up a spot on that surge protector for this unit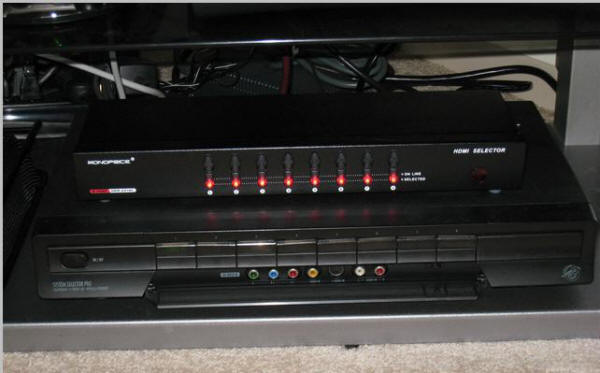 What HDMI Switcher Do You Utilize?
Share Your Thoughts & Suggestions with the RFG Community!!

Coming up next on the Accessory Snapshot:
The Logitech Cordless Action Controller

Recent Entries

Black Mirror Episode Review - Playtest (8/20/2018)
The Budget Wall - Explanation, Nostalgia, and Ending (8/18/2018)
The People of RF Generation - Addicted (8/16/2018)
Thoughts On The Upkeep of Retro Game Collecting (8/14/2018)
Zoda's Revenge: StarTropics II (8/12/2018)




My recommendation for the LEDs would be to get a piece of 'smoke' plexiglass cut to the same size as the front panel, and basically use it as a cover. It should cut the LED intensity without interfering with the remote sensor I see on the front.

Lol Between all the charging stations, tuners, cable box, router, cable modem, speaker lights, and power supplies with LEDs my living room looks like a set from The Time Tunnel.

http://www.youtube.com/watch?v=6Dz2t5EV_NA&feature=related
Monoprice makes solid cables and I've heard quite a few recommendations for their HDMI switches. I don't have many HDMI devices (well, my PS3 only right now), but my receiver has 2 inputs, which is fine for me. Xbox 360 is hooked up over VGA/Optical and no cable box, but should we get cable again at some point or I get a Roku or WD Live box or I make an HTPC, more HDMI inputs will be a necessity.


Hey, how is the input lag on this device?

An easy test is to use the automatic calibration test in Rock Band 2 using the RB2 wireless guitar. Compare it when plugged straight into your television and when passed through the switch.

When playing at Tondog's place the input lag on games was nearly double because we passed the signal through his receiver.

------------------

For LED indicators, if they're non-essential (ie... "power on" lights) I always cover them with black electrical tape.

I also can't stand overuse of blue LED lights. They were the most recent color of LED light to hit the market, and people use them too much because the other colors have been in use for decades. The Matrix brought back green for a bit but it died. Green always makes me think of computers thanks to old terminal screens.

@jferio: That is a great idea. I'll keep my eyes open for something prefabbed (L-Shaped) that I can just cut to size.

@slackur: I hear ya, Jess

I have the same thing going on in my Room of Doom

@bickman2k: Monoprice does seem to be the best value, regardless of HDMI product (switcher or cables). I have one of those WD Live units - I love it! I have it connected to a 1 TB WD External Drive and it works flawlessly (movies/pictures/music/etc.).

@OatBob: I don't have Rock Band 2, but I have experienced zero lag time with this device (Xbox 360 or PS3). The Green that indicates an active unit is the standard "Matrix" green - almost identical to that emitted by the Energizer Power & Play station. I kind of like the Blue LEDs when they were in vogue

Login or register to comment
It appears as though you are not a member of our site, or are not logged in.
It appears as though you can not comment currently. Becoming able to comment though is easy! All you need to do is register for the site! Not only will you be able to access any other site features including the forum and collection tools. If you are a registered user and just need to login then you can do so here.

Comment! It's easy, thoughtful, and who knows you might just enjoy it!
Database Search
---
Site Statistics
---
Total Games:

125140

Total Hardware:

9120

Total Scans:

160363

Total Screenshots:

91836

[More Stats]
Our Friends
---
Updated Entries
---

(Wii)
---

(PS4)
---

(PS4)
---

(PS4)
---

(X360)
---

(Wii)
---

(Wii)
---

(NES)
Updated Collections
---
New Forum Topics
---
New on the Blogs
---
Nielsen's Favorite Articles
---