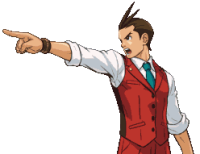 Capcom has premiered the English language trailer of the fourth installment in its wildly popular Gyakuten Saiban series, Apollo Justice: Ace Attorney. There is no slated North American release date, but this trailer makes me hopeful for one, as it was already released in Japan earlier this year.

Apollo Justice: Ace Attorney is the first game in which Phoenix Wright and Maya Fey are not the lead characters. Replacing them are Apollo Justice (a guy with two tall spikes in his hair that seem to always stay in place, gotta love anime physics), and "Mysterious Magician" Trucy.

Also, a reminder for all you Phoenix Wright fans, the third installment in the series, Trials and Tribulations, hits Nintendo DS here in America on October 23rd. I know I'll be the first one to buy it.



Continue reading OBJECTION! Apollo Justice: Ace Attorney Trailer From TGS 07


Fresh out of Comic Con 07, comes a sneak peek at Capcom's new Phoenix Wright inspired attorney game based on the hit Adult Swim show, Harvey Birdman: Attorney At Law. The game comes out this fall for Sony's Playstation 2 and PSP systems.



I remember when I first heard about the game this past spring, I was worried about how it will turn out, but I think all my concerns have been erased by this gameplay demo. The graphics are flat and 2D, the voice actors are there (oh dear God let Stephen Colbert be in the game), and it's funny. Of course, the cameo of Guile of Street Fighter 2 fame in the jury in that clip sealed the deal for me. I'm so buying this game on release day...and Aqua Teen Hunger Forice Zombie Ninja Pro-Am.



Database Search
---
Site Statistics
---
Total Games:

125092

Total Hardware:

9120

Total Scans:

160356

Total Screenshots:

91836

[More Stats]
Our Friends
---
Updated Entries
---

(GOG)
---

(GOG)
---

(GOG)
---

(PC)
---

(PC)
---

(PC)
---

(Steam)
---

(Steam)
Updated Collections
---
New Forum Topics
---
New on the Blogs
---
Nielsen's Favorite Articles
---