It's been about a month since I started moving my game room, and well, it's done. For the most part anyway. I wanted to have my game room moved within a week, but the carpet store we got the new carpet from had a hard time scheduling the installation, so I had to wait much longer than I wanted to. However, the carpet store didn't tell the carpet installers that they were supposed to do the hallway as well, so they didn't have a piece to do the closet so Room of Doom 3.0 isn't quite ready yet, so no "after"pictures quite yet. Those should be ready next week or so.
But for now, I'll give a final look at Room of Doom 2.5 via a video tour and a sneak peak of what Room of Doom 3.0 will look like.
So here is a video tour of Room of Doom 2.5. The quality is sub-par as it's taken with my old still camera, so I apologize for the quality. Hopefully, it's good enough to get an idea of what the room was like and why I needed a larger room.
And now, a special treat, a time lapse gif of Room of Doom 3.0 coming together.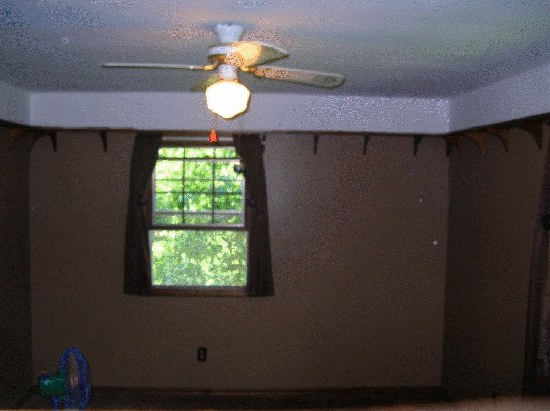 I wish I could have done it better (i.e. show more of the room) but to do this, I had to set the camera in the closet and not move it throughout the entire process which ended up taking a couple days. And the way the camera was positioned, I couldn't see the screen on it or take out the memory card so I couldn't see how the images were coming out, so I was basically pushing the button and hoping the picture came out decently.

So even though it may not look like much going on in some pictures, the action is out of the view of the camera. Basically throughout the entire process the floor was covered with games, systems and other stuff.

Recent Entries

Stuck in the 80s: Remember Halloween? (10/15/2018)
Thoughts on the C64 Mini (10/13/2018)
Blaster Master on NES (10/11/2018)
All Our News Are Belong To You: October 2018 Edition (10/9/2018)
The Renaissance of the Shmup Part 2 (10/7/2018)



Very nice collection, and lots of hope for the new room. I'd say that organization and display is one of the hardest things a game collector has to face, and as those of us that do collect (even someone like me) know, we HAVE to put this stuff out to see. I find the hardest thing to display properly is the boxed systems. My Dreamcast, NES, and SNES boxes exist in harmony,while the PSOne, Wii, and Gamecube boxes cause problems with their non-uniform size. My Odyssey 2 box however, is nothing more than an albatross around the neck. Nevertheless, the massiveness of the Odyssey 2 box also serves as a handy stepping stool, or in a pinch can be used to prop up a vehicle for easy access to the oil filter or driveshaft.

NES_Rules, I will simultaneously cheer you on and pray for you.

I love the Time Lapse picture. Very cool. Its looking awesome. Seems really handy to have that shelving around the top of the room.

@bombatomba: You got that right. At one point after spending almost the entire day trying to get everything to fit, I almost had a panic attack becuase nothing would fit how I wanted it to. I really wanted all the system boxes to stand up (like the Wii and 2600 Jr. box are in the picture) but I just couldn't fit very much with them like that so I had to lay most of them down.
Speaking of huge boxes, you should try getting a Pac-Man pack-in version 5200 box to fit somewhere. The regular 5200 box is large enough, but for some reason they added an extra foot in length on the box to include one game. Even in the closet it takes up a lot of space.

@Crabmaster2000: Those shelves are really nice. But they are only 11 inches from the top of the shelf to the ceiling and almost every system box is 11.5 or 12 inches, so it was infuriating at times trying to find boxes that would actually fit.


I think the time lapse shots look great. Very nice idea to show the progression. Well done.

Great video and the time lapse picture is awesome!

I really like the time lapse as well. Once we get a bigger house, I'm totally going to steal that idea with either the interval pics or a webcam recording to my hard drive for editing later. Or even a live feed for you nerds who want to see it happen.

I'm glad everyone enjoys the time laps, even though the quality isn't great.
@bickman2k: I thought about doing a live webcam too, but I don't really know how to do something like that. That would be awesome if you did it though.

I like the way the fan in the pictures isn't on until you get the TV's up. Then it's running the rest of the time. Just sayin'.

@worthmore: Trust me, it was on the whole time. It was in the 80's or 90's almost the entire time I was doing this so the fan was definitely needed. It's just coincidence, the blades are in the same position for the first couple pictures.

Looks like it's coming together nicely. Keep us updated on it. I really like the time lapse and seeing the placement of items.

Led Zep Rocks Man!

Oh and that is one Sweeeeeeet setup

)


wow! that's an impressive room/collection! i'm also in the process of moving my game room. i got the consoles all hooked up, but i'm waiting on the shelving. i wont need nearly as many shelves as you have, though!

Login or register to comment
It appears as though you are not a member of our site, or are not logged in.
It appears as though you can not comment currently. Becoming able to comment though is easy! All you need to do is register for the site! Not only will you be able to access any other site features including the forum and collection tools. If you are a registered user and just need to login then you can do so here.

Comment! It's easy, thoughtful, and who knows you might just enjoy it!
Database Search
---
Site Statistics
---
Total Games:

127413

Total Hardware:

9156

Total Scans:

161466

Total Screenshots:

91872

[More Stats]
Our Friends
---
Updated Entries
---

(NES)
---

(NES)
---

(eShop)
---

(eShop)
---

(eShop)
---

(eShop)
---

(eShop)
---

(eShop)
Updated Collections
---
New Forum Topics
---
New on the Blogs
---
Nielsen's Favorite Articles
---