Thanks to Senseiman for the pic
At the start of the year, I made a decision to organize my collection. I have stacks of carts in moving boxes, shoe boxes, and every type of box in between. I needed to create a system that would make it easy to find the game I was looking for and provide a uniform look on a shelf. Ideally, I would buy the original boxes for all of my games, but the prices boxes go for these days make this a fiscal impossibility. So what options are out there for casing a collection? I started off looking at the way other collectors organize and case their games and found three popular methods:
The first comes from
VideoGameBoxProtectors
. Their cart protector is the cheapest of the bunch at around $1.00 each and holds a game and dust sleeve nicely. They are plastic acid and ligind free, so you don't have to worry about the case destroying your game. The construction is solid so you don't have to worry about it breaking on you. I use these for display games like the X-Bit XMAS series or Japanese games as I can place a label on the top of the protector with the game's name in English. The cart protectors don't have enough space to accommodate a manual and the cart.
I don't care what the AVGN says it's worth protecting.
These cart protectors make finding a Famicom title easy by placing labels on top of the protectors.
The second option is the popular
Universal Games Cases
. These hold a variety of carts without taking up a lot of space. The cases provide a nice clean look when used with covers from
The Cover Project
. The cost can vary, but they are usually around $1.50 to $2.00 per case. The cases themselves, however, do have a couple flaws. I found the quality inconsistent as many of the cases felt thinner/cheaper than they should be and several of the corners broke off. There isn't any space to store the manual, and NES carts will not fit without modifying the cases.
I love the look of these and it makes it easy to find the game I'm looking for.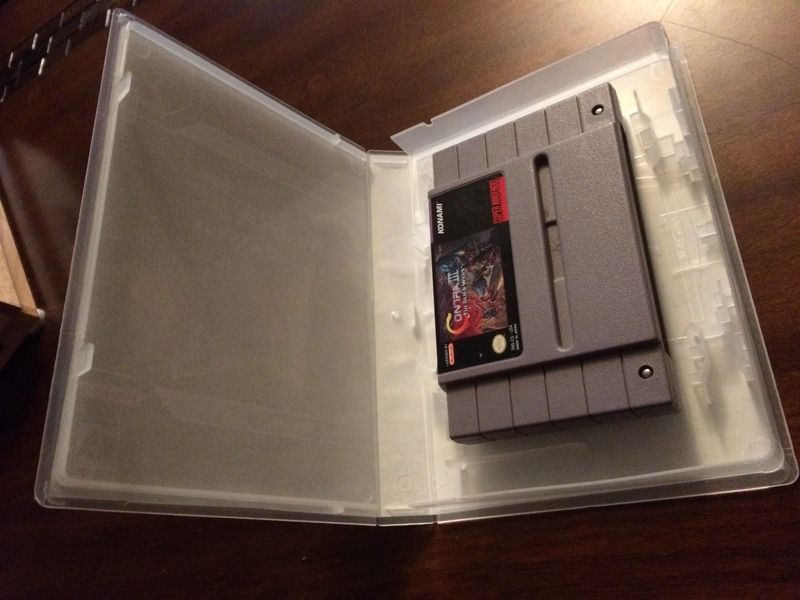 There isn't any place to store a manual with the game.
The third option is the newest on the block:
CustomGameCases
. These are system specific and are made to address the shortcomings of the Universal Game Cases by featuring a sturdier construction and a place to put the manual. Careful thought was also given to how the games are stored with pressure lock tabs to make sure cartridges don't move about if jostled. The cases measure slightly larger than the standard Universal Game Case/DS case, but noticeably stand out and can use the same covers from
http://www.thecoverproject.net
. With the increase in quality, comes an increase in price, so expect to pay around $2 to $3 per case.
The game and manual fit snugly.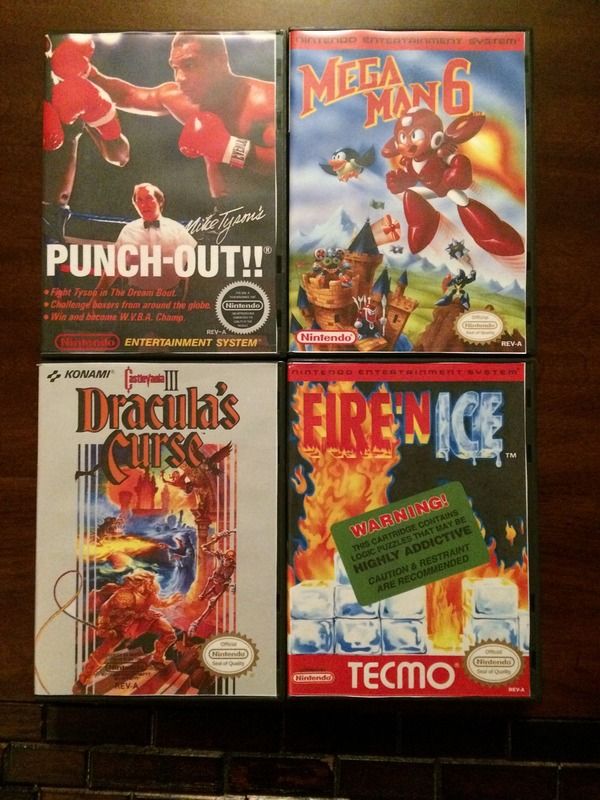 The cases and covers look amazing & the slip cover helps provide a glossy look.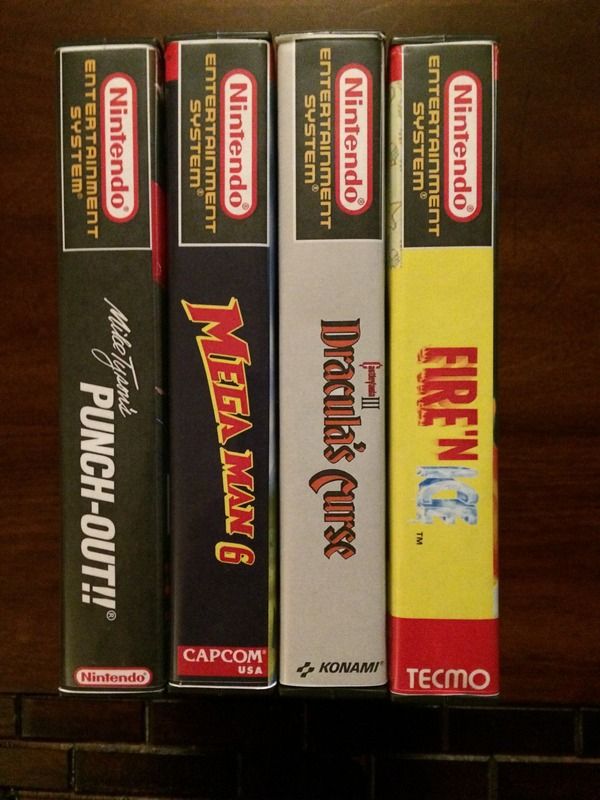 The spines make it easy to find the game you're looking for.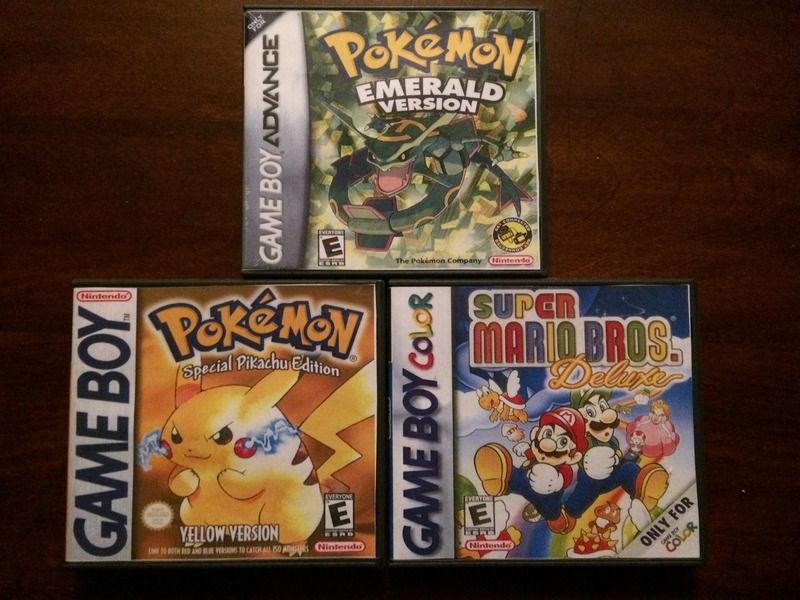 Size comparison: DS case is on the top with custom game cases on the bottom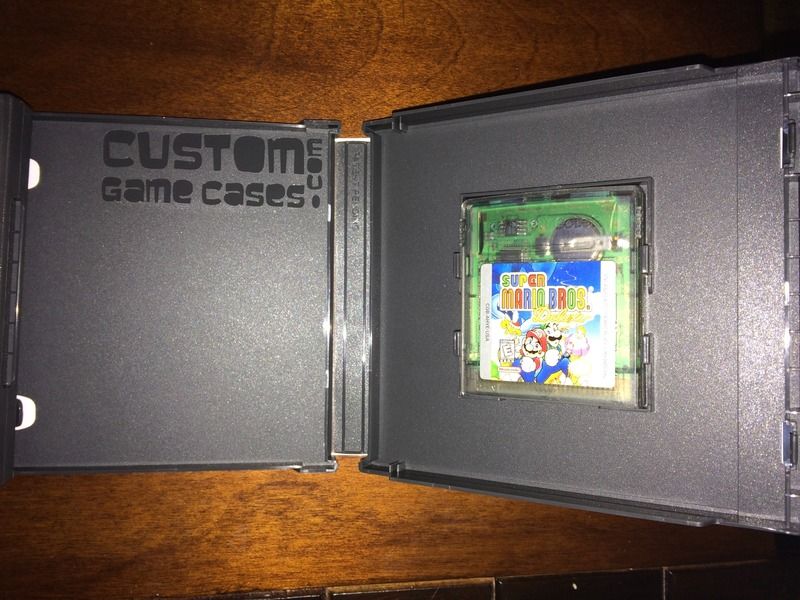 Inside of the GB/GBC/GBA custom game case.
Now that we've examined the most popular methods for organizing loose carts, you might be asking yourself, which one did I choose? I chose all three. The cart protectors work well for display games, and Famicom games. The universal game cases are great for systems with a wide range of cart shapes such as the Atari 2600 and also work well as replacement Intellivision cases. The custom game cases are amazing and allow me to give my NES and GB/GBC/GBA collection a consistent look while making it easy to find the game I'm looking for. I'm looking forward to the SNES/SFC cases and will feature a review when they are released. Casing your loose carts shouldn't cost a fortune and with these three options, you can organize, beautify, and keep a consistent look without breaking the bank.
A cased collection looks great!
Great suggestions! I've seen a couple of them before and was equally impressed by the quality. I love seeing fans create things like that on their own that look just as good, if not better, than the original boxes.

Why does the Paperboy combo have to stand out?!

Great article. I'm loving the product from CustomGameCases, and hope they get more of the GB/GBC blank cases soon. I've got a stack of those games begging for a more permanent home. Just out of curiosity, how would you rate the quality of the paper shipped with the CustomGameCases' stuff?


Great options, the custom cases are nice. My problem with choosing the the last two is that they take up a little more space than the first option. I am already running out of room, but if you have the space, these are great options. I do like your idea of mixing it up with each type.




I love doing this but I am cheap, and they dont have a good Game Gear case so I did this [img width=700 height=393]http://i.imgur.com/H9SykKw.jpg[/img]


I buy the end labels from this eBay seller for some systems that didn't have top labels on carts:

http://www.ebay.com/itm/N64-End-Label-Set-Video-Game-Accessory-/121714949192?hash=item1c56c6bc48:g:9ecAAOSwHnFVtvcZ

Best $40 I have spent on N64 collection.
I also get all my protectors from retroprotection.com

The owner Dan is awesome and always willing help you find a decent fit for any game system that doesn't sell enough for him to make it its own specific protectors.

Or just buy them complete.


@Tynstar:

If only I had that much extra cash.. Love the original artwork on all cartridge based systems but they are getting pricey even for the extra loved and rough around the edge boxes...

This is something I've been curious about, so thanks for the article, Addicted. I still don't know where I stand in terms of custom cases. It's a great idea for loose carts that came with cardboard boxes, but for stuff that came in good cases already, such as the Master System or Genesis (until late releases), those I definitely still want to find case, art, and manual, all original. That said, until I have a dedicated game room where I could display this kind of stuff, it would be hard to justify the cost. Still, they look sharp, no doubt about it!


@zophar53: Thanks! I hope this article has provided ideas for others looking to case their carts.

@Shadow: It was the only one that I could find. I should put up a request for a black label version.

@bombatomba: All of the covers I use were printed at work using the local laser printer and standard legal sized paper. They don't mind as long as I don't print out more than two per day. When the SNES cases become available I'll grab a cover or two and let you know.

@Fokakis79: Thanks! As you stated no one option is going to fit everything and it's always great to see new ideas and products. I've seen some great looking cart protector only collections over on NintendoAge that look amazing. It's all about how you want to display your collection.

@douglie007: Those look great! I've heard that Shadowfox the guy behind customgamecases.com is working on GameGear cases and I can't wait to see how they compare.

ScottyDont00: Thanks for the link! Those end labels would go great with N64 cart protectors.

@Tynstar: I wish I could but I can't go back in time, nor do I have the money. There's always plan B.

@MetalFRO: Glad I could help, and I'm looking forward to another GameBoy review! I'm very lucky that I can use part of the basement to house my collection. I wish I could go all original for my Genesis/SMS games but around here it is increasingly rare to find a box for anything. CustomGameCases sells replacement Genesis cases and I hope to grab some on my next order. http://www.customgamecases.com/#!online-store/c1m9j/!/SEGA-Genesis-Game-Case-1-Case/p/55700246/category=14875773




@Addicted:

The best part about those N64 end labels (32x ones as well) is that they only cover 1 half of the cartridge case. Easily allows you to open the game to clean without risking damage to labels you spent extra money on.

I have the 32x and 5200 end labels as well. I love they way they all look. Great quality product and the seller even sent me a few replacement sheets free of charge from the N64 set when I messaged him about the plotting machine (cutting tool used to cut the excess vinyl around the individual labels out) cut too deep and I was having a hard time getting some of the labels off with bending or smashing them. After that I decided I would give him free advertisement when I could. I think he also has Vectrex and Jaguar end labels as well. I haven't bought those since I don't have a Vectrex yet and my very small and very slow to grow Jag collection is all CIB.

I love the look of some of these - if I only had space to properly display things. Hopefully they'll still make these in 20 years when my kids are all moved out.


@ScottyDont00: Having the stickers only take up half of the cart is great idea and he sounds like a great person to buy from.

@Duke: I'll hold you to it. I expect pics twenty years from now... or whenever your complete your NES collection.. whichever comes first. The non console cases do take up more space and if you're looking to dip your toe into custom cases the portable ones provide the most bang for your money as they don't require as much space and make finding a game a lot easier.



The Universal cases don't seem to be a good fit for the Atari 2600, Intellivision, Coleco, etc.? They seem to just float around in the case. I've been looking for a better alternative for these. Something like the plastic Coleco CBS cases. The Ace Case 10 disc case is great for Atari carts but is almost not deep enough.