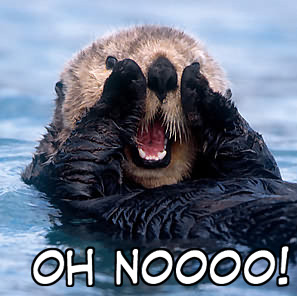 It seems as though some of you are pretty excited. Personally I am excited. It's certainly a throw back to retro roots, with graphics meant to imitate the original NES Mega Mans. In short, it's pretty damn cool, and hopefully the game play comes through. Time shall tell in that regard.
I imagine most of you expect Capcom to release this on
all
console digital distribution formats. Certainly, I sure did. You might notice that I said did. Yeah, about that... Kotaku and Ars both though have some troubling news. It appears that for you Sony and 360 Owners, Capcom currently does not desire your money, as it says that Mega Man 9 is only in development for WiiWare. Wow, that's a... shocker.
To mark this development, it's time to bring out the OH NOOOO! Otter. I imagine that lots of you really would like the opportunity to get this game, but have found their prospects of getting this retro odyssey somewhat... dashed. Perhaps Capcom has been misquoted, and meant to say it'll come out for other systems later. Perhaps they really meant what is being reported by folks like Luke Plunkett. You know, he writes for Kotaku, so he is part of that bunch of respectable game bloggers, so they wouldn't wrongly state something, would they? Well, regardless, the OH NOOOO! Otter feels your pain. Since I can't feel your pain because I own a Wii, at least the OH NOOOO! Otter can.
Mega Man 9: Wii Ware ONLY
[Kotaku] [
IMAGE
]