There's a reason why I haven't done this in three weeks, you'll see why. Here's the release list for the last three weeks.
Playstation 3
Xbox 360
Nintendo Wii
• Lord of the Rings: Conquest
• Lord of the Rings: Conquest
• Deal Or No Deal
• Fishing Master World Tour
• Hotel for Dogs
• Neighborhood Games
• Paws and Claws Pet Resort
PSP
Nintendo DS
Playstation 2
NOTHING

PC
• Cartoon Network Universe: Fusion Fall
• Delta Force 10th Anniversary Collection
• Lord of the Rings: Conquest
• Mirror's Edge
• Bigfoot: Collision Course
• Elebits: The Adventures of Kai & Zero
• Hotel for Dogs
• Inkheart
• Jumble Madness
• Lord of the Rings: Conquest
• Moon
• Paws and Claws Pampered Pets
• Personal Trainer: Math
NOTHING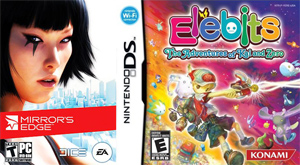 Very exciting for not doing it in such a long time, I know. First thing worth mentioning is Mirror's Edge on the PC. If you have a good gaming PC and haven't experienced the game yet, please do so. Mirror's Edge is easily one of the five best games of last year. Yeah, the game is technically "short", but it never feels short. The pacing and length feels perfect. After you beat the game, there's plenty more to do, such as speedruns on all the game's levels and trying to beat your friend's scores on the online leaderboards. Please, don't skip this game. Give EA your support by buying the game. Let them know that they are truly headed down the right direction with innovative, original titles like Mirror's Edge.

The other title worth talking about is Elebits: The Adventures of Kai and Zero for the DS. In case you don't know, I'm like one of two people that actually bought and enjoyed the first Elebits game on the Wii, so I was intrigued when I heard there was a DS version coming. A few weeks ago, I downloaded the demo to my DS from the Nintendo Channel on the Wii and played through it. I thought it was pretty fun, but repetitive and nowhere near as good as the original. What's different about the DS version is that it's structured more like an RPG/Adventure rather than a puzzle game. I'm not really sure what else to say about it. It's merely a decent game that's kinda fun. I certainly wouldn't rush out and buy it right now, but maybe when it hits $10 or so in a few months.

Check back very soon for this week's releases!

Recent Entries

Episode 66 - RF Generation Playcast (10/22/2019)
Dead or Alive (10/20/2019)
A Brief Look At: Thomas Was Alone (10/18/2019)
RFGeneration Challenge 2019 - Endgame (10/16/2019)
Time, Age, Gaming, Difficulty. Sadly Not A Multiple Choice Question. (10/14/2019)



Yay, the review lists are back!



If I wasn't planning on buying a "next" gen console in 2009, I'd get Mirror's Edge (my PC is more than enough) but I prefer console games over PC games. I'll get it on PS3.


Ar Tonelico 2 is out for the PS2 this week if you wanna add it


@Paully3433: That will be on this week's list, which should be up tonight.


How long is tonight where you're from?

Login or register to comment
It appears as though you are not a member of our site, or are not logged in.
It appears as though you can not comment currently. Becoming able to comment though is easy! All you need to do is register for the site! Not only will you be able to access any other site features including the forum and collection tools. If you are a registered user and just need to login then you can do so here.

Comment! It's easy, thoughtful, and who knows you might just enjoy it!
Database Search
---
Site Statistics
---
Total Games:

132870

Total Hardware:

9591

Total Scans:

169437

Total Screenshots:

92767

[More Stats]
Our Friends
---
Updated Entries
---

(Wii)
---

(Wii)
---

(Xbox)
---

(Xbox)
---

(Xbox)
---

(X360)
---

(X360)
---

(X360)
Updated Collections
---
New Forum Topics
---
New on the Blogs
---
Nielsen's Favorite Articles
---