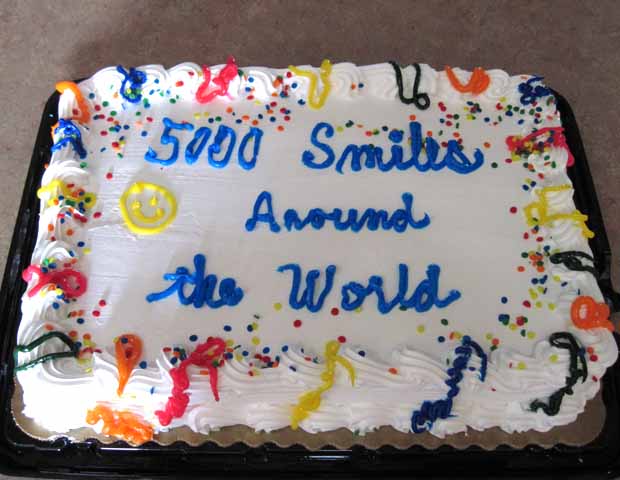 I told you it was coming, and yesterday at 1:42:44 PM EST, it happened.
RFGeneration welcomed its 5000th member,
-Goemon43-
. Congrats to
-Goemon43-
for being lucky number 5000, and thank you to the other 4999 people who have registered here at RFGeneration and are currently using the site or have used it in the past.
Now, I challenge all 5000 of you to tell just one friend about RFGeneration. If each of you got just one friend to start using the site, we would be at 10,000 members in no time! Just think of all the new information we could
harvest
collect from that many more people, not to mention all the new trading opportunities we'd all have.
And don't forget, we've got some other milestones coming up, lets see how many we can cross off before the end of the year!
70,000 games
45,000 screenshots - 151 to go
90,000 scans - 1630 to go
3000 Collectors on our site (the number of people who have something listed in their collection) - 141 to go
5000 hardware entries - 54 to go
5000 members (number of people actively registered on the site/forum)
Recent Entries

A True Wizard, or Just Another Presto?: Authenticating Your 2600 Wizard Carts (5/17/2013)
RPG Milestones: A Big Bang (5/13/2013)
RF Generation Collectorcast Episode 14: Storming the Podcatsle (4/29/2013)
Happy Birthday RFGeneration! (4/28/2013)
The 2013 Pain Yourself with Submissions Contest! (4/27/2013)



I remember back when the site was still pretty new heading down to Cinci Classic with Den68 and handing out RFGeneration buisness cards to everyone we met. Damn the site has come a long way since then. Congrats guys!

I've told a friend or two about this place...

...and they told me I should "get a life."

With that kind of attitude, they're likely not the kinda folks you'd want hangin' around here.

However, I have mentioned this place to several eBay customers. Don't know if any of 'em ever signed up, though.

Congrats, and what a booming place!

Awesome!!

Now you gotta cut that little cake into 5,000 pieces. I call a corner!

Man, what did I do last night? How did I end up here? Hmm, RF Generation a place for collectors and gamers... I'm in.



After we Rf Gen hits the rest of the milrestones we can all be hipsters and say "RF Gen? Yeah, I was a member before it was cool."

45,000 screenshots - 151 to go

Challenge accepted!

@Sauza12: I remember that... that just makes me want to make another CinciClassics convention



after I get through all my Hardware I should be able to get the 54 done by my self

I wish I knew how to take screenshots, other than to point a camera at the TV. If that's the case I can do 151 tonight!

That said, I have mentioned the site to others, and have gotten one to sign up. Severdheartdies is my brother! I know he never posts, and doesn't have his full collection up, but it's something. I'll tell someone else tonight!

@douglie007: Do eet!

@monkees19:
Emulator screenshots work fine. Just keep in mind the Image Guidelines here:
http://www.rfgeneration.com/PHP/submitinfo.php?action=policies;id=4

I would, but I don't believe in emulators. I only play the real thing. One day, I'll get crazy screen capture software and hook my computer up to the TV! One Day!

Login or register to comment
It appears as though you are not a member of our site, or are not logged in.
It appears as though you can not comment currently. Becoming able to comment though is easy! All you need to do is register for the site! Not only will you be able to access any other site features including the forum and collection tools. If you are a registered user and just need to login then you can do so here.

Comment! It's easy, thoughtful, and who knows you might just enjoy it!
Database Search
---
Site Statistics
---
Total Games:

76872

Total Hardware:

5203

Total Scans:

95857

Total Screenshots:

45284

[More Stats]
Our Friends
---
Updated Entries
---

(Gen)
---

(Gen)
---

(PSX)
---

(PS2)
---

(PS2)
---

(PS2)
---

(PS2)
---

(PS2)
Updated Collections
---
New Forum Topics
---
New on the Blogs
---
Nielsen's Favorite Articles
---