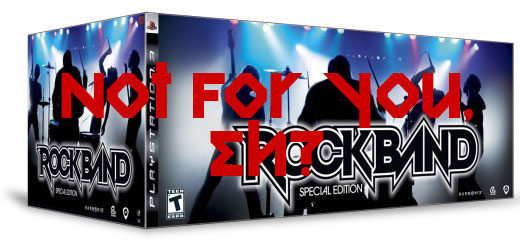 So, how's it going EA? Find any new developers to buy up? You broke my heart when you bought Maxis. It further disintegrated when you guys dissolved Maxis into EA Games. You bastard. I hate you. Luckily for you, I am still a die hard Will Wright Fan, and for that reason I'll have a reason periodically to buy a game developed and published by you.

Recently, you released Harmonix's Rock Band to the masses in "North America". It was shortly around launch that you clarified "North America" to mean United States. Now, I am American, but when I think North America, I think three countries:


Canada
Mexico
United States

In addition, Latin America is part of North America, even if we tend to ignore those countries. I feel honored to bring you that geography lesson for today, brought to you by NAFTA. Someone should have given Harmonix / EA this lesson when they decided to announce a release date for Rock Band. If I was Canadian, I'd feel pretty slighted by the fact that EA does not find you part of North America. I'd be even more ticked that Rock Band was delayed all the way to yesterday. But, perhaps EA would make amends by giving you guys a decent launch. Eh? Eh?! Nah, that's not EA's style. Turns out most retailers in Canada did not get a shipment yesterday, much to the disappointment of fans camping out for the game. Furthermore, those retailers that did get a shipment got a horribly reduced release. This slighting would infuriate me if I was Canadian, and I've come up with some conclusions about EA:

EA, you have an identity crisis. I believe that you think that you are Nintendo. Furthermore, I think you have confused Canada with the continent of Europe. What's the deal? Did you guys get hit on your head? Snap out of hit! Stop shafting our friends to the North, where some people call themselves Tan and some people like to say 'Eh?'. It's a lovely country. Stop screwing the pooch. Give them the game. Don't be jerks. It only hurts your sales. Ask Activision, I bet they could give you some pointers on alienating fans.

Sorry Canada, I couldn't snap EA out of their trance. Before you know it, you'll start seeing EA published minigames out the wahzoo and more casually focused games! My God, help us all.



Database Search
---
Site Statistics
---
Total Games:

132798

Total Hardware:

9588

Total Scans:

169360

Total Screenshots:

92767

[More Stats]
Our Friends
---
Updated Entries
---

(PS4)
---

(2600)
---

(PSP)
---

(PS2)
---

(PS2)
---

(PS2)
---

(PS2)
---

(PS2)
Updated Collections
---
New Forum Topics
---
New on the Blogs
---
Nielsen's Favorite Articles
---