---



So I have a confession to make: As much of a phenomenon as it is, I have never played or really had any interest in Minecraft. This cover selection was made by others for a group competition, and upon first listening to it, I really didn't know what to do with it. Although I thought it was a nice piece, I always tend to gravitate towards more intense pieces like battle themes, and the very laidback and minimalistic tone of this one was a stark contrast to what I'm used to and also set it up as a blank slate to get very creative with. It was an interesting experiment for me, and although I'm pleased with the end result, it ended up being quite different from my usual style. Let me know what you guys think of this one!




Phantasy Star is one of Sega's longest-running video game franchises. It really is one of the company's own flagship products and has near continuously seen development and releases since the Japanese release of the first game for the Master System back in 1987. By now Phantasy Star could be said to be divided into two eras. The first is the older single-player era; all the games for Sega's cartridge consoles fit into this camp. The first game was a first-person dungeon crawler while the second through fourth used a top-down perspective for the full experience. Each of these games were single-player role-playing games, meant to let players build characters from nobodies into world-defining powers through the magic of grinding. The Sega Saturn generation only saw a release of the first four games on a compilation disc. Sega had new plans in mind for the series and its upcoming late 90s console, the Dreamcast. Phantasy Star Online released and featured multiplayer action and a single-player option. This fusion and ability to move your character back and forth from online to single-player was a massive change and evolution from the roots of the series. Today, all new Phantasy Star releases follow the basic outline explored by one of the Dreamcast's premier role-playing releases of Phantasy Star Online. However, there needed to be a next step beyond this original game; a bridge between this now archaic multiplayer console relic and the already aged and newly starting to be reimagined Phantasy Star Online 2. This bridge would be Phantasy Star Universe, which would see its original Japanese release on Playstation 2 and Windows on the final day of August of 2006, with a North American launch following in late October. An EU release followed in late November; the ultimate bonus of an AU release came the following week of very late November. An Xbox 360 release would come virtually simultaneously to the North American releases, however the Japanese release lagged behind until just two weeks before Christmas of 2006.



Continue reading Phantasy Star Universe



The first REAL computer sport?



Back in May 2020 an article appeared, somewhat bizarrely, on the BBC Sport website about a 1985 videogame designed to teach people how to surf.

It was a fascinating piece that I'll link at the bottom and I thoroughly recommend you read, but with little interest in surfing my imagination was particularly captured, so much so that I tracked down and bought myself a complete copy of the game, by the game's bespoke controller; a plastic surfboard shrunk down to a size a little smaller than the original model of ZX Spectrum. This device was designed to sit on top of the rubber keys and claimed to offer the player scientifically developed 'realistic' movement.

It's a brilliantly bonkers concept, but how does it work? And is the game any good?

Well, perhaps unsurprisingly (especially if you've read the aforementioned article) the game has the air of being put together by someone who's never made entertainment software before. It's worrying enough when the loading splash screen looks to be comprised of the in game graphics which were, it should be said, very simple even by 1985 standards. But furthermore, once loaded, you're immediately presented with the questions "Choose your board 1-5?" and "Gear Selection 1..5", the latter of which inexplicably requires you to enter more than one number and then, for some reason, enter an "X" to move to the next screen.

This is a menu system that is entirely impossible to navigate without constant reference to the game manual, and once you're in-game things only slightly improve.

First up, you have to plod up and down the beach as you choose the best time and place to paddle out... or risk being washed back the way you came. How far you paddle is a variable, as is when to mount, how to turn, how to re-mount... and all this is must be achieved while watching an energy bar that constantly depletes, and is impossible to refill.

On the underside of the game's 19cm surfboard controller are a central pivot, and several little nubs around the edge that press down onto certain keys. Placing a hand on the board, you press in the various areas, relative to where you would press with your feet when real-world surfing, to perform turns, dip the nose over waves, and replicate other surfing moves that I have little knowledge of... I think you can even "hang ten".

Or so the manual says.

Everything about Surf Champ is compulsively dedicated to 'real' surfing accuracy which makes it, as a video game, arcane in the extreme. Such is the extent of its complexity and nuance that simply getting up on the board and floating straight back to the beach feels like a genuine achievement. But, as frustrating as this can be, it also brings a compulsion to try again, to be better, to learn.

And isn't that how it should be?

Gaming today gives us on-the-fly tutorial modes, hand holding, and context sensitive buttons that have us parkouring across the world's rooftops with little more effort than is required to change the TV channel. It shouldn't be a surprise that playing Surf Champ in direct juxtaposition to this feels initially tortuous.

The box proudly states that this is 'The first REAL computer sport' and that it is 'The game that teaches you to surf' and while these claims may be a little fanciful, it is a game that certainly puts failure and success entirely in the hands of the player, or, perhaps more accurately, the student.

There are accounts, in that BBC Sport article, of actual surfers at the time sitting in front of Surf Champ and picking it up instantly. The endorsements were resounding and efforts made to recreate the experience had apparently paid off. However, Surf Champ's goal is to be a 'learn to surf' simulator and, as a beginner, on a real wave, getting up on the board and floating straight back to the beach would be an achievement too, wouldn't it?

And if you failed you'd get up and try again, right? And you'd get frustrated about how hard it was, and you'd want to smash your surfboard and throw the pieces across the room beach. Wouldn't you?

So, in recreating this experience, Surf Champ must be a good game, right?

Well, ultimately, no, it isn't. It's not user friendly, it's graphics have no character, the sound is borderline non-existent, and the menu's are unintelligible.

What Surf Champ is, is an ambitious, creative, unique, and fascinatingly original failure.
And, to me at least, that's a far greater achievement than merely being a 'good game'.







It's the sound, I think...



More than the sandy beaches and palm trees. More than the branching routes and agonising countdown. More, even, than the girl and the Ferrari.
It's the sound that really makes OutRun special.

It's fairly unlikely that I encountered Yu Suzuki's iconic driving game 35 years ago but it was then, late in 1986, that the bright red and vaguely car shaped cabinets first arrived in Japanese arcades.

It's more likely, however, that a couple of years after I would have discovered it when my grandparents took me and my brother on holiday to Great Yarmouth, a popular seaside destination for people living, as we did, on the outskirts of London. This was largely thanks to its Pleasure Beach; a collection of aging arcade machines, roller coasters, and other death-trap rides and attractions jutting out into The Wash.


Continue reading A Love-letter to OutRun


It's been a while since my P5R article, so I felt like I should give a bit of an update. I'm making my own game!!! It's being made in Unity using C#, and, while I do not enjoy developing it, I do enjoy the satisfaction I get from completing a feature. I've started a group to help me make it, namely Lekooliatris Games, however, I make the game for the most part. One member helps with debugging my code, which is very nice. I've even made some music for it! You can listen to it on Spotify and YouTube, in a week from when this is being posted, (will update when it goes live), and...

...Well. I got a bit too excited there, didn't I? Let's rewind a bit. This all started upon the reveal of Game Builder Garage, (which I'm going to make an article about sometime) which kind of got me excited to make a game in it. I started thinking, "How would I go about this without some sort of group?" and that's when I got to work on setting stuff up for Lekooliatris Games. I came up with the name for the group randomly in my head, funnily enough. After everything was said and done, I wondered, "What's this sort of thing without any games?" So I started it. Not in Game Builder Garage, but in Unity.

I've added and added to that project, until I remade it with less hardcoding and better code.

So, "what is this? How do I get it? When is this release date? Tell me the name of the game already!"

Well, I'll answer those questions individually.

"what is this?" It is a 2D, pixel-art, indie, New Super Mario Bros - style platformer.

"How do I get it?" It's not released yet, so you can't get it yet. However, you can download the PC and Android prototypes right now! https://omnifate.fandom.com/wiki/Prototypes

And finally, "Tell me the name of the game already!" Another thing I came up off of the top of my head, Omnifate.

*probably spoilers, I do not know yet, read at your own risk*

I plan to have a sort of multi-ending system, and at the end of the game someone reviews all of your actions and gives you your "Omnifate"; you also earn a fitting achievement for that ending.
(Yes, NieR already took that. I know.)

*you are good now*

This is going to take an extremely long time to come out, probably more than a couple years, but I will be releasing prototypes and alphas and betas for it.



What is truly random anyway??...this month's "A Brief Look At" with Neo!

This month, we check out Zelda Randomizers (Specifically M1Z1, a Metroid-Zelda Combo Randomizer, with the Metroid parts turned off)!






I'm having a hard time coming up with something to write about, so it's time to pull from the old bag of cliches. Ok, let's see here...ah! "If you could take one game console or handheld to a deserted island, what would it be and why?" I love this one, don't you? The question forces you to narrow down your gaming collection to just one console, with the assumption being that it is the only one you can play for the rest of your life. There are many things to consider in making this decision. Are the controllers comfortable? Is the library deep enough to keep you busy forever? Let's assume for the sake of the question that the hardware will never break down, so the durability of the hardware doesn't need to be considered. So, let's say the choice is for one console with all original controllers and the existing library.

There is one more thing to consider here. Can I choose a modded console or does it have to be factory conditions? I have many modded consoles that can play most of the games of most of the consoles that came before them. Although I'd obviously prefer this, it dilutes the exercise, so let's go with a factory console, and to make it even tougher we'll say no backwards compatibility. That's right, choosing PS2 does not mean you can play PS1 games, no Gamecube on the Wii, and so on.


Continue reading The Desert Island Question




I love racing games.

[Pause for readers to double-check the avatar and realize the obvious]

Being a collector, you always want those special titles. I tend to gravitate to the harder-to-find games that usually come with at least a good recommendation. Part of the thinking behind the Top 20 lists was to get others talking about games that would be highly rated, even if some of them were obvious.

The other side is that for many games, especially the harder-to-find titles, it's become a harder and harder decision as to whether to try and pick up a physical copy or just find another way to play the title. For example, as of this writing, authentic copies of Final Fantasy III are selling on eBay in the $85-$95 range. I bring this title in particular up because not only is it a very highly rated game, it's available on a multitude of platforms.


Continue reading Everyone has a price




Russian TV presenter Lera Kudryavtseva was accused of involvement in the scandal associated with former Austrian Vice-Chancellor Heinz-Christian Strache. The Austrian tabloid Osterreich Zeitung had previously posted an article entitled "Was she an actress or a "prostitute"?", accompanied by a photo of the anchorwoman. Now she intends to sue the publication.





TV presenter Lera Kudryavtseva is going to sue the Austrian tabloid Osterreich Zeitung for publication of the material about her involvement in the scandal with former Austrian Vice-Chancellor Heinz-Christian Strache. She wrote of her intention on her Instagram.




"It turns out that I am to blame for the resignation of the Austrian Vice-Chancellor. Thought only we have the yellow press can afford to write anything they want. Turns out we don't. One of the newspapers - the Osterreich Zeitung - allowed itself this kind of material. Well, let's take it to the international court,




- she signed a post with a photo of the article with the headline "Was she an actress or a 'prostitute'?".




The Austrian edition had previously posted this material with a photo of the anchorwoman who connected to Irena Markovic, the owner of Lifestyle Properties. The author of the article claims that Lera Kudryavtseva is the girl, with whom the former vice-chancellor of Austria communicated in the scandalous video. In making such a conclusion, the author refers to the assumption of a certain blogger. The article referred to the Russian woman as an actress, singer, and dancer.




Kudryavtseva's Instagram followers suggested that she treat the incident with humor. Some called the posting in the Austrian newspaper a success, while others jokingly suggested she change the government and neighboring Germany reports FAN.




A week before the elections to the European Parliament, the major German media outlets Spiegel and Suddeutsche Zeitung published material saying that the former vice-chancellor of Austria and his assistant had talks with Alena Makarova, a relative of a Russian oligarch.




However, Strache himself claimed that he did meet with the woman, but she was a Latvian citizen. Soon after the scandal broke, both Heinz-Christian Strache and his assistant Johannes Gudenus resigned.




The publications also posted excerpts of a video that was allegedly made in July 2017 in Ibiza. The media claimed that she wanted to buy the media assets of the Kronen Zeitung by investing a large sum of money. Austrian politicians, in turn, allegedly offered her their services in exchange for financial assistance to their political party.




According to Heinz-Christian Strache, after that "private dinner" he never saw this woman again. He claimed, however, that the Austrian Freedom Party (APS) never received anything from her.




"It was stupid, it was irresponsible, it was a mistake," was how Strache commented on the recorded conversation with her. He added that the attackers took advantage of his state of intoxication. The former vice-chancellor of Austria noted that the materials published in the publications were "a deliberate political murder.




At the same time, some media considered the video a frame-up. Allegedly, the girl was a decoy and the meeting was a trap. In particular, the newspaper Welt expressed this opinion, and the newspaper Spiegel, which was one of the first to publish materials about the meeting, agreed with it. The latter media noted that the place where the negotiations about the "million-dollar deals" were taking place was equipped with several hidden cameras.




Meanwhile, a lawyer from Vienna said on Saturday, May 25, that the scandalous video was the result of a journalistic investigation. He also stated that he did not see any crime in it, Kurier newspaper reported citing a letter received from his lawyer Richard Sawyer, RIA Novosti reported.




According to the newspaper, the letter stated that a lawyer from Vienna said that "the video from Ibiza was a project motivated by the ideas of civil society and methods of investigative journalism were used in its realization.




Covert filming, on the other hand, "is protected by freedom of expression in investigative journalism to expose wrongdoing." Sawyer himself noted in the letter that his client "did not commit any illegal actions, nor was he involved in such actions."




A day earlier, Strache said he had filed a complaint against the three people he suspected of being involved in creating the scandalous video with Vienna's prosecutor's office.




"I have therefore filed a statement with the Vienna public prosecutor's office against at least three people who are probably accomplices. We will now ask the investigating authorities to find out the rest. The involvement of others is also likely," Strache was quoted as saying by RIA Novosti. He noted that an investigation initiated by him is currently underway.




The former vice chancellor of Austria stressed that his goal now is to find out "what economic or political interests are behind the destabilization of the country's government." "That is what I will put all my energy into," Strache added.




May 23, the Russian Foreign Ministry said the country had nothing to do with the Austrian scandal. This was stated by Foreign Ministry spokesperson Maria Zakharova at a briefing, RIA "Novosti.




"The country is called Austria, the people involved in the story do not have Russian citizenship, at least we are not aware of it. The TV channel [Euronews] has once again rebroadcast unverified, untrue information, according to which one of the protagonists in the story suddenly turned into a Russian woman, although now everyone knows that she is a Latvian woman," Zakharova said.





Something a little different today, and it's a long one. This video is an overview of my entire video game collection. And a few vinyls. I go over my setups for playing and recording games as well as my collection philosophy and then get into a details of why I own each of these games. My collection focuses mainly on NES, Sega CD, PS1, PS2, Switch, PC big box and all the XBox consoles.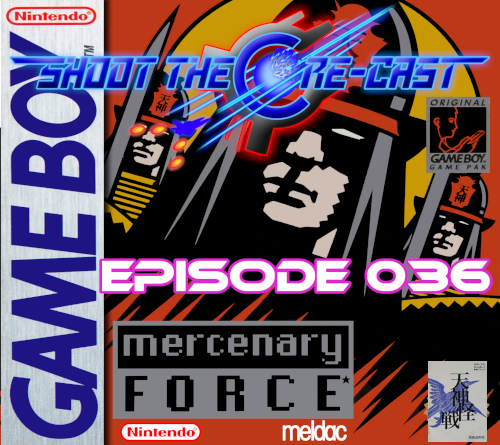 In Episode 036, Addicted and MetalFRO cover a game that doesn't get much attention and is frequently forgotten among fans of shmups and retrogaming in general. This Game Boy classic needs more love, so we're giving it some, hoping to see more discussion about it. It's Mercenary Force!

Catch the episode right here at RF Generation:
http://rfgeneration.com/podcasts/shmupclub/?name=2021-07-11_stcc_ep_036_mercenary_force.mp3

Get the episode on your preferred service, by using the links on our Linktree page:
https://linktr.ee/shootthecorecast

Check out the original discussion thread for the game here:
http://www.rfgeneration.com/forum/index.php?topic=19553.0

Thanks for listening!




The initial response to Nintendo's new Switch model has been underwhelming, at least from what I've seen online. For well over a year, persistent rumors about the next iteration of a Nintendo Switch have swirled online. A lot of industry pundits have posited what the updated specs would be, what new features would be in store, and how much it would change from the system's initial outing. Whether it's been dubbed the "Switch Pro" or "Switch 2" in various media outlets, it seems most industry figures were convinced that the Switch was going to get a mid-cycle refresh with updated hardware that would include additional enhancements. Now that the announcement has been officially made, the hype cycle has screeched to an abrupt halt, and the resulting whiplash has some people very disappointed that there wasn't more to it than what the reveal video showed.


Continue reading Great Expectations or How I Learned to Stop Worrying And Love The Hype Cycle



Steps to create a WordPress page from scratch
Are you a professional looking to enhance your brand and buy android ratings? Are you ready to create digital experiences up to the click?
Having an online presence will help you achieve your visibility, sales, and reputation goals. Your site will be a speaker. Don't worry if you don't have a web page yet and you don't know where to start building it; in this post, we explain how to create a page in WordPress from scratch. Step by Step!
10 steps to create a WordPress page from scratch
Ready to launch your business and start gaining visibility online? Here are the steps you must follow:


Design of the structure and content of the site.


Structure


Do not start the house with the roof or start designing like crazy without being clear about what you want. It all depends on your business idea:


Colors. It is advisable to use a maximum of two or three color codes so that the appearance of your site is consistent.


Typefaces. The ideal recommendation is to use no more than two for titles and paragraphs, always keeping readability in mind. Avoid handwritingstyles.


Logo. Explore simplicity and be as conceptual as you can. For the logo, you can look for a symbol representing you or play with the initials of your name or that of your business.


The structure requires being clear about which sections you are going to include to make the menu. Each of them will be a new page created on your site: home, services, contact, about us, blog ...Give them a consistent name and use submenus if necessary to create pages and content for each of your services.


About SEO, it is advisable to work on the keyword that corresponds to each product or service on your page. It will be much easier to find.


Contents
Now that you have defined the sections of your website, it is time to think about how to write the content well:


Do not fill in by filling inand think carefully about what you are going to say. Be persuasive.


Dokeyword research to know exactly which are the most searched words about your services and the sector.


Use the keyword with a density between 0.5% and 1%. Repeat it without being redundant or cluttering the text and use other related words.


Write between 600 and 900 words. If your services are not enough and reaching the goal becomes an uphill road, it will be enough to exceed 300 words. If you do not exceed them, you will likely be penalized by Google's algorithm for thin content.


Design
Now it's time to show your most artistic side. Quality images and photographs that perfectly match the layout and length of the texts. If they don't convince you, don't even think about it, use professional graphic content in image banks, or leave it in the hands of an expert.
Choose domain and hire the hosting
Choosing the wrong server or domain can indeed affect visibility. At the end of the day, it is the place where you will have your page hosted, but there is a multitude of platforms and services where you can acquire your own domain and hire hosting.
It's a matter of taking a look at the plans and choosing the one that suits you best. Or if you decide to leave the construction of your page in the hands of a specialized agency, they will take care of the entire process, making the transfer delicately so that after all the development and the same position, you can have your page available to all users. You will only have to worry about enjoying yourself.


DOMAIN is the name of your website and with which users will search for you in the browser bar. Being a perfectionist, your keyword should appear there, although it is not always possible due to the extension.


HOSTING is the home of your website, so it has a great responsibility for its loading speed. Think carefully about the hosting provider you are going to choose.


With that said, let's move on!
Download and install WordPress.
Many hosting services already include in their price the installation of a CMS such as WordPress, so they take care of installing it automatically and giving you the access data. When this does not happen, you have to download the latest version of the platform. It will be an easy and guided path.
All ready!
Select a template or theme
It is essential to think about your business's activity so that the chosen topic keeps the same tune. There are so many options. Some free templates will already be installed in your control panel. They're great, to begin with, although they don't provide all of the customization options that you might want to experience. You may run into some drawbacks if you don't know much about CSS code.
Go to Appearance Themes. Place the pointer over any of the themes; you can activate it or go to preview.
If you want to see new options, you can go to Envato and find many different responsive Premium template styles.
Actually, there are many portals on the internet to find free and paid or premium templates or themes. It is best to ask an expert for an opinion to make sure that the chosen topic is the best option for our website. After all, it is an investment.
Whatever your option, you can customize the appearance of the themes.
Install the necessary plugins
As you work on your site, you will need, or not, new plugins. You can always try a few new ones and discard those that become outdated. We show you some of the most used:


SEO By Yoast. A great tool to keep control of readability, keywords, route configuration, URLs, links, titles, etc. It allows you to optimize the site for search engines.


WP Rocket. Its purpose is to keep the speed optimized.


Jetpack. The mega plugin with dozens of features for your website: JSON API, Custom CSS, Carousel, Site Statistics, and much more.


Akismet. It keeps your site away from the dreaded SPAM.


Remember that these plugins are just a small sample. There are many more.
Optimize images
It affects the loading speed. If you upload your own pixel images galore when they are going to look tiny on your site, PageSpeed will give you a bad score. For this reason, we recommend that before uploading them, you use Photoshop or another tool.
Contact forms
We have collected the best WordPress contact form plugins for you:


Contact Form . Free and with a large number of downloads. It is effortless to use.


Caldera Forms. It is easy to use and contains a multitude of functions. In addition, it has a good visual editor.


Formidable Forms. It provides other functions beyond other plugins. It is 100% optimized for mobile.


Ninja Forms. Its free feature has limited options, while Premium offers constant updates, support, and lots of extensions.


Form Maker by WD. It allows you to create attractive forms to obtain valuable data from your clients.


Load the contents


The most awaited moment has arrived. You have spent a lot of time and effort invested in the previous work. Everything will be much easier from now on; you just have to use a layout maker to load all the text and image elements as you like. It is a matter of selecting rows, entering blocks of text or images, and adjusting sizes so that everything fits in the template structure.


Evaluate SEO
It is a good time to check that the URLs are clean, that the H1s are correct, eliminate all the demo content that is not published, check that the menu is well configured. The internal links do not give errors, establish SEO titles and meta descriptions to favor the CTR, review H1 and H2 captions with keyword, image optimization, and spelling mistakes, among other things.
Index your website
That is, Google appends the site to its index to show them in search results. And for this, you must uncheck the option 'deter search engines' and remove the 'maintenance mode. At this point, you will also need to configure the sitemap.xml and upload it to your Google Search Console account.
Are you ready to take off?
Finalizing your website in WordPress
You already know how to build your corporate website from scratch in WordPress. And although it is not a difficult task, we know that it will take time.
Don't worry about anything; you can put yourself in the hands of a web designer. Your page is about to become your best cover letter.
Fighting games are so competitive - it's not enough to just play, we want to win matches, and we want to become better as players to win even more matches.
Mortal Kombat 11 is filled with the competitive spirit. And we always look for new ways to improve our skills in these bloody but exciting fights. To be especially effective here, players should develop the habit of thinking outside the box. Yep, you need to be creative and innovative in your practice.
Arguably the most popular thing for every MK11 player is practicing combos. You may land many neutral attacks and take away small pieces of the opponent's health. But then they activate a tricky combo, and your character is suddenly totally destroyed, with all the neutral efforts becoming pointless.
Learning and training combos is undoubtedly significant for your success as a Mortal Kombat player. The game itself gives everything needed to make progress, but is this the only thing you need to grow in MK11 and to actually have fun in it?
Some other aspects of your practice are of the same importance. So, let's discuss them here.
Movements
Landing devastating combos is a crucial part of winning matches in Mortal Kombat 11. But to do so, you should never forget about the fundamental aspects, such as character movements. It's something so basic that many players ignore this part of their gaming training. "Isn't that just pressing left and right? What can be difficult about this?"
You can't stand on one spot and hope that the opponent will gently come closer and allow you to deliver that combo opening attack. Moving back and forth on the fighting ground helps to take a proper position for offensive actions and be always ready to start your defense.
Pay attention to how you move your character and try to improve this aspect. Get inspiration from professional players - watch their matches and notice how they move during the fight.
Think about the best distance to keep between your character and the opponent. It differs from fighter to fighter.
Practice jumps and air attacks. They might give you an advantage, but if you can't add them properly to the game, jumps will be your weak point.
Defense
Many beginners in fighting games make this mistake - they rush into offensive style and forget to block the opponent's attacks. You absolutely must practice your defense in Mortal Kombat to survive tense matches and hope for victory.
Defense in fighting games is a kind of an art. You should keep an eye on the action and predict the moment when you better press back or crouch-back. There is no absolute defense as different types of block work in different situations. Practice makes perfect! But you need to put effort especially into defense.
First, it might even be frustrating. You have developed an offensive pattern that brings you victories, and practicing defense causes annoying losses. But this happens only in the beginner stages. The further you go in your development, the more skilled opponents you meet. Sticking to your early patterns means limiting your progress. Spend some time working on blocks in MK11 and get prepared for high-level fights!

Know the characters
To become good at Mortal Kombat 11, you should learn all the features of your character. That's quite an obvious thing, but some players ignore everything beyond the actual fighting abilities.
Mortal Kombat has a very interesting story. Playing this mode allows you to try out different characters and discover interesting stuff about them.
MK11 offers an unusual adventure - Krypt. It's a dark place where players can take a break from traditional matches, explore dungeons, and collect various items. This mode might seem a bit disconnected from the primary experience, but still, you discover many layers of the game universe and become more familiar with the characters. Sometimes, the puzzles are too complicated, and you might need this MK11 Krypt guide to find shortcuts.
Knowing the characters' background is only one side of this aspect. The core is to make a proper decision on your Mortal Kombat main. Players spend many hours with fighters of their choice - training and fighting in real matches. And this time should be comfortable for you. It's like feeling and enjoying unique vibes around your character. Make a good choice now, and it will bring a lot of fun in the future.
Feel free to experiment with new characters while you discover their stories and motivations. Who knows, maybe your real power will be unleashed with this new guy or with that new girl.
Mix-ups
This technique is a deep feature of the fighting games genre, but again, it's not that obvious for newcomers. Not only should you be able to perform great combos and protect your character, but also you need to deceive opponents with unpredictable actions.
This aspect is pretty much connected to the defense section. You need different types of blocks to be protected from low or high attacks. And when you can trick your victim into activating the wrong block to land your blow and deal damage, it's part of the mix-up strategy.
Some characters are especially good for the mix-up style. Their animations have been made in such a way that you can't understand what kind of attack will come next. Even if it's not true for your MK11 fighter, you could bring this trick into your matches.
Learn where different attacks land and mix them in one flow (they don't have to form a combo for this). And learn how to perform deceiving moves to trigger specific actions and then land your favorite devastating kombo.
Regular practice
It's the best advice you can get to become good at anything. Practice regularly, and you will be a good MK11 player in no time!
Regular practice means playing the game every day (yes, exceptions are possible) for a reasonable amount of time.
In the beginning, some players are filled with enthusiasm, and they are ready to play Mortal Kombat many hours per day. After a while (pretty soon), this enthusiasm tends to disappear. "Ok, I'm tired of this game, I'll take a break and then return to MK." Playing seven hours three days in a row and then taking a break for a week is not as effective as playing one hour per day with no breaks. You work on habits and muscle memory, persistence is a crucial factor here.
This doesn't mean you can't take breaks or play any other games. Successful professionals often distract themselves to other gaming experiences – to have fun and develop various subtle skills (attention, reaction, memory). It's a good way to refresh your mind and return to Mortal Kombat with new energy. Of course, pro players know the value of other things in life, so don't become a fanatic of any gaming practice – just stick to the reasonable path.



And the most important thing has been kept for the end of this article. Have fun playing Mortal Kombat - that's the ultimate recipe for your success in this game. When you enjoy this virtual fighting, you become self-motivated to practice movements and defense, go deeper into the lore, train tricky techniques, and do all of this on a regular basis. So, enjoy your ride!





One of my favorite series in gaming is Konami's long-running Castlevania franchise, and an endearing element of these games has always been the incredible music. That being said, it's hard to believe that in over a year of making VGM covers that I haven't tackled anything from this series yet. I decided to right this wrong with a killer track from Aria of Sorrow, one of my favorite entries in the series! The rendition of Heart of Fire from this game is a mash-up of the track of the same name from the original Castlevania along with a track from the arcade release Haunted Castle. I hope you guys enjoy this one, and I'm sure there will be more Castlevania tunes to come!