Beyond Oasis is an action/adventure game developed by Ancient for the Sega Genesis/Mega Drive. It was released quite late in the system's lifecycle, late 1994 for Japan and 1995 everywhere else. Since Ancient was founded by Yuzo Koshiro, it also includes a soundtrack composed by him. This is most likely Sega's answer to The Legend of Zelda mixed with some Mana series, since there are many similarities in gameplay design, puzzle solving, and progression.



Continue reading Psychotic Reviews: Beyond Oasis


As many of you might have noticed, we have had a nice influx of members on the site lately. This has mainly been a result of mentions from Metal Jesus and Kotaku (see video and links at the bottom of this page). The staff here at RFGeneration would like to welcome all of our new members to the site and encourage all of you to not only house your collection here, but to also become active members of our site. The following is an explanation of our database tool, and also a brief description of some of the features that our site has to offer. If you haven't done so already, please introduce yourself on the introduction forum. We are always happy to hear from new members and learn a little about their collections and backgrounds: http://www.rfgeneration.c...um/index.php?topic=2931.0



Continue reading Welcome to RFGeneration!


You've asked for it, so we delivered. In this special episode, we take a return trip to the small scores thread to discuss the games that you have all snagged in the last few months. Will Crabby consider a 32x game? Did your favorite grabs make our list? What's a land boat? You'll have to listen to find out!

Episode 24.5 discussion thread: http://www.rfgeneration.c...rum/index.php?topic=14266

Get the show at http://www.collectorcast.com
Follow the Collectorcast on Twitter: https://twitter.com/Collectorcast
Like us on Facebook: http://www.facebook.com/Collectorcast
On Stitcher (enter Promo Code RFGeneration): http://www.stitcher.com/RFGeneration
On iTunes: http://itunes.apple.com/u...collectorcast/id524246060
On YouTube: http://www.youtube.com/user/DukeTogo74


We'll have something proper up later to properly introduce the large number of people visiting and signing up. Thanks everyone, and thanks for the plug MetalJesus AND Kotaku!

However, I just wanted to quickly put up a note here on the front page. We have a limit of 500 emails/hour sent from our server, which includes PMs, notifications, and registration emails in particular. If your registration email is not sent immediately, it may be waiting on the email cap to be reset. Sorry for the inconvenience, but our host has this value capped to prevent spam and it's not something we can raise any higher at this time. Feel free to jump into our Introduction thread after signing up, which can be found here:
http://www.rfgeneration.c...um/index.php?topic=2931.0



Many weekends have come and gone where Steam has offered me various games as part of a "free weekend" promotion. Which is not to say that the game was mine to keep of course. Rather for that weekend I could download the game at no cost, and play the game all weekend, and then come Monday it would be locked up and I'd have to make the decision if I wanted to keep it or not. Though I've never actually bothered participating in any of these trials, it's nice that they exist, sure. But I guess in some ways they just haven't really fit into my life quite right. Which is to say that never has a game that I REALLY WANTED TO PLAY RIGHT NOW THIS WEEKEND been offered to me so that I was actually compelled to spend the time and bandwidth on a Friday night getting it into my library and then tossing my weekend plans to the side so that I could find as many minutes as I could to play it until bedtime on Sunday night.



Continue reading Origin's Game Time or How I Learned to Stop Worrying and Love Titanfall



As a means to be better host to our playthrough participants, we are announcing our August playthrough selections a bit early. Though these titles will not break your bank, they can be a little troublesome to locate, so we are giving you a bit of additional time to track down these games.

This month on the Retro Playthrough, we head back to Sega with Beyond Oasis for the Genesis. Many have criticized Sega for not having a game or series on the Genesis similar to or rivaling Nintendo's Zelda series. Others argue that Beyond Oasis is this "missing link" and provides a somewhat similar overhead gameplay experience with an added touch of beat 'em up stylistics. In Beyond Oasis the player controls Prince Ali, a young man who discovers a sacred golden armlet with the power to summon elemental spirits. Ali must do battle across the land in an attempt to stop the person who has located the silver armlet and is using it for evil. Beyond Oasis can be played on the Sega Genesis, the Wii's Virtual Console, on Sonic's Ultimate Genesis Collection for the XBox 360 and PS3, and is currently on Steam. Please join us this month on what promises to be an exciting adventure.

Link to Beyond Oasis discussion thread: http://www.rfgeneration.c...m/index.php?topic=14245.0

In the Modern Playthrough for August, an amnesic fugitive and possessed princess cross paths in the intertwining story lines of Muramasa: The Demon Blade. Power hungry leaders are after legendary swords, and it is your duty to stop them. It is the height of the shogun era of Japan and you will have to hack and slash your way to saving the country from dragons and demons. Muramasa is by the same developers as Odin Sphere and is similarly a side scrolling hack and slash RPG. Muramasa: The Demon Blade is available for play on the Nintendo Wii, PS Vita, PSN, and is a free game this month on PS Plus (be sure to download it before August).

Link to Muramasa: The Demon Blade discussion thread: http://www.rfgeneration.c...m/index.php?topic=14246.0



First, let me start off by apologizing for the late post. We are well into half of July now and it has taken me until now to post this thanks. Rest assured, all of your contributions to the site are very much appreciated and will be recognized.

June was a very productive month here at RFGeneration in terms of submissions by our members. Submissions for the month totaled 5,300 items, which were comprised of 5,023 game submissions and 277 hardware submissions! Thank you to all of our submitters for the month of June and here is a list of those members who completed over 100 submissions:

Flee - 1475
Zagnorch - 948
ae.tc - 523
Shadow Kisurag - 472
ApolloBoy - 350
Sauza12 - 233
mumboking - 164
CoinCollector - 154
Sirgin - 106

Top approvers for the month of June were:

Shadow Kisuragi - 1288
Tynstar - 1010
Izret101 - 133
ApolloBoy - 132

Thanks again to all who submitted and approved this month. Let's work to make July just as, if not more, productive.





Now its been overdue for a nice nostalgia trip. Playing Saturn games was nice for a spell. I remember seeing the games on a shelf as a wee lad, and had no idea what the system was but thinking the big cases were the coolest thing I had ever laid eyes on. I did not know anybody with a Saturn though. I did know multiple people with a Sega Genesis though, and one of them had our game today, General Chaos. General Chaos was developed by Game Refuge Inc. and published by Electronic Arts.

General Chaos is a real time action game that can also be said to be an early RTS game, without the base building aspect of the modern genre though. This game focuses on micromanaging a squad of soldiers against another squad of soldiers, its much more tactical and the real time battle system sets it aside from many turn based games of the time like X-Com and is closer to playing like Syndicate. It was developed by Game Refuge Inc. This company's founders, Brian Colin and Jeff Nauman, were well known as arcade developers for Bally/Midway, developing classics such as Rampage and Arch Rivals, and later followups such as Rampage: World Tour.




The art style is cartoony and the style is definitely going for completely whacked out and crazy. My friend did not have the box and manual for some reason though, so my recent purchase was glorified by flipping through the incredibly cheesy comic book right at the front of the manual. The graphics are quite good, and there is plenty of action on screen at any one time. There are multiple types of soldier, and each one has their own weapon, range, strengths, and weaknesses. How you move in the game and what type of squad you decide to go with can have a massive impact on your success in the field of battle! While the AI is rather stupid there is a two player option, and that's what I remember playing the most at my friend's house. We would blow the crap out of each other in this game and have a blast while doing it.

Playing the AI is a rather interesting affair. At first your opponents are quite stupid and just run into your fire, and winning Close Combat sections are quite easy. Its not too difficult to win outright and storm General Havoc's capital city on this first round. You then have a choice to play again, and this time the AI ramps up the difficulty. It may take a few tries to best this medium difficulty. There is then a third tier of difficulty that's even harder. This is it though. You can only play three rounds, for a nice gradient from easy, medium and hard.

http://www.youtube.com/v/_aUBiCAm_H4&rel=0

This game is a cult classic now, and its quite easy to see why. This is a game that occupies a nice niche on the Genesis, it is almost completely unique on the system. The animation is quite smooth in the game, and during battle you are graced with nothing but the sound effects of gunfire and explosions. The music is nice when it shows up, and is some of the higher quality audio for the system. With a multitap you can have up to 4 people playing at the same time, so this game is definitely made for couch multiplayer. The multiplayer is what I remember enjoying the most as a kid, and its just as fun now as it was back then.

A sequel was posted on Kickstarter, but this was a complete failure. General Chaos II: Sons of Chaos was asking for $125,000 to create a high definition, hand drawn sequel of this game. It only managed to get just shy of $16,000 in the month it had.



Join the RFGeneration Community Playthrough hosts Rich (Singlebanana), Jamie (techwizard), and Floyd (Fleach) as we discuss one of the most popular game series that began on the SNES, Donkey Kong Country 1 & 2, and a very unique puzzle platformer on the Wii, Lost in Shadow. We are also joined by a few guests whose names you may recognize, Raidou and Disposed Hero. Enjoy!

Episode 3 discussion thread: http://www.rfgeneration.c...topic=14225.msg202082#new

Get the show on Podomatic: http://rfgenplaythroughs.podomatic.com/
On iTunes: https://itunes.apple.com/...27459?mt=2&ign-mpt=uo%3D4
On YouTube: https://www.youtube.com/watch?v=vd9GwDAsvYE
And follow us on Facebook: https://www.facebook.com/rfgenplaythroughs
And Twitter: https://twitter.com/rfgplaythroughs

Show Notes
Music: Lost in Shadow
Intro: 0:12
Donkey Kong Country 1 & 2: 1:43
Lost in Shadow: 1:03:04
Outro: 01:42:44

Music:
Opening/Closing theme by Atma Weapon - http://atmaweaponnc.bandcamp.com/


Episode 24 discussion thread: http://www.rfgeneration.c...rum/index.php?topic=14219

Get the show at http://www.collectorcast.com
Follow the Collectorcast on Twitter: https://twitter.com/Collectorcast
Like us on Facebook: http://www.facebook.com/Collectorcast
On Stitcher (enter Promo Code RFGeneration): http://www.stitcher.com/RFGeneration
On iTunes: http://itunes.apple.com/u...collectorcast/id524246060
On YouTube: http://www.youtube.com/user/DukeTogo74

Are you tired of hearing opinions on E3 yet? Well too bad, because we're here to chime in as well. We talk about the major pressers, what we think about the upcoming games, and the things we are looking forward to. Microsoft, Sony, Nintendo, EA, and Ubisoft all get some time with us, and maybe some of the games we discuss will even come out this year.

Who do we think did the best job? Did we get it right or wrong? Let us know!

Show Notes:
Music: Mega Man (NES)
Topic: 18:59
Outro: 3:20:15

Links
"Sonic Doesn't Need a Story" by Alex Day: http://www.amazon.com/Son...eed-A-Story/dp/B0036A4V06



---

Posted on Jun 25th 2014 at 10:10:48 AM by (

Fleach

)

Posted under

Community Playthrough

,

SNES

,

Chrono Trigger

,

RPG

,

Retro

,

Modern

,

PC

,

Indie

,

Minecraft

,

The Stanley Parable

,

Dear Esther

,

Gone Home

How has the summer been treating everyone? Sure, you can head to the beach and work on your tans, but why not join your friends here at RF Generation for some quality gaming?

Last month we had the special honour to play Suikoden on the PSX and Shadow of the Colossus for the PS2. All of the Playthrough hosts want to thank all of the participants to playing and completing two very heavy games.

July's retro side sees the RPG train steadily rolling on with the essential, and classic gamer favourite, Chrono Trigger. Considering the various platform supporting this game, how could we avoid this masterpiece?

Over on modern generation, if you're tired of the same old traditional gameplay and are looking for something that defies genre placement, then this month's Modern Community Playthrough is for you! We'll start off on our creative foot with an ongoing multiplayer experience in Minecraft where you can build anything you want on your own or with other RFGeneration members throughout the month, or just try to survive. Week 2 will be a mysterious game called Gone Home from The Fullbright Company. In week 3 we'll tackle the hilarious puzzle(?) game, The Stanley Parable. Dear Esther will finish it off, a very poetic and moving story told through a video game. Enjoy all these PC/Mac indie titles with the community this July!

There you have it! Classic JRPG greatness and current Indie Game hits. See you all in the discussions.

Retro Playthrough discussion thread

Modern Playthrough discussion thread


Did you know our annual PAIN YOURSELF WITH SUBMISSIONS contest ended already? Apparently, it ended almost two weeks ago. And I apologize its taken me so long to get this written up, but its just been hard to find the time to give this the full attention it deserves (more on that later).
Enough of my rambling, lets get down to business and announce those winners! We'll start off with the winner of the donation drive. And that winner is YOU! Because everyone wins when someone donates, without those crucial donations, we literally can not exist. Even though we are non-profit, our server host is most definitely not. But I did offer a prize to the individual donated the most during our donation drive, and the winner of that prize is none other than Razor Knuckles, who donated an astounding amount, more than anyone since I've been in charge of the finances around here at least. I won't disclose here how much exactly he donated, I'll let him do that if he so wishes.
And of course, there's the matter of who won the PAIN YOURSELF WITH SUBMISSIONS contest. The winner of that contest is our very own Not-So-Secret Santa, Zagnorch! He not only won the submissions contest, he destroyed the contest, raking in more than twice as many points as the second place member, Flee. Who, in turn, got more than twice as many points as third place ae.tc. Good job guys, you kicked butt this year. And a big thanks to everyone who participated in the contest, you're all winners in my book.

As for the prizes, as it turns out, its a little harder to come by a pair of 1990 NWC carts than I thought, so I'll have to make a little substitution to the prizes for our two winners. Luckily, I never mentioned specifically which gold colored NES cart would be the prize, so no harm no foul, right? So Mr. Zagnorch and Mr. Knuckles, send me a PM with your address and your prizes will be on their way as soon as possible.

And finally, I have one more little announcement. After nearly 5 years, I will be stepping down as Site Director of RFGeneration. Now, it has nothing to do with an affair, scandal, or anything like that. My life has just become too busy for me to make this site a priority, and that's what it needs to be for a Director. So rather than just stick around making people wait on my response to things, I'm simply taking myself out of the equation so the remaining Directors can efficiently keep the site running. Now, I won't be leaving completely, I'll still be around on occasion, just on more of an unofficial capacity. In lieu of a retirement gift, you can make a donation to webmaster@rfgeneration.com





Magic Knight Rayearth is an action/adventure based on a popular manga and anime series of the same name. Come to the Sega Saturn where we get going back down the Working Designs road!

Working Designs and Sega had quite a close relationship at first. Sega could make some money by licensing the rights to a game out to Working Designs that they themselves did not want to localize and release. Looking at the lineup of Working Designs Saturn games a staggering 4 of their 6 games for the Saturn were actually developed by Sega (5 if you count Camelot's Shining Wisdom since the company was founded by Sega, but they had broken away from them the same year it was released in Japan) including our game this week.

http://www.youtube.com/v/C2522HMt5Dg&rel=0

Magic Knight Rayearth was first released in Japan in 1995, but did not make it to North America until late 1998. In fact this is the very last Saturn game released in North America. What was the cause of this delay? In the manual Working Designs simply states that it took 30 months to fix everything that they wanted to or could fix. Well, that story actually goes back to around 1995 when Working Designs was interested in working with Sony. Bernie Stolar did not like the company or its president Victor Ireland, and quickly shot them down for the rights to Arc the Lad. When Stolar moved from Sony to Sega Working Designs was quick to move back to Sony, since their relationship with Sega soured very quickly. I don't think they took three years messing around with an already finished game for no reason. Stolar was well known for his dislike of RPGs, especially at Working Designs. Nevertheless, the game was released and sits as a curiousity for a company known for putting as much work into packaging as their actual games.

As a result of this nearly three year delay between releases Rayearth was not reviewed well when it launched. Many criticized the graphics as being akin to an early Saturn 2D game (it was), and the game's release window (months after the other final Saturn stragglers). But, does this mean the game itself is not worth anybody's time, or is it just a case of bad timing mixed with a sour relationship?

I previously reviewed Sunsoft's Albert Odyssey: Legend of Eldean from Working Designs where I praised that game's voice work. Rayearth has much more voice acting in it, and its all top notch quality that other companies should take some lessons from to this day. Each of the three main heroines keeps a diary of events as you progress through the game. Most of these are multiple sentences and are fully voiced. Cutscenes are fully voiced as well. There are hundreds of lines of spoken dialogue for the major characters, and you can hear how well directed the actors and actresses were, as well as the quality of Working Designs' recording studio. Sega America could have taken some pointers from these guys.

http://www.youtube.com/v/sSt4hQFaHUQ&rel=0

Now let's dig into the meat of this game. As an action-RPG combat takes place in real time. It takes quite some time for the game to really ramp itself though. There are three playable characters, Hikaru, Umi, and Fuu. Hikaru and Umi use short range swords while Fuu uses a bow. Fuu's charged attack homes in on enemies, making her by far the most useful character. About the only time you'll switch characters is to use magic to progress, or blast the boss with your strongest spells until they're out of MP. Then you'll just switch to Fuu, run in circles, and use her charged attack until the boss is dead. Its not a deep combat system.

The progression system is mostly related to the the Zelda system. Your heroines get better armor, weapon upgrades, and spells by getting to certain parts of the game, and not by spending a lot of money. Money in this game are gems, and they're actually quite hard to come by. Most enemies will not drop much, most of these gems come from treasure finds.




The story is about a kidnapped princess who summons a few Magic Knights from another world to save her own from being swallowed in darkness. So the world of Cefiro is being taken over by dark forces and starts coming apart at the seams as a result of the princess' lack of protecting prayers. Our three heroines have been prophesized in this world's mythology for eons, but these Magic Knights were always assumed to be male. This type of gender identity and societal roles plays a crucial part of the story. Almost everybody is surprised that the Magic Knights are a trio of fourteen year old girls in short skirts. This story does take quite a few twists and turns despite using this rather simple and trite formula.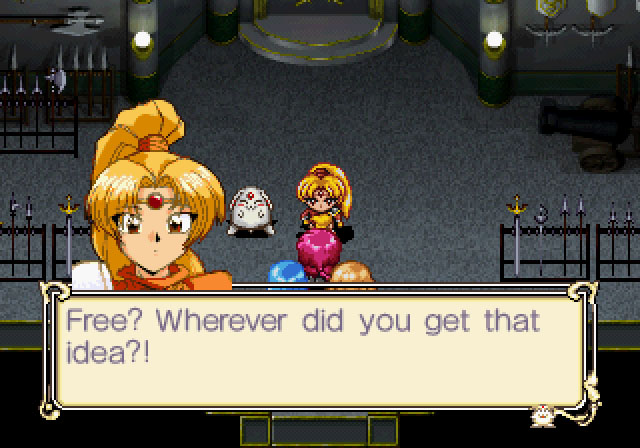 In the end I felt like the game was a mediocre Zelda clone. Even though it had some nice twists and turns and the game actually functions quite well it just does not stand out too much other than being a Working Designs game. There are a few places in the game where the frame rate plummets and the game almost grinds to a halt. Thankfully these places are not in the middle of a dungeon where you're surrounded by enemies, but they really stand out and show poor optimization on Sega's original team. I enjoyed the game overall but there was a distinct lack of polish in places and it was just too easy for my tastes. Given its price tag I would say pass on this unless you must find and own every Working Designs release or every Saturn game.



Join the RFGeneration Community Playthrough hosts Rich (Singlebanana), Jamie (techwizard), Floyd (Fleach), and Shawn (GrayGhost81) as we discuss a niche DS RPG and, along with a special guest, a myriad of Atari 2600 games from our Activision Challenge in the April Playthroughs.

Episode 2 discussion thread: http://www.rfgeneration.c...x.php?topic=14080.new#new

Get the show on Podomatic: http://rfgenplaythroughs.podomatic.com/
On iTunes: https://itunes.apple.com/...27459?mt=2&ign-mpt=uo%3D4
On YouTube: https://www.youtube.com/watch?v=79bp-NplzsQ
And like us on Facebook: https://www.facebook.com/rfgenplaythroughs



Continue reading Episode 2 - RFGeneration Community Playthrough Wrap-Up


First off, I want to give a big "Thank You" to the 9 members who have taken the time to donate money to the site during our annual donation drive. So Thank You Tadpole13, Razor Knuckles, Raidou, Nupoile, Zagnorch, OatBob, and Wempster. Together you guys have raised over $600 to keep the site running. And unless someone tops your donation in the next couple days, you'll be receiving an ultra-rare gold colored NES game. If you're not one of these fine gentlemen, and want to help keep the site alive, you can send a PayPal donation to webmaster@rfgeneration.com or just click the little Donate icon at the bottom of this article. Either way, your contribution is only used for paying the hosting bill around here, which is around $100 each and every month. If you don't know how much to donate, donate whatever you can, whether its $5 or $5000, every little bit helps. But for reference, the average donation amount this year has been $77.21. I'm not saying you must donate that much, but if you want to conform to the standard, you probably should.

And of course, I must thank all of you out there that are PAINING YOURSELF WITH SUBMISSIONS! In may, the most PAINED WITH SUBMISSIONS member was Zagnorch, with 2190 submissions. Next was ApolloBoy with over 1000 submissions, and each with over 500 submissions were Flee, MrMeek, Aeroc, and ae.tc. Thanks guys, you are obviously taking this competition seriously, and you should be. One of you is likely to walk away with another copy of that super-rare gold colored NES game.
If your name isn't listed here, don't worry, you can still win this thing. But you better get your butt moving, Zagnorch really wants that game, and you wouldn't want him to get it would you?

But don't forget about those poor souls who tirelessly sift through all those submissions to find the ones that are worthy of approving into the database. Without them, we'd have a database full of incorrect information and stolen images. May's biggest Approver was Shadow Kisuragi with an astounding 3468 approvals and who knows how many rejections. Next up was Tynstar with just shy of 1000, and ApolloBoy with 733. Thanks guys, you have been doing an awesome job at keeping that queue down this year, I only saw it above 100 once this year.

Thanks to everyone else who has contributed in May and during our annual contest so far. It really is true that every little bit helps. Whether its a page edit to fix a typo or a donation of $500, we truly appreciate it all.


Click the button, you know you want to.