As a video game collector, I have to admit I'm somewhat accustomed to picking up a game I'm not necessarily expecting to play. Oh sure, it usually won't be more than a dollar or two, but I'm guilty of spending (very little) money on games I consider duds such as Bebe's Kids or RapJam Volume One simply because I love the Super Nintendo and collecting for it. The same goes for many game systems, and even some eclectic oddities that I like to play around on more than play on, such as the CD-I or N-Gage. When it comes to modern games, the fact that most are more than a few bucks means I don't do the same, and I don't have a desire to grab a (as close as possible to) complete collection like I do for my favorite pre-PlayStation oldies. While seemingly unrelated, this brings us to:

When Titanfall was shown, I was not star-struck as many in the industry was but I have to admit the ol' Mech-lovin', giant robot-stompin', sci-fi buff in me was piqued. Interested, but not entranced. Other announcements such as system exclusivity and an online multiplayer-only design all but killed my immediate interest. Even the 360 version failed to appeal to me, especially since the 360/PS3 ports of Battlefield 4 felt so watered down from the PS4 port I enjoy.

However, when I found a window to acquire a Titanfall Xbox One bundle by a combination of trading off a stack of broken devices and redundancies in our collection and finally cashing in on all the Gamestop points we've amassed, it just made sense. Despite not having much interest in the system or library at the moment, it's a game system we don't have, acquired without much of any loss from us, and I know by the time another Halo or Gears of War comes out I'll be much more interested. And since it's the same price to get the system with a digital copy of Titanfall that it is a normal one, it just makes sense.

And don't get me wrong; I'm sure I'll enjoy the game. While I've never been an avid Call of Duty multiplayer fan, I enjoy many online shooters like the aforementioned Battlefield and Halo. And I've liked mechs since the Battletech board game days in my youth. Perhaps I'll be as charmed as the gaming media once I load it up and indeed have a 'genre-redefining' good time. I hope so!

But I'm more that fine right now with some excellent games that have perhaps gotten overlooked in the last several months of new system releases and Titanfall hype. Here's what I've been playing lately (instead of, oh say, writing for RFGen as I should.)



Bravely Default (3DS)
I can't say the Final Fantasy name brand is dead to me like I've heard others say. I also can't say I get that old excitement whenever it's name-dropped either. Seeing as how Bravely Default began development as a Final Fantasy title, released as a new IP, and has been better received critically (and personally) than the last several Final Fantasy games, I sure hope the series continues. The story is naturally cliche to a fault and I have to say I endure the characters instead of being endeared to them. But the art is fantastic, the music beautiful, the gameplay fun, and the mechanics interesting. It's also rather addictive; I haven't carried my 3DS around everywhere this much since Soul Hackers.

Plants Vs Zombies: Garden Warfare (Xbox 360)
This just shouldn't have worked, especially as well as it does. Essentially a scaled-down Battlefield mod using the Plants Vs Zombies universe, Garden Warfare excels because of a humorous art design, decent and varied balancing, and the prevailing sense of quirkiness that the original PvZ games did so well. Perfect for those who tire of the gritty combat of modern shooters, Garden Warfare is smart in its focus of pure zany fun; kills are 'Vanquishes' and player deaths aren't even counted on the final tallies. The cartoony style is well realized and detailed, and the lack of gore and heavy atmosphere makes the whole thing so playful it's hard not to come away smiling. C'mon, you get unlocks by opening sticker packs! Unfortunately being an EA game, there's no LAN support and the only bots are in the Horde-mode like Garden Ops mode, but other than that it's about perfect for $30.

TxK (Vita)
If it weren't for the NSFW and completely unnecessary vocal effects during the bonus round (which I think were toned down with the latest patch), this game is the perfect successor to Tempest 2000 and Tempest X3, two of my all-time favorites.

Puppeteer
I'm not too far into this yet, but if the rest of it is as magnificent as the first few hours, this game is criminally unknown. I made the mistake of initially assuming this to be something of a modern Clockwork Knight: Interesting visually, but otherwise an average platformer.

Wow, was I underselling this game.

If we gamers mean it when we say that art, sound design, and originality are of supreme importance in a game, it's criminal that no one talks about this one. The first few hours I've put into it have shown more attention to detail, fascinating world construction, and inspired design choices than anything since the storied Journey. This game has, thus far, been quite the diamond in the rough and I intend to give far more attention to it soon. Here's the trailer, if you forgot about it or never heard of it:

http://www.youtube.com/v/0GECUR5Wgyc&rel=0

Whether or not you're expecting Titanfall to soon eat up all your free-time, try giving one of these a shot; aside from possibly Bravely Default, they're likely to disappear under the shadow of higher profile releases, sort of like grunt soldiers under the massive metal feet of a-

Sorry, too easy.



Two months into the new year and the community never fails to impress. Last month we received a slew of submissions and database edits.

In total we saw an outstanding 2994 submissions which comprised of 2880 game submissions and 114 hardware additions.

You guys also put your cameras and scanners through the works because the database now includes an additional 756 images.

Last month six members broke the 100 mark with their submissions. Monkees19 made 256 database entries and Sauza12 contributed 163 additions. The other four to add over 100 submissions were staff members: ApolloBoy (1383), Shadow Kisuragi (380), Tynstar (153), and CoinCollector (115).

The top 5 image submitters for February were: monkees19 (253), Sauza12 (150), Tynstar (84), Raidou (65), and Sirgin (62).

Great work everyone!

Thanks again for continuing the improve the rapidly growing database and getting involved in this supportive community! Everyone deserve a round of applause!


Hello all. It's been a while since we've communicated out what we're doing about the server, and people have been asking about it. I thought I'd put up a site post so that everyone's aware of the progress we're making here.

We're staging a brand new, 8GB RAM server that will blow this server out of the water. Unfortunately, the brunt of this work right now is on Bickman, since he's the experienced person in server setup and maintenance on the team.

We ran into a snag with PayPal not being a form of payment for our new provider, but Bickman has ponied up and offered to shoulder the cost for the moment until arrangements are made to make the payments via the site's PayPal account by another method, whether that be a PayPal Debit or another method (he's being reimbursed with funds from the PayPal account, of course).

After clearing that problem, it turns out we can't bulk import the site over like we thought, but Bickman's looking into another method to try in the next couple days. Should that not pan out, we'll be manually moving the site over via FTP. After the site's moved, we still need to optimize the databases and see if the added RAM will be enough to allow us to perform the optimization without crushing the server. That will take a day or two to get the results for. After that, we'll need to lock down the site for a couple days while we move it over to the new server, re-optimize the databases, and verify that nothing's broken.

I feel your pain on the performance issues, believe me. I've been trying to use it at night and dealing with the same problems you're seeing, and it's completely unacceptable. Unfortunately, we just don't have the resources on this server to optimize things away, and I can't stand up a sandbox server to attempt optimizations since it made running the production site even worse.

Thanks for staying with us through all of these problems, which have been going on for 5+ months now. Unfortunately, Bickman and I have been unable to coordinate much of anything on the site the past couple months due to work and personal reasons, but we're now actively standing up the server and addressing the problems. Once we're officially moved over, it will give me the opportunity to investigate and address part of the problem that's leading to our overall performance issues, and I'll actually get to wrap up some of the features that I have planned for the site.




Science continues to run out of control and the altruistic hero returns in March's RF Gen Community Playthroughs.

This month in the Retro Community Playthrough we're going back to the grandfather of Sega consoles, the Sega Master System. Take control of Alis and her band of adventurers to avenge her brother's death at the hands of an evil tyrant in a far off world. In this science fiction adventure you will embark upon a grand quest across the stars in the RPG classic Phantasy Star!

For the Modern Community Playthrough you must test your will against man and beast in The Last of Us, swan song of the PlayStation 3, which changed the relationship between narrative and gameplay. When human nature is pushed to violent and desperate extremes every day is a fight for survival. The ability to endure brutal circumstances will carry you through a journey that is both terrifying and rewarding. Endure and survive against all odds in the March Modern Community Playthrough.

Retro Playthrough Discussion Thread

Modern Playthrough Discussion Thread




SPECS:
Game: Road Runner
Genre: Action
Year: 1989
Publisher: Atari
Developer: Atari
Designer(s)/Programmer(s): Bob Polaro
Rarity (according to AtariAge): 6 = Rare Plus
Controls: Joystick
Number of Players: 1 - 2 (turn-based)
Average Cost: approx. $10-$20 loose depending on condition
Also Available On: Amstrad CPC, Atari ST, Commodore 64, DOS, Sinclair ZX Spectrum, NES, and Atari arcade cabinet.

Tagline/Description: "Imagine yourself as the Road Runner in a Saturday morning cartoon. You are happily whizzing across the desert, racing along that black ribbon of highway. It's glorious! But the cunning Wile E. Coyote is out there somewhere. So watch out! He is planning to smash you to smithereens. He is also scheming to blast you with his ACME cannon in a very sneaky way."



Continue reading Road Runner


What will be the last game you ever get? Many gamers assume that question simply depends on a bit of morbid posturing on when they die, and back up the clock a bit. But what if it was a conscious decision? What if, sometime in the future, you as a video game player picked up a game, or received one as a gift, and said definitively, "This is it. The last game I'll ever add to what I already have."

Kinda smacks as weird, huh? And perhaps more monumental than it really should. Firsts and lasts are generally memorable, and since most gamers assume they will be playing something off and on until they kick the bucket (and most of us are uncomfortable pondering our own end,) we don't normally think about what would be the last video game we will ever own.

But what if it were on purpose? A decision to stop buying any more games. Not for financial or practical reasons (though understandable, naturally) but because we have all we'll ever 'need' to play? Oh sure, it's perhaps easier to ponder for a collector who has more games to play than free time will ever allow, (ahem) but between free-to-play models, Steam sales, compilations, retro digital offerings, and future streaming options, most gamers have easy access to more games than they could ever complete.

And yet, even as many are lukewarm to the new generation of hardware, the assumption is that once prices come down and more games are released, we'll buy-in somewhere. Many gamers are even choosing now to jump into the 360/PS3 generation for the first time, given that prices are low, libraries are huge, and bugs are known if not resolved. Gaming is by nature technologically driven; more detailed graphics, longer (in theory) games, more (in theory) intelligent AI, higher player counts, added features, etc. Not every gamer ascribes to the 'newer is better' mantra, but few would argue against a future that continuously provides more options.

Yet the constant addition of game machines and games every year provides an embarrassment of riches to gamers who play more than the occasional title. It has literally become mathematically impossible to play, thoroughly, every new game released in a year, even if money allows it. Sure, each genre will have slow months and even years. But the back catalogue in each main (and many sub-) type of game has , with few if any exceptions, eclipsed the ability for a fan to have completely engaged each relevant title, not to mention each game in the genre.

Of course, the industry doesn't bank on a gamer's desire to play absolutely everything for everything. Its not uncommon to find a video game player who only plays one or two types of games:

The JRPG fan with a little strategy gaming on the side. The sports and Call of Duty bro. The $800 rig (not counting the actual PC) racing pro who dabbles in flight games. The MMO and-what-else-would-I-have-time-for? guru. The modern whatever's-free-on-tablets -and-phones casual.

When a gamer's scope is very focused (some would indeed say limited) it is easier to justify the constant upscale that the business-end of gaming runs on. Play out each Call of Duty and map-pack until the next game; hope that next year is more than a roster update and actually addresses legacy issues; upgrade your phone/tab to run the new wave of apps and games. A steady stream of new content to fit the field. And if you are more of a general gamer, chances are things aren't much different overall; a constant flow of 'gotta finish x to get to y'. Sometimes the games aren't even Pokemon.

Thus the consumer service is born. And all those folks who bought a Wii for Wii Sports, played for awhile, had their fun, and never bought a new game? Maybe they bug us because it goes against the modern consumerist gaming mentality. Played the next game, 'beat it,' and then moved it aside for some new hotness. Are games to be consumed and then tossed aside? Is this the only way to go about our hobby?

Well, sure, for an entertainment process it works. And I'd be rather pretentious to claim it 'should' be otherwise. But what if we stopped buying 'new' games? What if we looked back and decided, 'you know, I love old platform games. If I wanted, I could just go back and play all the greats I haven't played in awhile and ones I missed. Then, I could investigate and find platform games I never tried and played those.' After that, maybe I'm in an arcade racing game mood. I could start with the Burnout series, then move to ...'

Basically, almost each genre in gaming now has so many options, it would be feasible to spend our gaming time entrenched in genres we like, playing games already released, and not run out of material. It begs the question; why do we keep pursuing more new games when we haven't really played everything before? Especially in these days of PSOne/2 downloads and Nintendo's eShop, backwards compatibility and the relatively inexpensive costs for many older systems and games? In some ways it would make much more sense; as mentioned in previous articles, these games are going to slowly get harder to find and play, on hardware that is becoming ever more scarce.

Most gamers who have been through a few generations of hardware have likely played through a bulk of games that interested them and them moved on to the next system. We often 'beat' a game and then trade it, sell it, or store it, but rarely revisit it. Does that mean endless games have better value simply because they cannot be considered 'beaten?' Is Galaga inherently a more valuable video game than Radiant Silvergun? Or is it better for a game to have visible signposts, completion markers that signal it 'OK' to move on to the next game?

Obviously, there is not going to be a unified correct answer. I'm not advocating a position, but an examination. I want to make sure I don't have pre-existing assumptions about the how's and why's. I don't want to assume I have to buy the new thing because it is the new thing, anymore than I want to close off the future and assume nothing past a certain era is worth my attention. We can spend some time involved with something, and never remember to stop, look up, identify where we are, and plan to get where we want to be. As games have transitioned beyond quick-fix, in-and-out experiences and into involving, ever deepening virtual universes, the temptation can be to trudge ahead without pausing to wonder why we play what we play, and question if perhaps there is something better. A better game, a more enjoyable genre for our tastes, an unquestioned bias that we didn't realize we owned. A different way to go about things entirely.

Maybe we are better served widening our experiences, or focusing on favorites. Maybe a shotgun approach really fits us best. Maybe we should let games just be games, or perhaps use them as another lens by which we examine ourselves and the world around us. Maybe I can keep playing games as an excuse to ask more questions. Or the other way around.







Episode 20 discussion thread: http://www.rfgeneration.c...rum/index.php?topic=13521

Get the show at http://www.collectorcast.com
Follow the Collectorcast on Twitter: https://twitter.com/Collectorcast
Like us on Facebook: http://www.facebook.com/Collectorcast
On Stitcher (enter Promo Code RFGeneration): http://www.stitcher.com/RFGeneration
On iTunes: http://itunes.apple.com/u...collectorcast/id524246060
On YouTube: http://www.youtube.com/user/DukeTogo74

Unfortunately, our co-host Crabby has had to take a sabbatical to keep the fantastic Game Quest running in tip-top shape. We used this opportunity to get everyone's favorite Singlebanna, Rich, onto the show to talk Atari 2600. We talk about our memories of the system, collecting for the VCS, and some of our gaming favorites. Do you have fond memories of the system? Was the 2600 before your time? What should you keep an eye out for when you are shopping? Be sure to leave us comments and let us know!

Show Notes
Music: Golgo 13: Top Secret Episode (NES)
9:57 Atari 2600 Discussion
2:31:54 Small Scores
5:44:34 Outro


I knew for a long time that PlayStation Plus was a great deal. At first, it just wasn't a great deal for me.

Now that I have it, it's still a great deal, but I'm at odds with the way it has steadily changed my gaming habits.

Back in the summer of 2010 when Sony announced PlayStation Plus, the addition of the Instant Game Collection rotation created one of the best deals in gaming, even if it boiled down to a Gamefly-like digital service where someone else picked out the rental games every month.

Since then the catalog has grown for several years, to the point that if one owned Sony platforms and an internet connection, the service could practically provide enough games to last a customer indefinitely. The longer the subscription, naturally, the more choices and variety in games become available. By design PlayStation Plus rewards those who have subscribed the longest. While I appreciated the design and intent, I had little desire to buy-in since I prefer physical copies and played my 360 much more often at the time.

Fast forward a few years, MS's focus on Kinect, and a promotion that allowed me to pick up PS Plus for a free year, and I find myself with every Sony system and a quickly growing backlog of games only visible from a menu. Given the PS4's requirement of PS Plus for online play, I took advantage of 2013's Black Friday, and let's just say I'll have Plus for... awhile.

Especially compared to the very meager Games with Gold feature added to Live, Plus is still easily one of the best deals in gaming, and at this point it would be silly for me to argue otherwise since I've greatly enjoyed many of the free games and discounts provided, not to mention the online fun on PS4. However, video games developing into an entertainment service as opposed to an entertainment product still goes against my personal philosophy and Plus is a poster child for such an implementation.

This change is not just rhetorical, much as I would like it to be. I've found that I now plan my gaming around what is announced for free each month on the service. It's not always intentional, and of course it could easily be argued that a simple matter of willpower should break this trend. In fact, many years ago I had to break my habit of playing for Achievements instead of fun, a practice I slowly developed and struggled hard to eventually overcome. The difference, at least in part, is that Achievements only tied into a virtual scoreboard and not my personal list of desired gaming experiences. While it was a surprisingly tough mental addiction to break, once I did it was easy to 'play what I want to play' instead of 'play what I bizarrely feel I should play for arbitrary score regardless of if I'm having fun.'

When it comes to Plus, games I would have perhaps desired to play later are front and center, and there is a greater incentive to play them before they get lost in the digital pile, a list that sticks out less than the physical copies of games on our shelves. I know that I'm far less likely to dig up a game from a digital back-catalog than a game temporarily forgotten on the shelf. In fact a cursory glance at my 360 XBLA games reminded me that I never completed Insanely Twisted Shadow Planet, a game I had once eagerly awaited, excitedly played for a few hours (including a nifty co-op mode) and somehow promptly forgot about. I'm correcting that now, and shaking my head at how it happened, and I know that exact scenario has played out a number of times.

I could just 'play what I want' but as the back catalog builds and the hard drive space shrinks (especially on PS4) I find myself once again picking and choosing experiences based more on what's on the Instant Game Collection rotation before it disappears. I tag every game to download so it's not completely gone from my grasp, but I know if I have to search previous downloads to find it, it's even less likely to be played than if it only existed on hard drive.

Having fake cases to display for digital copies of games may seem silly, but now I genuinely understand the idea. Once it's out of sight, it's out of mind, even for desirable games.

Of course this is all silly. It's just games on a service, and it's quite a silly complaint to fuss about how there are so many games popping up I want to play that I'm letting many slip through my limited attention. If that were the only problem, I'd just shrug and move on.

The real problem for me, though, goes back to intentionality. Back in the glory days of the NES and SNES, my friends and I would pour over every new (pre-internet) gaming magazine. Each picture of a game we wanted grew our expectations. Even when a game was released, limited funds meant sometimes those previews and reviews were the extent of our experience with a game for quite some time, and it built up the desire and passion to really get as much out of the experience as possible. The tempered wait, the lofty expectations, the intentionality of playing games meant that even the poor quality ones were often savored, and the great ones were truly cherished.

The opposite of this, for me, are Steam sales. I'd be a hypocrite for griping about buying access to dozens (or hundreds) of great indie and big name games for a few bucks apiece. Yet this complete saturation of immediate gaming breaks down the intentionality of gaming. In a few short years, these sales have made having a backlog like mine very commonplace. Sure, a game can be picked and downloaded easily from the digital library list, but how many folks are intentionally savoring each, or even a few, of those games the way we used to before such access was available?

During the original PlayStation era, I knew a fellow who would rent each game as it was released, play through it as fast as possible, and return it for something he hadn't yet 'beat.' I hadn't thought much about it until I began asking him about the actual games he played.

"How did you like Vandal Hearts?"
"Who?"
"Vandal Hearts. You said you finished it last week."
"That the one with the squares?"
"The one with th- What? Squares?"
"Yeah, didn't you have to move each guy on little squares?"
"...yeah, sort of? I liked how in the story-"
"Yeah, I don't remember the story. That was like two games ago."
"Seriously? You don't even remember when-"
"I remember, like, the cool Mr. T with a gun for an arm. He was cool."
"Gun for a-... that was Final Fantasy VII!!"
"Was it? Oh, I remember that one. It had the bike, right? I wanted to just stay on the bike. That was cool."
"I... have to go cry in a corner for awhile now."
"You should totally sell your old Nintendo crap and buy Madden."
"Great. I'm about to have to cry in the corner of a jail cell."

That's a paraphrase, but the idea is there. He was the original games-as-service customer. He played through each game as a notch on a scoreboard, and moved on. And as much as that's not me, I respect that's just how some folks game. That's their entertainment, their unwind, their free-time preference.

This approach does, however, work against the 'games as an art media,' but that's another article. More to the point, I have no desire to engage in video games this way; I want to intentionally experience individual game creations. I'm not looking to elevate Bomberman to Shakespeare, but I do want to make sure that when I play a video game I'm not going to look back at the last hour and think, 'that wasn't what I wanted to spend my free time doing.' And I find that games-as-service models, such as PlayStation Plus, tend to rewrite my gaming time to match its schedule instead of me proactively choosing how to spend my time.

Will I be able to break myself of this tendency like my Gamerscore pursuit before it? Or has Plus become a fixture I'll wrap my gaming around until those servers are shut off and I lose every game I never got around to? Am I trapped in a game providing service the same way monthly paid MMOs 'trap' me into feeling I have to play enough each week to justify the cost? Does it really matter?

The first step of intentionality is to identify the factors involved, both static and dynamic. So here's step one, and that answers the last question; any pursuit that improves understanding of the self is a worthwhile venture, especially when video games can be involved.





Looks like 2014 is already 1/12th over. Despite off and on connection issues, our dedicated members have been hard at work makin' those submissions. In fact, you guys made over 2600 submissions in January. Which is very commendable considering the sporadic outages we've been experiencing. And if those outages have been keeping you away from making submissions and from the site in general, I've got some good news for you. There will be more info once it's all done, but rest assured everything will be lightning fast again by the end of the month.

So who made all those submissions in January? Well, it was mostly ApolloBoy with 757 submissions! ericeskapade had over 400, and HungryMoose and Shadow Kisuragi each had over 200. And of course, there were another 63 members who together made another 1000 submissions. So thanks to all of you who helped out this January, I know it wasn't easy with the downtime and sluggish load times.

As always, I'd like to thank our dedicated submission-approving team that has to deal with all of those submissions every month. Our top approvers in January were Tynstar and Shadow Kisuragi with over 700 and over 400 approvals respectively. Paully3433 also had over 100 approvals in January.

Thanks again everyone, and if you've been putting off those submissions because of our site issues, be assured it will be getting better, but as always, good things take some time, so expect things to get speedier by the end of February, and possibly sooner, depending on how smoothly things go. We're definitely trying to roll out these changes as quickly as we can.


As video games become more culturally relevant, the skills and artistry needed to create such media becomes more appreciated. The occasional name-drop such as Will Wright, Sid Meier, or Hironobu Sakaguchi gives deserved credit and helps gamers to find and follow those responsible for their favorites. However, like movies or music bands, many of the other important and project-defining people are rarely listed or known.

One such under-credited job are the teams responsible for porting a pre-existing game to different hardware. Like a movie's editor or lighting director, if the job is done well it's easy to forget them, but if something goes bad...

And gaming has certainly had its share of bad ports;

From the passable (Killer Instinct on SNES)

http://www.youtube.com/v/eHG2SWK41NA&rel=0

to the abysmal (Street Fighter II on ZX Spectrum)

http://www.youtube.com/v/h2nEFAI-F10&rel=0

to the notorious. (Pac-man on Atari 2600)

http://www.youtube.com/v/HL2p2ANFlQ4&rel=0

Despite the fact that the large majority of gamers do not have any working knowledge of how a video game is made, many assume that the process of porting a video game from one console to another, especially onto more powerful hardware, is a simple and straightforward task. For example, the original Sonic the Hedgehog was released in '91, so putting a version of it on much more powerful hardware made ten years later should be a cinch, right? For anyone unfortunate enough to pick up the glitchy, frame-rate stuttering, tinny sounding Sonic the Hedgehog Genesis port that came out on the Game Boy Advance, apparently it's not as easy as CTRL-C and CTRL-V with a few touch-ups.

It is perhaps more understandable to have problems when a new game is developed for multiple systems around the same time. Battlefield 4 has become a poster child for the disaster of releasing what appears to be an unfinished, buggy game with intentions to patch later. Frustrating as it is, one thing to keep in mind is that within a fairly short window, the game released for (count 'em!) PS3, PS4, Xbox 360, Xbox One, and Windows. Four consoles and PC, each with very different hardware and challenges, two of which are completely new to the developer. Sure, other games have released across this spectrum, including EA's own much-better running Need for Speed: Rivals. However, Battlefield 4 has a massive online player count, a (mostly) high frame rate, and many features and components that arguably push the respective systems beyond contemporary releases. In short, to have such a massively complex game with five different builds release close to the same time is an undertaking the average game player honestly cannot comprehend.

Don't think I'm letting EA or Dice off the hook, mind you! I've had the PS4 version of Battlefield 4 and Premium since day one, and it's been a yo-yo of excitement and disappointment. Certainly, I think if the game wasn't ready for release, it should have had longer to cook, and likely some systems are requiring more work than others to fix completely unrelated issues across platforms. Even games released for a single system can wait months, or indefinitely, for corrective patches. That Battlefield 4 has seen multiple patches across all five platforms since release (and still has issues across the board) speaks to the monumental challenge of making each version work as intended. Obviously, even with the money and manpower behind one of gaming software's biggest juggernauts, these problems cannot be easily resolved.

In a completely different area of ports, there are the challenges for Farsight Studios, makers of The Pinball Arcade. Whereas Zen Studio's popular Pinball FX series takes pinball into magical realism with tables that only exist in the virtual realm, The Pinball Arcade is an attempt to replicate, as close as possible, original real-world machines. From buying and deconstructing the actual pinball tables, digitizing all the art, and creating 3D models of each visible component, Farsight Studios takes a painstaking, documentary-like approach usually only seen in series like Gran Turismo or Forza.

Here's a glimpse at their process:
http://www.nintendolife.c...wii_u_3ds_and_kickstarter

Next to the eye-candy of Pinball FX2's tables (including my favorites, Plants Versus Zombies and Empire Strikes Back) the extraordinary work involved in a digital replica of original tables can easily go unappreciated. Sadly, here Farsight Studios often doesn't help itself. I own most of their physical collections, and the most recent disc copy of The Pinball Arcade has an ultra low-budget feeling front end. Despite being released for multiple systems, there are no cross-buy options. There have been occasional sound and support issues, and the patch list of fixes and soon-to-come features is even larger than Battlefield 4's. Yet despite all this, (and undoubtedly having a small team to work with,) Farsight's underdog work in keeping pinball alive in a digitized form has kept me on their virtual tables much longer than Pinball FX, and despite its clunkiness the PS4 disc has stayed put in the system.

But my favorite example of a recent port brimming with passion for the source is definitely Galaxy Force II on the 3DS, part of the Sega 3D Classics line. As much as I like Ecco the Dolphin, Sonic the Hedgehog, and Shinobi III, adding 3D to these classics comes across as a nifty but completely unnecessary parlor trick. Galaxy Force II, on the other hand, was designed as a 3D perspective game using nifty sprite wizardry. Out of SEGA's back catalogue considered for 3D ports, those with 'Super-Scalar' technology are the premier chance to put the effect to great use.

Initially, I had no real interest in Galaxy Force II for the 3DS. It had many strikes against it as a digital-only release of a game with a history of unimpressive home ports, whose only notable new feature was something I never use. (To be fair about the home ports, I never imported the PS2 Sega Ages version, though now price and not interest is the barrier.) However, a chance read over at www.hardcoregaming101.net lead to this interview:

http://blogs.sega.com/201...erview-with-developer-m2/

And after reading about the crazy amount of passion for this project, I was enamored with how the team tackled each challenge. Despite the massive increase in hardware power the 3DS represents over a 1988 arcade board, their description of the process involved requiring encyclopedic knowledge of the original hardware and a constant search for efficient coding tricks in order to get the game running. Then running at 60FPS, then running with sound, then running in 3D, then running in 3D with a perspective of riding the original moving cabinet. It's a fascinating read, especially to gamers who assume that a simple copy-paste rom and some tweaks are all it takes to get a game running on hardware other than the original.

After becoming so impressed with the effort involved, and since the fruit of their efforts was available for six bucks, I decided to give it a shot, and now I realize that reading developer interviews may be dangerous for my wallet.

You wouldn't expect a game from 1988 to be the showpiece for the 3D on the 3DS. But after viewing the game with the slider almost all the way up, this was the first 'wow' experience I've had that stayed that way through the entire game. Even jostling the screen around and having the angle occasionally pop in and out of 3D while getting into the game, I never wanted to move that slider. Galaxy Force II felt as if it were a game designed around the effect, and the fluidity and responsiveness made the game play more like a nostalgic mind's eye version instead of a cruel reality version of an old classic.

Sure, it took longer to read the article than to complete the game (admittedly with some helps turned on to relieve some of that old-school quarter-munching gameplay) but the game is so much fun to play, I want to go right back to it. Every ounce of dedication I read about is visible onscreen and felt in the action. What could have been a cheap, quick cash-in on an old name feels like a true labor of love and a reminder of why SEGA's arcade days were so lauded.

It's a cheap download with no substantial marketing, a quickly-finished arcade experience in a list of hundreds of games for a system who's namesake feature has been abandoned even by its creator. Developer M2 no doubt knows just how niche this little game is, and yet they treated it as if they were given a precious gem to shine and display brighter than ever before.

When ports go bad, everybody points a finger and moves on. When a port is good, gamers tend to shrug and just pick it up for their system of choice, often not giving a second thought as to the immense work it likely took to get there. When a port is a passion project, built with care and attention, sometimes it becomes even better than the original and deserves attention.

So kudos and thanks to all the artists, programmers, engineers, and talent that occasionally, quietly produce a port that shows their passion.


We hope everyone is enjoying playing the Nintendo titles in January's retro and modern playthroughs. Next month we are heading back to the Playstation to play two rather popular titles from their day: Parasite Eve (PSX) and Kingdom Hearts (PS2).

Parasite Eve:

You the participants selected and voted on the PSX game for February and the results are in! Now it's time to join us this month in one of the PSX's most renowned survivial horror games, Parasite Eve. You play as Aya Brea, a rookie New York City cop who witnesses an opera audience gathered at Carnegie Hall spontaneously burst into flames in front of her eyes. She then confronts the evil Melissa Pearce (later known as Eve), an actress and the only other person in the theater that didn't burst into flames, and gets a small clue into the reason behind these events. Along side Aya, you follow pursuit in a means to unravel this riddle, stop the destruction of humanity, and discover what peculiar role you play in these events.

Link to discussion thread here: http://www.rfgeneration.c...m/index.php?topic=13499.0

Kingdom Hearts

King Mickey has been kidnapped and it's up to the player, in the role of Sora, to rescue him! In one of gaming's most amazing crossovers, swing your Keyblade through many magical worlds and encounter countless Disney and Final Fantasy characters in Kingdom Hearts. This action RPG has spawned many sequels and earned quite a cult following. Now is your chance to join your fellow community members to either experience the magic for the first time or revisit your old favorite.

Link to discussion thread here: http://www.rfgeneration.c...x.php?topic=13500.new#new
________________________
As always, the playthrough group welcomes your feedback, whether it be positive or negative, on our playthroughs. In the past, we have asked participants to leave feedback at the end of the month on the various playthrough threads, but have received very sparse results. Maybe it's because we are doing an outstanding job, which is a good thing, but regardless, we would like to hear from you. As a result, we have created a new sticky thread with a "suggestion card" that you can cut and paste into the thread and provide us with some feedback. Thread located here: http://www.rfgeneration.c...m/index.php?topic=13495.0. If you are not comfortable sharing your feedback, please send Fleach, grayghost81, techwizard, or myself (singlebanana) a PM. We are anxious to hear from you and hopefully we can increase the participation and fun in our playthroughs.


Like other collectors on this site, I'm blessed in that years ago I bought, and kept, many video games that have risen in value over the years. Over time I've seen games for classic systems such as the NES, SNES, and Saturn go from a couple of bucks at most to several hundred dollars in value. My original Panzer Dragoon Saga was bought new at EB for $20; most of us have similar stories.

The flip side, naturally, is that I regret not tracking down Radical Rex for Sega CD before it became a $200+ CIB item. While I don't have much desire to play a decidedly average platformer (and one that I already have on two other systems beside) that does mean that grabbing the last few titles to make a complete Sega CD library is cost-prohibitive. It's easier to justify saving up or trading for that rare gem of a game that you love or always wanted to play, even more so if it's one of the last games for a collection. But few can deny that the mystique surrounding Stadium Events is because of its unavailability and not its gameplay; otherwise World Class Track Meet would be on more lists for top ten NES favorites. All this is restating the obvious, but things get interesting with the modern state of retro gaming and the economics of both our industry and the world at large.

Video games have proliferated our culture from both financial spectrums: the top down (expensive new consoles) to the bottom up (free mobile and browser games) so that the industry is enjoying a new ubiquity. Early eras were mostly coined by a single system, and to say you played video games meant you played Atari, or later the NES. As the market and competition grew, so did the visibility of an entire spectrum of available game machines. While there have always been extreme fanboys for respective systems and companies, most of the time the playing field was close enough that to be a 'gamer' meant pretty much the same thing to everyone.

What started as 'console wars' has now grown into such a diversified stratification that various sub-groups have no connection to each other. New terms such as 'casual' and 'hardcore' have become classifications that are coined to distinguish video game playing habits, and these camps are sometimes vehemently exclusive in nature. I've heard a 25-hour-a-week World of Warcraft player say she wasn't a 'gamer', and friend who has a phone loaded with Candy Crush Saga, Angry Birds, and a dozen others (that I see her play often) claim that she doesn't play video games. In the similar vein, I've witnessed devoted Call of Duty and Madden players completely dismiss any Nintendo console as worthless, as well as many a retro gamer completely disregard any system or game after the PS2 era as having nothing to play.

It is within this diverse stratification that we retro game collectors find ourselves in a new, interesting territory. Since the hobby began, there has been, and always will be, worthwhile video game experiences that are locked behind prohibitive barriers of price and availability. That's just the nature of the beast in any luxury entertainment industry. But imagine Citizen Kane or Star Wars, two inarguably important cultural movies, being largely unavailable to the public. Perhaps they are only available on an old film stock and require aged technology that is incompatible with current displays, or they are available on modern media but are limited to a few thousand copies and are therefore incredibly expensive. What if countless movies of worth are completely unavailable to most people who would desire to experience them, even willing to pay reasonable amounts for them, but can't afford the huge expenses necessary to purchase what would ordinarily be reasonably priced and available?

Of course this is already true for movies. Some folks like myself still await non-bootleg versions of Song of the South, Captain EO, and Let It Be to see release. (If you haven't, check out Hugo. Excellent movie that gives a real glimpse of what's already been lost.) There are an untold number of movies that have, for various reasons, never become available to the modern public.

When it comes to video games, arguably the most technology-driven entertainment industry, we are perhaps most susceptible to more and more games becoming completely unavailable over time. As has been noted, the rise of digital-only distribution and server-based software puts virtual timers on a game's later availability, and therefore its ultimate ability to impact and influence, or at least entertain.

For retro collectors, this issue has become one of economics as well. The resurgence of interest and popularity of retro video games, including originals and new games mimicking older art, music, and gameplay styles, has refreshed a market once known for offering countless titles for next to nothing at any yard sale or flea market. Many of us collectors remember the days of buying an Atari, NES, SNES, and almost any other game system with a box of games and accessories for a couple of bucks any given summer. Now that retro video games are a big market, the corollary is that these bargain finds have mostly dried up, giving way to eBay and Craigslist selling for hundreds what once went for pennies.

Not that this is surprising or even necessarily unfortunate. However, as the years go by more and more great games are becoming cost-prohibitive to gamers who would otherwise pay 'reasonable' money for sought-after games. If you're reading this far into the article, you likely know many of the names: Earthbound, the aforementioned Panzer Dragoon Saga, Little Samson, Metal Warriors, M.U.S.H.A., Master of Monsters, Lucienne's Quest, Magical Chase, Beyond Shadowgate, and the list goes on and on. More and more uncommon games such as Hagane have gone from cheap obscurities to valuable collectables, and prices on rarer games such as Snow Bros. and Aero Fighters have doubled or tripled in only a few years. Sometimes these are temporary spikes, but often the prices level out higher and higher. There are many factors to account for this, including mentions on popular sites like the Angry Video Game Nerd and Racketboy, and the adjusted prices of normal inflation. And naturally, as the years go by and more people develop interest in retro video games, the laws of supply and demand mean fewer games going for higher prices across a larger pool of people.

What this has done and will continue to do is price more and more retro video games out of the availability to the average-income video game player, collector or not. As they age, video games naturally become more difficult to find as retailers replace them with newer titles and systems. Since most consoles are not backwards compatible, even the availability to play retro video games is slowly diminishing. Digital rereleases and newer streaming models such as PlayStation Now will help, but only temporarily, due to their own inherent ethereal design.

Whereas a board game can be rebuilt and replicated, and movies are mostly transferred to newer media, the pool of older video games are becoming smaller, generally pricier, and overall less available. In another decade or two, prices on even common pre-PlayStation era games may be inconsistently priced next to their modern brethren. Certainly today, it is cheaper for me to pick up a full-priced modern game rather than any of the hundreds of retro video games on my to-complete-this-system-library-list. To collect the bulk of Atari, NES, and SNES games in any given region has always been a crazy task, but most games were more readily available for cheaper prices only a few years ago. It has been many a collector's lament, myself included, to have not picked up more when it was available for cheaper.

There are plenty of exceptions, such as the myriad Namco and Midway Collections, and a new trend as of late for HD rereleases like Ico/Shadow of the Colossus and Kingdom Hearts. On a rare occasion, older games get a new lease on life such as the recent rerelease of the SNES oddity Super Noah's Ark 3D. But the vast majority of video games are going the way of the early decades of the film industry and the first few thousand years of musical development, disappearing forever.

While I certainly find all of this more than a bit sad, it is of course the natural progression of entertainment culture. Even with our ability to record and store our media with greater permanence than ever before, the scope and practicality of completely preserving our forms of entertainment and artistic expression is beyond our means. But the desire to preserve and maintain is not at the expense of advancement and growth. It is to cherish, reflect, and learn from the past. Students of history tend to know more of the future than those over-focused on the present. Like all media of its time, video games are a reflection of where culture is in technology, morals, ethics, thought, expression, language, and change. They are a unique, interactive snapshot of their time. There is genuine worth in keeping this stuff around!

This is why I enjoy being part of the RFGeneration community. We keep the flames of video game culture alive, passing the torch to each other with each game recommendation, review, and long-winded article (ahem). Site members here are have shown a very uncommon generosity and kindness to each other in the form of free gifts, helpful information, community gaming experiences, and a general sense of goodwill that reminds me more of the ancient BBS dial-up days rather than what is mostly seen on today's internet.

The retro and collecting video game community is alive and well here at RFG, and we have brought to it a sense of worth. There's no solution to preserving every video game ever made, and probably not a healthy reason to do so. But this site, and community, makes preserving our video game culture legacy a visibly positive, worthwhile effort.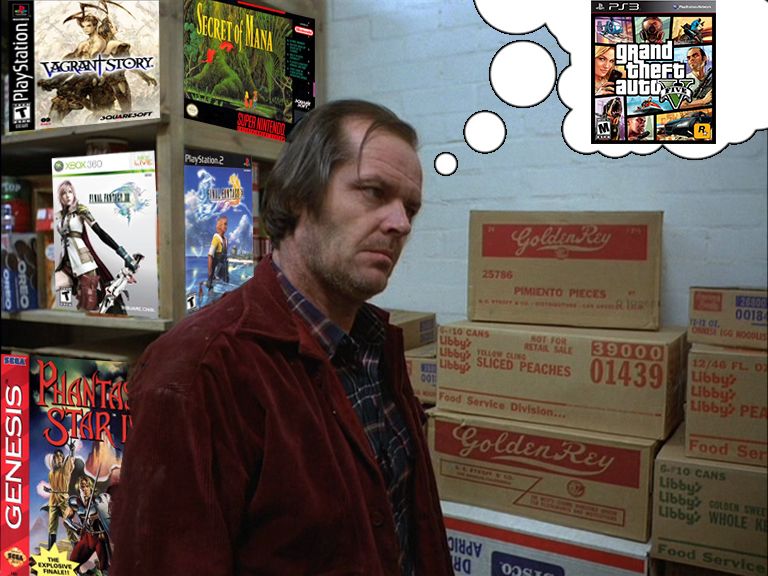 Bonus Super Awesome points if you know the connection between the picture and this article's topic


The video game industry is huge; it's one of the fastest growing industries alongside film. Now with outlets like Steam, Origin, and a myriad of digital distribution platforms gamers have more ways than ever before to play and experience the latest of what the creative minds in games have to offer. There are also more developers many who owe much to crowd funding and self-publishing. So why, with all these creators, retailers, and distributors, don't we see more RPGs?

The primary point of attention is that members of the games industry, like any other industry, are out to make money. Many people have said it before, myself included, that when it comes to games we vote with our dollars. Kickstarter is the perfect example of this. If a project interests you and you want to see it come to fruition you back it financially. It could be the genre, the developer, or an exciting gameplay mechanic that entices you to pledge support. Looking at Double Fine and their crowd funding campaign for Broken Age shows us that a genre once considered long forgotten still has eager and enthusiastic fans. Without digressing too much, this particular game might have benefited a fair bit from the "right time, right place" idiom. Without Telltale Games' The Walking Dead becoming a huge success we might not have other point-and-click adventures like Kentucky Route Zero (which is super cool and very eerie!) or the aforementioned Broken Age.

Still, could RPGs experience a similar revival? It's important to look at the numbers when considering this question. In 2012 the video game industry generated approximately $21 billion in revenue1. That's a lot of sales. To put that into perspective, if that total were to only be physical retail games priced at $60 it would equate to 350 million games sold. But this number includes handheld, mobile, DLC, and digitally distributed games which made up nearly $15 million of this total. This all indicates that gamers are spending large sums over various platforms and even within games. At the top of the sales charts is the action genre accounting for nearly one quarter of the total revenue.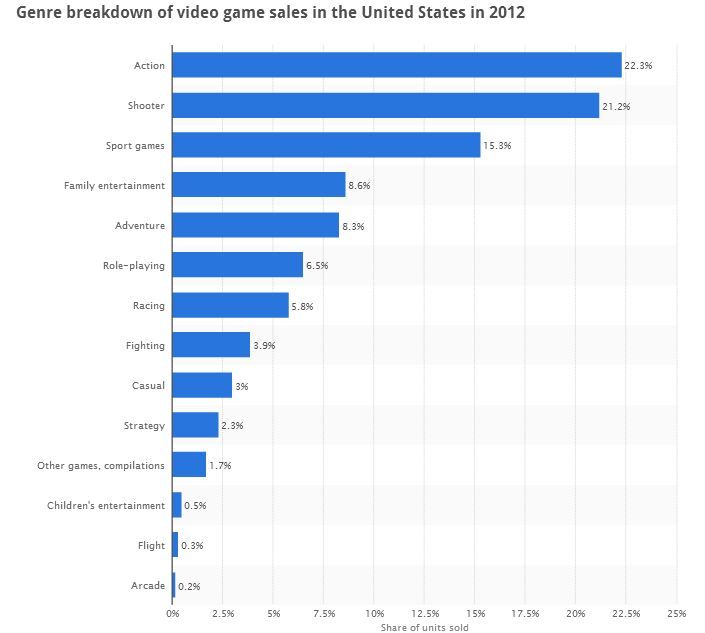 At least RPGs outsold racing games. Take that Forza 5!

It comes with no surprise that action games represent the top selling genre. They're fun. They're fast-paced. They have explosions! Simply put, they echo whats popular in the film industry. This is not wrong by any means; ever since video games have become bigger and more cinematic they would naturally be influenced by big budget, high grossing movies. From a gamer point of view action titles play an important part in gaming libraries. The gun fights test a player's hand-eye coordination, and reacting to sudden events challenges a person's reflexes and reaction times. These are all vital skills to have in real life, so in a strange way it can be said that action games prepare us for unexpected circumstances. Video games in general have real life benefits. Look at the case of the 10-year-old boy whose Mario Kart playing helped him steer a car to safety (Article here).

It can be, and likely is, argued that Role Playing games can benefit players as well. These games require map reading skills, strategic thinking, and anticipating an opponent's next move. Not an as exciting skill set, but next time you outwit someone thank Fire Emblem.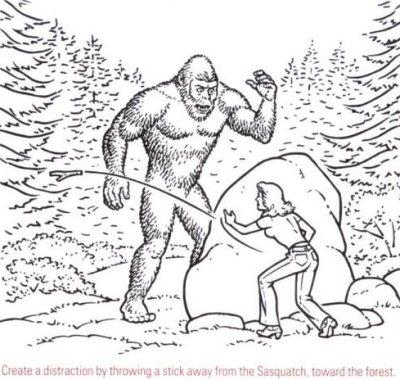 "Create a distraction by throwing a stick away from the Sasquatch, toward the forest"


The unfortunate reality that many RPGs face is that the games usually receive poor publicity and marketing. This ends up with people calling these games "niche," but the case really is that the public and the advertisers have brought about this classification. It's a cyclical correlation that few people buy these games because of the little efforts spent towards promotion. If the next Final Fantasy had TV commercial slots like Fifa 14, or got more attention from the games news outlets the game could have the potential to reach a wider audience. This would ideally translate into greater sales, and ultimately into more games of the genre.

But that's wishful thinking.

Yes RPGs don't have as wide an appeal as other genres, but to debate this ends up in bickering over small things. Games of all genres have noteworthy qualities and nitpicking certain personal gripes just shows fanboyism and unwillingness to try something different of the gaming population. Sure, RPGs are overlooked, but there are too many factors to overcome to completely remedy the situation.

Perhaps the bold new ideas we can see from developers collaborating with genre veterans2 will prove that there enough people who love these games to bring forth an RPG renaissance. We'll just have to wait and see.


Hello everyone! Since it's been some time, I wanted to update everyone on where we are with all of the server problems that have plagued the site for months.

We've determined that our current server is no longer adequate for our needs. In repeated attempts to fix the site performance, we're maxing out the hardware, leaving us in a position of restarting the server once performance starts to dip. We're currently looking at various different hosting options, and we can definitely get better hardware for the same price that we're currently paying for our dedicated server.

We hope to have the decision made on our eventual host by the end of the month, and for the transition to occur before the end of February. Please note that there will likely be downtime while we transition hosts and ensure that the site is functioning at that time, but we will attempt to communicate out this downtime once we decide on a date.

In the mean time, the first thing to start failing when the site gets into a bad state are database queries to the collection table. This is our biggest table on the site (for obvious reasons - it contains the data for everyone's collections!), and understandably it will strain the server the most. If you notice functions around your collection starting to fail or statistics taking a long time to update, please notify us in the Announcements and Feedback forum and we'll schedule a server restart. For now, our plans are to restart the server on an as-needed basis, though that may move to weekly if we notice issues starting to arise more often.

When I have more information, I'll put up another blog post with the exact details. Thanks .


I've always been something of a salesperson for the video game experience. When I was little I enjoyed sharing our C64 with the neighborhood kids. When I was in middle school, I droned on about the incredible story of Final Fantasy II (IV) to mostly disinterested classmates. In high school, I was the nerd who recorded Gate of Thunder and Ecco the Dolphin onto a mix tape/CD and gave it to all my friends. In college I was constantly setting up huge LAN games in the computer labs. As an adult, I love how our entire family enjoys spending time gaming together.

And while I've always had particular games and genres I much preferred, I've never been much of a fanboy to the exclusion of a 'competing' side. As entertaining as Nintendo vs Sega, Madden vs NFL2k, or mouse/keyboard vs controller rivalries can be, even if I 'pick' sides I still appreciate everything video games have to offer. To completely dismiss and write off an alternative selection in gaming seems to me like a Pittsburgh Steelers fan loving the team but hating a rival team so much it affects their enjoyment of the sport. One gamer's Superman 64 is another gamer's Shadow of the Colossus. There's simply so much to video games in the modern world, it makes sense to keep an open mind about new experiences as well as to find and pursue preferences.

Even though I'm more resistant to digital download-only games than physical copies, I still investigate the market, and occasionally purchase and enjoy. I've made sure to pick up occasional sports titles and try them out, despite not really getting into one since Double Dribble and Blades of Steel. MMOs are inherently problematic for me due to the time required, but I love to read about Eve Online and experiments like Second Life. And while I've stopped short of installing a PC full of games for productivity reasons, I finally got a Steam account to tinker with. All this to say, basically, that when it comes to video games, I try not to just write anything off.

Well, except mobile games. I've liked a few, notably Plants versus Zombies and N.O.V.A., and I read about new titles on occasion. But by and large mobile and tablet gaming just did not appeal to me for a variety of reasons. Given how adult life and responsibilities keep gaming time at a premium, for me it has been the easiest sub-sector of gaming to dismiss. And since I don't think the average adult can keep up with everything in gaming anymore unless they work in the industry full time, I felt somewhat justified in keeping my not-interested-in-mobile/tablet gaming bias.

Which means I tend to miss out on some excellent experiences like Space Team.

The requirements can be a barrier; exclusively 2 to 4 player, on iOS and Android, only local play on WiFi or Bluetooth. And even directly next to a router, we experienced some occasional connection problems. But once we get started...

The idea is that you and your friend(s) are on a spaceship hurtling through the cosmos. At the beginning of every stage, the bottom two-thirds of your touch-screen is filled with randomly generated virtual dials, knobs, and switches, each labeled with goofy technobabble like P-muffler, Sloping Solvent, Harmonic Shutter, etc. Occasionally the scientific pretext is dropped completely in favor of humor, such as when you end up with a 'Make Waffles' or 'Eulogize Previous Crew' button.

Above your control panels, an instruction pops up, such as 'Turn Sloping Solvent to 2,' or 'Set Wafflemaker to On.' Under the instruction is a timer, and if the instruction is not followed, the ship takes damage. Too much damage and your ship falls apart, including panels that swing off hinges and have to be manually replaced, green goop sliming the screen that requires wiping, and the eventual destruction of your ship. The catch is that most of the time, the instruction you are given is for someone else's panel, and the most efficient way to communicate is to simply shout to your team-mate. By the fifth stage, the game easily begins to break down into hilarious verbal expressions, phones and tablets shaken to avoid asteroids, and screens flipped around to escape wormholes. You really just have to see it in action:

http://www.youtube.com/v/aBfHhfxLNPE&rel=0

Here is a simple concept with brilliant execution. The random panel names and placements are a reminder that unlike most video games, the point is not mastery of the controls. Efficient, effective closed-loop communication under strict time pressure is what saves the day in Space Team. And as laugh-out-loud and fun as the game is, it also forces the development of useful real-world skills. Our successful advancement in the game was in direct correlation to how well we developed a rhythm of communication with each need as it came up (and the speedy resolution necessary.) It would usually work until our nerves and communication would break down under the speed necessary to exchange what was needed and what was already done. By then everyone is shouting excitedly, laughing uncontrollably, and our little virtual ship starts popping and fizzing like the Enterprise on an old Star Trek episode.

I couldn't help but be reminded of my EMT training so many years ago, and the constant necessity for effective communication under duress. If some surgeons are reported to play video games in order to progress and maintain vital hand-eye coordination, and Minecraft is used in schools for creative exercises, Space Team fits perfectly as a game with real-world benefits and application. Plus it's hilarious. And free!

After playing Space Team I recognized how ill-advised my near-complete disregard of the mobile and tablet gaming market has been. Much like the Wii U and 3DS, the best games for the platform tend to be ones fitted to the unique traits of its hardware. From the simplicity of Atari's original Combat, to the brain straining of the Professor Layton series, to the crazy sim-like complexity of Steel Battalion, there are so many experiences video games have to offer, some even with potential real-world benefits. Guess that includes those mini-computers we carry around that I used to play Snake on all the time.

Database Search
---
Site Statistics
---
Total Games:

84991

Total Hardware:

5697

Total Scans:

107137

Total Screenshots:

48736

[More Stats]
Our Friends
---
Updated Entries
---

(PSP)
---

(PSP)
---

(PSP)
---

(PSP)
---

(PSP)
---

(PSP)
---

(Wii)
---

(Wii)
Updated Collections
---
New Forum Topics
---
New on the Blogs
---
Nielsen's Favorite Articles
---