Dang, how long has it been? I know, I suddenly disappeared without a trace after years of regular activity. Then I got hit with a rare skin cancer that required three surgeries including a large chunk of my upper shoulder (and part of a tattoo) being completely cut off of my body and replaced with a skin graft from my leg. Rare because there is no known cause. It wasn't caused by being out in the sun or anything I could have done to prevent it. One in a million chance, as the statistics would confirm. Chemo pills that left me in a lull for months then surgeries that left me in a recovery state for pretty much all of 2016 and the first part of 2017.

Since then, I've been camping as much as able and riding the 4-wheeler to the mountain tops. I have enjoyed a female passenger and long time friend that may just lead to a life long commitment. I found out this week that I'm going to be a grandpa, although I still look like I'm in my 30s.

It's time to let the gaming collection go, but Chrono Trigger isn't going anywhere.





We went to the 2014 Salt Lake City Comic Con Fan XPerience in May, and it was awesome for me. I got to meet Elvira and two of the Boondock Saints, plus some other celebrities. This time, it was almost unbearable. I had some fun, but was very disappointed overall for two big reasons:

#1) The amount of tickets sold/people in the building was terrible on Saturday. At one point, the fire marshall stopped people from entering. According to the event site, over 90,000 people attended the Saturday events (our day to be there). The convention center was just not big enough for those numbers. Trying to prove your validity should never take a back seat to fan enjoyment.

#2) The ability to meet and greet with the celebs was all about the heavy cash. Seriously, to get an autograph was one fee and to take a picture while you were standing there was another. One picture to show that you got to meet someone that you admired. The autograph fee was PER autograph. I took some things down to get signed for friends and figured that the story behind them was enough for the celebrities to want to sign. Their "handlers" wouldn't allow it before I made it to the table, so no story possible. It was an assembly line. Yes, they had security guards of sorts, and usually some balding fat guy or teenager that volunteered and didn't have a clue who he/she was fan-blocking. Imagine, if you will, spending your $30 to $70(Stan Lee) to pander to someone's ego and tell them how much you appreciate their work.

So, we drove ALMOST FOUR HOURS down, and then the same distance back, to meet far fewer celebs than hoped.

Here is the much less exciting slide show this time around: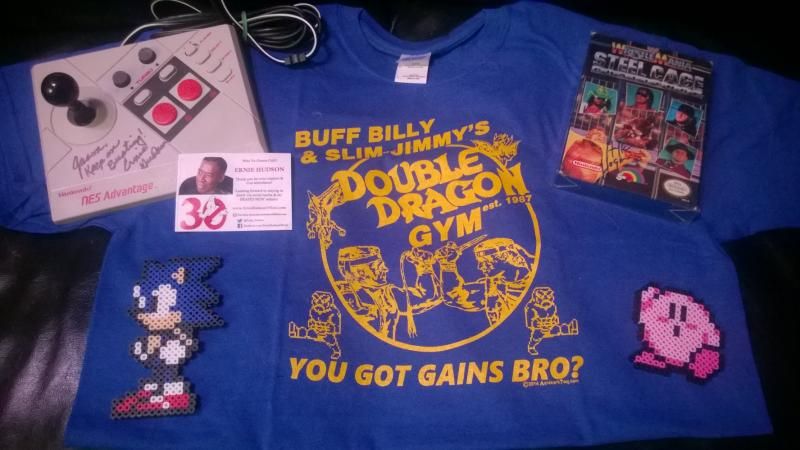 I had Ernie Hudson sign a NES Advantage. I was disappointed that he didn't seem to recognize/remember it as I was talking about the Statue of Liberty scene from Ghostbusters 2. HE FORGOT. And then I was handed a Ghostbusters 30th Anniversary card after I paid.

Hulk Hogan signed my NES WWE Steel Cage box, but looked at it in confusion, He was as arrogant as was warned. I shook his hand, and he made a point to introduced me to his daughter Brooke. Did I get a thrill out of meeting the wrestling legend? No, but guess what...

I did get the thrill of getting my picture taken with this one!




Jimmy Hart was great and let me hold the tool of his trade.






One of the celebrities that was I very anxious to meet was Gigi Edgley, Chiana from Farscape. She was as open and talkative as anyone you might meet on the street. Very cool, and we chatted for over 10 minutes before I remembered that others behind me might be getting impatient. And yes, there is an actual Farscape movie script in existence, straight from the Nebari.

Since the girlfriend bought a Marty POP! figure for me the other day, I grabbed Doc.

And the man that created one of my favorite movies as a kid, The Last Unicorn, Was promoting his national screening tour of the movie. Peter S. Beagle signed the DVD that I already owned for free and we had a great chat about the music from the film and his tour. I look forward to seeing him again in November.

And finally, some items from Artist Row: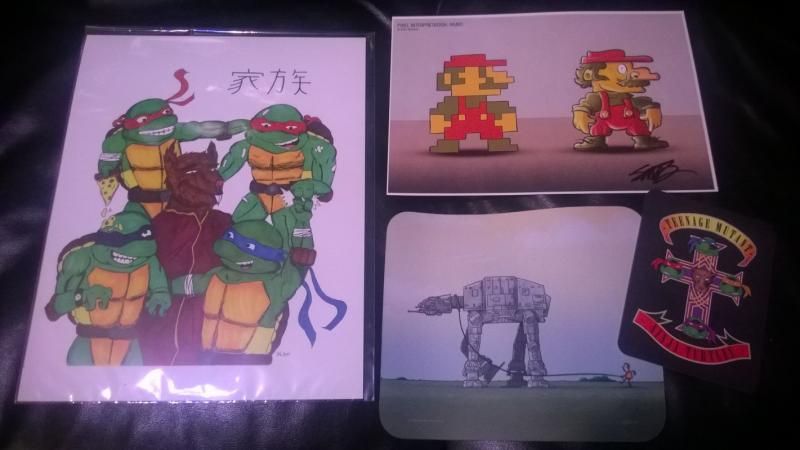 The Mario pixel interpretation is hilarious.

And some other pictures from the show: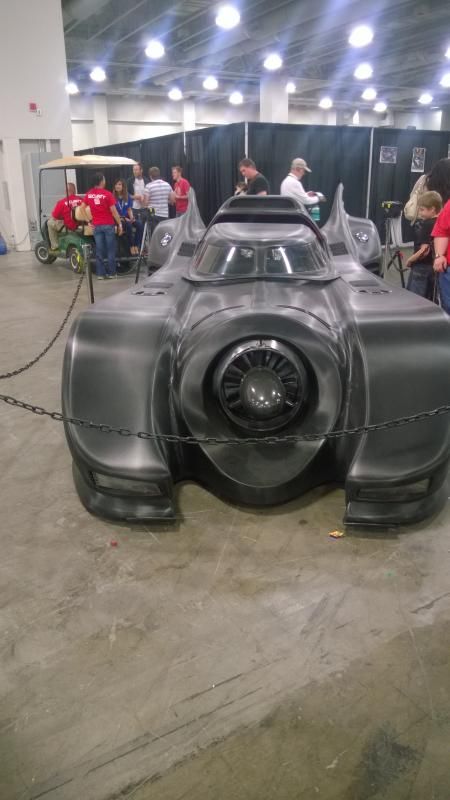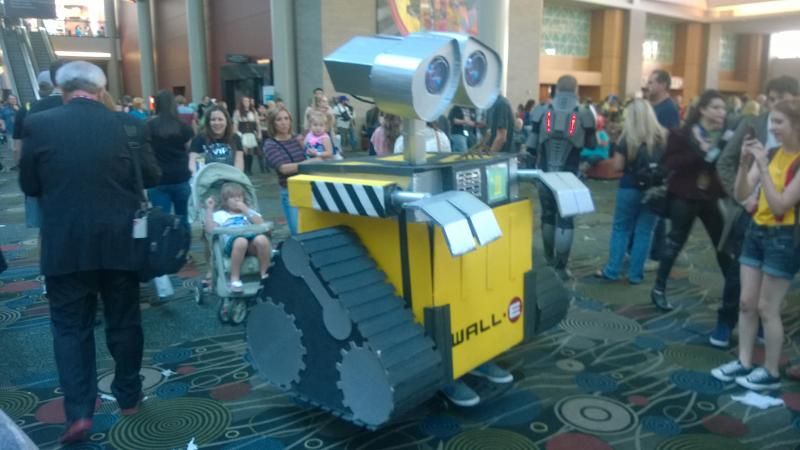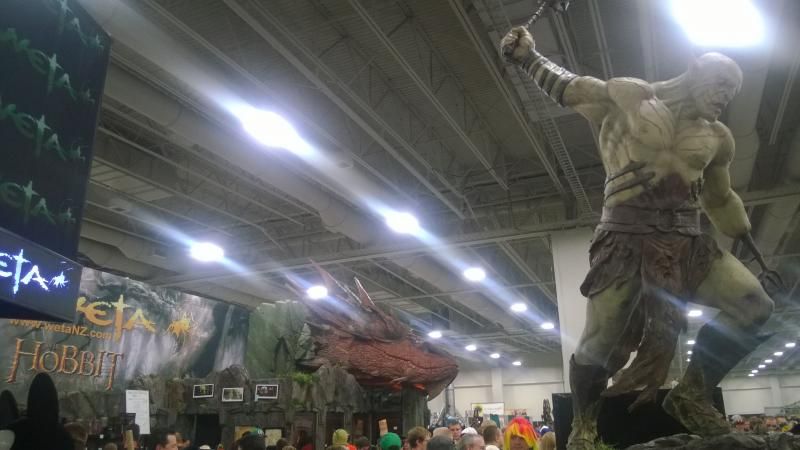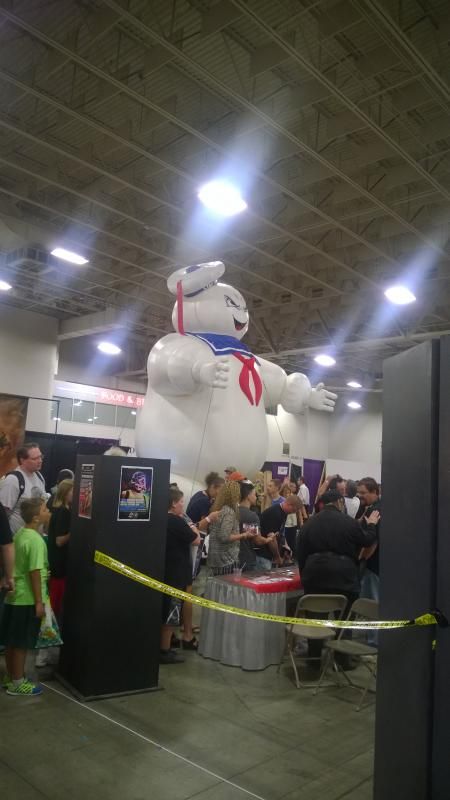 Will I attend next year? It is really going to depend on the celebs and if the promoters consider slimming down the tickets sales by a bunch, which won't likely happen.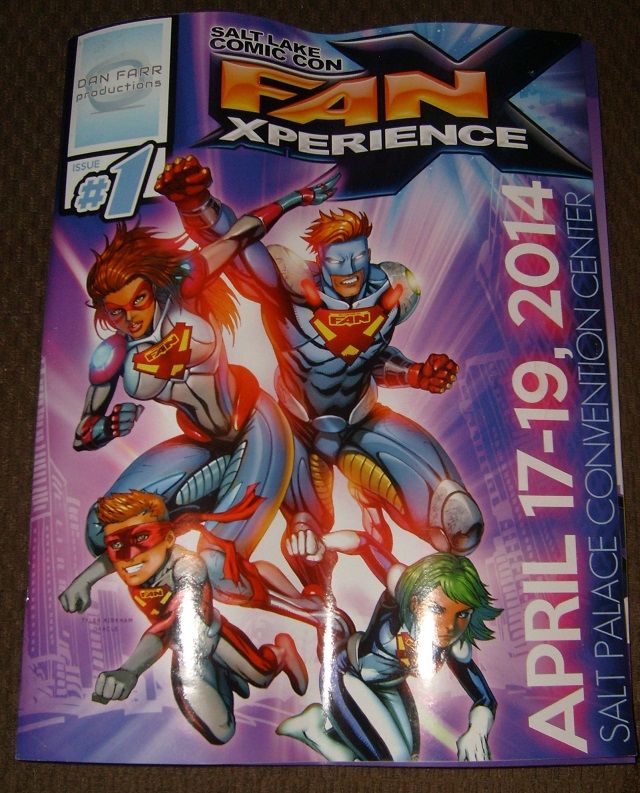 It was great experience for the lady and I. Here are some pictures from the two days we spent at the event.

We saw a fully-functional R2-D2.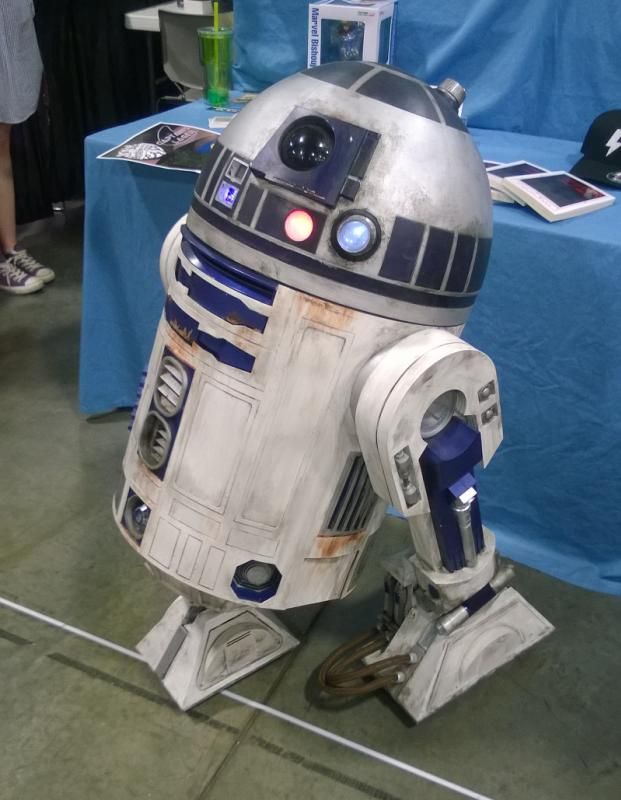 A huge Lego city. You can tell my favorite part.



The Karl Urban Q&A.



As expected, some Halo fanboys.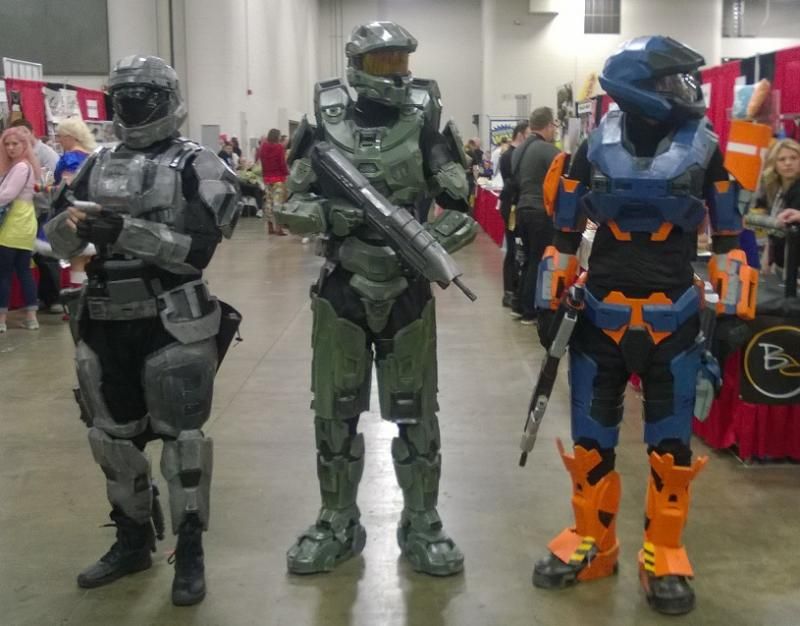 The World's Largest Balloon Sculpture. Zag will appreciate.



A '66 Batmobile.



A Slimer cake.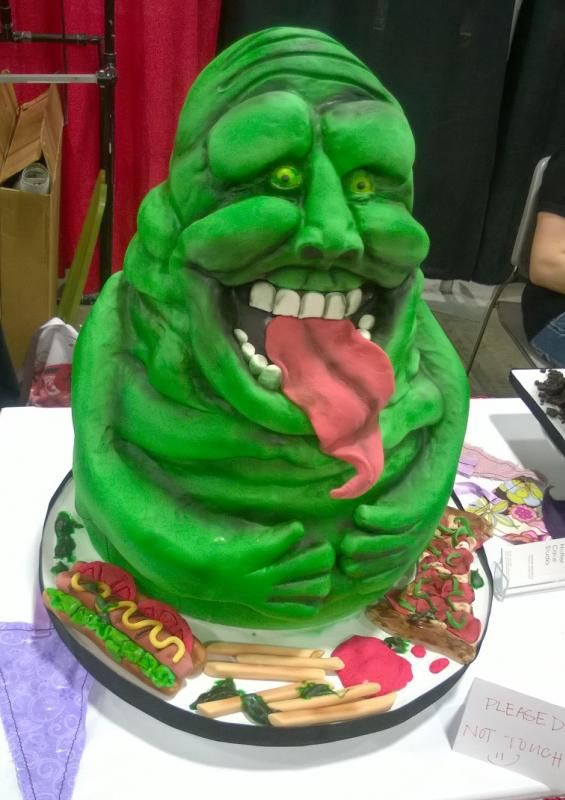 The SLC Ghostbusters.



I also had the privilege of meeting some celebs and adding to my autograph collection.

Two of the Boondock Saints. Rocco was awesome! It probably didn't hurt that I was wearing my hat.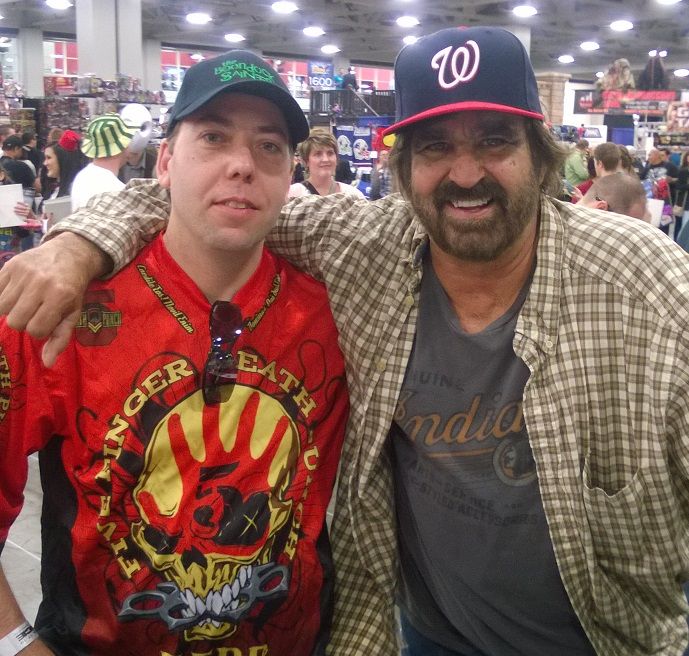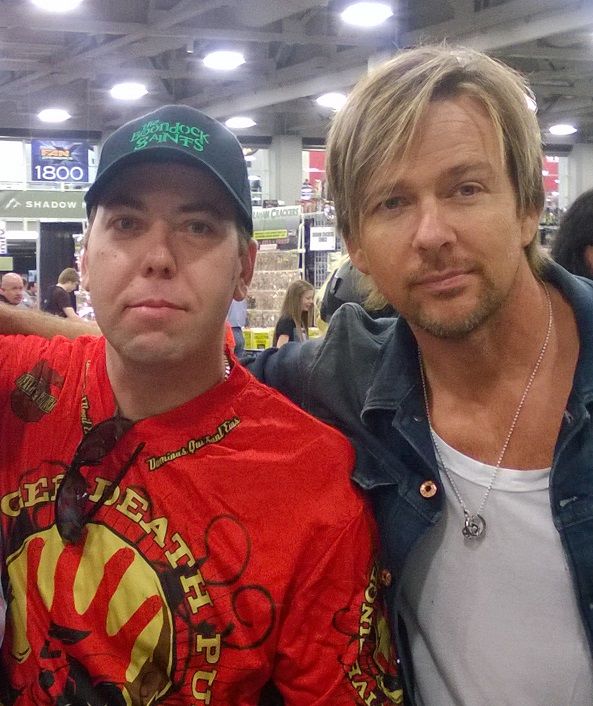 I already had my comic book signed by Troy Duffy, the Artist, and Editor. Now I need Norman's. He had planned on making it, but was stuck in Vancouver filming.



Rocco wanted to sign my hat also, and left a nice note in the book, "Jason, Great meeting you in Salt Lake City."



I had Elvira sign my Lynx game, which she had never seen before and tweeted a pic of it while I was standing there.



Tom Cook, the lead animator of He-Man, Thundarr, and Godzilla cartoons.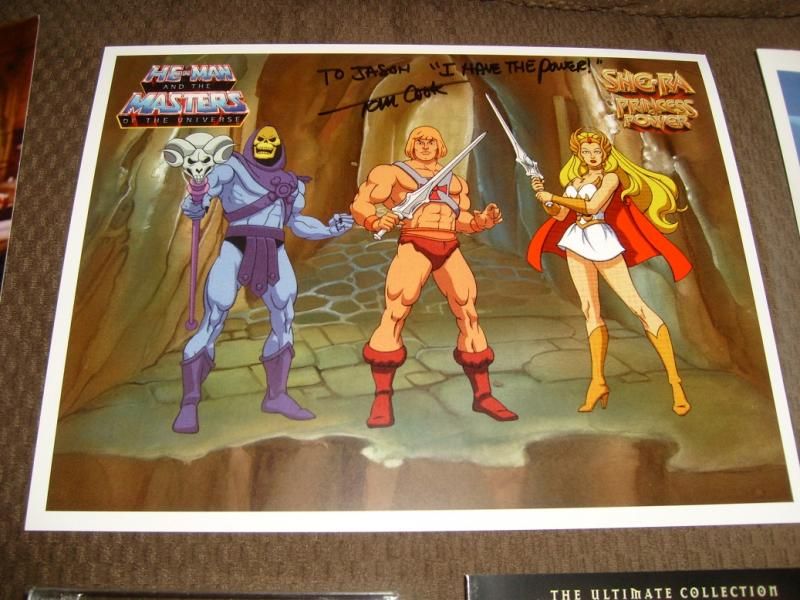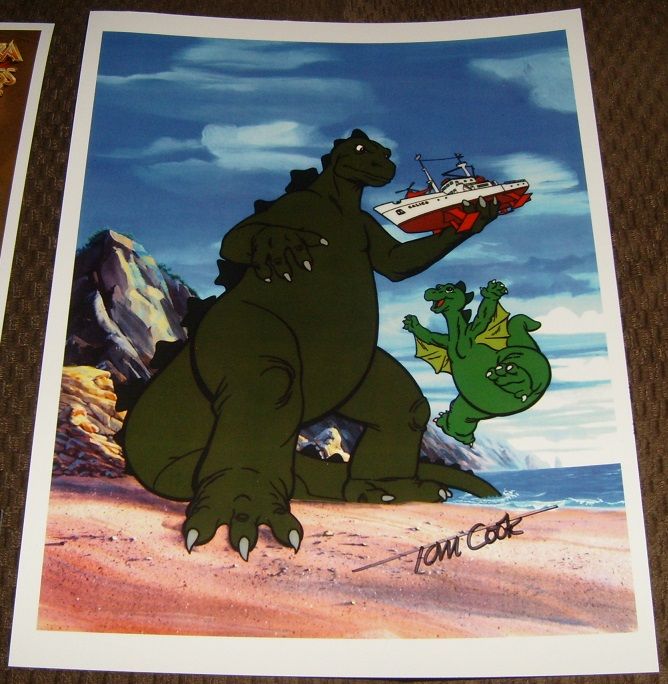 Michael Stackpole, writer of classic Star Trek games and more current Star Wars comics signed my Star Trek 25th PC cover.



The creator of The Crow, James O'Barr: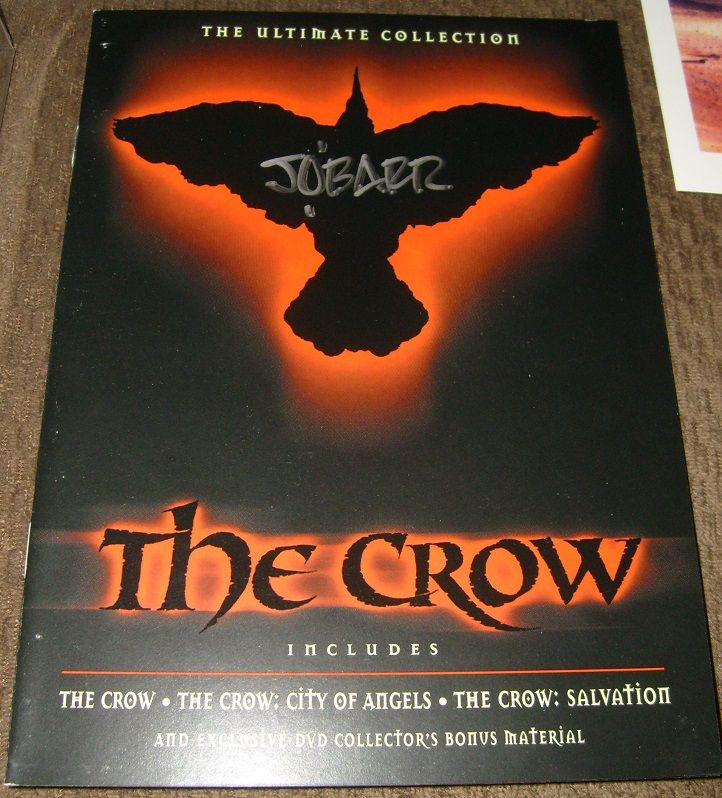 Charles Fleischer, voice of Roger Rabbit.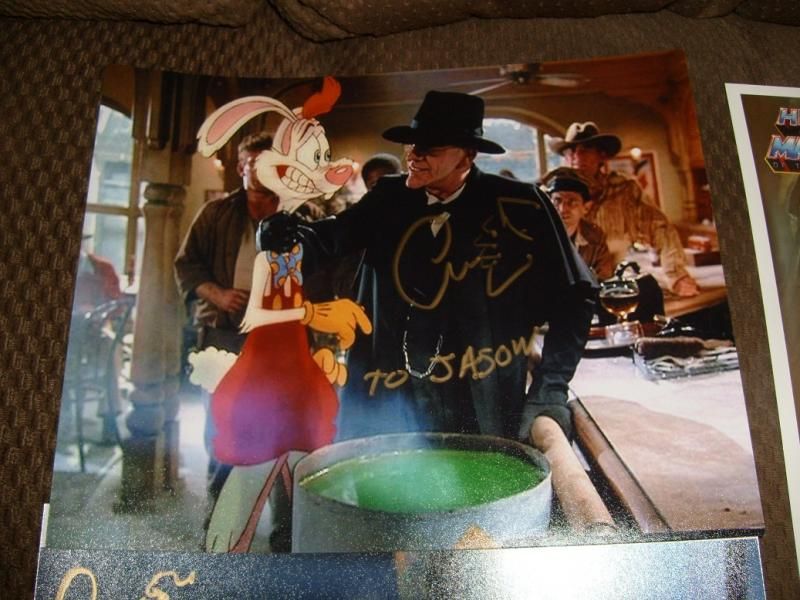 I had my Marvel Zombies signed by two amazing artists, Ed McGuinness and Arthur Suydam. As a side note, Ed McGuinness and Michael Stackpole were the ONLY people that didn't charge for an autograph. Ed acted surprised that others were, and Mike was happy to see that I remembered his earlier Star Trek work.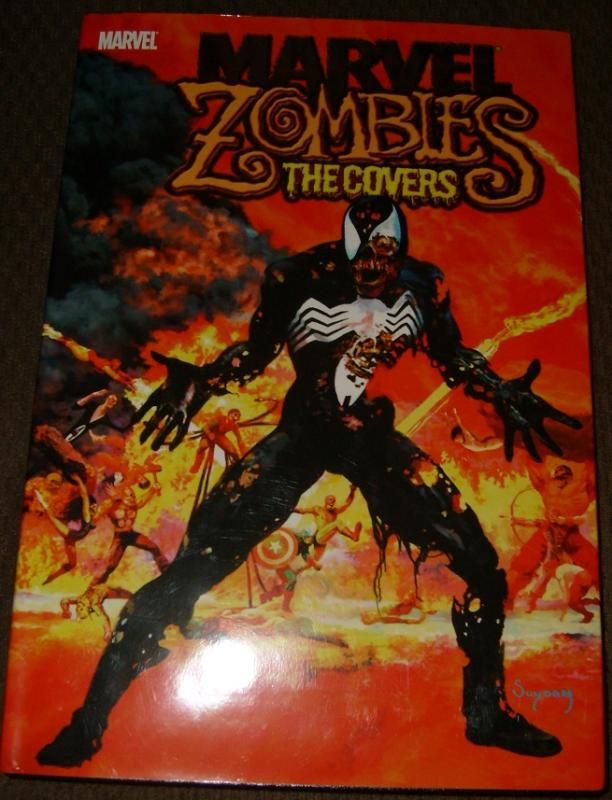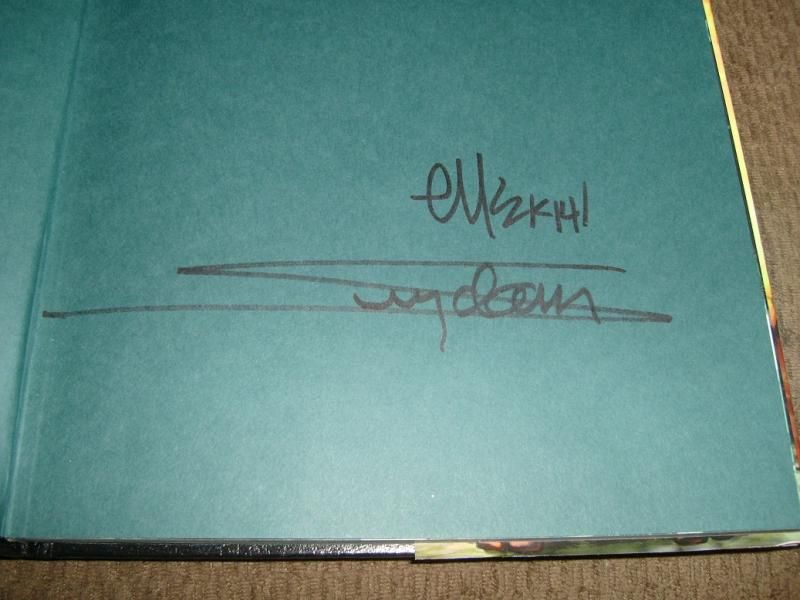 Since I had to buy something to get Arthur to sign, I chose a Jay and Silent Bob zombies print.



On Saturday, I chose to go cosplay. Why? I had to get my picture in this wonderful memory from my childhood.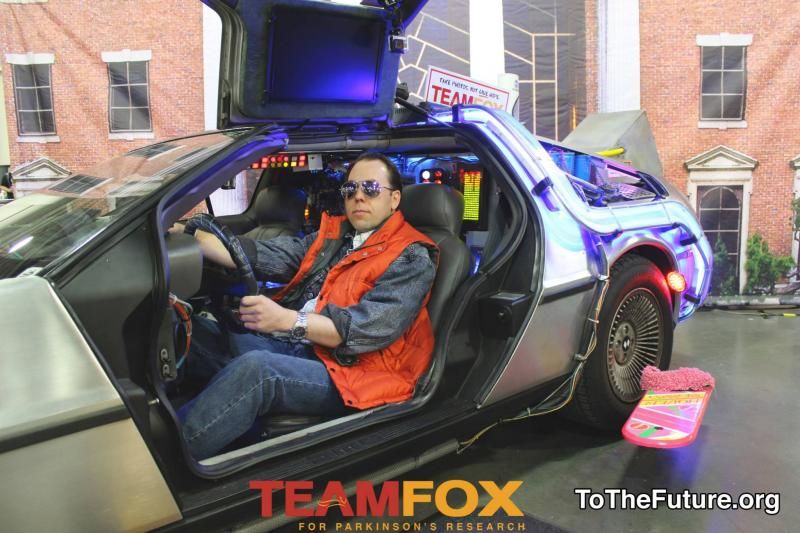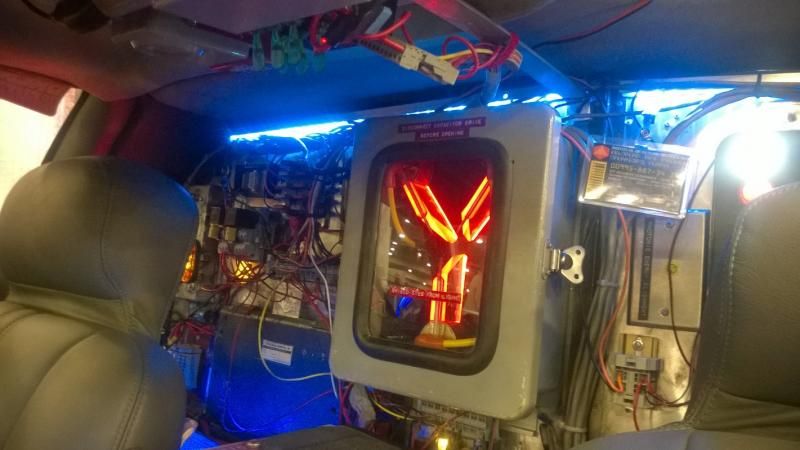 What is this strange time machine? I think mine was much better looking.



It was a blast and I look forward to the next one in September.


After seeing the multiple postings throughout the site of people not able to find a final copy of Nintendo Power magazine, I did some hunting locally.

I was able to find 6 copies available for fellow members.



If you can't find a copy locally, and don't want to spend the $25-$50 price on eBay and Amazon, let me know. I will sell these copies for $12 shipped, and shipped in a Priority Flat Rate Padded Envelope, so my profit is almost nothing. This is for US members. For international members, the shipping for Priority Flat Rate Padded Envelope is higher, so the cost will be $20 total, if that means of shipping is acceptable to your country.

I will continue to search around, and I hope that other members will post what they can find for others before they are all gone.

SIDE NOTE: This is an attempt at helping out other members, so please do not request a copy so that you can flip it for profit.


So, to assist Shadow in his current needs, there is now a site for all RFGeneration.com members to give a little (even the most minimal possible) to help him in his current situation and show how much we appreciate how well he has maintained the database, tossed some knowledge our way, or even tossed some games our way.

He is considering selling the Vectrex collection, so we need to show that we will save it.

Please follow the link to protect the Vectrex: http://www.gofundme.com/1j43ko

You will see the following on the site:

This page was created for the game collectors at RFGeneration.com, however any other donations would be much appreciated.

Our most active and devoted database editor and fellow collector is currently dealing with serious short-term financial issues. Although selling off his collection, which may be very difficult to reacquire, is an option for him, I know we can let him know how much we appreciate his work on the site by providing in his time of need. When you purchase a new game for $60, tossing a $5, $10, or $20 donation to assist affects your wallet so little but helps so much. This is a community, so let us show what we can do. Shadow can always purchase a copy of Earthbound for each of us in better times.





So, a couple of weeks back, I walked into the local Play n Trade - a weekly occurrence. The guys that work in there are current gamers and (to my benefit) don't know the retro stuff much. And yet I am the only truly regular RETRO customer they've come to know. It is to my benefit, of course. They already told me that a Little Samson would be shelved at $10, according to their database. As I walked in the door "Hey Jason, we've got something for you to look at." They looked excited to make the sale. It was a 3DO FZ-1 with some great games. Alright, I already have an FZ-1, but the games were awesome - Super Street Fighter II Turbo, Need for Speed, Shockwave 2, Gex, Space Hulk, etc. I added all the games to my own collection except Super Street Fighter II Turbo & Need for Speed, which I already owned. The games I kept were almost worth the total price. I decided to eBay the console and dups, so I could toss the profits at my wants. So why, with a system that normally nets about $80 with 2 great games that fetch about $60 total, did I make a final sale of $250?

http://cgi.ebay.com/ws/eB...d=1&item=110958503201

No, I am not bragging or showing off. Maybe the fact that I proved the console worked and added the pic was beneficial, but I really wanted to start the conversation about how much people seem to loathe resellers. Keep in mind that I started the bidding at only $50 - my purchase price. And this whole scenario brought on some interesting questions.

I guess this could be a multi-part question.
Who do you consider a gaming reseller? When you criticize a reseller, what about their practice bothers you? Is it about buying local then selling local? Is it buying cheap and them selling market? Is it that all carts/games from specific systems are tagged with the same price? Is it about the quick flip?

This should be an interesting discussion.



Hyperkin, the company that brought us the FC and Retron retro console series will soon be releasing their next great product to consumers. Many youtubers posted their visits to the Hyperkin booth during E3 2011, and this what they were looking at.

It's the SupaBoy! As of yet, there is no definitive release date, however I was fortunate to pick up one of the rare prototype models from a local store that probably didn't know what his Hyperkin distributor left him.

Here is the company's spec page:
http://hyperkin.com/index...pocket-snes-console.html/

First off, I loved the Super Nintendo and its games, so the prospect of a dependable handheld version being released?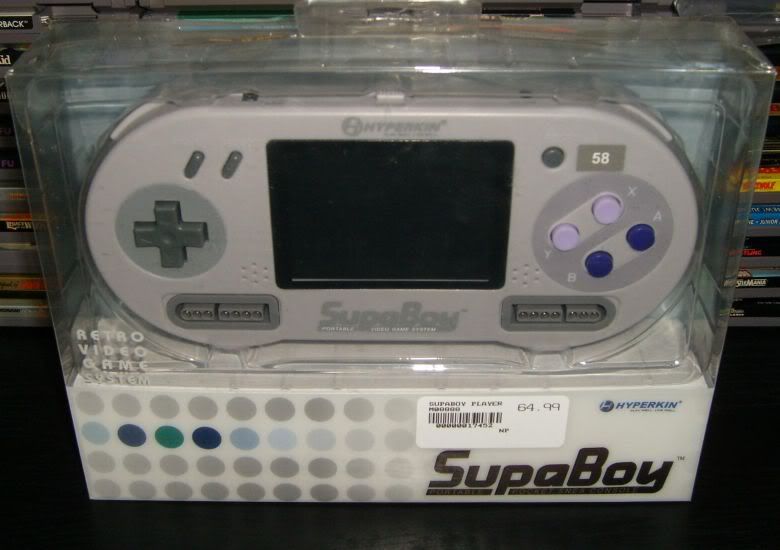 As you can see, the SupaBoy resembles a large SNES controller and it feels about as comfortable. To test the comfort during an extended play session, I popped in Sim City and went to work...for hours. For the size it is fairly light and easy to hold. Because the console is fairly thick, I did find attempting special attack moves during Fatal Fury 2 to be somewhat difficult. The clarity of the screen was commendable and I very much enjoyed being able to play SNES on the couch while watching football. Confirmed working games include Super Mario World, Donkey Kong Country, Tetris Attack, Chrono Trigger, Plok, The Chessmaster, and Kid Klown.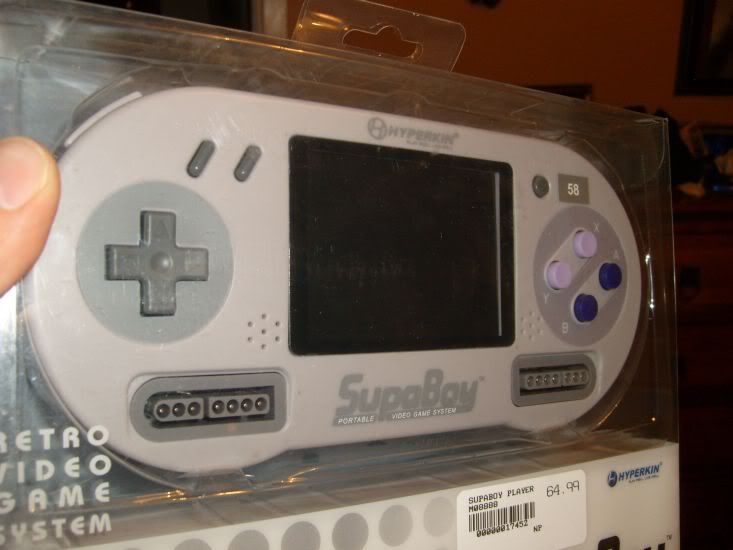 As you can see in the pic (and as mentioned on the Hyperkin page), two compatible SNES controllers can be plugged into the SupaBoy, and the unit can be connected to any TV via a provided A/V cable. I have not tested this yet. It can also play all Super Famicom games and Hyperkin even tested the SuperScope.

So now the cons. The big one that I experienced with this specific console is the fact that it only works on AC power. Hyperkin shipped it with a rechargeable battery utilized by earlier Nokia cell phones. Maybe it's the battery and maybe it's the console. I can't confirm, since I can't find a local replacement to test. Also, I find myself re-seating the cartridge and pushing the reset button a few times to get the title screen. Reminds me a lot of the SNES. These two issues will surely be addressed before the final release. The only real problem I see with the design of the console is their attempt at a locking mechanism for the cartridge. It really seems to only catch on the Nintendo lettering on the back of the cart, but I anticipate this getting broken quickly for those that are forgetful.

Overall, I am very impressed and in awe. If you're going to release a handheld console for games from a classic system, making it look anything like the original is outstanding. This is how a retro rewind should be, and I can't wait to purchase one of the final releases.


... there was Head On by Sega/Gremlin. Released in 1979, this was the first "pick up the dots" game of it's kind. This arcade classic deserves a definitive bow as an inspirational precursor to the most famous maze-chase game ever, Pac-Man.

I've been keeping an ear to the ground lately, in hopes of finding my first arcade cabinet for a nice price. When I began looking, there were to be three stipulations:

1. The game must be something that can be played many times over without the boredom strike of...say, "Video Poker."
2. The game must be completely original and without modification.
3. The game must be a favorite from my past.

And so it is here.




Released when I was only 3, but lasting the years, Head On was one game that held my attention any time we visited certain pizza joints in the 80's (along with Kung Fu & Joust). Sure, it is played on a B&W screen and has a very simple game play concept, but - like Pong before it and Tetris following - simplicity is its magnetism.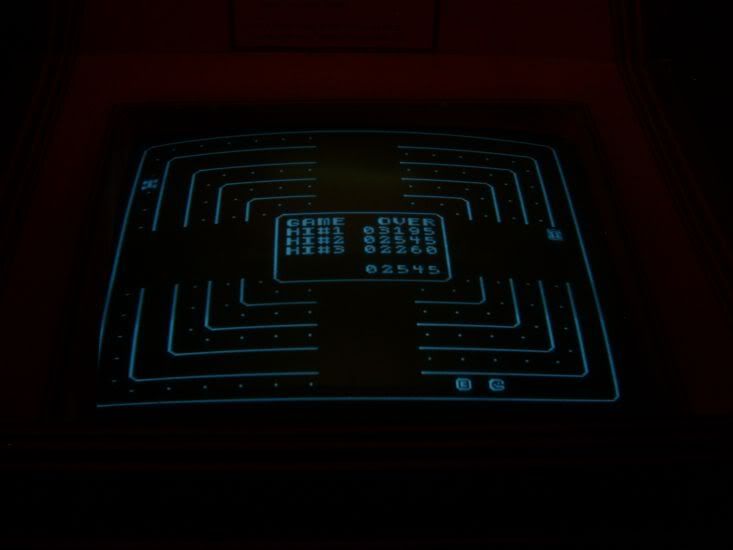 She'll need some cleaning, minor repair work, and a new coin feed lock; but I can honestly say that the $150 price tag left absolutely no regret.


Yes, I know. Here I go again. I jumped on another Craigslist seller's post and was smiling all the way through. Admittedly, I didn't know what all games where included when I headed down to buy the lot due to bad cell phone pics. But can you guess the moment that the shaking and excitement started...?

So, listing description:
Older teen in a smaller town south of here posted a CL listing for 45 NES games for $40. I will say that many were in dire need of some 409 and a rag, and I have not tested them all yet, but here is what the lot contained.

Notables:
Castlevania II: Simon's Quest [Oval Seal]
Castlevania III: Dracula's Curse
Donkey Kong Classics [Oval Seal] - $7 on VGPC
G.I. Joe: The Atlantis Factor - $14 on VGPC GO JOE!
Metal Storm (some label damaged) - $17.50 on VGPC
Metroid [3 Screw w/Oval Seal] (x2) - $7 on VGPC
Spider-Man: Return of the Sinister Six (minor label peeling) - $7 on VGPC
Teenage Mutant Ninja Turtles III: The Manhattan Project - $10 on VGPC
AND FINALLY............

R.C. Pro-AM II - $35+ on VGPC . Sometimes selling for much more, and in great condition after cleaning. The total asking price was barely more than the single most valuable game!

Remaining games (and many were duplicates therefore trade bait. Check my FS/T list):

10-Yard Fight [3 Screw], Adventures of Dino Riki, The, Astyanax, Base Wars: Cyber Stadium Series, Bases Loaded II: The Second Season, Bigfoot, Blaster Master [Oval Seal], Captain Skyhawk, Casino Kid, City Connection [Round Seal], Golf [3 Screw w/Round Seal], Karate Kid, The [Round Seal], Kung Fu [3 Screw w/Round Seal], Laser Invasion, Legend of Zelda, The [Classic Series] (ripped label), Life Force, Mickey Mousecapade [Round Seal] (x2), Millipede [Round Seal], Pinball [3 Screw w/Round Seal], R.C. Pro-AM, Rad Racer II, RoboCop, Seicross, Short Order/Egg-Splode!, Silent Service, Silkworm, Stealth ATF, Super Mario Bros./Duck Hunt [Seal of Quality] (x2), Tecmo World Wrestling, Teenage Mutant Ninja Turtles, Tetris 2, Tetris [Nintendo], Ultimate Stuntman, The.

Yeah. this was seriously worth it.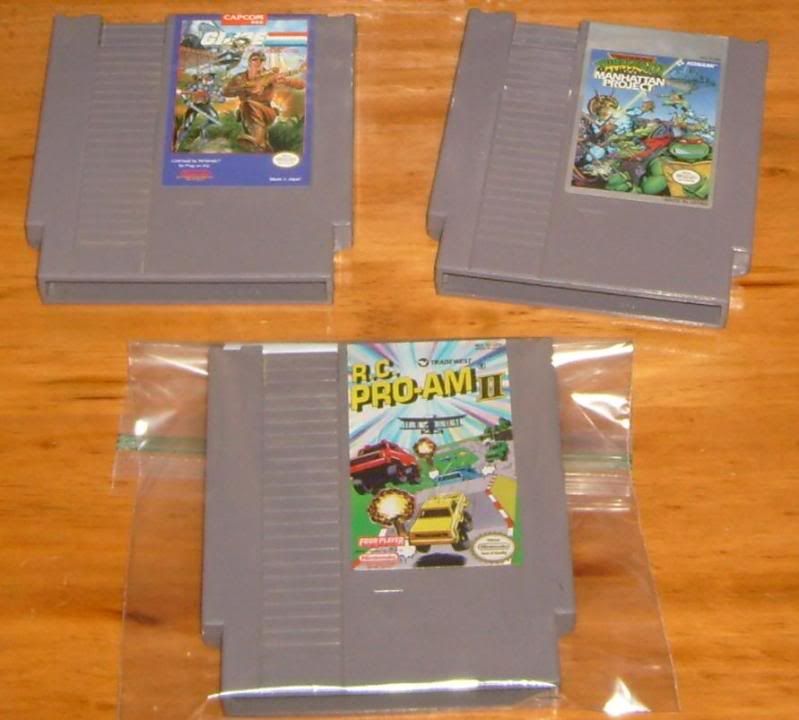 I had a great collecting day on Saturday. I added 4 consoles(mentioned below) and over 50 games to the collection and the prices were outstanding. I was able to trade a single Virtual Boy game plus a minimal $ for a CIB Nintendo 64 system, buy multiple hockey games for different systems for $0.50 each, added two original Playstations (7001 & 9001) for a total of $4, and added an Atari Flashback console to my collection for free - Thanks RM.

So now I'm curious what I should offer/consider reasonable for an original Sega Saturn system CIB that I found for sale today. It is somewhat difficult to trust eBay or VGPC when most sales are with games and acc. or without box.
And inquiry #2 would be what everyone's favorite Saturn games are, if I am going to try it out. Tell me all about it/them. I enjoy all the stories.

I heard someone complain about how we don't talk anymore, so let's discuss a bit.


I got lucky on this one. The listing had been up on Craigslist for a few hours before I noticed it, but I was able to act quickly so jumped and ran to the guy's apartment to pick it up. Well, okay I drove there. But my feet didn't stop moving the whole time!

So here it is, a Virtual Boy lot. Everything is CIB, including having all the original plastic bags that the parts were wrapped in. The lot includes the Virtual Boy console with Mario's Tennis (some super glue needed to fix a usual problem with the stand's hinge, hence the rubber bands in the pic), AC Adapter Set, and the five boxed games are:

Red Alarm
Teleroboxer
Panic Bomber
Wario Land
Vertical Force!

Total price for the great lot, $50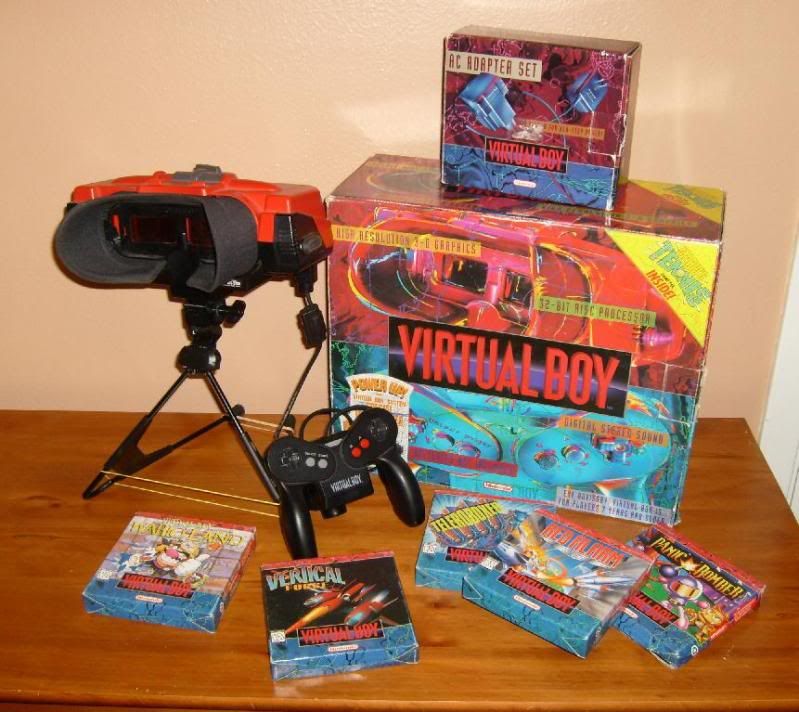 First off, when I decided to jump back into game collecting, I decided that I was not about to waste my time on sites that were not run solely by the collectors themselves. And I wanted a site that would allow a very simplified yet user-friendly way to track my collection. RFGeneration was recommended by some trusted collectors, and is definitely worthy of adulation.
So here comes my recommendation for the site.

Design a location map of members that choose to be involved, so that we can link up outside of the website. I would be interested to hear everyone's opinion and get a discussion started.


I love Atari because they were the guys that introduced me to gaming when I was very young. The 2600 stands like a demigod in my collection. Well, demigod because I only have the 4-switch model right now. Give me the Heavy Sixer and watch me float.

So what is your favorite Atari Game? And I really mean EVER. Was it on the 2600, 5200, 7800, Lynx, Jaguar, or a PC model?

I would say that the game that I enjoyed the most in the Atari era is Dig Dug.


Monitoring Craigslist has almost become an addiction for some, and I may be part of that group, but every once in a while a deal comes along that is so amazing - so difficult to fathom, that it just reaffirms your love for the site. Like when I find "defective" laptops for cheap that only needed something as simple as a new RAM chip or power adapter, or just to default the BIOS. And I enjoy being able to build a PC for someone that doesn't have one. Okay, I'm getting away from myself here.

So, when I opened up the page yesterday and found this lot, I was ecstatic. If you read my Sweet 16 favorite games on my profile (most are from years gone by), you will notice Kenseiden from the Sega Master System is on the list. A friend of mine had the only SMS in the neighborhood back then, and that game alone sparked my Sega bug. And since I had decided to get back into game collecting a few months ago, and toss my sports card collection aside for more... playable pastures, I still had quite a few Sega products to re-acquire. Through the years I had owned the Genesis console three different times, and this makes a fourth.

So here it is. A Genesis 2 console (cables not shown), SMS Power Base converter, two controllers, 6 Button Arcade Stick, Game Genie, 9 SMS games (2 loose), 14 Mega Drive games (all loose), 8 Genesis games (3 loose), and rare Phantasy Star IV Strategy Guide. In one fell swoop I found all 4 Phantasy Star games, 4 Wonder Boy's, and Kenseiden. And the price for everything you see (except my cordless phone) - $15.00. Long live Craigslist.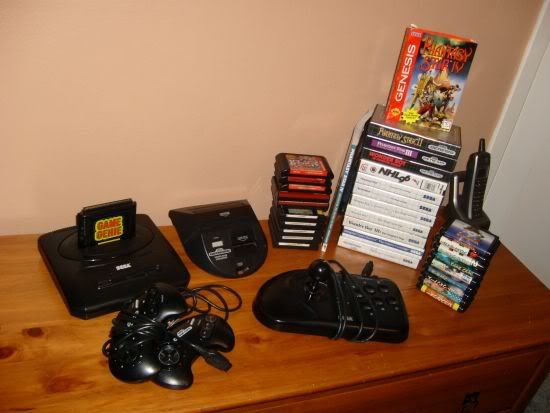 Bear with me if the format just isn't right, considering that this is my first blog post.

As I was physically reorganizing my collection tonight, something really struck me. As I was aligning consoles with games on their respective shelves, I realized that I really didn't need or want to display a NES console on that shelf. I want to display the controller that I enjoyed for so many hours. Yes, I liked my NES in the 80's. but I loved my NES Advantage. It really does bother me that I left it stashed in a box when I joined the Army. So much of my stuff was missing by the time I got back home, and my NES and accessories were part of the missing. For years I convinced myself that a controller meant nothing, but the moment I held another NES Advantage and enjoyed another great game, I realized how wonderful an "accessory" can be. Do you have a favorite controller, gun, etc.? Tell me about it.