---
https://youtu.be/hcxyqd12O2g
https://youtu.be/hcxyqd12O2g

Recently I got a call from a good friend asking me to write about how much anger and negativity pervades gaming in our modern era. I reflected the challenge therein, as many of the factoring instigators of such are outside the purview of our humble and relatively focused collector/gaming site. Also, I've spilled much digital ink in various articles over the years championing virtues against such negativity. It is not that more can't or shouldn't be said about the topic, just that there are times and places better suited for conversations that dig deeper into the myriad of problems that are the origin of said negativity.

And yet there are lots of angles about modern gamer anger that can be more readily addressed, if not overcome, by way of analysis and discussion on neutral grounds such as ours. In fact one angle of discussion in particular came to mind by way of my recent reflections playing Fallout 76 and Anthem. These two titles, in their design philosophy, problematic constructions, and correlating critical and commercial reception, pretty much embody the various threads into a cohesive strand of something larger, a specific anger-inducing phenomena inherent to our current-gen gaming.


Continue reading Thoughts On Games As Service, Anger, And Modern Gaming



I found some writings on Erdrick's Tablet. The writings were this interview with the Playcast co-host GrayGhost81!
Continue reading The People of RF Generation - GrayGhost81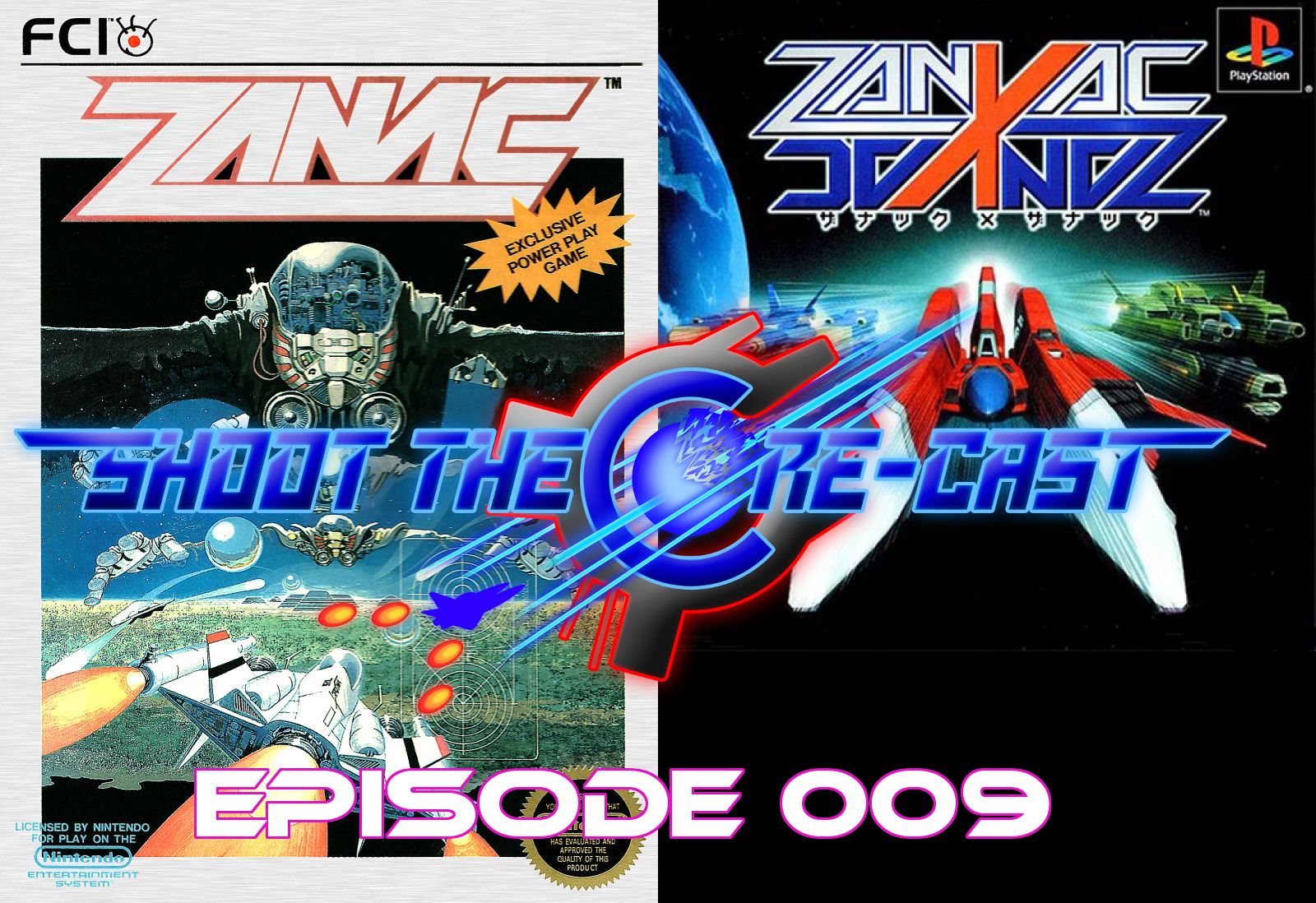 This is Episode 009 of Shoot the Core-cast! In this edition, MetalFRO and Addicted look at Zanac, the classic NES shooter that most of us played as kids. Does it hold up? What's good about it? Why is it so well loved? To help us answer these questions, we called upon Collectorcast members Duke.Togo and Crabmaster2000, to weigh in on the game. We hope you enjoy it!

Direct episode link:
http://rfgeneration.com/podcasts/shmupclub/?name=2019-03-12_shoot_the_core-cast_episode_009_-_zanac.mp3

Check us out and subscribe (and rate!) on Apple Podcasts!
https://itunes.apple.com/us/podcast/shoot-the-core-cast/id1432819542?mt=2

We're listed on Google Play - subscribe and review the podcast over there!
https://play.google.com/music/listen#/ps/Iih3vrijcro4yno3yrkeawnx6nu

We're on Stitcher Podcasts now, as well, so if you use that service, have a listen to the show from there!
https://www.stitcher.com/podcast/shoot-the-corecast

We have t-shirts! Help support the podcast, and rep the shmup community by buying a Shoot the Core-cast tee!
https://www.redbubble.com/people/jdieckmann/works/34582606-shoot-the-core-cast-podcast?asc=u&p=t-shirt

Here's the thread from the play-through:
http://www.rfgeneration.com/forum/index.php?topic=18934.0

Thanks for listening, and any feedback would be greatly appreciated!



Here's my take on Championship Pool, from Mindscape and Bit Masters. You wouldn't think that you could do justice to a game like pool on the Game Boy's tiny 4" screen, but you'd be wrong. Rather than a simplistic game of billiards, this cart gives you a ton of game modes and options to play with, all backed by the "Billiard Congress of America" so you know it's official. Surprisingly deep and playable, Championship Pool condenses down the sport, without losing any of the rules or technique that you might expect. Even if you're not a fan of the game, this is a title worth looking into, especially for anyone looking for something different from the normal puzzle game fare on the handheld.




When I designed my game room I wanted to have as many systems readily available as possible. To achieve this I had to use several power strips, and video switchers. These along with the consoles and TVs sucked up an alarming amount of electricity and forced me to search for a quick and efficient way to manage the power consumption of my setup.


Continue reading I've Got the Power: How I Solved My Game Room Power Problem




For the past handful of years, 8BitDo has been bringing retro controllers and adapters to its fans at a regular clip. In general their quality has been pretty high, and the combination of retro styling and modern conveniences has made them the aftermarket manufacturer of choice for many gamers looking to add wireless controller support to their NES Classic or get a SNES-style controller with dual analog sticks for their emulator setup.

The M30 is 8BitDo's newest release, and to my knowledge it's the first Genesis-styled offering from them. I own a couple other 8BitDo controllers and have been considering dipping into the Genesis library recently, so I figured the timing was perfect to put the new gamepad through its paces.


Continue reading Review: 8BitDo M30 Bluetooth Gamepad


The RF Generation community of collectors and players has committed themselves to demolishing the entire licensed NES library in the year 2019. Is that even possible you say, with your help it totally is!! Check out the RFGen 2019 NES Challenge thread to see how to join in at anytime throughout the year. There is plenty of opportunity to participate regardless of your skill level, favorite style of game or the amount of time you have to invest. Come over and play with us here:

http://www.rfgeneration.c...m/index.php?topic=18893.0

Although we fell just a little shy of our February community goal of beat at least 250 total NES games we still made great progress knocking down another 72 games in the shortest month of the year. That combined with January's amazing start puts us at a solid 222 going into March.

Our personal goal for February was for every to pick at least one sports title to beat. These are often not the most highly anticipated games to be picked so this was a small effort to get a few out of the way early in the year so that when we dwindle our list down as the year goes on we are not simply left with lots of long seasons of sports titles that no one is particular interested in playing. We saw members tackle some great sports titles such as: Blades of Steel, Base Wars, Tecmo Super Bowl, Skate or Die, and Super Spike V'Ball, and some not so great sports titles like: Bases Loaded IV, Baseball, 720, Championship Bowling, WWF King of the Ring, Jack Nicklaus Major Golf, and Jimmy Connors Tennis.


Continue reading RFGeneration Challenge 2019 March





I was very excited to learn about the new Dororo anime. I was even more excited to find out that I would have enough time to put out a review of Blood Will Tell before it came out. Well, it's a day late, but it's close enough.


Continue reading Blood Will Tell l Review The PS2




While the JRPG has been my favorite genre of videogames ever since I was old enough to read, my experience with the Dragon Quest series is admittedly limited. After having played the DS remake of Dragon Quest V a couple of years ago and playing the 3DS remake of Dragon Quest VIII shortly after, I felt like I had already experienced the best this series has to offer (at least according to most people) and decided that I should move on to other things if it was all downhill from there. Once Dragon Quest XI was released and garnered rave reviews, many claiming it to be the best in the series, I was immediately intrigued and didn't wait long to start playing it.


Continue reading Dragon Quest XI: Echoes of an Elusive Age




The Playstation and Nintendo 64 rarely had games that competed directly. Nintendo has long been going their own way, and that was no different than during this generation. One area where the two consoles did compete was in the realm of 3D platformers. The debate about which console has the best 3D platformers of this era still flares up from time to time, in a way similar to the much more fun 16-bit war between Sega and Nintendo.


Continue reading Spyro the Dragon



Join me in the climb to the top of Pride Rock for Neo's "A Brief Look At" series!

This month, we check out The Lion King for Genesis, a game which is ubiquitous with ridiculous difficulty.

Check out more of Neo, and the rest of the RFGeneration stream team at http://Twitch.tv/RFGeneration




Eagle Flight is a PSVR game published by Ubisoft. I got it in my initial haul from Disposed Hero. After finishing the main campaign in Skyrim VR, I was looking for something short and sweet to bang through before jumping back into Skyrim to knock out the DLCs. In Eagle Flight, believe it or not, you are an eagle who flies. The game takes place in the city of Paris after humans have gone extinct and nature has reclaimed the city.


Continue reading Eagle Flight





Despite the modern integration of gaming in our daily lives, two terms that still do not tend to share the same sentence are 'romantic' and 'video games.' While movies, books, and music have genres and sub-genres focusing on amorous pursuits, successful attempts in gaming range from the very specific dating sim category and amateur-at-best forced narratives in action games to lengthy RPG character relationships. Let's just set aside fan-service in the vein of Dead or Alive and Senran Kagura for the moment.


Continue reading Thoughts on Valentine Gaming



Blog Navigation
---
Browse Bloggers | My Blog
We are a community of collectors, gamers and the likes, and some of us enjoy to let the world know what is on our mind. For those members, we have the community blogs, a place where they can publish their thoughts and feelings regarding life, universe, and everything. Some of those members might even choose to write about gaming and collecting! Whatever they write about, you can find it on their blog. You can either see the latest community blog entries in the feed you see to the left, or you can browse for your favorite blog using the menu above. Interested in having your own blog hosted on RF Generation? It's rather simple, first be a registered member, and then click the "My Blog" link that you see in the navigation above. Following those two steps will certainly get you on your way to blogging.

Sit back, relax, and enjoy our entries, rantings, and completely unrelated series of thoughts. We write for you to read, so we certainly hope that you enjoy our material.
Hot Community Entries
---
Hot RFG Blog Entries
---