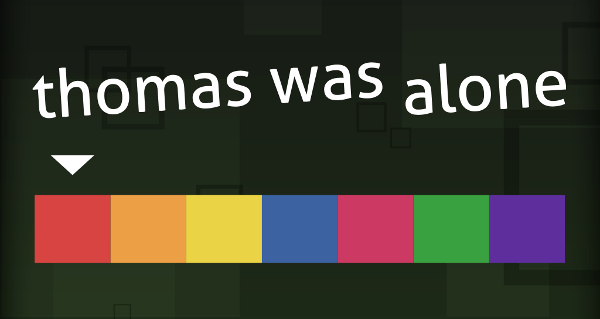 Mike Bithell's
Thomas Was Alone
could find itself on classic gaming hardware, and that's part of the charm of this game. It's simple to play, and challenging to master. But to only talk about the gameplay is to miss the biggest asset of of the game: it's a story with a message we can all relate to.
Think about your friends. There's probably someone who is eager and helpful. Maybe there's a friend who is optimistic, but going through a little self-doubt. And let's not forget the showy, proud one. These personality types are only a portion of the "characters" you will meet in
Thomas Was Alone
. I say that because in this game you actually take control of personified rectangles, proxies for actual personality types.
The game starts you off in control of the titular character and introduces environments of fun and challenging platform puzzles. Later, once your troupe grows, you have to get your characters, friends is a better way to describe them, to work together to help each other reach the portals that will take them to the next stage. The objective is always clear to the player, but the means by which you can reach your goal will require some clever thinking. When faced with obstacles, get your friends to help you cross bodies of water, or boost you up to higher ledges. Teamwork is the key here.
The plot of
Thomas Was Alone
involves an artificial intelligence company whose network is damaged; this occurrence results in AIs who have become self-aware. These AI are the characters represented by different colored rectangles (and a couple of squares). Their personalities are revealed through witty and humorous narration, which allows the player to understand who these AIs are. Thomas, a very average AI, meets other computer programs who each have their own quirks . Some time later, Thomas is whisked away by a pixel cloud, gains enlightenment, and learns of the outside world. Once reunited with his friends, Thomas shares this revelation and the team manages to escape the mainframe to coexist with humans.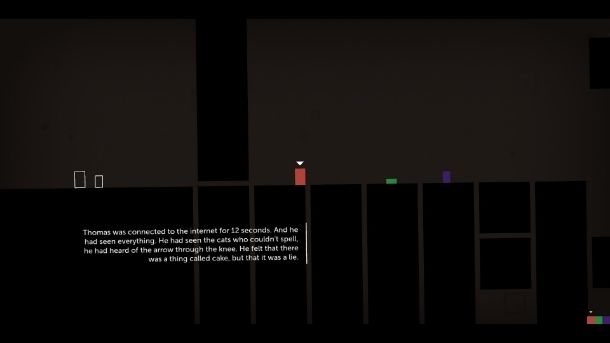 "Thomas was connected to the internet for 12 seconds. And he had seen everything. He had seen the cats who couldn't spell, he had heard of the arrow through the knee. He felt there was a thing called cake, but that it was a lie."
Playing through the game I began to like these rouge AIs and further personified them. I stopped thinking of these polygons as bits of code, and instead called them by name. "I'll need Claire to help us swim across" or "John's higher jumping can hit the switch for Chris". These were characters who I could connect with and see the similarities of how their personalities matched mine or my friends'.
A full playthrough of
Thomas was Alone
will take anywhere from three to four hours, but it's time well spent. Once the credits rolled I learned that Thomas and his companions needed each other to reach their goals; that this group is greater than the sum of it parts.
In our day to day lives, we often feel like we don't need to rely on others, that we can go at it alone, but there is only so much a person can achieve on their own. We all need help every now and then, and we can't forget about friends because they need us just as much as we need them. No man is an island, and Thomas, you are never alone.
Thomas Was Alone
is available on PC, Mac, Linux, PS3, PS4, Vita, Xbox One, Wii U, iOS, and Android.

**trailer courtesy of requisitosdejogos**