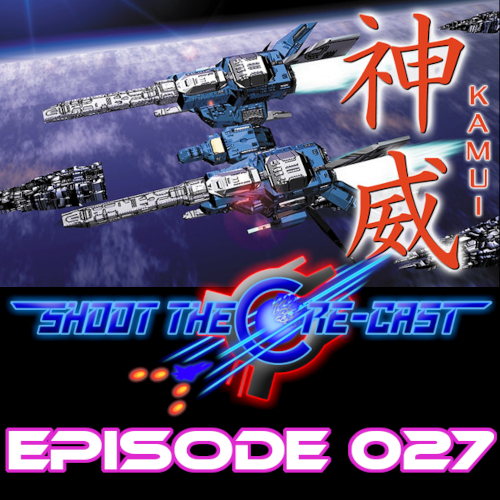 In Episode 027, Addicted and MetalFRO pick apart a Japanese doujin title that borrows heavily from Taito's RayForce, as well as its sequels. Siter Skain's Kamui originally released in 1999, and hit Steam 15 years later. Does is blatant plagiarism detract from the game's own original elements? And is this game fun? Listen to the episode, and we get into all of that, and more!
You can download the episode directly, or stream it on the website, right here:
http://rfgeneration.com/podcasts/shmupclub/?name=2020-10-10_stcc_episode_027_-_kamui.mp3
Check us out and subscribe (and rate!) on Apple Podcasts!
https://itunes.apple.com/us/podcast/shoot-the-core-cast/id1432819542?mt=2
We're listed on Google Play - subscribe and review the podcast over there!
https://play.google.com/music/listen#/ps/Iih3vrijcro4yno3yrkeawnx6nu
We're on Stitcher Podcasts now, as well, so if you use that service, have a listen to the show from there!
https://www.stitcher.com/podcast/shoot-the-corecast
We also have a presence on SoundCloud now, though it's just the most current episode at this time:
https://soundcloud.com/user-992886896/
We're also finally on Spotify! Check us out there, and subscribe, if you're so inclined:
https://open.spotify.com/show/1x3C1OLlSrKOPhVcpQUdsl
We're on Amazon Music now! Check us out there, if you use that service:
https://music.amazon.com/podcasts/71da965a-d6b1-4e2c-81df-cb254d5b2ec7/Shoot-the-Corecast?
We have t-shirts! Help support the podcast, and rep the shmup community by buying a Shoot the Core-cast tee - now with Gaiden design!
https://www.redbubble.com/people/jdieckmann/works/34582606-shoot-the-core-cast-podcast?asc=u&p=t-shirt
Check out the original discussion thread for the game here:
http://www.rfgeneration.com/forum/index.php?topic=19375.0