First off, a very special thanks to
nupoile
for sending me a Steam Code for ORION: Prelude. It's an amazing game, and a great time killer, and I highly recommend you buy it if you like Team-Based Shooters. Now then...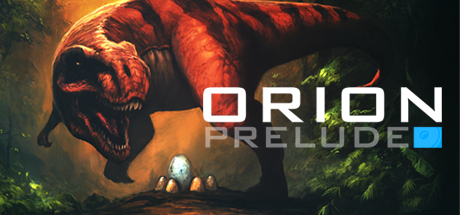 As I mentioned above,
nupoile
sent me a Steam Code for this game after I told him I was curious about it (I saw that he posted several screenshots of it on the Steam Community Page). Initially, I thought it was a Simulation Game, but it's actually a Team-Based FPS with RPG Elements. The basic idea is that your part of a team, and you have to shoot dinosaurs. Yes, dinosaurs. Big bad lizards. There's also a huge crocodile, but I digress. That being said, you shoot the dinosaur bastards, get credits (that's in-game currency), and upgrade your weapons and abilities between waves. This game is heavy on game modes, but I've only played Survival, a mode where you fight 10 waves of dinosaurs. In a way, it's like Left 4 Dead, in that there are a bunch of regular, commonly seen dinosaurs, and several unique dinosaurs, including but not limited to, a T-Rex and a Triceratops. Despite these huge creatures coming after you, I've found that on easier difficulty levels, you can easily bring them down with a few well placed Rocket Launcher shots. None the less, this is a great game wit lots of variety, and I had a ton of fun with it while waiting for Fallout 4 to release. That doesn't mean I'm done with it though, as I can see myself playing this a lot in the near future. Speaking of Fallout 4...
Fallout 4, the long awaited true sequel to Fallout 3 (and no, New Vegas is NOT officially Fallout 4, but it's still a great game), is a good game. In fact, it's a very good game. Of course, it's still a game from Bethesda, so before I continue, please note that bugs and glitches are present. If you buy this game based on my opinion, my advice to you is to save very often, and assume that anything can go wrong at anytime. Now then, this game is about your avatar, called the Sole Survivor, and they're search for they're kidnapped son. The plot starts out basic enough, but evolves quite tremendously by the halfway point. I'll spare you direct spoilers, and continue on about the gameplay though. This game is hard. Very hard. At first anyway...You'll quickly learn that you are literally powerless in the in-game world, called The Commonwealth. Only by moving cautiously, with intelligence, will you succeed. At first, you have no armor, and your only means of defense is a wimpy handgun. To survive in The Commonwealth, you NEED armor, and you NEED to fight smart. Running straight into combat, even on Very Easy, is a good way to die instantly. I learned this the hard way. Heh...In any case, once you start leveling up and finding armor, you'll have a lot more fun with the game, and find that you actually CAN run straight into a horde of enemies and survive. So why does all this matter? Is this not standard RPG fare? Perhaps, but it shocked me personally, since Fallout 3 and New Vegas actually were very easy. As for more gameplay aspects, I could go on for hours about this, but I think it's best you experience a lot of it for yourself. You be the judge. It just happens to be my opinion that this is a great game, and an excellent candidate for Game of the Year.
Okay, I think that covers it. Did I go on too much about Fallout 4? Let me know what you think. Once again, special thanks to
nupoile
for giving me the gift of dinosaur killing.