Been a while since I've posted but figured I'd throw out my recent find. All my days off from work I'm taking care of our two year old while mom works. We have this routine of checking out local thrift stores and pawn shops to see if i can find some more gems to add to my ever growing video game collection. I usually hit up the same stores at least once a week sometimes more. This one day i figured i go check out the local sports cards and collectables store.

I usually don't go to this store because anytime i ever go in there she has either next to nothing or very overpriced games. Such an example would be her cheapest game being 15.95 plus TAX! Mario Partys for the N64 were priced at $79.99Cdn and Golden Eye 007 was priced at $49.95Cdn. Yeah this place is pricey but hey never knows maybe ill catch her slipping as the Game Chasers would say. So i walk into this little store which is mainly older sports cards and memorabilia with the exception of a small corner of video games consisting of nes, snes and N64 games. I browse through them and then I see a clayfighter sitting on the shelf with no price tag on it. I figured it was just the 63 1/3 one but looking a little closer i noticed it was a sculptors cut! I picked it up and had a look. Still had the blockbuster sticker on the back. I picked it off the shelf and asked the owner what she wanted for it. I was expecting a stupid price looking at what some of the other games were listed for. She asked if there was a price on it and there wasn't. She said well same as the rest than $15.95. I was like ok and put it on the table by the register. i had a quick glance over the rest just to make sure there wasn't any more gems sitting on the shelf. So ended up getting sculptors cut for just over $17. Definitely made it worth the time to go check out the store.

I've found a few great titles lately such as Clay Fighter, Earthbound, Panic Restaurant and a Complete in the box copy of Snow Board Kids 2. Heading to Edmonton and the end of the month so hopefully can find some more good quality titles or the boxes and manuals for some of my games i have already. Take it easy



Been a little while RF, lets just say haven't had much time to blog or post because of my work schedule changing. Currently working shift work so i'm on 12 hr rotating day and night shifts. Nights give me a lot of time to search local classifieds and browse through classifieds on Facebook. Its been a while without picking up any games as well which was weird because for a while i was picking up a couple of games every few days.
Then one night i was surfing through the Facebook classifieds. I was going to a nearby city that weekend to see one of my favorite bands perform. I figured i surf through the local classifieds to see if i can find something worth picking up while i was there. So after looking through countless pages a Nintendo pops up with two controllers, zapper, and 32 games. Wow and she was only asking $50 for it all, i commented right away without even looking at the games but i was second one to comment and another guy beat me too it. So....... i looked through the picture of the games and it caught my eye!!! A mint copy of PANIC RESTAURANT along with a few others like Mario Bros, Lo Lo 2, and a few other common but good titles. So i figured id try the dick move and i private messaged the woman and asked if she would sell it to me for more money but she was a honest seller and kept it for the guy who commented first. Alas i figured id try the guy who bought it, if he was a collector he would out right know the steal of a deal he had just bought. So i messaged him and asked if he'd be willing to sell some or all of the bundle he bought. His reply was he'll let me know.
So the next day came and to my surprise the guy messaged me back and said he had the bundle but put it on the local Bid site. Oh no, i figured someone would see the game and it would go through the roof. So i bid and i was the highest bidder for quite a while seeing it was only a 24hr auction. Then at the last minute a guy who works at the local retro game store starting bidding. So in the end i bought the bundle for $300 with a hectic last minute of me and the other guy bidding each other up. I paid a little more than i wanted but figured i could resell the console and some games and recoup some of my money. As if the $300 wasn't bad enough i figured id message the original seller and see if they had anything else they were thinking of selling. She messaged me back and said that she had a Super Nintendo she was selling. I asked for a picture and she sent one to me of the games.
In this Game lot it included Earthbound, illusion of Gaia , Mario Kart, Super Mario World, Super Mario , All Stars , Donkey Kong Country, Uni racers and a couple of sports games. needless to say i made an offer of $200 and bought that lot as well. It was an expensive weekend for just the gaming portion not including the concert, hotel and gas to get there. Whats the best deals you've found ?




Back to work and to my usual routines

Been back to work for a couple of weeks now and wow is life ever busy. Been working lots of overtime and busy with the little guy every evening. Been trying to rearrange the house so its more convent for him to play and hang out while i move all my video game stuff to one of the spare bedrooms downstairs. Ive been trying to figure out an easy and nice way to "show off " or display all my video games. Haven't found a shelf so i think I'm going to test my carpenter skills out and trying building some custom shelving units to house my collection. Everything i find the shelves are too deep and not enough shelves to actually hold everything.
But in building shelves it requires time , which something that i don't have much at all to work with. Right now the little guy is having a nap and then the wife is working so it give me some time to browse the classifieds and surf Facebook for some deals to be found which are few and far in between. How does your significant other deal with your video game collecting hobby. Its funny because since we've had the kid I've sold my toys like my sled and dirt bikes and live a pretty quiet lifestyle. Lately especially since I've been back from school my collection has gained some traction and has grown quite a bit? Do they embrace your collection or hate it? Did pick up a few games last week though like

- TMNT Tournament Fighters
- Zelda, Link to the past
- Biker Mice From Mars
- Mega Man 5
- and a bunch of other ones that i don't feel like typing out.....

All in all I've got a lot of work cut out to do like the shelving and the room in general. Its been coming together really well so far. i'm still trying to figure out all this forum and script and trying to insert pictures so bear with me on that. Haven't done much of it since high school . Another thing that makes it hard up here in good ole Fort St John is that there isn't much of a gaming community like in PG and other areas that I've seen. Theres a lot of competition and a lot of reselling going on so for someone to find a deal is next to impossible. So if anyone actually reads these blogs and is from the Fort St John area then hit me up. Little guys waking so back to daddy duty. Take Care , few pics of my game room for now .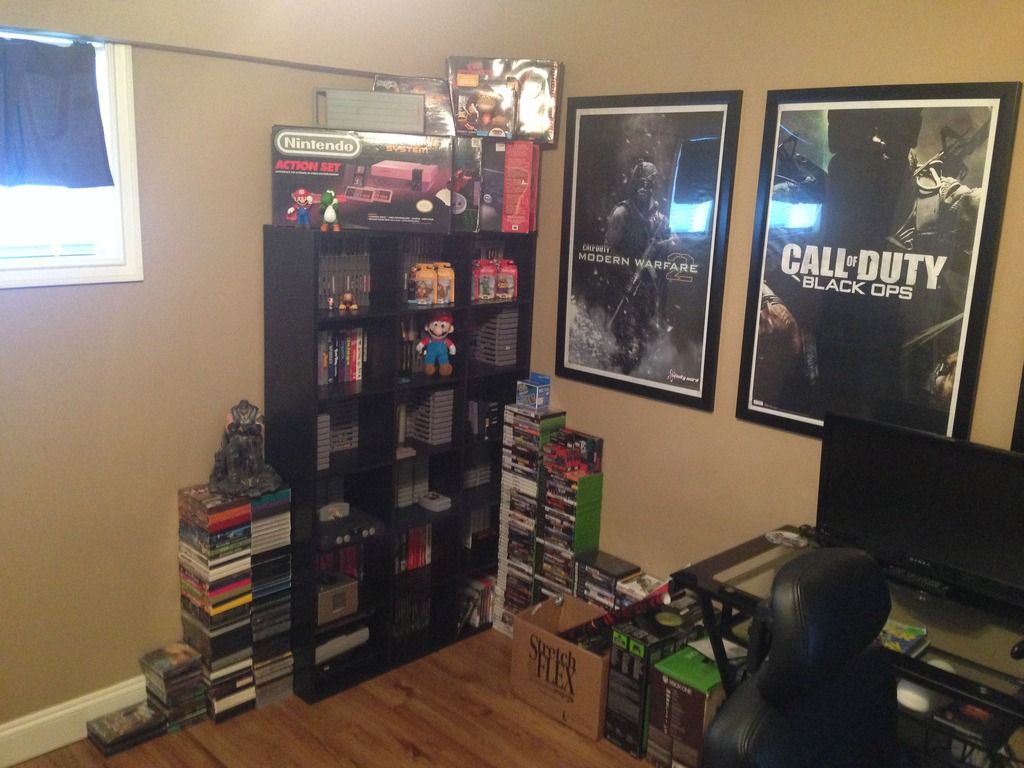 Some goodies that i picked up today !!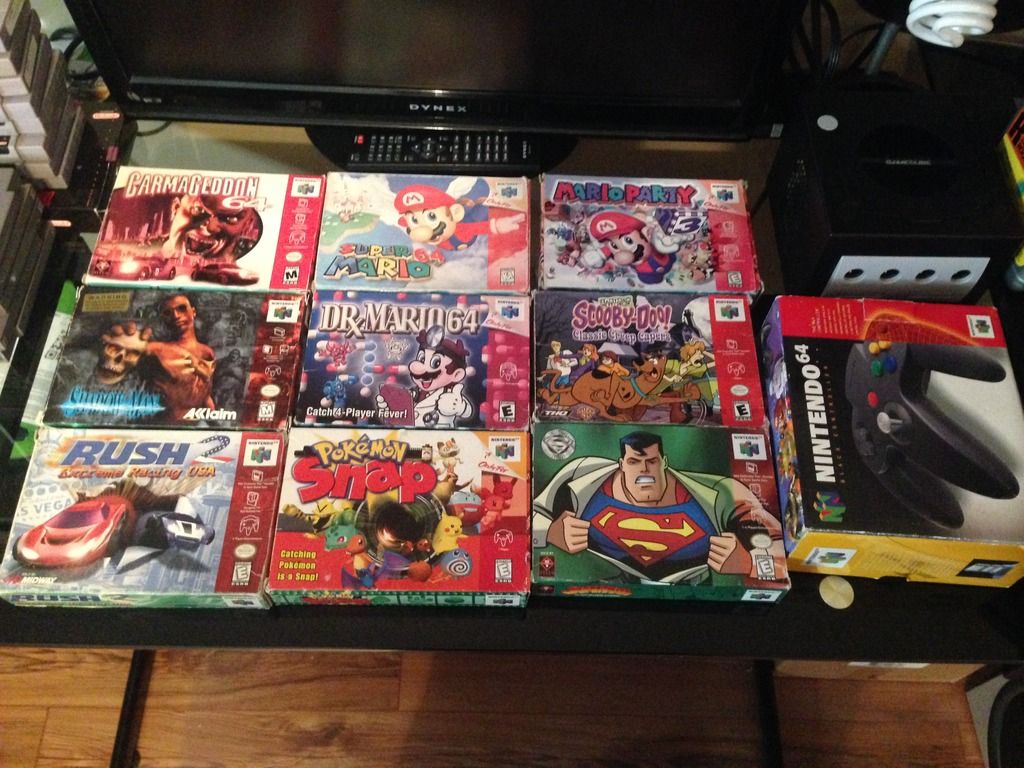 Well back home from college. My little guy is getting so big and with that comes changes. Just moved all my gaming paraphernalia out of my recreation room and into a bedroom in my house. Decided it was time to let the little guy have free run without me hovering over his back protecting all the carts from being hurled across the room. So let the moving begin, spent the better part of two days moving arranging furniture, mini fridge bar shelf, and countless other things including my ever growing game collection.
It just dawned on me that during my 7 weeks going to college I've accumulated a tonne of gaming stuff. Ive found things that i didn't realize even existed and bought other things in better condition to replace what I've already accumulated. I'am no infinite book of knowledge when it comes to gaming I'm just a guy getting his feet wet in the huge world of collecting. It always amazes me how much some people know/ One of these guys is Crabmaster2000. Got to talk little to him the other day when i visited the store one last time before i headed north back home. But anyways back to the subject matter.
Wow, theres a lot . stacks of games , systems , accessories and everything else and i don't have enough room to store everything the way i want. Been to Walmart and Canadian tire and can't find a decent media shelf to help display / store all my stuff. Everything is in complete chaos right now but hopefully it will be sorted soon. Wondering if it is worth building something custom or keep looking around and see what i can find but signing off and happy collecting



Counting down my final week here going to college. Then my rich game collecting grounds will be gone for another year. Ive had a blast collecting here. Some stuff i pay pretty much full price for but sometimes you find a deal like today. I saw an ad on kijiji last week for some n64 games. Contacting the guy regarding a couple titles like super mario 64 and bomber man 64. Finally got ahold of him and went to pick up the games. He invited me in and said he had more but hasn't posted any of it. Sweet , don't mind if i take a look. He had a lot of stuff from turbo grafix up to the new consoles and everything had a price. He had a boxed mint nes and snes but was asking too much for me to feel comfortable paying.
In the end i bought bomber man 64 but then he pulled out a box of games and said there were a few more he was selling. I grabbed a handful of games out the box and the first two i saw was Chrono Trigger and Super Mario RPG !!! Asked how much he he wanted and ended up buying both for $40 CDN !!! steal of a deal ,also walked away with a NES Max controller, a couple nes games and a Gameboy in the carrying case with Tetris ( Of Course), 3 Pokemons and a Donkey Kong land 2 . Great find and was a great guy to deal with. Since I've been here I've added at least 50 more titles to my game library and i think there may have only been one or two sports games. Too bad I'm going back north, can only hope some good garage sales come up when the ground starts to thaw. Logging off and Happy Collecting


Today was a great day. Was at the local store and overheard the owner talking about this guy with 35 snes games who came in the store to sell. It included some good ones like harvest moon , mega man x and a few others. He said he made an offer but the guy said he would put them on kijiji and try to get more. So later that night it i saw it on kijiji. It was a good list but asking a 1000 bucks ! I emailed him asking if he would sell any separate and waited. Haven't had much luck since I've been in town on kijiji. Usually no one replies. But he did. So i grabbed 4 from him, TMNT Turtles in Time, Super Punch Out, Earthworm Jim and Final Fight. Ive been trying to find Turtles in Time and Super Punch Out since I've been in town. Some people have them but only want to trade and i don't have much with me to trade. Great Addition to the collection, tried them out and they're awesome ..... Logging off and happy collecting.


Well back in town for my final two weeks at the local college. Sat up in class pretty much thinking about what games and systems i could buy next. Kept checking my phone every 5 minutes to see if the local retro game store had updated their stock for the day. Then boom, they put out a whole bunch of Snes games. There were quite a few decent ones like super Mario kart, final fantasy 3, legend of zelda, street fighter 2. One of my class mates who also collect was heading down right away so i got him to pick up street fighter 2 turbo for me. Then after class i went to the store my self where i purchased another 5 nes games and two more Snes games. He also had a Nes Advantage controller there for 10$ . Couldn't resist, but being me i figured id hit up the pawn stores before i made my way back to my little pale blue room that i was renting in this older couples basement.
The first store i went into i saw there was a Super Mario 64 cart sitting in there display. I've always had this game but this weekend i was looking through kijiji and some guy had posted a bunch of N64 games for sale. One of them being Harvest Moon 64 and a few others like Golden Eye. I messaged him asking how much for Harvest Moon and he replied that he would trade for a Super Mario 64. No brainer trade for me, as Super Mario 64 would be easy to replace. So while waiting to pick up harvest moon the guy texts me and asks if i want to buy his other 8 games for 20$ which included Goldeneye, tony hawk 1,2,3 , beetle racing and a few others. So in sort i replaced my 64 right away. Also couldn't leave the store without buying a very clean Nes with two controllers , zapper, and mario/duck hunt. i was getting ready to go home when i had a notification on my phone for an ad i had placed looking for some snes controllers because my wife had sold my extras by accident when she was dealing a transaction for me. So i went to the guys place and got three more nintendo brand controllers to replace mine. He also had a Nintendo 64 with the atomic purple controller CIB. Needless to say i purchased this as well. So all in short it was an expensive day in my video game collecting .
What kind of limits do everyone set for themselves? worse thing for me is once i go back home . there isn't really much selection for retro gaming and whats out there you overpay and have to see it first or its gone.



SO........ away from home going to college 5 weeks down with 2 left to go. Not sure if I'm the typical collector, always get the funny look when i say i enjoy collecting video games. Always loved video games growing up and I've owned most of the systems from Nintendo /Nes to the Xbox One. Didn't really start collecting up to about a year and a half ago. Saw an ad on a local classified for a Nes with 22 games!! even had the 10 place grey holders. I scooped it up and since that day i've been always looking for that next big deal. I must say at first it was awesome, no one was really collecting. I bought some nice lots and managed to find a few gems like E.V.O. Search for Eden for next to nothing. Then about 6 months into it , other locals starting placing ads and buying everything up. The worse thing was these locals would just buy the lots and try to resell to you for a lot more. Where I'm from in Northern Canada people make some pretty good coin so some of these games and systems where going for stupid prices. It was becoming harder and harder to find a good deals or games in general. I spend a lot of time checking pawn stores and thrift shops etc. Even the thrift stores started jacking up their prices. My city pretty much dried up, we did have a play and trade but the usual no stock and high prices shut them down pretty quickly.
But as i was saying above I'm currently in another city going to college. Its been great from a collecting stand point. Im a huge Nintendo Fan , especially Nes , Snes and N64. Ive bought so much stuff and found some decent deals. There is a game store in this city called Game Quest. I'm sure people here have heard about it. Its amazing , super friendly owner and staff and they always seem to have a pretty good selection of games to choose from. Going to log off for the night. Get to go home tomorrow for a visit to see my wife and kid. Ill have to sneak my purchases in so I'm not divorced by the time my 7 weeks are up lol. Logging off and Happy Collecting!