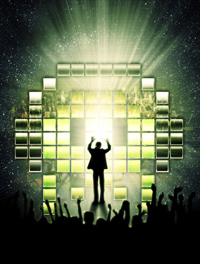 Ever hear of
Video Games Live
? It's a show created by veteran game composers Tommy Tallarico (Earthworm Jim series, Unreal, Maximo, Metroid Prime) and Jack Wall (Myst III/IV, Mass Effect series, Jade Empire) that features various video game music performed by a live orchestra along with solo peformers, guitarists, a choir, all synchronized to video, lighting effects, and more. The result is something truly astonishing and sure to be loved by anyone who enjoys video games or good music. I've never seen the show live, which is unfortunate. Thankfully, Video Games Live has teamed up with PBS to produce a TV special to bring the show to more people.
The show will premiere on Saturday, July 31st and will repeat on PBS stations throughout the month of August. I don't know any exact times since PBS stations are all different, so put a reminder in your calendar or something which will tell you to check the schedule on
your local PBS station
. Also, the
press release from Video Games Live
urges people to write their local PBS station to ensure they're airing it, so you might want to go ahead and do that.
Oh, as a bonus: if you happen to live in California and get
KQED
, you can see the special TONIGHT at 7:30pm or 1:30am! Almost 2 months before it premieres!
If you happen to miss it, don't worry. The special be released on Blu-ray and DVD later this year. Here's the trailer PBS has put up for the show:
(Be sure to turn on 720p HD)
If you want a taste of VGL now, they released a CD that you can buy in stores (might be hard to find in retail chains, check independent stores) or online at various places. It's also on
iTunes
and
Amazon MP3
for $10.
I'll try and put out a small reminder post on the front page in a month and a half to remind you all to check out your local PBS station's schedule and see when the special is on. I'd hate for you to miss it.