Another summertime weekend for picking and searching. No yard sales this time though. Thunderstorms and hail as big as baseballs in some areas stopped me from exploring those, but thrift stores were fair game.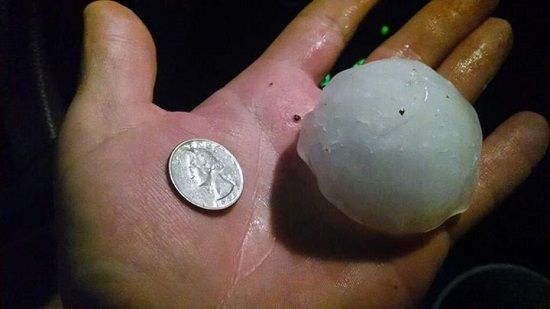 Firstly, got an early Father's day gift from my wife. No idea on what she spent, because it was a gift and she doesn't disclose price on the gifts she buys me, but I know it wasn't extreme.

Sega Genesis core system
3 controllers: (1 SEGA, 2 Blockbuster Video third party with blue colored start button)
7 Games: NBA Jam: T.E., NHL '94, Sonic the Hedgehog, RBI Baseball 3, Fatal Fury 2, Joe Montana II: Sports Talk Football, Jammit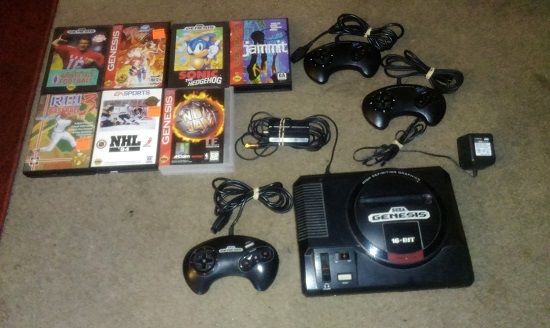 It seems now that I own a 2600, games will start falling in my lap. Snagged all of these for 50% off, making them all $0.50 each.

24 Total Games:

2600: Space Invaders, Star Raiders, Warlords, Asteroids, Defender, Laser Blast, Centipede, Robot Tank, Vanguard, Pac-man, Video Chess, Combat, Starmaster, Solaris, Space Wars, Missile Command, and Yars' Revenge.

PS1: Disney's Treasure Planet, Speedball 2100, Tetris Plus, Bravo Air Race, Colony Wars III: Red Sun, and Intelligent Qube

PC: Steel Panters III Brigade Command: 1939-1999 (Sealed)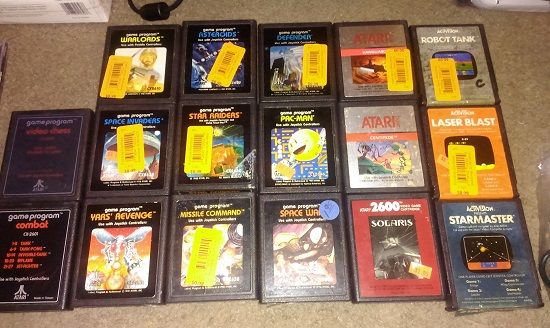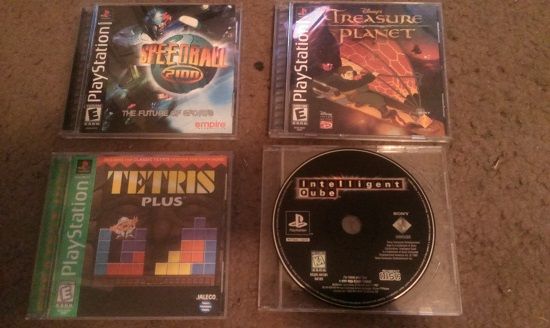 Finally, grabbed some systems for pretty darn cheap:

$10: Original PS2 with one original black memory card, an original black dualshock 2 controller, a clear black dualshock 2 controller, and a surprise inside: Kingdom Hearts.

$4: Game Boy with Super Mario Land 2 inside

$6: PSone with A/V cables and Power supply

$3: Clear green Dualshock 2 controller and two original black PS2 memory cards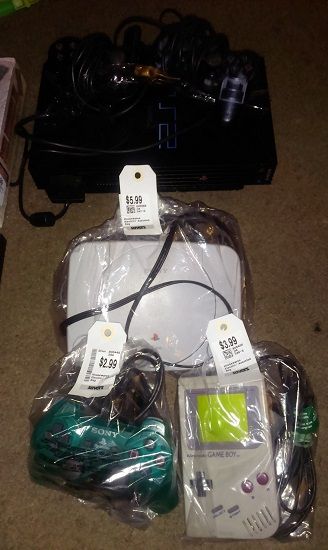 I am very happy with the amount of systems I got this time around and how cheap I got them for, since I'm thinking all of these games are pretty common finds. I wonder about the colony wars title though. I haven't seen that one before.


My wife found this box online on a craigslist type posting site for 15 bucks. The colors and switches are as I remember them from my childhood, but I don't remember being able to see the green of the actual circuitry behind the game slot, and it seems super light, so I am not sure if it is an original 2600 or a repro.
Also, these games seem super common, but the shape of the Riddle of the Sphinx cart is not like anything I have seen before. The blue cases were with four of the games and from somewhere that used to rent out these games just a few blocks from where I grew up. The cases seem to be modified VHS tape cases fixed to hold Atari carts. Not sure how rare or hard to find the manuals and warranty cards for 2600 stuff are to find, but they were included in pretty good shape, and I couldn't be happier about that.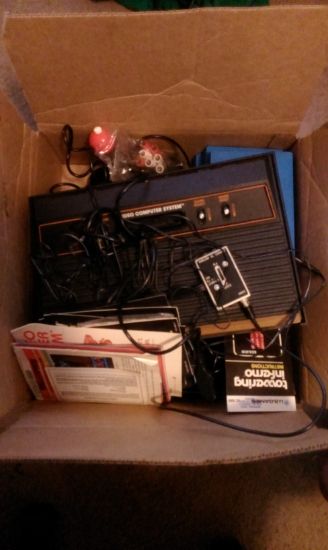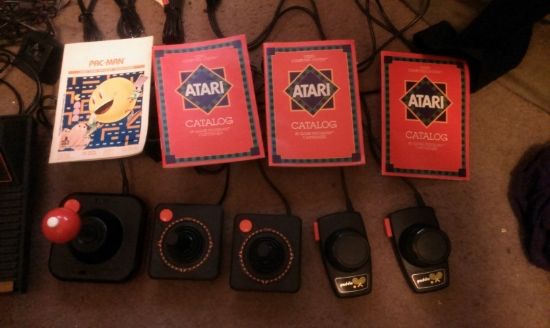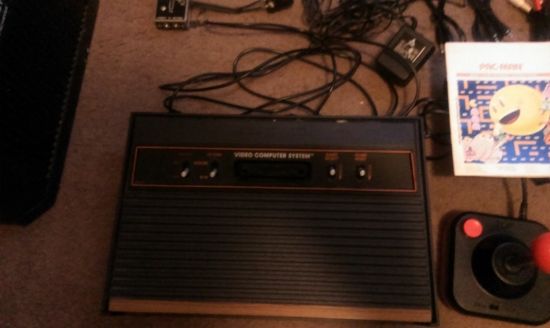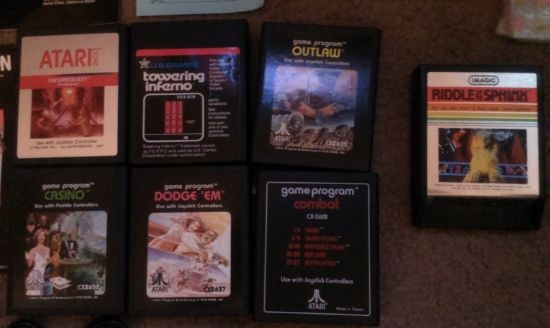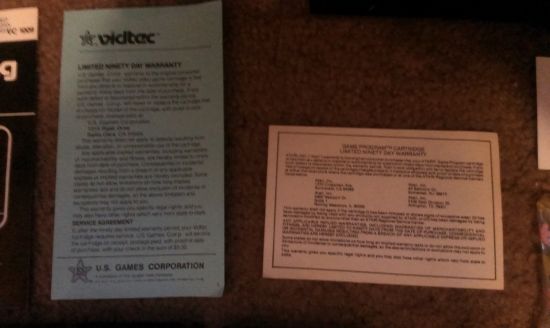 In an effort to more accurately track my collecting in the wild, I am coming back to the blogs with my "Rookie Collecting" series.

Made a couple grabs today, A store closure liquidating everything at 50% off, (60% if you bought 6 or more at once), another local store with a couple GameCube titles to get me closer to completing that set, and one buy from a yard sale that was noteworthy, but not gaming related.




The store closure included Viva Pinata, GH: VH, and G-Police for $2 each, DJ Hero for $0.40, and The Sims, The Sims 2: Pets, and Scorpion King for $1.20 each after all were 60% off. After I told the shopkeeper I was collecting GC titles, he pulled Bratz and Wreckless from behind the counter and threw them in for free since they were loose.

The other local store was clearing all XBOX, PS2, and GC stuff for 2.98 each, but my wife and I budget well and keep each other in line when it comes to spending, so I focused on grabbing only GC titles I didn't have yet and grabbed those three sports titles in the pic and Top Gun. There were only about 18 GC titles on the shelf, mostly madden and tiger woods, but for the XB and PS2 titles, probably a few hundred each, but also mostly sports titles as well.

Finally, my non-gaming purchase...for my fellow parents, you should agree it was a great deal at $2.50, since they are 50-60 bucks new in stores.






There has always been a lot of discussion about playing our games as collectors. Whether it is because of a lack of time that we cannot play so much of our collections, or that we are simply collecting faster than we can play, (or both), there are games that are left un-played.

That being stated, I have come to a realization that my situation has gone past not just being able to play the games I own...but even keep track of the collection. This month, I celebrate my six year wedding anniversary, and this summer marks the seventh complete year I have devoted to my wife. Over those seven years, I have obviously put more time and effort into my future and relationships with my wife and two children, but I have never stopped buying games and gaming related paraphernalia.

Up until about a month or so ago, my only computer was the same laptop I used in college. It is...dated...to say the least. With 256 MB of RAM and a single core processor, it became difficult to use as technology around me sped by, (Hard to believe it used to run games like Warcraft and Diablo without issue); and as such, updating my collection, writing blogs, and submitting information came to a crawl.

I never stopped buying and dare I say, "hoarding". My collection minus a few titles had always been neatly kept and displayed on a few DVD shelves for myself, my friends, and my family to enjoy. However, upon moving into our new place, I never took the time to set it back up...and certainly never organized or documented anything I bought and tossed into the "man-cave".

Over the past few years, my wife and I have frequented many weekend thrift store sales, the one "flea market" in the Denver Metro area, and even a few yard sales here and there. Each weekend usually yielded only 5-6 games on average and over the many, many weeks that have flew by; combined with more than a few trips to local game stores like Gamestop, Buy-Back Games, and Game Force...I am honestly finding games I forgot I bought, and aside from the thousand or so games I owned and documented before I tied the knot, I honestly think there may be a couple thousand more hidden in all these boxes and bags in my closet.

I am hoping to not only get these documented and updated, but am also hoping to get them organized and displayed in a way where I can easily find and play any title at any time to get caught up on some of these really great titles. My question to all who read this blog is simply if you have any similar difficulties in your collecting experience? or if you pass on stuff you would normally grab because you know you may never actually play, or even display, the item?

(Side Note): If anyone is ever in the Denver area, I STRONGLY recommend any of the local Buy-Back Games stores around the metro area. They sell EVERYTHING. I have found some cool stuff in these shops, games that are old, new, rare, and common alike. I cannot think of a system or generation that isn't represented in the stores. You will find a little of everything from Game Boy to Neo Geo Pocket, the Commodore 64 and VIC-20 to Jaguar...and they are not outrageously priced like you might find in some places. They understand the stuff they sell is hard to find, and are priced as such...but are not pricing these rare games and consoles in the hundreds of dollars as I have seen elsewhere.


I have some energy and I am trying to remain focused on getting organized, but I will take a few minutes to share my find from yesterday. I woke up very late yesterday and had cancelled my plans to look for yard sales, but ended up finding a single sale on our way home after doing some light shopping.

Originally, we stopped because of the large amount of kids clothes in the yard, but found games instead. We found the clothes were all too small for my son and started to leave when my son bolted across the lawn and sat down in front of an old computer and started to play with an old steering wheel controller that went with it.

The owner approached us and asked if I "Gamed" (On some level, he must have assumed I did, seeing as my son is VERY familiar with how to hold and use controllers) He advised me that he was having some trouble getting rid of some old games and was tired of bringing them all in and out of the house every weekend. There were three boxes of old PC games, I told him that I didn't have use for PC games, but he was desperate to rid himself of them. He said he would take 15 for all three boxes, not being at all interested in PC games, I said I would take them off his hands for 10. He accepted and even started helping me load them into my car before I could even pull out my wallet to pay him. He proved to me that he really was tired of those games.

After loading them, he and I talked about the games, or rather, he kept thanking me for taking them, over and over again. He told me that these were games that haven't been played in many years, games he and his mother played together starting as early as twenty years and only about a third of the PC games he had. This actually worried me because...1. I know VERY, VERY little about PC gaming. and...2. If this is the 33% he didn't want to keep out of PC games he started playing from 20 years ago, I can't be hopeful there is anything rare or even popular in the boxes.

I just went through the boxes...There are 85 unique titles in the box and as I expected, I know very few of the titles. Some that I have heard of include Fallout, Diablo, Warcraft, Starcraft, Quake, MYST, and Baldur's Gate. Those titles put my mind at ease regarding the 10 bucks I spent, but the title that stood out was "The Bard's Tale" from Electronic Arts.

This title didn't stand out because of the name, but rather because of the type of media it uses. It is unopened, and I intend to leave it like that, with a sticker covering most of the information on the back. I can't see a year of production or the original UPC numbers under the plastic packaging, but I can tell you it uses 3.5" floppy disks as the media and needs at least DOS 2.0 and a color monitor to be played. Again, I don't know much about PC gaming, but this game must be older than I am.


I collect everything I can find related to TMNT, Trading Card Games, and also have started a pretty extensive collection of freebies and items given to me for my performance and raffle winnings at work. (For those of you who do not know, I work for DISH Network in Technical Operations) I received a large coin for the commemoration of the launch of one of our newest satellites when I started working with DISH, and ever since, I have collected everything I have been lucky enough to acquire during my time with them. Premium network companies also give away a lot of promotional items to us to promote new shows and movies on their networks, which I have also collected.

Do any of you collect anything other than games? If so, do you collect anything you feel might be something nobody else collects?


After pulling out and starting to re-organizing the multitude of games I possess, I asked myself, what started this bout with borderline hoarding on my part? Can any of you remember the moment you decided to collect instead of just playing? What circumstances started your collection? Do any of you regret this decision?

This thought has brought to my attention many questions, but I think it would be safer at this time to generalize


I would like to know if anyone can assist me in my current collecting plight. I have an "Auto RF Switch" that I cannot document due to a lack of information on the face of the item itself. I acquired it with a Sega Genesis 2 system, and it fits the RF out plug on the back of the system, but it does not have a part number on it. I have never seen the brand before either; NAKI is what it appears to say, but I cannot find anything with the same logo on any video game accessory anywhere on the internet and I have been looking for over 45 minutes. What I believe to be an "A" in the NAKI logo is represented by a solid triangle with a lightning bolt through it. The lightning bolt also turns the portion of the triangle it passes through transparent, giving the look of the empty space in the capital "A". If anyone has any information on this or anything similar, let me know so I can work towards finding the information I need to register this item on the site. Thank you all for your time.


It has been a long time since I have went looking for video game related stuff...since before the birth of my son almost six months ago. I was very eager to find something unique to add to my collection. I wasn't disappointed.

Spending just under $50, I was able to add 18 games, 1 system, and 10 controllers/accessories to my collection...all without a single yard sale in the mix.

Since I am a little pressed for time this week and probably will not be able to write again for a while, I will make this short and simple.

Pawn shop: The Legend of Zelda: Link's Awakening (GB) and Operation "C" (GB) for $3 each

Gamestop: Black & Bruised (GC), XIII (GC), Asterix & Obelix Kick Buttix (PS2), Oni (PS2), and Wipeout Pure (PSP) for $2.69 each

3 Thrift stores: Dreamcast system with two controllers, four memory cards, A/V cables, Power cable, and 4 games all for $10, (Armada, Star Wars: Demolition, Trickstyle, and Virtua Fighter 3tb), NBA Jam and Madden '93 (GEN) for $0.50 each, Super Mario 64 (N64) for $0.99, a Multi-tap (GB) for $0.99, and something called a "Quickshot" (SNES) also for $0.99.

FYE (For Your Entertainment): Going out of business sale!!! Wartech (X360), Watchmen: The End is Nigh Parts 1 and 2 (X360), Aedis Eclipse (PSP), Death Jr.: Science Fair of Doom (DS), and Marvel Trading Card Game (DS) (all new and all for a discounted 90%!!!!!) at $2.99 each

I am very happy with yesterday's finds and hope to continue this trend when I move back to my hometown region of Denver, CO this summer. Thank you all for reading and I hope you are having a great 2010 thus far!


Not planning to do much this weekend as my wife and I are expecting our baby boy any day now and she isn't able to take the long walks, early mornings, and hot temperatures as well lately, so I took a stroll downtown for Powell's annual "Crazy Days" sidewalk sale. In the small local game store, today's deals were simple, everything in the store, (new or used) is 20-50% off depending on the system you are buying your software for. Hardware was also priced accordingly, but I already have what I want...although picking up a wii for $199.99 or a 360 Elite for 319.99 would be awesome. the deals on the games aren't great at all to begin with; however, I was able to pick up a couple games for what I thought, were good deals.

First I found Blinx 2: Masters of time and space for the XBOX priced originally at 4.99, and was able to score 50% off taking it to 2.49.

The other find was Star Trek: Invasion for the PS1. I have never seen this game before today, and figured with the recent release of the new movie Star Trek, it would be outlandishly overpriced. To my surprise, it had a price sticker of $1.99 and with a 25% discount, was taken down to $1.49. I have no idea whether of not it is a rare find, but for $1.49, I deemed it worthy.

I doubt I will blog anymore until after my son is born and old enough to sleep through the night. I will be on the site checking out everyone else's blogs and reviews though, so I won't be gone totally.

On Saturday, went out with Father-in-law and Brother-in-law to check out the festivities and the owner of the local game store bought a decent wholesale lot of games for the store. Distracted by the rush of people coming in once opening the store, the owner had told me that anything in the boxes of new stuff all belongs on the 50% off tables, so I looked through them. He had his son price the games that morning on the trip into town, so they were pretty cheap. (He uses Gamestop.com to price his games, but the son just put whatever he felt the games were worth on the covers.)

I was able to snag 4 games all marked $1.99 for 50% off, leading to a 4 dollar haul of 4 xbox games. The games included Oddworld: Stranger's Wrath, Otogi: myth of demons, Phantom Dust, and Kung Fu Chaos.


Not much this weekend. I had a very long hard week at work on the rigs in the oil fields of Wyoming and southern Montana, so I slept in for the most part of today. Went to a couple sales after work on Friday however and found a box labeled "Super with games - $10" I looked inside and saw a SNES, 2 controllers, the RF and A/V hook-ups, the A/C adapter, and Mario is Missing. When I took the box over to the gentleman, before I could even ask, he said three bucks because most of the games in the box had been stolen during the day. I gave him the three dollars and left. I really wanted to ask how many games he had in the box originally and what they were, but I restrained myself because I might have cried if he had said something like Earthbound or Super Mario RPG or Chrono Trigger.


My first venture into blogging my finds was inspired by my first halfway decent finds of the year. Living in the extremely small rural town of Powell, Wyoming; yard sales are few and usually full of antiques, but with persistance, I was able to make a few gaming related finds among the "Junk".

[Break]

Ok, so this first entry includes three weeks of finds, and the first weekend was in my hometown of Englewood, Colorado. My father told me he had seen the SNES controller and told me to go check it out, when I arrived, I noticed among a small collection of DVD's an Atari Jaguar, cables, and the originally included game Cybermorph for $10 and a single SNES Controller priced at $1. It was getting late and they looked about ready to pack it in for the night, so I offered $5 for all three items and he hastily accepted my offer and walked over around the side of the house into the driveway (which I hadn't noticed before) and handed me three GBA games and a GB game and told me to take them too. These included Darkwing Duck (GB), Drill Dozer (GBA), Gunstar Super Heroes (GBA), and XEVIOUS (GBA).

The Second week's haul wasn't anything spectacular, but one garage sale caught my eye when I saw the gentleman carrying a large box outside with a PS1 controller hanging off the edge of the box. The Sale wasn't scheduled to open for another ten minutes, but he flagged me over to look and I went straight to that box. I found two PS1 controllers, and a few PS1 and PS2 games; however, these games were for the most part missing their original boxes and manuals, so I offered five bucks for the box, he countered with ten, (My first counteroffer!), I said seven, he accepted, and I left. Inside the box were 8 games, and 5 of them were missing boxes and/or books. The three CIB games were A Bug's Life, GEX, and Rayman 2: The Great Escape for PS1. The other five were Tekken 4 and Blowout for the PS2, and Namco Museum vol.1, Crash Team Racing, and Frogger for the PS1. The controllers were both in pristine condition and I was very happy to have a working PS1 dualshock controller again.



Finally, this last weekend I found only two games, Caesar's Palace 2000 and Tall. Both for the PS1 and only a dollar for both games. Very happy with that find.

I'm hoping to put up pictures of my finds in the future as it will save me valuable time typing my finds and the descriptions. ha ha Also, hoping to learn how to add polls soon.