---


So I was lingering around RFGeneration not really doing anything, and I realized that I had not shared anything about Omnifate with RFGeneration since August. A lot has happened since then.

Let's start with some of the more influential stuff. I switched to making Omnifate an RPG, as I noticed that most of the story elements I wanted to have would fit better in one. I've been composing music as I come up with the story, and just overall composing for fun sometimes.

I have acquired the services of an artist. Her pen name is Raini, so that's what I'll call her for the rest of this. Raini is very helpful for Omnifate and makes anything I draw look 10x better. She draws in this anime art style that just oozes joy out of me when I see it. Seriously, I hope she pursues this as more of a career.

Next, I'm working on getting a demo with at least the first bit of the game in it in the summer months.

Coming up with a good story is a really hard thing to do. I don't want to plagiarize, but I also don't want to include no standard RPG tropes, so I've just been working out the story in my head as I go.

Overall, development is coming along better.

I've been koola, and Omnifate is coming as soon as I can finish it. Please stay tuned.

(I really have to fight procrastination.)


To define a favorite game is a intensely loaded question. "Should I include the story in the discussion?", "The music?", "The humor?", "The gameplay loop?" "The in-game tutorials?"

There is probably never going to be a right answer to this question. My personal belief is that you should judge games by their gameplay and story.

If you gleamed the article before you read it, (or even looked at the tags), then you'll notice that my article is about a rhythm game. Obviously, rhythm games can't have stories, right?

Yes, and I think that this one's humor does it enough.


F.I.S.H. is a game by a content creator I have been following for a good few years now, Timotainment. His content and sense of humor is top-notch, and in my opinion, flows directly into this game. You are to stop fish from entering potentially unsafe areas where CLASSIFIED is happening, and your tool to stop these fish is a stop sign.

The gameplay feels very fast-paced and intense in some parts, and that's a good thing for a rhythm game from my point of view. The difficulty curve does take some getting used to but that is probably just a product from my overall lack of experience with rhythm games.

Overall, F.I.S.H. is a very fun, humorous, intense and amazing rhythm game. I love it, and would highly recommend it to most.

I've been koola, and some of my recent articles have been filled with mostly pessimism and cons.

(I hope this suffices.)



---

Posted on May 19th 2022 at 08:00:00 AM by (

MetalFRO

)

Posted under

Viewpoint

,

Shoot the Corecast

,

podcast

,

Shmup Club

,

Aicom

,

Sammy

,

Neo Geo

,

arcade

,

shooting game

,

shoot em up

,

STG

,

shooter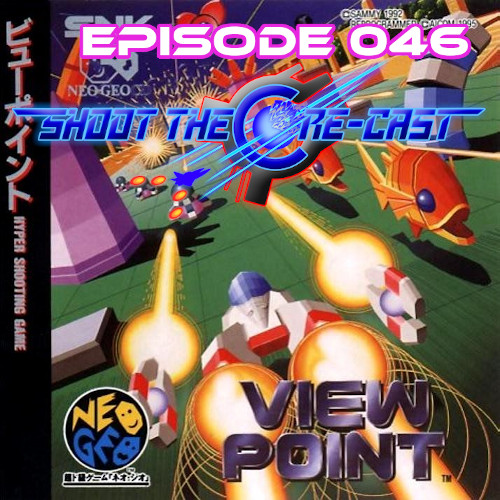 In Episode 046, MetalFRO and Addicted dive into the world of Neo Geo and look at one of the more unsung shooters in the library. From developer Aicom and publisher Sammy, we get the unique isometric shoot-em-up Viewpoint, complete with pre-rendered 3D graphics and a smoking hot 90s house soundtrack.

Listen to the episode right here on RF Generation:
https://www.rfgeneration.com/podcasts/shmupclub/?name=2022-05-17_stcc_ep_046_viewpoint.mp3

Or find your preferred podcast platform on our Linktree page:
https://linktr.ee/shootthecorecast

Check out the original discussion thread for the game here:
http://www.rfgeneration.com/forum/index.php?topic=19648.0

Thanks for listening!



So a Decisive Battle / Boss Theme cover from Final Fantasy VI was going to be an inevitability, I suppose. Definitely a track that I knew I would get to eventually, but for the longest time I didn't have any inspiration to do it. Then the inspiration hit me all of a sudden and I didn't wait to get started on this one. I hope you all enjoy it!



---

Posted on May 7th 2022 at 08:00:00 AM by (

MetalFRO

)

Posted under

Shoot the Corecast

,

Salamander

,

Life Force

,

Konami

,

shmup

,

shooter

,

STG

,

shoot em up

,

shooting game

,

arcade game

,

classic game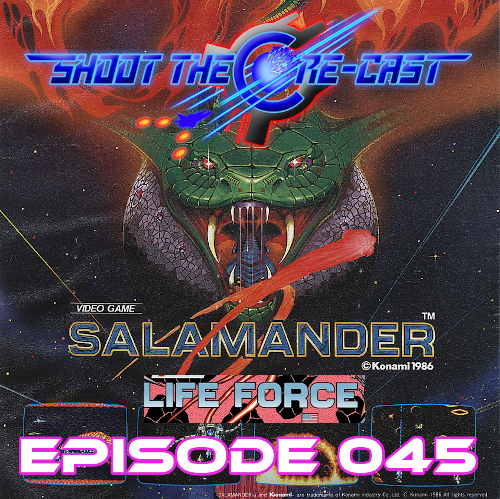 In Episode 045, Addicted and MetalFRO dig into the Konami vault once more and take a close look at Salamander, the non-sequel follow up to the wildly popular Gradius. Salamander and its counterpart Life Force have a storied history of revisions and ports that we dive into in more detail, and discuss the differences between them.

You can listen to the episode right here on RF Generation:
https://www.rfgeneration.com/podcasts/shmupclub/?name=2022-04-17_stcc_ep_045_salamander_life_force.mp3

Or check out our Linktree page to find our feed on your favorite podcast service:
https://linktr.ee/shootthecorecast
Check out the original discussion thread for the game here:
http://www.rfgeneration.com/forum/index.php?topic=19644.0

Thanks for listening!


Hello again!

Over the past few days, we have made a lot of progress on the site functionality so I wanted to give an update!



Submissions/Approvals


These are now working as expected! We found some settings that were keeping this from working that have been temporarily changed to allow things to function properly. This has also allowed the "All Collections" list to update as expected as well.



Forum error messages


This has been fixed as well with the changes we made. Again, this is another band-aid fix to the root issue, but it will let things get back to normal while we continue to make the changes.



https


I have heard the question a few times, so I figured I would update here with the status of this. The server is currently already https enabled. The reason why it isn't enabled site-wide at this time is largely due to the forum software being out of date. I have plans to set up a sandbox page at home, run the required forum upgrades, then begin developing a new theme. The new software supports https, so this combined with the other efforts of updating/auditing the code for hardcoded paths should allow us to finally enable https site-wide.

A huge thanks to everyone for reaching out to report issues over email, site PM, or Discord. Having a lot of data points helped to determine what was going on better. Another big thanks to the staff members who were helping me to test the various functions as we made changes to verify functionality.

And, naturally, thank you to everyone for your patience and understanding as we worked through this. I know it took longer than I hoped, certainly, but we're certainly on the road to making a lot of progress in updating the site for the future.


Hey everyone! We recently went through a server migration for several reasons (OS no longer supported, security updates, space, etc), but, as you may have noticed, we have had some issues since the migration. I am trying to correct all of the issues as quickly as possible, but it certainly hasn't been easy.

Thanks to everyone in Discord who helped report the current issues. If you would like to reach out, please join the Discord where we have a site issues channel for people to report the issues. I also plan on posting those issues on a Trello board here so I can more easily track them. You can find the board here: https://trello.com/b/Jxj3...rf-generation-site-issues

Finally, I can't say enough how much I appreciate the patience from all of you while we make the required changes to get the site up and running fully again.




If you're interested in the NBC television show The Office, you may be familiar with the concept of bobbleheads gifts. It's not uncommon for Dwight Schlute to be obsessed with the miniature version of him. More and more people choose bobblehead dolls as a simple but very nice gift.




The charm of bobblehead dolls
Bobblehead dolls can be purchased as personalized products on various websites or issued by institutions to celebrate specific events, sports milestones, players, or mascots. The more popular the theme, the more famous and valuable the bobblehead will be. For example, if a bobblehead doll celebrates a player who has been inducted into the Hall of Fame, he will fetch great prices on the market. Some bobblehead dolls act as souvenirs, like dolls personally signed by the players.




Brief history of bobblehead dolls
Bobblehead dolls in circulation today have existed since the 19th century. The Nikolai Gogol Russian tale coat is considered the first official record of a bobblehead doll. Gogol referred to the protagonist Akaki, who has a head "like the neck of a plaster cat that shakes its head".




This concept was popular in various countries in Europe and North America and was especially popular in the United States in the 1960s for Major League Baseball. Interest in bobblehead dolls has waned somewhat since the 1970s, but in the early 2000s the trend has returned.




Bobbleheads are a common sight on the baseball field today, and many teams have bobbleheads as a commercial product. There are people who spend a lot of money collecting them. In 2014, the 1961 Yankee Bobblehead Doll sold at auction for $60,000.




Why are bobblehead dolls a great gift?
Whether you're buying a gift for your friend, partner, boss, or yourself, bobbleheads are a great creative idea and great gift.




Personalized
Bobblehead dolls are created based on the images you submit. You can post a photo of the person you want to gift and place it in more than 1000 poses. Within 5-6 weeks, you'll have a personalized bobblehead doll that looks exactly like the one you gifted her with.




Personal satisfaction
Sometimes, like Dwight Schrute in The Office, there are real people who want to see their miniature version. Lots of people have bobbleheads at work. If you know someone who has these kinds of tastes, bobblehead dolls will be the perfect gift for them.




Cheap
Bobblehead dolls are very cheap. You can get it for as low as literally $50. So if you're thinking of buying something that has meaning and value to someone, but you don't want to break the bank, bobbleheads may be the best gift choice.




Collector
There is a very large community around the world that specializes in bobblehead collections. Every time the sports team hands out bobbleheads, a frenzy ensues. Custom bobbleheads are usually dirt cheap, but rare and valuable ones can be as expensive as four orders of magnitude.




If you know lovers of bobblehead dolls, you can contribute to their hobby by acquiring valuable bobblehead dolls that enrich their famous collection.




Conclusion
Bobblehead dolls like for nurse graduation gifts have long been a fan favorite, beating the changing mood of generations of pop culture. Therefore, if you are thinking of a simple and inexpensive gift that will make someone smile, the bobblehead doll is the best choice.





On your marks, get set, and go watch this month's "A Brief Look At" with Neo!

This month, we check out Horizon Chase Turbo for PC and modern platforms!




When the Evercade portable first released in 2020, there were many who scratched their heads in bemusement. Surely in this day and age of the Switch, the various cheap emulation portables, and now the Steam deck, a new cart-based budget portable game machine was unnecessary? What was this newfangled British toy, and was it fated to be another nifty but niche Game Gear or Lynx? Or a comical disaster by way of Game.com or N-Gage? Well, now that the Evercade has had a few quality of life updates and almost two years of cartridge releases, a better evaluation may be given. Especially now that the Evercade VS, a home console version of the Evercade ecosystem, has finally arrived here in the US. After spending a few weekends with the VS and the entire current library, here are my thoughts on everything Evercade.



Continue reading Thoughts on the Evercade Ecosystem, Including the VS Console



Resumes Writing Resources: A Quick Intro!
We all have a dream job and we want to secure it. But now, most of us never tie that anymore. It is crucial to realize that the quality of your resumes determines how far from home you are. How sure are You that they'll convince the committee that it is a proper application for that particular vacancy?
With the number of graduates increasing every year, the numbers of new posts that arise also climb. For instance, the amount of candidates competing for that specific position will exceed the available pool. Because of that, individuals will opt to apply for those positions where there is a greater chance of securing a slot.
Now, what if it doesn't seem like enough time to prepare a well-polished copy of a cover letter? Besides, dont investors in that business think that anyone would bother paying for online services to manage their professional documents?
Today, people have various commitments to handle each day. Some have jobs to attend, and others have obligations to Complete. In such situations, it becomes easy to get lost when drafting a CV. Luckily, many tools will assist applicants in managing that. Below, we have the guidelines to start looking for the best resume crafting materials. Want to know?
Creating a Formatting Style for a Completing Cover Letter
There are styles that you might use to format the document. Now, which is the ideal one to template? Lets check that Outline is the simplest and easiest way to develop a great CVs.
The font type that you will utilize in the design is the times New Times Roman, size 12. If that is the case, then what will be the paragraph spacing?
When formatting the page margins, try to make them as appealing and clean as possible. Also, minimize the white spaces. They should be unnumbered.
By default, any word that seems difficult to read will be removed. However, it is recommended that the tab area is large so that it makes the information easier to form. Include both the header and section names. Visit the link to buy essays online for college.
Type the title Here, the text has to be in block for the sake of clarity. Make it brief but informative.
It is okay to have profanities in a captivating manner. But please avoid using too much of it. Remember, humans are different. Please do not let the words stand on its own. We will lose interest in a paper that has clichmeaning. That is why it is essential to understand the style that applies before deciding on the appropriate fonts to select.
Useful links:
How to Format a Medical Resume
Pay Someone to Write My Thesis: Who to Select!
How to Come up With Persuasive Speech Topics for Your Exclusive Proposal

For those of us who collect games, we all understand that we have a few stinkers in the collection. Looking at the library of releases for any game console or platform, there will always be games that are objectively terrible, a lot of stuff that's just not very good, a lot of middling releases, a fair number of solid titles worth your time, and usually a small number of absolutely outstanding games that are among the best on offer. Unless you're curating a small collection of only games you enjoy, you're bound to have a turd or two on the shelf. Why do we pay money for these things? Let me offer a few ideas as to why there's nothing wrong with owning some bad games.


Continue reading In Defense Of...Games That Suck



After a brief hiatus from working on new content for my channel, I finally made my return with Dark King, the final boss theme from Final Fantasy: Mystic Quest! I know this game has its fair share of haters, but I quite enjoy the game for what it is, and everyone knows it has a rocking soundtrack! I hope you guys enjoy this one!



Photo by MART PRODUCTION from Pexels


I replied to a tweet a few days ago from @gamesyouloved that went like this:

"if someone wants to start a retro game collection
what's the best way to do it?"

My reply:

"If I were starting now, I'd go for quality over quantity and buy like, one good game every paycheck or something."

I've been thinking about this tweet and its replies for a few days now, and I'd like to elaborate on it. Of course, to answer this question, there are so many variables to consider, and each person will have his or her own set of circumstances which will dictate what can be done. Note that the question is about collecting specifically, so while I'd naturally lean on emulation, this article will be about how I would build a physical collection from scratch today if I had to.


Continue reading How Would You Start Collecting Today?




Developer: Konami
Publisher: Konami
Platforms: PC-8801, MSX2, PC Engine Super CD-Rom^2, Sega/Mega CD, Saturn, Playstation
Years of Release: 1988 (PC-88), 1988 (MSX2), 1992 (PC Engine CD), 1994 (Sega/Mega CD), 1996 (Saturn), 1996 (Playstation)

Snatcher is a legendary game in the modern era. Today it is considered a great opus of interactive fiction, and it largely stands above most of its contemporaries among those that have played the game. In its time, it was heavily overlooked by most of the international audience despite a wealth of rave reviews. Snatcher was originally developed and published by Konami for Japanese computers, releasing on the NEC PC-88 and MSX2 in 1988. Development was quite lengthy and expensive for Konami and shows many of the trademark behind the scenes issues with projects led by Hideo Kojima that would eventually lead to their fallout decades later. The project suffered from an unrealistic scope, as roughly half the story was condensed or axed altogether. Despite this, development still took far longer than most projects of the era. All of this would not pay off in Konami's eye, as the game's initial PC sales were underwhelming. A cult following developed around the game, and this likely led to Konami issuing later ports. The first one being 1992's port to NEC's PC Engine Super CD-ROM^2. What is interesting is that this PC Engine CD release was not just a straight over port, but it included the game's 3rd Act as a mostly cinematic experience. 1994 would see a strangely Western exclusive port released for Sega CD that allegedly only sold a few thousand copies. This Sega CD release further expanded on Act 3, adding some extra exploration and action. The final ports were released in 1996, exclusively in Japan, for the Sony PlayStation and Sega Saturn.


Continue reading Snatcher