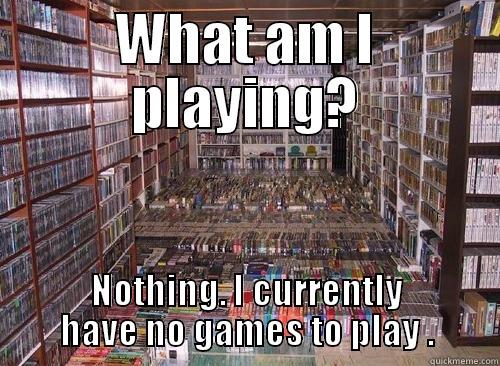 As collectors, we can sometimes fall into the dreaded hole, known as choice paralysis. Whether we collect strictly for the sake of it, or try and curate a small collection of things we want to play, it's bound to happen. Sometimes, you'll walk to a shelf full of games, and no particular mood strikes you, but you have free time, and know you want to play a game. In those situations, you can either try to pick something new, and see if it clicks with you. Other times, you return to an old favorite; an evergreen game, if you will.
Over the years, while I haven't quite built a long list of them, I have identified a few games I can always go back to, no matter what. These are games that I don't tire of. Some of them are very pick up and play, and some of them are not. However, these titles are the kinds of things I can return to, over and over, and immediately get that feeling again, reminding me why I like them so much, and always have a good time. Here are a small handful of my evergreen games.
Maybe you thought I was going to start with a shmup? I might have, had I not started my 4th play-through of Nintendo's latest release in the Hyrule saga again within the last few days. This is a prime example of a game that's not pickup and play, but is something I can go back to. I won't belabor the point, since I wrote extensively about the game in
a previous blog
post some while back. All I'll say is, this is a game I can pick up, and immediately get lost in. I'm to the point now where I know it fairly well, but the world is so big, there are plenty of areas I forget about, items I still need to hunt down, and it's still a fresh experience each time.
I assume anyone here who knows me at all, knows that this is my favorite shmup of all time. It's also a game I can return to whenever, and pick it up for a little bit. Everything about this game pulls me in. Awesome graphics, and amazing soundtrack, good level design, tense boss fights, and a cool weapons system. I don't go back to it as often as I used to, or perhaps as often as I should, but when I do pick it up, I always have a good time, and am always reminded of why I like it so much.
Lightening Force
is just so good.
This one should be no surprise, either.
Super Mario Land
is like video game comfort food for me. This is one I can go back to again and again, despite it being a pretty easy game. Each time I play through it, it's still fun, still charming, and I still have a good time. I tend to gravitate to the less conventional titles in Mario's canon (such as the other major black sheep of the family,
Super Mario Bros. 2
), and this has always been one I can put in any time, play for 20-25 minutes and beat, and have a smile on my face at the end.
I'm not sure how it happened, but sometime within the last 15 years or so,
Jackal
on NES became one of my go-to games to play, when I didn't know what else to play, or I just wanted to get a little game time in. I haven't beat this game yet, strangely enough. I always seem to hit a wall around 4 stages in, and haven't managed to crack this nut. But it's one I keep coming back to, and something I enjoy playing. It has a unique approach, and I like the simple upgrade system, and the idea of rescuing captured soldiers. Sure, it's basically
Choplifter
in a military Jeep, but I dig it.
Thought I haven't actively been playing it that long,
Ketsui
has become another evergreen game for me. There's a deceptive simplicity to the scoring system, and some hidden complexity underneath that isn't necessary to play, or enjoy, this game, but can be fun to explore, if you want to play at a very high level. It's difficult, but the PS4 port, lovingly crafted by the M2 ShotTriggers team, has both the Super Easy mode, as well as the Deathtiny mode, that are both easier experiences, and can make jumping back into this game a lot less painful than trying to "de-rust" on the standard arcade difficulty. The game's aesthetics, soundtrack, and overall approach are really appealing to me, and it's just a package that I've come to really love over the course of the past couple years.
What about you? What are your rainy day games? Tell me about the games you love to play, or stuff you gravitate towards, when you want to play, but can't decide what to play.