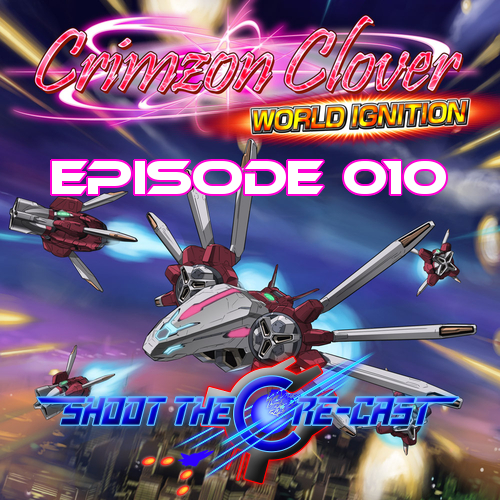 Welcome to Episode 010 of Shoot the Core-cast! This time around, MetalFRO and Addicted cover Crimzon Clover: World Ignition, the the hit PC shooter from Japanese doujin developer, Yotsubane! This danmaku game is quite special, and has been well received in the shooting game community. Here to help us discuss this game is Mark_MSX, from The Electric Underground Podcast! We cover the game's mechanics, try to "break" down the scoring, and look at its impact on the shmup scene over the last few years. Thanks for listening!
Here's the direct episode link:
http://www.rfgeneration.com/podcasts/shmupclub/?name=2019-04-15_shoot_the_core-cast_ep_010_-_crimzon_clover.mp3
Check us out and subscribe (and rate!) on Apple Podcasts!
https://itunes.apple.com/us/podcast/shoot-the-core-cast/id1432819542?mt=2
We're listed on Google Play - subscribe and review the podcast over there!
https://play.google.com/music/listen#/ps/Iih3vrijcro4yno3yrkeawnx6nu
We're on Stitcher Podcasts now, as well, so if you use that service, have a listen to the show from there!
https://www.stitcher.com/podcast/shoot-the-corecast
We have t-shirts! Help support the podcast, and rep the shmup community by buying a Shoot the Core-cast tee!
https://www.redbubble.com/people/jdieckmann/works/34582606-shoot-the-core-cast-podcast?asc=u&p=t-shirt
Here's the thread from the play-through:
http://www.rfgeneration.com/forum/index.php?topic=18959.0
Thanks for listening, and any feedback would be greatly appreciated!