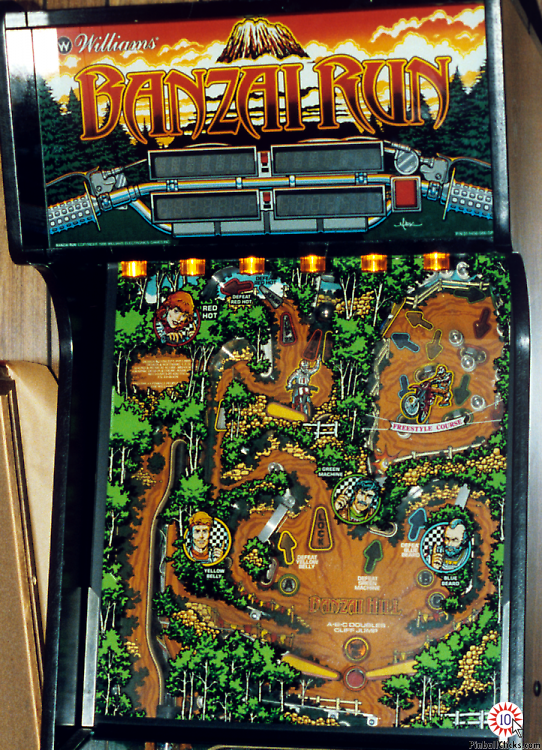 Number 9 on my Top 10 list is a motorcycle themed pin called Banzai Run. There are a few things that make this pin special, the most notable of which is the playfield backbox. When a shot is made through the spinner in the upper left corner of the lower playfield, a magnet carries the ball to the upper playfield, which plays a significant role in the game. Before heading to the upper playfield, it's important to light your "competition;" the riders Red Hot, Blue Beard, and Yellow Belly are lit by hitting 3 color coordinated stand-up targets and Green Machine is lit by sending the ball into the knockout hole between the pop bumpers. Once these are lit, the player shoots through the spinner to send the ball to the upper playfield. There, a shot representing each opposing rider is lit and hitting each shot causes you to "pass" that rider in rank on the leaderboard. Once all riders are defeated, the lock on the upper playfield or lower playfield knockout hole is lit and sending a ball into either, locks a ball and allows you to plunge a second for multi-ball. The object here is to put one ball into the knockout hole for a timed lock and send the other to the upper playfield for a very difficult captured ball shot. Hitting the captured ball allows you to pass The King (the ultimate rider) and move into first place to win the race.

**The King defeated just after the 4:00 mark**


Banzai Run is a fairly simple game. It doesn't have a large number of shots and the goal is fairly simple once you understand it, but I find that the excitement in trying to achieve this goal is overwhelmingly addictive. The shots on the upper playfield are difficult due to the pitch, but once you have a feel for them, they are relatively simple. The game has a total of 6 flippers, which are all really important to master and each play a key role in the game.

For those who really appreciate the history of pinball, the most notable feature of this pin is its designer, Pat Lawlor. Lawlor is one of the most well-known pin designers and arguably, regarded by many, the best. A list of his most notable pins include: Twilight Zone (#1 on several lists), The Addams Family (the best selling pin of all time), Whirlwind, Funhouse, and Monopoly. Banzai Run is special because it was actually Lawlor's first.

Recent Entries

MLA Writing (10/15/2021)
A Reflection on Games as Events Instead of Consumables (10/14/2021)
A 2D Metroid Retrospective (10/12/2021)
Pocky & Rocky 1 and 2 (10/11/2021)
The Best Games of 2021 (10/8/2021)



Ive never seen/heard of this one. Very cool looking.

How did The Addams Family become the best selling pin? I would have thought a more popular licensed property would have destroyed a table like that.

@Crabmaster2000: Yeah, it is kind of odd that Addams is the best-selling pin of all time, but there are several factors that I believe contribute to it (I'll try not to go too deep into this, because yes, it is in my Top 10....). 1. Lawlor's design is very fluid and incredibly fun to play. The toys are superb and the call-outs are hilarious. 2. Even though the license is based on the Addams Family movie and not the television series, fans of the original series still love this pin and are not deterred by the movie (which wasn't too awful considering there are other great pins based on what many people agree are fairly bad movies: Johnny Mnemonic, Demolition Man, Congo, and even my Bram Stoker's Dracula). 3. Addams came out in 1992, which was a fairly high point for pinball. T2 came out in 1991 and was the first machine to feature an animated dot-matrix display. Released only a year later, Addams was a much more desirable and fun title and still have some of the best animations of any pin to date.


I've never been disappointed by a Pat Lawlor game. I always liked Roadshow over Funhouse.

http://www.ipdb.org/machine.cgi?id=1972




Roadshow is a pretty good game, just not a fan of the dozer shot which starts the modes; a shot not off the edge of the dozer typically ends in a straight down the middle drain. The Ted gulp and mult-ball start up with shaker motor are pretty fantastic though. However, I have to respectfully disagree; Rudy might be the best pin toy of all time.



By the way, the deal I was hoping for worked out. There will be some fantastic Banana pin news coming shortly.


Singlebanana: If Roadshow wasn't such a Chicago/midwest centric pin "love destroying those toll roads" then Funhouse would be #1.

Glad to hear your deal worked out, and cant wait to see pics!

You've got a great blog series, Banana. I remember playing pinball machines in arcades and bowling alleys when I was younger, but when I stopped going to these types of places my relationship with pinball ended.

I would never have thought that pinball played such a significant role in the history of gaming. I'm learning a lot from your posts. It's a real treat to read your blog.

Looking forward to the next entries.

Login or register to comment
It appears as though you are not a member of our site, or are not logged in.
It appears as though you can not comment currently. Becoming able to comment though is easy! All you need to do is register for the site! Not only will you be able to access any other site features including the forum and collection tools. If you are a registered user and just need to login then you can do so here.

Comment! It's easy, thoughtful, and who knows you might just enjoy it!