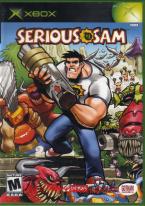 I've done it...you've done it...we've ALL done it! We have all, at one time, cheated.
No, no, I'm not talking about that late-night show on G4...I'm talking about cheat codes! Those glorious unlockable rewards hidden in nearly every game in existance.
To celebrate Cheaters Week here at RF Generation, our Featured Hardware is the good ol' Game Genie. The featured game of the week is Serious Sam for the Xbox, which has a moderate cheat menu hidden within the game. The Featured Image is a screenshot from Serious Sam: the Second Encounter for the PC.
The honor of Featured Collection goes to GagaMan, with his real nice collection of Dreamcast and Megadrive games, so be sure and check it out!
To further promote Cheaters Week, I'd like to send out a personal challenge to everyone to submit as much "Cheat" info as possible. Cheat codes, whether they be your standard "up+down+circle+circle" or the old Game Genie codes, can all be submitted under "Easter Eggs" in each game page.
With all that being said, let's all go forth and promote God Mode to the underachievers in gaming!