...Or So Many Games, So Little Time (And Money)!

TAKE TWO AFTER MY ORIGINAL POST SOMEHOW DISAPPEARED WHILE I WAS EDITING IT!!

Save early and often!!!

Hello everyone and welcome to my first post! In my first six months here at RFG, I've been mostly a lurker, reading quite a few blogs but only commenting maybe once or twice. Mainly I've just been using RFG to keep track of my collection, which at the moment is pretty modest in size compared to most users here, but everyone's gotta start somewhere, right!?



Anyway, I found some pretty cool stuff at the flea market yesterday and thought I'd share my findings with you all!



THE (ALMOST) COMPLETE HAUL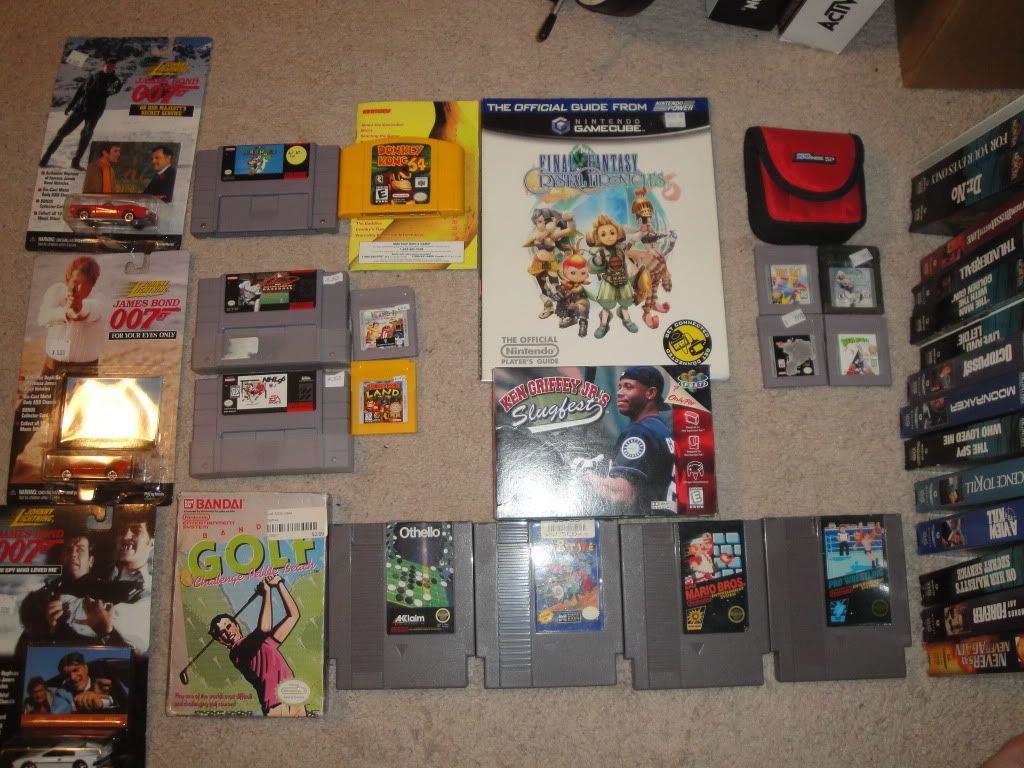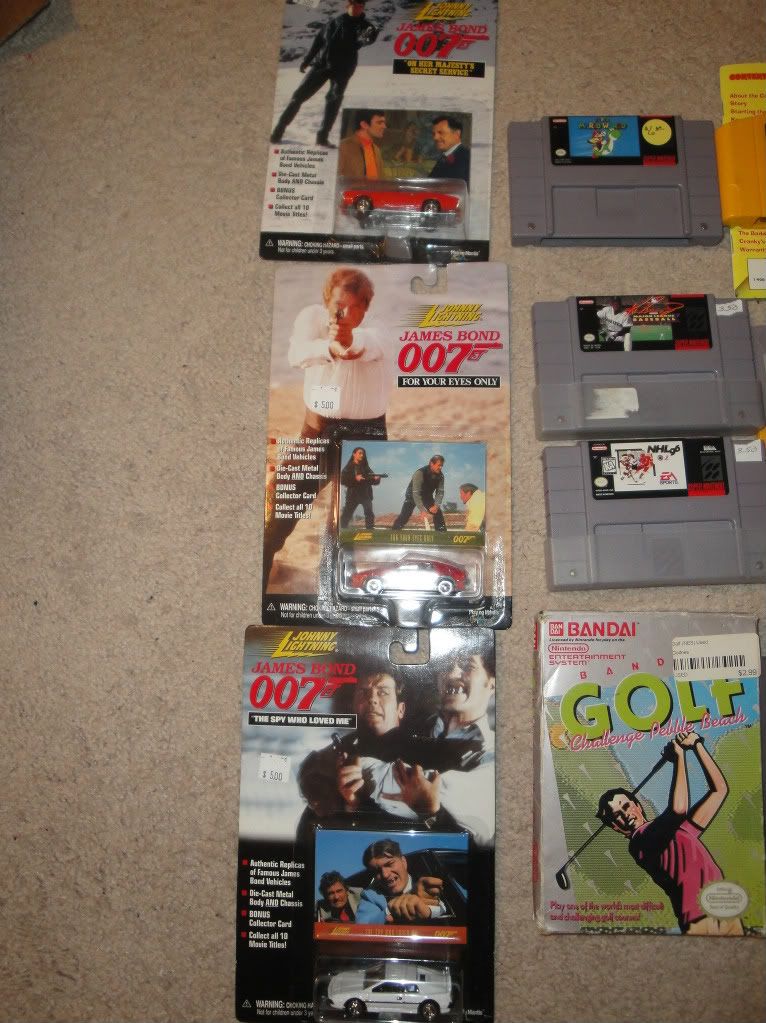 Yes, I know this site is mostly for video games and whatnot, but I'm a massive fan of the James Bond series, and my first find of the day were these three collectible cars/cards for the movies On Her Majesty's Secret Service, For Your Eyes Only, and The Spy Who Loved Me. The seller also had the one for Dr No, which I already have, otherwise I would've cleaned him out of these!

BATTING SECOND: KEN GRIFFEY JR AND FIVE NES GAMES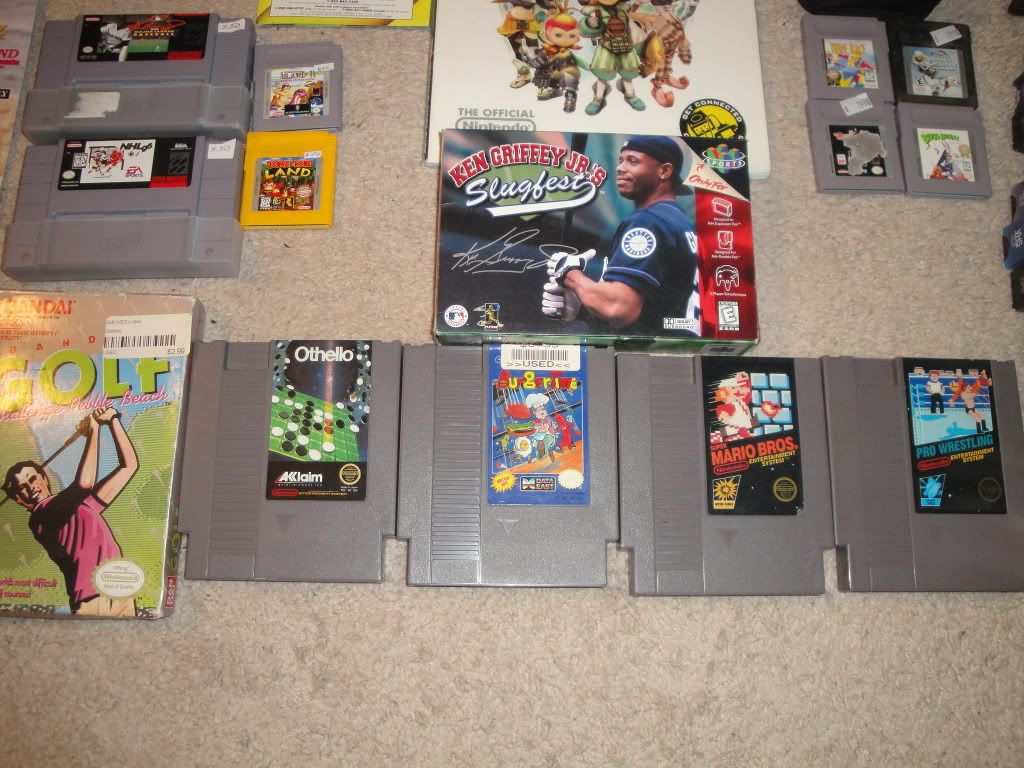 Next up from one of the video game 'stores' at the market were a boxed-with-manual (condition about 9/10) Ken Griffey Jr's Slugfest for N64 and five NES games -- a boxed-without-manual (condition about 6/10, but with the styrofoam!) Bandai Golf: Challenge Pebble Beach, and loose carts of Othello, BurgerTime, standalone Super Mario Bros, and Pro Wrestling.

Back in the day, I nearly broke both of our (my brother and I) Nintendo 64 controllers playing so many games of Griffey Jr's Slugfest -- damn those come-from-behind victories by the computer -- so I traded it in, and missed it just about ever since!

I've never had Bandai Golf, Othello, BurgerTime, or standalone SMB so I thought I'd give 'em a whirl since the price was right! But we did have Pro Wrestling way back when we first got our new NES with SMB/Duck Hunt; it was among the first games we got (along with Ice Hockey, T&C Surf Design, and Zelda II!) from our cousins when they were trading in their original NES (with R.O.B. the Robot!) in order to get a Sega Genesis. Of course a few years later we traded in Pro Wrestling in order to get some newer games, so it should be fun to fire it up again! A WINNER IS YOU!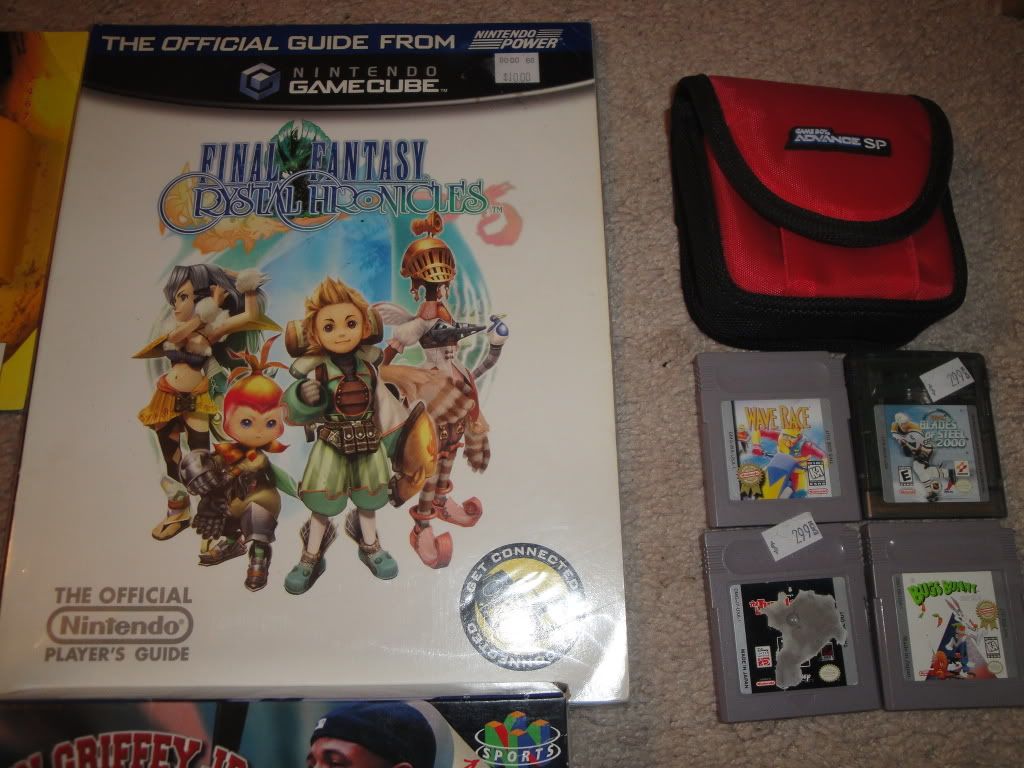 I find it pretty amusing that I paid five times more for the GUIDE for Final Fantasy Crystal Chronicles than I did for the GAME which I picked up at Goodwill a few weeks ago.

The guide was from another of the video game 'stores' in the market, which has an amazing selection of video game goodness (like complete-in-box Final Fantasy for NES, a Famicom cart of Dragon Quest II, dozens of boxed N64 games, hundreds of games for seemingly every system ever made, etc.) but mostly out of my price range, unfortunately.

Next up was the red GBA SP carry case with Wave Race, Bugs Bunny Crazy Castle, and the Jungle Book (torn label) for Game Boy and Blades of Steel for Game Boy Color. I pretty much was just interested in the carry case and Wave Race, but the seller threw in the other games for a bargain!




JAMES BOND MADNESS TAKE TWO!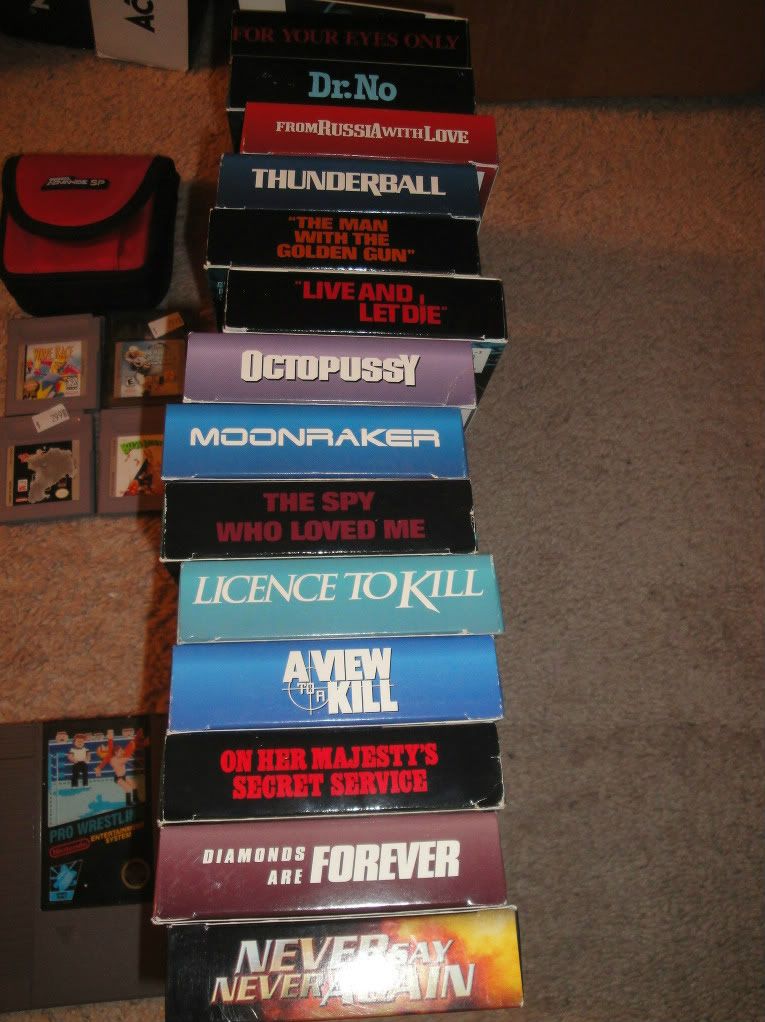 As I mentioned before, I am a huge James Bond fan, so I couldn't pass up 14 James Bond flicks on VHS for $10, even though I already have them all on DVD! These pickups nearly completes my Bond VHS collection -- for the films that actually were released on VHS anyway! -- except for Die Another Day, which the seller also had but I passed on because I didn't want a copy with Blockbuster stickers all over it (or the inevitable residue from trying to remove the stickers), and it's my least favorite of all the Bond movies, so...




A TRIP TO MY CAR TRUNK LATER...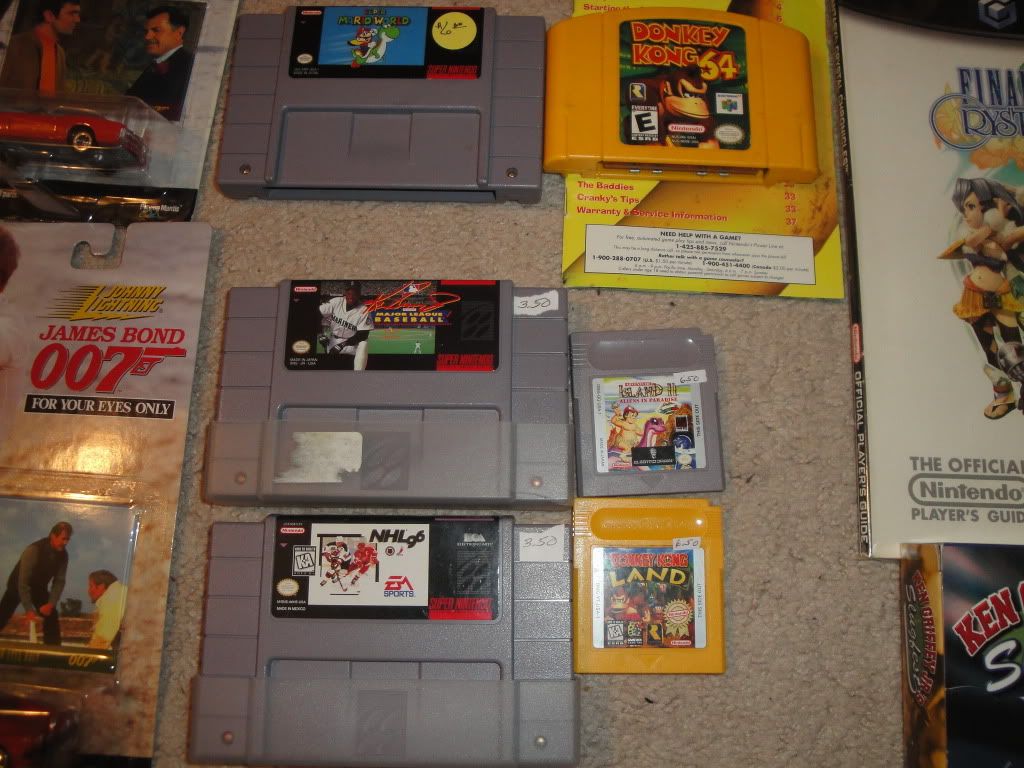 The 14 James Bond VHS put me over the top for my carrying-stuff-capacity, so after dropping off my previous finds I doubled-back to a couple booths I'd noticed on my way to my car.

First up was Super Mario World and Donkey Kong 64 (with manual but it's missing front and back covers), for a combined total of $8!



Finally we have Ken Griffey Jr Presents Major League Baseball and NHL 96 for SNES, and Adventure Island II and Donkey Kong Land for Game Boy, for which the seller gave me a good deal lower total than the combined stickered asking prices! She also had a Sega Genesis Model 1 listed for $15 (but said I could have it for $10), along with about a dozen (individually priced) Genesis games like Sonic 1, Sonic 2, Marble Madness, Cool Spot, etc., but I decided to pass on them because I just cannot start collecting for another system at this time...


Rounding out my finds (but not pictured here), I picked up a VHS of Willy Wonka and the Chocolate Factory, a factory-sealed VHS of the James Bond movie For Your Eyes Only, and CDs of Steve Vai's 'Sex & Religion' and the Century Media Records Compilation 'Identity II' featuring some of my favorite bands like The Gathering, Sentenced, Moonspell, Samael, Nevermore, and Emperor (METAL!!! \m/)


Hopefully my late-night ramblings make sense and are at least somewhat interesting to whomever may stumble across this little blog! I will try to post again in the near future! Thanks for reading!