Sorry for being so late with this, but this is the last week of the semester for me before finals, so the professors have been dumping all sorts of homework on me. Yippie. So, I need to keep it short and sweet this week.
Playstation 3
Xbox 360
Nintendo Wii
• Prince of Persia
• SingStar ABBA
• Destroy All Humans 3: Path of Furon
• Prince of Persia
• Bigfoot: Collision Course
• Family Party: 30 Great Games
• King of Fighters Orochi Saga
• Mushroom Men: Spore Wars
• My Fitness Coach
• Nancy Drew: The White Wolf
• Safecracker
• Ski & Shoot
• SPRay
• The Tale of Despereaux
PSP
Nintendo DS
Playstation 2
NOTHING

PC
• Disney's Bolt
• Grand Theft Auto IV
• Neopets Puzzle Adventure
• The Tale of Despereaux
• A Vampyre Story
• Zoo Tycoon 2 Ultimate
• Animal Boxing
• Dreamer: Puppy Trainer
• Emma at the Farm
• Emma in the Mountains
• Happy Cooking
• Mushroom Men: Rise of the Fungi
• My Fun Facts Coach
• Prince of Persia: The Fallen King
• Slingo Quest
• The Tale of Despereaux
• Wordfish
• Kingdom Hearts Re: Chain of Memories
• SingStar ABBA
• The Tale of Despereaux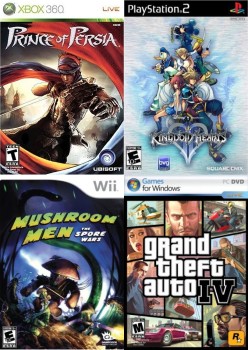 Yet another slow week, but there's some good stuff. Such as Prince of Persia. This installment in the long-running series has UbiSoft trying to reinvent the game with a new cel-shaded Okamiesque art style and open world gameplay...and apparently the results are good if early reviews are to be believed.
The other big game I'm interested in this week is Mushroom Men for the Wii. Why is this shovelware sounding game so intriguing? First of all, the game's music was composed and performed by none other than Primus bassist, Les Claypool. However, what makes the game really interesting is that the entire game is synced to a metronome that runs at 120 beats per minute. The result is a very unique look and sound that I've never seen in a video game before. It really must be seen to be fully understood, so take a look at this trailer from
GameVideos
about the metronome system. IGN also has a great
article
about the system. Oh, I supposed I should probably mention what the gameplay is like. Well, it's basically your standard platformer, but with some neat MDK2/Fallout 3 like weapon creation elements. I just hope the gameplay is as brilliant as the metronome system, but even if it isn't, I know I'll like the game since it's a bold experiment in sound design. Unfortunately, I can't afford to buy this game right away.

If anyone gets this game or hears anything about it, leave a comment, because I'm dying to know how this game turned out.
Oh yeah, there's some new Kingdom Hearts game out this week on the good ol PS2. It's a 3D remake of the GBA game, Chain of Memories entitled Re:Chain of Memories (clever). Since I don't know anything about Kingdom Hearts other than a lot of weeabos that don't normally like Disney love this game...probably for "kawaii" artwork and stuff. Never understood the appeal of this game.
If you missed out on the consoles, GTA IV will hit Windows this week in all it's SecuROM-protected "glory" (if you can call it that). Hooray DRM!
Anyways, check back next week when I'll be burned out by final exams.

But then I'm done with school for a month.

A slower week isn't necessarily a bad week. It allows people to catch up with the massive weeks, 2 weeks ago.



I'm excited about Prince of Persia. It looks good, colorful, is lighthearted...just the way I like it.

I hope this new Kingdom Hearts game will also be released in Europe, because I want it!


Actually, I think the main appeal of Kingdom Hearts games is the FF7 cameos


@Rajaat the Warbringer:
Quite possibly.

I thought Kingdom Heart's storyline was pretty good. The Final Fantasy Cameos were nice but I would of enjoyed seeing some more characters that weren't from 7. I'll have to pick up this remake sometime also.

I saw the title "Bigfoot: Collision Course" and got excited as I've never seen a game about Bigfoot, but I found out it's about Bigfoot the monster truck not Bigfoot the mythical creature.

Mushroom Men looks like a fun platformer, reminds me of Banjo Kazooie or Donkey Kong 64. I'll probably get it when it comes down to $20.

@Rajaat the Warbringer:Kingdom Hearts is a good game on itself, with or without those cameos.



@Silent Scythe:Me too, I'd love to see Zidane in there.