I'm not dead, I just took a week off to do my final exams and stuff like that. Plus, this time of year is dead anyways, so I figured it could wait. So, here's what came out last week and what's out this week.
Playstation 3
Xbox 360
Nintendo Wii
• Rise of the Argonauts
• Sonic Unleashed (get the Wii/PS2 version instead)
• Rise of the Argonauts

• Calvin Tucker's Redneck Jamboree
• Neopets Puzzle Adventure
• Rock Band 2
• Summer Sports 2: Island Sports Party
• The Tale of Despereaux
• Word Jong Party

PSP
Nintendo DS
Playstation 2
• Dungeon Maker II: The Hidden War

PC
• Band Manager
• Lost Secrets: Bermuda Triangle
• Hidden Expedition: Amazon
• Hired Guns: The Jagged Edge
• Prince of Persia
• Rise of the Argonauts
• RPG Fantasy Action Pack
• The Tale of Despereaux
• Zoo Tycoon 2 Ultimate Collection
• Animal Boxing
• Australia Zoo Quest
• Build-a-Lot
• Candace Kane's Candy Factory
• Cate West The Vanishing Files
• Driver's Ed Portable
• Dreamer: Horse Trainer
• Dreamer: Puppy Trainer
• Learn Math
• Left Brain Right Brain 2
• Mystery P.I.: Portrait of a Thief
• Slingo Quest
• The Tale of Despereaux
• Rock Band 2
• Shin Megami Tensei: Persona 4
• The Tale of Despereaux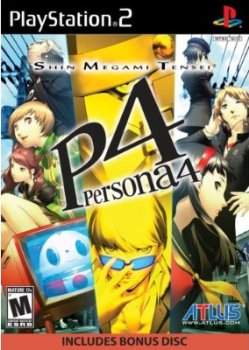 Very boring, am I right? Get used to it. That's what the next few weeks are going to be like.

The only highlight here is Persona 4 for the PS2. I don't know much about it other than it's a weeaboo JRPG with an even more weeaboo translation that keeps all the honorifics and stuff on there. Also, you commit suicide to gain powers. Apparently it's good if you're into that kind of thing, but I'll stick to Fallout 3 thank you very much.

So, next week, I don't think anything is coming out. Literally, nothing.

Recent Entries

Shoot the Core-cast Episode 026 - ZeroRanger (9/16/2020)
RFGen's Top 20 Sega Saturn and Turbo Grafx 16 games (9/12/2020)
Collectorcast 58: Our Song Swong (9/10/2020)
The Brilliance of Baba Is You (9/9/2020)
Curating a Game Collection (9/8/2020)




weeaboo?

From the urban dictionary:

weeaboo: A game whereby the one who is caught saying the word weeaboo must be chained to a pipe and paddled by all around him/her. Those with the paddles must chant weeaboo until the paddling is finished and the one chained to a pipe is released.

weeaboo: A word filter for the image board 4chan.org that replaces the word wapanese. Originates arbitrarily from a Perry Bible Fellowship comic strip wherein a man was paddled by a crowd chanting "Weeaboo!

Weeaboo: Someone who is obsessed with Japan/Japanese Culture/Anime, etc. and attempts to act as if they were Japanese, even though they're far from it. They use Japanese words but usually end up pronouncing them wrong and sounding like total assholes. You can find alot of these faggots clogging up the forums of Gaia Online, hanging out in the international aisle of the supermarket, or crowding the manga section of your local bookstore. Synonym of wapanese.

==========

So it's either about group spanking or mispronunciation.

Finally the long awaited Calvin Tucker's Redneck Jamboree is out. The console war is over. Wii Wins huge!!!!!

Oh gawd Animal Boxing came out?!
*runs off to get a copy*


Good job actually reading up on the game. Persona 3 involved the "suicide" to call forth his or her Persona. Where as in 4 (And every other Persona I believe) you summon them in a more old fashioned way, calling them out and breaking a card.

But you couldn't be bothered to look up facts because it's weeaboo right? America, fuck yeah!


@VACRMH:
It's more about me being me, an asshole. I didn't mean any offense or anything.

The best game of the week gets released on a console whose generation ended 2.5 years ago? Wow, that just shows what an awesome console the PS2 is.


Well, the PlayStation 2 is far from dead...and it looks like it will stay alive well into 2009, too. First, we get Persona 4 and Kingdom Hearts RE in December, then in January Ar tonelico 2 (complete with an artbook and soundtrack CD). Then, Nippon Ichi and Atlus surely are going to release some more games over the course of the year, especially NISA has made some interesting announcements lately: they confirmed that they are definitely going to release Mana-Khemia 2, and...get this...Sakura Taisen V!!!! At last, a US version of the Sakura Taisen series...I can't believe it...thank God for NISA and Atlus, the spiritual successors to Working Designs (in terms of caring about their fans and releasing small gems from Japan).


Sakura Taisen V was crap. Ask anyone who Played the game and any of the first 4 and they will always call it such. I'll get it but after playing the first 2 and hearing all the opinions I have for it, I have no expectations of greatness for it.

Login or register to comment
It appears as though you are not a member of our site, or are not logged in.
It appears as though you can not comment currently. Becoming able to comment though is easy! All you need to do is register for the site! Not only will you be able to access any other site features including the forum and collection tools. If you are a registered user and just need to login then you can do so here.

Comment! It's easy, thoughtful, and who knows you might just enjoy it!