For those of you who sort of follow gaming news, however few of you there are, probably have been following the Tokyo Game Show, which is probably the biggest show there is for gaming now that E3 is dead. Long Live E3. So, there are a lot of bombshells and great announcements to come from TGS, and if you want to know what they are I suggest you look at a website that blogs about games. Might I recommend
Kotaku
. See, I am not here to report all the crap that was announced at TGS. Rather, I want to start a discussion as to the things that excited
us
. Well, now that I got this out of the way way, let me begin.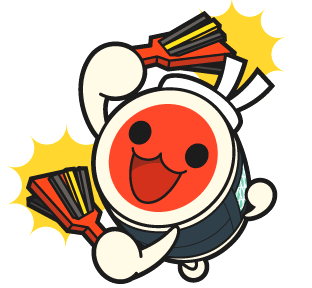 Are you still here? Wow, I really thought you'd lose interest and not hit the jump. Boy, I guess I was wrong. I am under the impression that the only thing people read is Treasure Hunt Chronicles. I guess I could be wrong. Anyways, there are two things that really interested me from TGS, let's look at them one at a time.
Taiko: Drum Master (Wii)
I am a fool for rhythm games, and I have the PS2 Taiko that was released in the states. I sorely hope that the Wii version gets released in the states. I really enjoy the set up of Taiko. Nothing really brings out the carnal nature of humans like slamming drums in a frantic rhythm. On Oni it's hard for even a seasoned musician like myself, but then by musician I mean I played the sax through high school and drumming is quite a bit different from playing a sax. Only one was played by Bill Clinton, mkay?
But seriously, Taiko on the Wii has a lot of potential, and it damn well should. Capcom has announced that the
game will include Nintendo Tunes
, which should be a treat as well. I expect to follow the development of this game closely, and I really hope that Capcom does it well and subsequently releases it stateside.
No More Heroes: Desperate Struggle (Wii)
Wow, I really didn't see this game ever being made. You hope and you pray, but you don't necessarily expect a game that sold just okay to have a sequel made. So, what can I say about NMH? Well, No More Heroes is one of my favorite games of 2008, it's either a toss up between that or De Blob. But wow, to hear that No More Heroes is getting a sequel and that it is coming out in 2010 makes me as giddy as a school girl. The fact that it's still over a year from it's release implies that Suda 51 is going to take his time on this baby, and when Suda 51 has time I expect gold. Also, Suda made a comment that the Wii can do great graphics, which I hope means that Desperate Struggle will push the bar a bit farther than what the original game did. I also hope he makes Santa Destroy a bit more... meaningful. But, yes... No More Heroes was amazing, and I fully expect No More Heroes: Desperate Struggle to be the best thing since sliced bread. Check out a preview below.
http://www.gametrailers.com/player/41032.html
Doesn't that look like a winner? I certainly think so. Well, that's what I am excited about. What are you excited about? Tell us in the comments.