It's been a while since I last thanked you guys for your submissions, and trust me, we are greatly thankful. Without your submissions, our site wouldn't grow, and that would just lead to a greater obscurity than we already have. We don't want that. Did you know that in May we had 7800 submissions? Damn. That's a lot. Even wilder is the fact that we had over 5300 images added in that month. Pretty wild, if you ask me. As a comparison, in April we had 3106 submissions, which, while respectable, is greatly trumped by May's submissions.

What does that mean? Well, it means that some of you play to win a contest. And one of you did. Who is that winner? Well, we've tabulated the scores, and even with a halved score, Ga5ket is the winner! He kicked ass and took names with submissions over the duration of the contest. In May alone he had 3212 submissions, of which almost all were image submissions. Truly, he played to win. Ga5ket, do yourself a favor and PM St0rmTK421 with your shirt size, what you want (not to exceed $60) and details about getting your spoils to you.

Of course, some of you also played hard, and I'd like to give kudos to those who gave a valiant effort. y2ritchie, VACRMH, and Lios (even with the murderous -74 karma), you all did well. Of course, the last person in that list would have done a lot better had his karma not been so low, but yeah, don't worry, maybe next year.

There were countless other individuals that made submissions, and we are greatly appreciative for the contest. From all of us at RF Generation, thanks!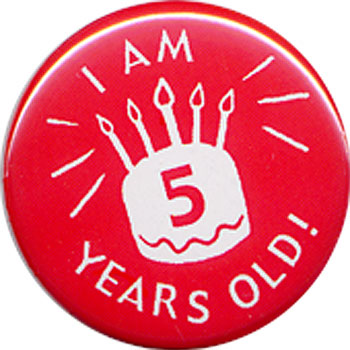 You know what? Five years on April 28 we came into being. Five years ago seems like such a long time ago, but it's true. We're really five years old. Are we getting up in age? You tell me.

A lot has changed in those five years, lots for the good, and some for the not so good. Whatever the ups and downs though, the truth is that we're still here and we're still going strong, thanks to people like you. Without you guys we'd be nothing, and for that we're truly grateful.

You know, with our birthday we like to do contests. This year is no different. As for what the contest is... why, it's the PAIN YOURSELF WITH SUBMISSIONS AGAIN CONTEST. We're evil, we really are, and we like to see you work for your spoils. Want to play? Here are the rules:

Submissions, they make the site go round. We just don't grow if we do not have anyone submit stuff. Funny how that works, and well, we do have one heck of a community that loves to do submissions. Perhaps, with this contest, you'll be interested in doing submissions as well. Submissions will garner you points, and these how are they are ranked:

Title Addition: 4 Points
Variation Addition: 4 Points
Page Edit*: 2 Points
Review*: 30 Points
Overview*: 10 Points
Image Upload: 15 Points
Submission Review**: 1 Point
Blog Post*: 30 Points
Blog Comment: 1 Point
Forum Post: 1 Point
Forum Karma: See Explanation

*Regarding the asterisk: For page edits, it is noticed that you are consistently only adding one field per edit multiple times for a single ID just to up your points, you will be disqualified. Any review or overview completed will count as a page edit as well the points for an overview or review. To get the points for an overview or review you MUST contact me via Personal Message so that I can keep a tally. In addition, the review or overview must be on the actual game / hardware page. A review or overview of poor quality could result in less points than stated being granted. The same statement holds true for blog posts.

Because we want the forum to be a lively place of fun and interesting posts, we're enabling Karma during this contest. Karma rewards members that make good posts and smites those who do not. Your Karma will play a wildcard role in posts. Positive Karma at the end of the contest will increase your point total by a factor, while negative karma will decrease it. The equation used to decide how karma affects your points will be announced at a later date before the end of the contest.

As with any contest, there is fine print. Any submission that you make must adhere to the RF Generation guidelines / policies. We wrote these policies and guidelines for a reason, and well, we'd like everyone to adhere to them. Failure to adhere to the guidelines could result in a disqualification.

Any point reduction or disqualification can be contested. In the event that you wish to contest, you must explain why the reduction or disqualification is unfair. If you win the contest, we'll restore your greatness, but if you lose, you shall be pelted with figurative rocks and garbage.

**KICKER! Everyone, except for the directors of this site, is in this contest. There is a catch though for staff members… their final score will be halved. So, that should lead to a lively competition. I think halving their scores is fair, and I hope you do as well. Oh yeah, there is that 1 point for a submission review, that unfortunately only applies to staff members because they are the poor souls who must review your submissions.

What do you win? Well, we're a poor bunch here at RF Generation, especially since we're on a dedicated box, but we've got a lovely prize for the top winner:

Gaming swag not to exceed $60 and an RF Generation Ringer T.

Also, anyone in the top 5% of points gainers shall get some sort of recognition, to be determined later.


So, won't you get started? The contest starts as of 20 hours ago (midnight last night). When does it end? It ends at MIDNIGHT, JUNE 8th, 2009. (Sunday 12:00AM) So, what are you waiting for? Have your cake and eat it too! Good luck!



This is TraderJake's Blog.
View Profile | RSS

This is where my thoughts go and are never heard from again.

Well, maybe not, but this is the repository for all of my published thoughts and rantings. It'll make my day if you find at least 10% of it amusing and enjoyable to read.


Sorry for the other 90%.


Blog Navigation
---
Browse Bloggers | My Blog
Hot Entries
---
Hot Community Entries
---