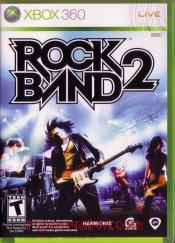 It's a weird feeling, sort of like you'd envision the Mafia to work. Just when you thought you had removed yourself from being a hardcore gamer, some game pulls you back in. Such is my new addiction.

When I am not being a good little Site Director and coding the site, I find that I have an addiction. This game has me so engrossed that it just isn't funny anymore. When the weather outside is bad, this is the game that keeps me glued in front of the TV. What game is it? Why, it's Rock Band 2.

It's funny though, because this game was the second of the two band games that I bought. See, I bought Guitar Hero: World Tour first because I thought it would have the better instruments since Red Octane was originally a hardware manufacturer. So, I had higher respect for their workmanship. Looking back, it wasn't a bad choice based on limited data, but, it's as though the future has set ablaze to that notion. I've now RMA'ed by PS3 Guitar twice and Drum Set once. It's.... ridiculous. I'd complain more if it wasn't for the fact that their RMA process has been really good, and I get free batteries out of it. I just hope that these new instruments actually continue to work as intended, but hey, right now the drum set works and I am addicted.

Why is it that I like Rock Band so damn much? Well, I like the drums, and I like them a lot. It's probably the closest analog of an instrument that any rhythm game has, and I find that great. To me, it feels as though I am actually playing the drums, and that feeling completely engrosses me, much more than playing the plastic guitar ever will. This feeling, coupled with the amazing track list of the Rock Band franchise (Radiohead and Talking Heads YEAH!) keeps me addicted.

Now, you might be asking why I like Rock Band 2 more than Guitar Hero: World Tour. That's a fair question, and I'll give you my spin. Rock Band takes the Band Experience and does it well. While World Tour makes you move from stage to stage, Rock Band does it with more pizazz. I love that although I play by myself the game treats my play through as a band. So, regardless of venue, my band's always the same members of Valley Junction. Guitar Hero, as far as I know, does not do that if I select Drums, and perhaps I should have delved into the band option, but at this point it seems like a moot point. Rock Band has won my heart. Not only does it keep my band intact, but it also makes you feel like you're in a rising band better than Guitar Hero ever will. Hire a staff, take risks, make fans, Band World Tour in Rock Band 2 is a treat and I love it. Perhaps you love it too.

So, such is my addiction. Any of you out there also addicted to this game? I know I am, and to a certain extent it drives me crazy... in a good way.

Note: Yes, I own the PS3 version... why don't you submit an image scan for the game?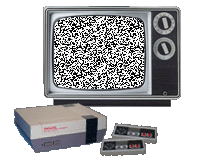 2008 is over, and has been now for almost three days. Is it sad? Nah, sure the economy hit the dump and many developers went belly up but that does not mean that there were not some great moments in gaming over the year. Sadly, there were also bound to be some disappointments as well. Being now 2009, it seems like the perfect opportunity to reflect on the previous year as it pertains to games. Let's all do that, shall we? I'll start.


Continue reading 2008 games. The Good, the Bad, and the Ugly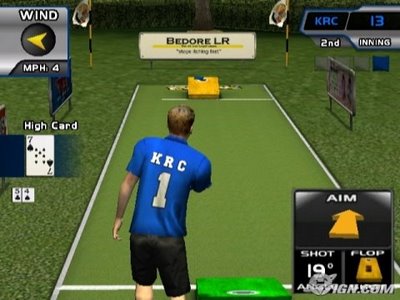 In Cincinnati, Cornhole has an entirely different meaning than the one you are probably thinking of. See, in Cincinnati Cornhole is the name of Bean Bag Toss, a game where you throw bean bags towards a slanted board with a hole in top center. This game is great with friends and alcohol, and on Cincinnati's West Side where they watch grass grow to pass time this game is certainly a fun diversion. Some people say the game was created in the West Side, while others claim it came to be elsewhere. Either way, the game is stupidly popular, almost as popular as the mom and pop sports bars that dot the White Oak neighborhood in Cincinnati.

Well, knowing how stupidly popular the game is in Cincinnati and surrounding areas, some shovelware developer created Target Toss Pro, a game that was certain to get a few sales in the metro area. The game can be found in sports bars around Cincinnati, and, if you so desire, you can buy it off of the Wii Shop Channel, and that's where things get precious.

See, my Aunt and Uncle have a Wii, and prior to Christmas Eve had an impressive tie-in ratio of two. The question though is since Wii Sports is bundled with the Wii does that go into the Tie-In ratio? Anyways, I digress. During December, it generally is too cold to really enjoy playing Cornhole outside, and lots of Cincinnatians enjoy that activity, so they'd love to have some comparable activity to keep them occupied during the warm months.

Well, luckily for them, some shovelware developer released Target Toss Pro: Bags for the Wii, which means that they can play a really shitty game during the cold months. Clearly Cincinnatians are an intelligent bunch and wouldn't waste their money on a shoddy game? Right? RIGHT? Well, Christmas Eve has shown me otherwise. My Aunt and Uncle are proud owners of the WiiWare Version of Target Toss Pro: Bags, courtesy of a relative.

Congratulations Incredible Technologies, you've hit a localized gold mine. Thank god the production value of the game is about nil, you might have lost money otherwise. What obscure game that only appeals to a single city will they release next? Chunkin': Pumpkins? Whatever it is, I am sure it will be wonderful.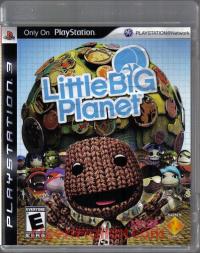 Now, generally I do not like to review something until I have completely beat the game, and as such, this post is going to be impressions of the game, which to a certain extent is probably a review.

For those of you not in the know, I got the first disbursement of my sign-on bonus this week, and promptly splurged it on a PlayStation 3. Of course, the very first game that I bought was LittleBigPlanet. Why wouldn't I have bought that game first? Everything I've seen about it on the internet suggests that it oozes creativity. To a certain extent, it shows that this generation Sony and not Nintendo has the creativity wand when it comes to games. I had to buy this game, and by golly I did.

LittleBigPlanet is based around the concept that this world managed by Creator Curators is created by the combined imagination of the world and you, as Sackboy, get to explore it. On the surface of playing the game, LittleBigPlanet is a semi 2D platformer. You can only move left, right, or back and forth in the background. But, see, just because the game is in essence a 2D platformer does not take away from the fact that it oozes with creativity and fun.

This game is customizable, and not just a little customizable, but "HAVE AT IT WON'T YOU?" customizable. As you progress through the game you are gifted and obtain lots of stickers, objects, and doodads to fool around with. In story mode, these stickers can be placed wherever, and sometimes these stickers serve as triggers. But, the real beauty of collecting these customizations is the fact that the game allows you to create your own levels. These aren't some corny shallow level but often full fledged levels limited only by the imagination of the creator, and that's really neat. Theoretically you could never run out of levels to play because the community keeps pumping them out. It's really truly amazing.

That said, the Media Molecule (developer) levels are also very cool. Basically, each creator curator has a theme and mini storyline that ties in with the other curators, and levels get harder and harder as you progress through the story. Of course, once you beat a level there are plenty of reasons to go back. See, chances are you won't be able to get all 100% of the items on your first go, so there will always be that reason to come back to the level. Secondly, you could play the level by yourself, or you could play the level with someone online. The neat thing about that is that you sometimes have to have another Sackboy with you to get certain items and cause certain events to occur. Thing is though that I am so addicted to the game that I just want to beat it through before playing with someone online, so I don't know for sure how that works, but I imagine it's pretty cool.

From customizing your own levels to customizing your Sackboy, you have a lot of freedom in this game, and this freedom makes the game so damn enjoyable. I'd say I am about 70ish% through the story mode, and this game keeps calling me back. If you have a PS3 I don't think you have to buy the game, but you'd be doing yourself a great disservice if you didn't at least try it out. After all, Sackboy is so damn lovable. Forget Home's avatars, Sackboy should be our official Sony avatars. He's just so damn precious.

Have the game? Want the game? What are your impressions of LittleBigPlanet? Is it everything you thought it would be, or is it something that you hope it will be?



Guess what? This last week or so has just been a plethora of birthdays for gaming related things. Well, 4 years ago from today Blizzard released the behemoth known as World of Warcraft upon the masses, and since that time it's been sucking productive members of society into the realm of the recluses.

Sure, WoW has made lots of money for Blizzard. Wildly successful is a good way to describe it. You know, a lot of people want to be a Nightelf Mohawk, or at least Mr. T wants to be a Nightelf Mohawk. He can be whatever he wants and I pity the fool who says otherwise. The truth is that lots of people play the game, and chances are that you might know someone who has been affected by this game. Maybe you have been affected by this game? Inquiring minds want to know.

Of course it's been successful, but it's because of many people unlike me. See, I refuse to even create an account because I've seen what it can do. Of course, right now I live in Maryland and know no one so it's not like I have a social life to lose, but when I did have a social life I sure as hell did not want it to succumb to WoW addiction. Perhaps you've thought differently.

Well, congrats Blizzard on four successful years of WoW, and for some reason I am sure you'll have at least four more years if not more of the same. Here's to you WoW, and to my friends currently dredging through Azeroth, it's been nice knowing you, but I understand your priorities lie with the Horde. It's cool. Someday the servers will go down, and when they do you'll either have moved on to an MMORPG or reintegrated into society. Here's to you.



Three years for the 360! On November 22, 2005 the Xbox 360 was released in North America to a gaming mass waiting for the next iteration of Microsoftís gaming console. Unlike its predecessor, the 360 was a stylish system that when it wasnít greeting players with a red ring was rather sexy when compared to the black paperweight known as the Xbox. Surely, Microsoft was off to a better start from a design point with its system, and there were plenty of other things for 360 fans to be excited about.

Iíd be lying if I told you I owned a 360 or desired one. The truth is that I have no desire for a 360. That said, the 360 does have several things that go great for the masses. If you were to ask me which system appeals most to true gamers right now, it sure as hell would not be the Wii. It depends on the avenue, but if youíre looking for games for adults that will make you say wow then the 360 is the system to have. From Halo to Dead Rising to Bioshock to GTA IV, there have been some heavy hitters for the 360 that would make the most hardcore gamers squeal with delight.

Of course, thatís not the only thing that appeals to true gamers. Of the three console manufacturers, Microsoft really does know how to best do an online product. Sonyís working on creating a good online product and Nintendo is being Nintendo, and while the bar has been set rather low by the competitors Microsoft has delivered a product that quite frankly trounces the competition. Itís really quite amazing and I give Microsoft kudos for their online platform. Their competitors could learn a thing or two from Live... they really couldÖ especially Nintendo.



Of course, Microsoft is not the market leader anymore this generation. While they were in the beginning, the behemoth known as the Wii has taken the title and ran with it. Is Microsoft going to sit there and just watch that happen? No! They decided they were going to revamp their dashboard and create a new experience that is enjoyable for all. It just launched, and as someone on the outside looking in I have to say that the avatars do look really cool. They offer customization that I only wish Nintendo had for their Miis. Did Rare rip off the Mii concept? Who the hell cares! Rare has created something with much more depth than the Miis of Nintendo, and I give them full credit for creating something much more interesting than the Mii Channel. Good job Microsoft and keep pushing along with the new experience.

Every console has its fair share of issues, and the same can definitely be said for the 360. Probably the most notable of these issues was the Curse of the Red Ring. Chances are you know someone who has suffered from the Red Ring of Death. In fact, you might know someone who has suffered from it multiple times. Truth be told, the initial batches of the 360 had some design issues. No one really knows what is it, but rather than screwing over consumers, Microsoft did a noble thing and extended everyoneís warranties. Thatís pretty nice, and it suggests that perhaps Microsoft is not the cold hearted bastard that its Windows operation suggests that it is (and it is).

So sales have been down in recent history for the 360, and one has to wonder what the future holds for the console. I honestly donít know if the console will see a rebound in sales, but I donít know if that is necessarily a bad thing. 360 owners like to buy third party titles, so itís an enticing console for those developers and publishers. So for developers, I donít see as much as a risk for releasing games on the 360 that I do for releasing non casual games on the Wii. While casual gaming dominates the Wii, real games dominate the 360, and thatís a great selling point for the console. Why not capitalize on that, Microsoft? Push your strengths, and it might help you in the long run.

Three years for the 360. What do you think has been the good, the bad, and the ugly? What do you think the future holds for the 360? Does the four year lifespan still hold true for Microsoft? Well, in a year we might just know. What do you think?



Two years, has it been that long? I guess it has been. Two years ago today the Wii was released worldwide, because Nintendo loves youÖ or so we thought. What has the last two years brought Nintendo and itís Wii? Letís delve into the past, and see where the future lies for Nintendo.

Nintendo had a cool concept. Motion control in a game, would it be a gimmick or a novel innovation? Well, two years has passed, and honestly, the verdict is still out. There are the games that just tack it on, such as Super Monkey Ball did. Did they even play test their game? Super Monkey Ball should have been great on the Wii. Alas, it was not. Fortunately, there have been games that do make excellent use of the Wii Remote, and these games shine amongst the games that treat motion control like an afterthought. Games like No More Heroes, De Blob, Zack and Wiki, and Metroid Prime 3: Corruption all make excellent use of the Wii Remote. Super Mario Galaxy was a refreshing reinvention of the platform genre. Truly there are the gems in what seems more and more like an endless pile of crap, and my, there is crap.

Why is there crap? Well, it might be because the Wii sells like hotcakes from McDonalds. It sold almost 850,000 units in North America alone last month, and quite frankly thatís impressive. Itís enough to make the Wii the clear market leader, and weíll talk about that later. But now, letís talk about the effects of being the market leader. See, being number one tends to bring a lot of crap to your console. Games like Target: Terror. What is that game like? Well, you know what Lethal Enforcers is, right? Well, it looks just like that, except with Terrorists. How novel for the Wii, especially when it could probably run on an N64. Great job there, Konami, you really must have been bitter after the sales of Elebits and Dewyís Adventure. I bought Elebits! Donít hate me! And donít think that itís just the third parties giving us steaming piles of shit. I see that the fourth worst ranked Wii game on Gamerankings is Donkey Kong: Barrel Blast. Now, I am sure that game is full of win, but the score speaks for the masses. And donít forget about Wii Music! Is that even a game? You decide.

If you would have told me with a straight face that the Wii would be far and beyond the market leader right now prior to its launch I would have laughed. I was a Nintendo fanboy at one point, but just because I was a fanboy does not mean that I am not a realist. Címon, Nintendo had a good idea, but was there really something as a casual gamer? I sure as hell didnít think so. I guess I was wrong, because as they sayÖ it prints money. Unfortunately, it only prints money really for Nintendo. See, the Wii third party tie-in ratio is rather poor. It seems as though the real winner in all this is Nintendo and the companies that realize shovelware. Itís sort of sad because it limits creativity. Why be creative when you can make money with a low budget piece of crap? Itís sad, and itís true.


Well, the future, what does it hold? Being on top means that Nintendo has the most to lose. Itís quite obvious that Nintendo cares most about the casual gamer these days, and it hurts. Nintendo really, really needs to either invest in games for gamers or encourage third parties to innovate rather than defecate. Maybe it could, you know, do both? Who knows, really? I certainly hope they do, because to a certain extent Nintendo has really tried to see what the breaking point of their fanboys is. Maybe to them thatís okay, but they have to realize that you can have your hardcore faithful in addition to being super trendy. Apple does it, somehow. Isnít that who Nintendo is trying to emulate anyways? Does that mean that weíll soon see a super thin Iwata in jeans and a black shirt with a goatee? God I hope so. The truth is though that Nintendo needs to know that some of Nintendoís biggest fans are becoming some very bitter people, and bitter people can bring some very negative press. Best then to keep the fans happy, I suppose. Might you start with localizing Captain Rainbow and Mother 3? Please? PLEASE?

Nintendoís console will probably have a bright future. I know I am personally as giddy as a schoolgirl for No More Heroes: Desperate Struggle and Mad World. I guess you could say Iíve become a person to enjoy violence more as Iíve gotten older. I also know that in the future Iíll probably own a PS3 to satisfy other needs. But donít you worry Nintendo, because youíve already made more than enough money off of me, and chances are youíll make more than enough money off of others. Congrats on that.

Well, what do you think? Where has Nintendo been over the last two years for you? Where will they be in the future? I know where I think theyíll be, but itís always more interesting to find out where you guys think the future lies, so tell us, wonít you?




Happy Birthday PS3! That's right, two years ago today the PLAYSTATION 3 was released here in the states, being the second region to get the behemoth known as the PLAYSTATION 3. At the time it was the BIGGEST, BADDEST, MOST POWERFUL console to date, and well, two out of the three of those descriptors still fit. Depending on how you look at it, those descriptors can have either a positive or negative connotation associated with them.

Let's look back shall we? Well, in 2006 Sony had far and beyond the largest ego of the three developers. A cocky arrogance, so to speak. The PlayStation 2 sold like hotcakes, so obviously the PS3 would sell like hotcakes as well, right? Never mind the price differential. I know inflation occurs, but damn, you paid a premium if you bought a PS3 at launch. So, looking back, is it that surprising that the PS3 hasn't sold so well? I wouldn't think so, but I certainly didn't expect it to be as piss poor as it's been. Maybe it was branding the PLAYSTATION 3 as PLAYSTATION 3. ALL CAPS IS GREAT!!!!L0Lz0r. Seriously, why? Was it arrogance? I don't know for sure, but I am certainly inclined to believe it was.

Grand Theft Auto IV was supposed to get people to buy a PS3. To a certain extent it did, but then it dropped off like your grandmother's fine china falls off the table when your two year old son gets a hold of it. Truth be told, the massive releases haven't really had the intended effect that Sony was hoping for. It's sort of sad, don't these companies learn from history? I remember some other company being an arrogant ass and in the process watched it's market share drop from first to third over two console generations. I guess these companies just don't like to read up on history.

Of course, perhaps the future will be better for Sony. I know that I really want LittleBigPlanet, and half of Japan really wants Final Fantasy XIII. Perhaps the PS3 will be a late bloomer. Time shall tell, but in the the past things haven't been so rosy for the poor PLAYSTATION 3. After all, The PLAYSTATION 3 is now referred to as the PlayStation 3. Did the marketers get tired of holding down shift or did Sony realize their arrogance? Who knows, but it does make you wonder.


So, 2 years down, how many more to follow? Clearly the 4 year cycle should be blown to nothingness, I hope. I honestly think the PlayStation 3 will have a rosier future. It really is a powerful, powerful system, and in time production costs will hit a sweet spot where the mass public can afford it. There are good games for the PlayStation 3, and someday maybe a lot of people will be fortunate enough to play them. Sony really, really needs to knock the socks off of the gaming public. Clearly non casual gamers feel at time disenfranchised with the current market leader, why not capitalize on that? Find a sweet spot to sell the console at. Promote the third party tie-in ratio. Push the value of the console. Stop running esoteric and crazy commercials. Sell and advertise what people want. I think Sony will be able to pull it off, and in the future you might just see Sony be somewhere rosier than they currently are. Time shall tell.

Two years down, more to follow. What's your take on the PlayStation 3? What has the past and future held for the console in your opinion? What must they do in the present? Are they doomed to third place? Have the mighty fallen again? Time shall certainly tell.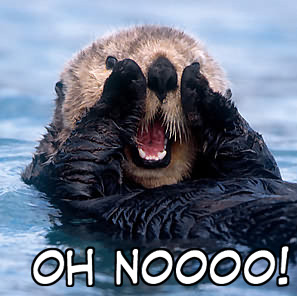 The OH NOOOO! Otter is concerned! See, the OH NOOOO! Otter has a side thing he likes to do when he isn't the OH NOOOO! Otter on this here website. It turns out that Mr. Otter is a mischief maker on EA's official forums. You might call him a troll, but hey, every forum has their troll, and well, we tend to ban them. I really don't know why Mr. Otter find it's necessary to be such a not so nice member on EA's official forum. It might be because EA has historically been an evil corporation. It could just be that he is a truly malicious person. But, EA is really getting sick of his and others antics, and they are going to raise the stakes in getting banned.

See, most forums just ban you from the site. That's what we do, and I imagine other sites do that as well. But see, EA decided to be truly malicious in banning. EA happens to use a wonderful piece of DRM known as SecuROM, which causes its games to call home periodically. Additionally, these new games all have an EA ID that spans across games. Well, EA has decided to tie your game EA ID to your forum ID. Big deal, right? Well, it is.

See, if you get banned on the forum now you're going to get locked out of your games, and well, that would truly suck. You paid for the games, so shouldn't you be able to play the games even if you get banned from some measly official forum? Well, EA doesn't think so. So yeah, play nice kids, and Mr. Otter, do be careful now. You never know when EA might lock you out of your games.

UPDATE: A Red Alert 3 Mod was lying. Way to represent the corporate behemoth! Turns out this was false.

Backtalk in EA's Forums, Get Banned From Your Games? [Kotaku]


For those of you who sort of follow gaming news, however few of you there are, probably have been following the Tokyo Game Show, which is probably the biggest show there is for gaming now that E3 is dead. Long Live E3. So, there are a lot of bombshells and great announcements to come from TGS, and if you want to know what they are I suggest you look at a website that blogs about games. Might I recommend Kotaku. See, I am not here to report all the crap that was announced at TGS. Rather, I want to start a discussion as to the things that excited us. Well, now that I got this out of the way way, let me begin.


Continue reading TGS is going on, what excites you?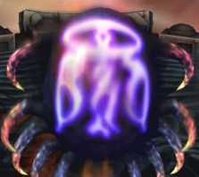 Praise the Gods! Our humble beseeching was heard by our humble lords. Our penitent pleas have been recognized by Yevon and in doing so he has ensured that the Wii was in fact the top selling console in Japan last week. What will Yevon do for us next week? Might he protect us from Sin? I only dread the thought of what city could become the next Zanarkand. They embraced technology too much, and in doing so were punished for the techological zeal. That's why I use a laptop powered by a hand crank, praise Yevon. Oh lordy, praise Yevon, for he is GOOD. Like I know that the Wii only sold 1500 more consoles than the 360 last week in Japan, but it least the cosmic order remains.

Oh merciful Yevon, what won't you do to protect your people? How we citizens of Spira praise your magnificence! Save Spira from Sin, in the name of Maester Seymour Guado! May we never experience the same fate as Zanarkand! Guardians, protect us!

Xbox 360 The Best Selling Console In Japan? Media Create Says 'No'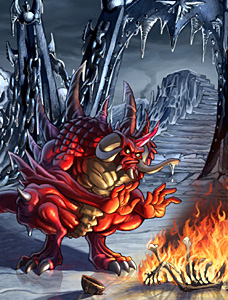 In what surely is to be a one in a lifetime occurrence, the Microsoft 360 was the top selling console in Japan for the week of September 8 through 14. It's... terrifying. What have we done to cause such a cosmic quirk to occur? Was it our capitalist overlords screwing with the subprime market, causing a financial meltdown? Could it have been the Japanese obsession with Used Pantie Machines finally caught up with them? Was it that as a world we're too preoccupied with shrubberies? I DON'T HAVE A CLUE!

Truly, someone must have done something to cause this strangeness to occur. It's not as though the Japanese could actually be genuinely interested in the 360, could it? I know it was popular in the US a couple months back, but the US and the Land of the Rising Sun are very, very different. They have Pachinko. We have Casinos. There's no way that the Japanese could be convinced to buy a 360 because of a price drop, could it? COULD IT? All I know is that last week the 360 was the top selling console in Japan, and it's scary. Such a freak oddity can not happen again next week, can it? CAN IT? I really hope not, I fear what would happen to the cosmos if it did.

OH MERCIFUL GODS! Hear my plea! Spare us from the impending cosmic rift! We humbly beseech you! We wish not to invoke your wrath! Please, take these shrubberies as a token of our most sincere acquiescence. Please, PLEASE! Don't let the 360 top the chart for another week, I don't know if the cosmos could take another week of such stress!

Holy Snot! Xbox 360 Tops Home Console Sales In Japan [Kotaku]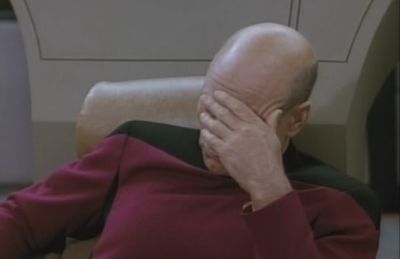 Well look at that, Nintendo isn't going to the Tokyo Game Show, but it turns out they are going to have a press conference of their own. This conference is going to be on October 2, which is actually before the start of TGS. What are they going to announce and talk about? Who the hell knows! Nintendo certainly does not, as confirmed by Edge. Well, that's just peachy. Chances are that it's a malicious lie, and they know exactly what they are going to be talking about, but they just don't want you to know. It's okay, we know how you feel, and so does Jean Luc Picard.

Who the hell cares? Nintendo clearly doesn't care about you much, so why should you care about them? After the riveting hardcore gamer announcement of Animal Crossing: City Folk, I have little excitement in what Nintendo is to announce. But, if this was a Sega Announcement regarding upcoming titles from Platinum Games, then, hell yes I'd be interested. I think the only thing that would remotely interest me would be an announcement that Captain Rainbow was being released in the US. The impact on Nintendo's image would be as beneficial to them as the Lehman Brother's Bankruptcy was to the Dow Jones. Certainly, it would be amazing.

So, do you care that Nintendo has a press conference in 2 weeks? Should you care? I don't think so, and I wholly expect Nintendo to announce some "casual gamer" nongames that will not interest me. Perhaps they'll interest you.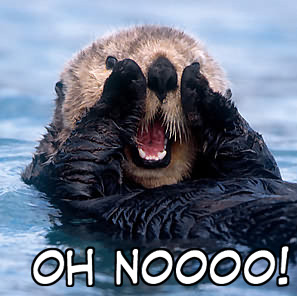 Oh dear, it appears as though EA doesn't realize that people really, really hate intrusive Digital Rights Management, which you might begrudgingly know as DRM. Some places do DRM right, like Valve. Sure only one user can have a game, but at least that user can install the game as many times as he wishes. Apparently, EA just wants to piss you off if you buy Spore. Never mind enjoying the game, let's find a way to punish you for being on of the righteous buyers of Spore. How does EA do that? By using SecuROM, of course. As stated on everyone's favorite encyclopedia, Wikipedia, "SecuROM is a CD/DVD copy protection product, most often used for computer games running under Microsoft Windows, developed by Sony DADC. SecuROM aims to resist home media duplication devices, professional duplicators, and reverse engineering attempts. The newest versions (v4 and up) prevent 1:1 CD-R copies from being made. Certain programs can circumvent its protection. The use of SecuROM is controversial because certain aspects of the protection are similar to functions of malware, and users are not always informed when SecuROM is included with a product."

So, what aspects of SecuROM make it hated? Well, SecuROM phones home. You want to install that game on your PC? Well, go ahead, you have three installs on three PCs. But here is the thing. Let's say you install on your desktop, and then it goes into an incessant Blue Screen of Death and you have to reformat? Well, you reformatted, so that PC is no longer authorized to play the game. So, there goes a second authorization. After three installs on "different" PCs, you're done with playing the game. Gone are the days where you could reinstall as many times as you want, and here are the days where you're stuck with what the publisher gives you.

Spore, happens to have SecuROM, the lovely piece of software that phones home whenever an update is done or whenever the game is installed. A lot of people don't like that, so much so that on Amazon the customer rating sits at 1 out of 5 stars with 2216 reviews and growing. Turns out people really, really, really hate the DRM known as SecuROM, and they've shown their ire through the Amazon rating system. As one such reviewer says, "First of all, the game incorporates a draconian DRM system that requires you to activate over the internet, and limits you to a grand total of 3 activations. If you reach that limit, then you'll have to call EA in order to add one extra activation. That's not as simple as it sounds, since when you reach that point EA will assume that you, the paying customer, are a filthy pirating thief." Doesn't that sound wonderful?

It gets interesting though. A few days ago, Amazon pulled the Spore reviews. A few hours later, they were back, and their absence was attributed to "a site glitch". You know, I can claim that monkey's fly out of my ass, but that does not make it true. I bet their statement on it being a site glitch is a dirty, malicious lie.

It's really a shame that EA had to sully Will Wright's game with DRM. It's even more sad that EA doesn't trust you as a paying customer, and thinks you are obviously a dirty, filthy pirate. Perhaps people would have not had this backlash if only EA trusted them to be righteous consumers. But no, look where we are today. Spore has a 1 out of 5 star rating on Amazon, and people are pissed. Here's to you, EA.

Ed Note: I just noticed that over the last month that "Oh Noooo Otter" was the number 3 referral for our site, just behind the keyword RF Generation. Isn't that fun?




It seems like just a few years ago that the behemoth known as EA had decided to close a revered studio within its ranks. While EA closed many studios during its ill-fated centralization, the closure of Westwood Studios probably was the most saddening closure for many. After all, it was Westwood Studios that gave the world the series known as Command and Conquer. It's a popular franchise you know, and I hear that Red Alert 3 is coming out soon. The closure of Westwood Studios was sort of bitter for many a RTS fan, but if the RTS fan was to know that it would set a precedent, perhaps they'd be more bitter.

News comes today of the impending closure of Ensemble Studios, the wonderful people responsible for the Age of Empires series. They also are working on the game Halo Wars, and now that game is wrapping up production it seems as though Microsoft has found it as a wonderful opportunity to shutter the studio. It's a shame. It really is. Are RTS's sell poor selling that a studio as storied as Ensemble Studios has to be shuttered? It's truly a shame.

Well, on the plus side, apparently there is a new studio running from its ashes. Is that true? Who knows, but it's still sad that Ensemble is closing. Thanks for the great series and RTS's you given us! You'll certainly be missed.

Shane Kim Delivers Death Blow To Ensemble



This is TraderJake's Blog.
View Profile | RSS

This is where my thoughts go and are never heard from again.

Well, maybe not, but this is the repository for all of my published thoughts and rantings. It'll make my day if you find at least 10% of it amusing and enjoyable to read.


Sorry for the other 90%.


Blog Navigation
---
Browse Bloggers | My Blog
Hot Entries
---
Hot Community Entries
---