November is already over? Time sure does fly, and another month brings a ton of new submissions to this place we call home. Just how many submissions occurred? Well, November brought exactly 4866 new submissions to the site. Of those, we had 1299 new images added to the site! Talk about a great month! You all were kicking butt with submissions!

Of course, one of you truly was the top submitter in November. That distinction goes to NES_Rules with 1304 submissions! Sure, he may be the Site Director but that does not mean he can't take top prize! Oh wait... sure it does. The top non-staff submitter was Bildtstar with 1025 submissions! That's more submissions than any staff member other than that certain Site Director!We also wish to thank Bildtstar for assisting with expanding our European PS2 database. It's appreciated, and we also appreciate everyone who submitted. We are truly grateful for all submissions, and though we can't thank each and every user we would like to at the least thank those users that submitted more than 100 things: Shadow Kisuragi, Tynstar, ApolloBoy, raffa1985, Necron99, and Alabama Shrimp. Thanks again to all made submissions in November!

Of course, member submissions are meaningless if people do not exist to approve them. I'd like to thank Shadow Kisuragi for being our top approver this month. He approved 1149 of the submissions. That's a lot. Of course, Paully3433, ApolloBoy, and Tynstar also helped with approvals, and it's appreciated!

So, December is here! Do you feel the Holiday Cheer? Here's to a great month of submissions!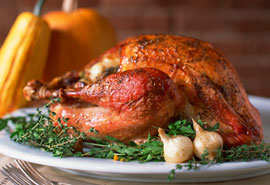 I know it is only Thanksgiving in the US, but I still want to wish all a happy Thanksgiving, be you American or not. For those of you that are, may the Turkey be plentiful and tasty.

On a completely different note, the Type of Release field is has been added to our database. At this time, you cannot see it on games or hardware pages because this is a mandatory field that will allow users to filter out entries they feel are extraneous from the database. Many users feel that RF Generation has grown beyond the original scope of the site. For those that feel that way, while we cannot undo the major changes in scope, we hope that this addition will help those that feel the database has grown to be unwieldy.

Please help our staff set types of release for all entries. Please note if you make any edit to the database you will be required now to also set the Type of Release field if it is not set. I must stress again that this field is mandatory.

Should you come across any major technical glitches with this please PM me about the glitch. Any questions or comments about the actual content of the field should be directed to a DB Editor or Mike.

I hope you enjoy this new addition, and oh yeah, Keep it on Channel Three.

-Your Friendly PHP Programmer


It's a bit past the end of March. March, was a great month. We have tons of submissions from you guys. Without the submissions of our staff and members, we truly are nothing. For that, we are grateful.

We'd like to take this moment to thank those submitters who made a major difference in the month of March. Overall, the community made 873 submissions. All of you deserve a huge pat on the back for that. Our top five submitters were Apolloboy, NES_Rules, Shadow Kisuragi, Necrosaro, and tigerhandheld1989 Congrats on being the top five! Of course, if you made a submission and weren't in the top five please know that we are also very grateful for your submissions as well.

Similarly, we have staff members that must approve member submissions. Last month, ApolloBoy made the most number of approvals! Of course, every other reviewer contributed as well, and we are very grateful for that as well.

Thank you so much all! You guys make RF Generation what it is! Keep submitting strong! Without you guys we are nothing!


As Site Director Emeritus (and Current Acting Site Director), I wish to announce the appointment of Adam Bickley to Technical Director of RF Generation.

What does that mean? That means that Adam is now responsible for the back end of the site. More simply stated, he gets to assist Mike and make sure the site runs smoothly from a simply keeping going standpoint. He will have a lot to learn, so be nice to him.

This may seem abrupt to some, but Adam has had access to the back end for a while as a third set of eyes watching over the site in the event the server has a "hiccup". He has the technical background necessary to keep the site in tip top shape.

In case you are wondering, Eddie and I will still be around. We are not going anywhere. We will still be the programmers. We will do what we can to bring new stuff to the site. I am about to lose internet for two weeks so my only internet comfort will be my test site. Maybe I'll tinker with something that is needed for the site...

Congrats Adam! I hope you find your new abilities exciting and don't use your new found powers for evil!


It's been a while since I last thanked you guys for your submissions, and trust me, we are greatly thankful. Without your submissions, our site wouldn't grow, and that would just lead to a greater obscurity than we already have. We don't want that. Did you know that in May we had 7800 submissions? Damn. That's a lot. Even wilder is the fact that we had over 5300 images added in that month. Pretty wild, if you ask me. As a comparison, in April we had 3106 submissions, which, while respectable, is greatly trumped by May's submissions.

What does that mean? Well, it means that some of you play to win a contest. And one of you did. Who is that winner? Well, we've tabulated the scores, and even with a halved score, Ga5ket is the winner! He kicked ass and took names with submissions over the duration of the contest. In May alone he had 3212 submissions, of which almost all were image submissions. Truly, he played to win. Ga5ket, do yourself a favor and PM St0rmTK421 with your shirt size, what you want (not to exceed $60) and details about getting your spoils to you.

Of course, some of you also played hard, and I'd like to give kudos to those who gave a valiant effort. y2ritchie, VACRMH, and Lios (even with the murderous -74 karma), you all did well. Of course, the last person in that list would have done a lot better had his karma not been so low, but yeah, don't worry, maybe next year.

There were countless other individuals that made submissions, and we are greatly appreciative for the contest. From all of us at RF Generation, thanks!


Wow, it seems like only yesterday, really. Interestingly enough, it's not. In fact, it's been 5 years since we launched. How time flies. Sure, a lot has changed since June 8, 2004, but we're still the same site at heart, and we'll continue to be the site that exists for you, our community.

Of course, some contest ended today. It seems as though in recent history contests start on April 28 and end on June 8. Some sort of symbolism, I guess. I hope you were taking part in that. The winner will be announced soon, basically as soon as I finish recoding the contest tallying script for submissions. Do you think I simply keep manual tabs on such things? Nah.

Hooray! Five years! What's not five more! To the future!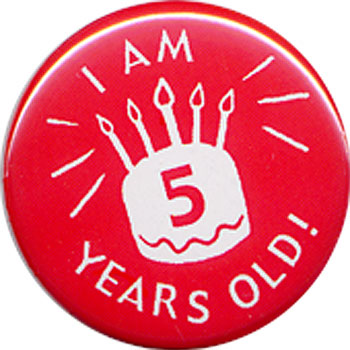 You know what? Five years on April 28 we came into being. Five years ago seems like such a long time ago, but it's true. We're really five years old. Are we getting up in age? You tell me.

A lot has changed in those five years, lots for the good, and some for the not so good. Whatever the ups and downs though, the truth is that we're still here and we're still going strong, thanks to people like you. Without you guys we'd be nothing, and for that we're truly grateful.

You know, with our birthday we like to do contests. This year is no different. As for what the contest is... why, it's the PAIN YOURSELF WITH SUBMISSIONS AGAIN CONTEST. We're evil, we really are, and we like to see you work for your spoils. Want to play? Here are the rules:

Submissions, they make the site go round. We just don't grow if we do not have anyone submit stuff. Funny how that works, and well, we do have one heck of a community that loves to do submissions. Perhaps, with this contest, you'll be interested in doing submissions as well. Submissions will garner you points, and these how are they are ranked:

Title Addition: 4 Points
Variation Addition: 4 Points
Page Edit*: 2 Points
Review*: 30 Points
Overview*: 10 Points
Image Upload: 15 Points
Submission Review**: 1 Point
Blog Post*: 30 Points
Blog Comment: 1 Point
Forum Post: 1 Point
Forum Karma: See Explanation

*Regarding the asterisk: For page edits, it is noticed that you are consistently only adding one field per edit multiple times for a single ID just to up your points, you will be disqualified. Any review or overview completed will count as a page edit as well the points for an overview or review. To get the points for an overview or review you MUST contact me via Personal Message so that I can keep a tally. In addition, the review or overview must be on the actual game / hardware page. A review or overview of poor quality could result in less points than stated being granted. The same statement holds true for blog posts.

Because we want the forum to be a lively place of fun and interesting posts, we're enabling Karma during this contest. Karma rewards members that make good posts and smites those who do not. Your Karma will play a wildcard role in posts. Positive Karma at the end of the contest will increase your point total by a factor, while negative karma will decrease it. The equation used to decide how karma affects your points will be announced at a later date before the end of the contest.

As with any contest, there is fine print. Any submission that you make must adhere to the RF Generation guidelines / policies. We wrote these policies and guidelines for a reason, and well, we'd like everyone to adhere to them. Failure to adhere to the guidelines could result in a disqualification.

Any point reduction or disqualification can be contested. In the event that you wish to contest, you must explain why the reduction or disqualification is unfair. If you win the contest, we'll restore your greatness, but if you lose, you shall be pelted with figurative rocks and garbage.

**KICKER! Everyone, except for the directors of this site, is in this contest. There is a catch though for staff members… their final score will be halved. So, that should lead to a lively competition. I think halving their scores is fair, and I hope you do as well. Oh yeah, there is that 1 point for a submission review, that unfortunately only applies to staff members because they are the poor souls who must review your submissions.

What do you win? Well, we're a poor bunch here at RF Generation, especially since we're on a dedicated box, but we've got a lovely prize for the top winner:

Gaming swag not to exceed $60 and an RF Generation Ringer T.

Also, anyone in the top 5% of points gainers shall get some sort of recognition, to be determined later.


So, won't you get started? The contest starts as of 20 hours ago (midnight last night). When does it end? It ends at MIDNIGHT, JUNE 8th, 2009. (Sunday 12:00AM) So, what are you waiting for? Have your cake and eat it too! Good luck!


You know what? We have a chat. It's absurd, and it's fun. Want to see a sample of our absurdity? Sure you do:



[23:32] *** TraderFake is now known as Alfaxxor.

[23:33] Alfabor: doesn't rhyme.

[23:33] Alfacor: ONLY ONE LETTER CHANGE

[23:33] Alfabor: nice try.

[23:33] Alfaxxor: I DO NOT CARE

[23:33] Alfabor: better luck next time.

[23:33] Alfaxxor:

[23:33] Alfacor: You don`t add more, you`re messing it up!

[23:33] Alfacor: Now he`s not gonna give you +o

[23:33] Alfaxxor: YES!

[23:33] Alfacor: YOU`RE MISSING OUT

[23:33] *** Alfaxxor has been kicked from #rfgeneration by Alfabor: you damn well better make your name right

[23:33] Alfabor: oops.

[23:33] Alfabor: he doesn't know how we roll, does he.

[23:34] Alfacor: Nope.

[23:34] Alfabor: whoops.

[23:34] Alfabor: oh well.

[23:34] Alfabor: well, he was a nice guy.

[23:34] Alfabor: way to lose that member.

[23:34] Alfabor: he apparently does not have autorejoin

[23:34] Alfacor: Yep, he`s gotta do it right.

[23:34] Alfabor: so... will he ever come back.


And that is the $64,000 question. Did Lios come back? The only way you will know is if you join #rfgeneration. So yeah, won't you join us? JOIN US, WON'T YOU?






March. It's the month after February, and see, it's another one of these months of the year. And with each passing year comes new submissions for the site. Last month saw 2894 new submissions for the site, of which the games database saw 2818 new submissions. You know, I think you can hear the hardware database crying in the distance because it's being neglected. Won't you do something about that? Ah, I kid, I kid. Sure, submit more stuff for the hardware database, but over 2800 submissions is no small feat, and I am ever appreciative for that. Also, we added 466 new images to our databases last month. That's nice, isn't it?

So, who kicked ass, took names, and reigned as the top submitter last month? Why, it was our prodigal son, Izret101! I guess being away from staff duties for a long time made him really want to make 836 submissions last month. Although, he could just be driven. Who knows. Of course, ApolloBoy, Madir and Pop Culture Portal weren't really slacking either. They were the next highest submitters, and kudos goes to them. Of course, we want to recognize everyone who made submissions last month, and give kudos to those of you that made more than 50 submissions last month:

Izret101, ApolloBoy, Madir, Pop Culture Portal, ga5ket, Tan, audioman83, Funk_Buddy, Zenki.

Thanks goes to them and everyone else who made submissions last month!

In addition, many of these submissions need to be approved by staff members. Last month, NES_Rules was our top approver, with a whopping 390 approvals. Of course, many other staff members approved your submissions, and thanks goes to all of them, especially those who made more than 50 submissions:

NES_Rules, ga5ket, ApolloBoy, Tan

I really appreciate all of you who have reviewed the submissions and made the submissions. It is YOU guys that make our site grow. I just provide the scripts that allow you to do it. From all of us at RF Generation, Thanks!


You know, the Church of RF Generation was fantastic. It might have been a little late, but late to the party is better than no party at all. I'd like to give Den props for the idea, images, and color palette. It truly was fun.

As many of you know, we started our server move Sunday Night. It didn't exactly go to plan. Something bad happened which kept us from coming back in time. In that emptiness, I hope you found something to keep yourself occupied. If you didn't, rest assured that we are back and on a new, faster, better server. It's nice. Also, we have a better control panel and we we're saving six dollars a month. Hooray to that.

I hope you enjoyed our April Fools joke. It was fun. If you're new here, April Fools is a High Holy Day for RF Generation, and we go all out. Additionally, we do not take suggestions for April Fools, so don't even try. I'll ignore any message regarding it. Might even block you. We take pleasure in knowing that only a certain few people know the gag, and it's generally a surprise. From Composite Generation, to Pretty Generation to Toddler Generation to Geriatric Generation to the most recent Church of RF Generation... we love April Fools. Until next year!


This is just a notice to let you know that we begin the process of moving to a new server tonight at 10PM Eastern. I haven't disabled anything yet, but chances are somethings might get disabled during the move. Things might be pushed into read only mode, I am not sure yet, but I just want to give you kids the heads up before some kids start freaking out.


Our host has offered to upgrade our server for free. Better yet, the new server will be 10 dollars cheaper a month. Needless to say, we're moving servers. Image Submissions are disabled until we finish the move, which hopefully will be wrapped up by the end of Tuesday. Other things should remain online since the mySQL tables are pretty portable. We'll keep you posted to the changes, and if anything should go awry, our emergency blog will have the information you're probably going to be looking for. We don't anticipate any significant downtime, but it's always good to be prepared.

Thanks for supporting us, and we hope to see you on the flip side of the server move.


Wow, it's been a while. I am really sorry about that. You guys deserve more credit than when I feel like it. Hopefully we can get more consistent updates as to our database's grow from here on out.

Anyways, we've had quite a few submissions in the last two months, 4989 to be exact. 2167 new images. Damn! Who did all these submissions? Why, it's people like ga5ket, who is kicking ass and taking names as the top submitter so far of 2009! But, he's not making submissions alone, Pop_Culture_Portal, Funk_Buddy and Fuyukaze are right behind him in the hunt for top submitter. They're not alone though, and these people have also done their part to keep our site growing with 50 or more submissions in the last two months:




ga5ket
Pop Culture Portal
Funk_Buddy
Fuyukaze
Tan
ApolloBoy
y2ritchie
eaglebeak99
Donkey Kong Kid
Madir
NES_Rules
theGrue
Sirgin
Data
Tynstar
Cambot


Zenki
Moriya Hanzo
Darth Sidious
Rajaat the Warbringer
sharp




Of course, when there are all these people making a whole hell of a lot of submissions, we need to have a dedicated group of staff members to review your submissions. Well, who's been doing that, you ask? Why, it's been mostly Tan and NES_Rules, our number one and two reviewers! Of course, Apolloboy, Fuyukaze, bum-man, and Funk_Buddy haven't been slacking around either each doing their part for more than 50 submissions in the last two months. Thanks goes to them for their hard work.

From the bottom of our hearts, thank you all for your submissions, even if you didn't make enough to get mentioned explicitly in our post, know that your submissions keep our site growing and strong. For that, we are truly thankful.


Wow, I didn't really expect the outpouring that we have received. On January 11 we posted a finance update, and since that time you guys have really came through with the donations. I'd like to thank the following people for their recent donations:




Alfador
BadEnoughDude
cverz2
Cobra
eaglebeak99
ga5ket
Hedonism Bot
Izret101


kevincal
Kimoosabi
logical123
Marriott_guy
Mrs C


NES_Rules
Nik the Communist
OatBob
phoenix1967
shoes123



On behalf of everyone at RF Generation, I thank you for your donations. It really helps keeps the site running the way its meant to be! Your donations keep this site going and ad free. The community is truly grateful for the donations that you all have made.

Of course, if you would like to still donate, we are always accepting donations. Any donations made will solely support the operation of the site, and we will always appreciate the donation. If you are interested in donating yourself this link has the info necessary for donating.

Again, from all of us at RF Generation, thank you for your donations. It truly has touched our hearts.


As many of you know and experienced last year, RF Generation went from a shared hosting solution to a dedicated solution over the course of two months. It certainly was a tumultuous two month period which rather cruelly began on April 1, which for those of you that are new is a high holy day at RF Generation. Needless to say, we've been on a dedicated solution since June and with such a solution comes significant costs.

In case you're wondering, RF Generation costs 90 dollars per month to operate currently. The site, as you may have noticed, does not currently have any ads on it, and well, we'd like to keep it that way. So, you might be wondering how this site is funded.

To say that RF Generation is nonprofit is a huge understatement. While the fact that RF Generation is a nonprofit site (after all, it's your site) is true, it's also true that RF Generation relies solely on donations to keep the site running. Sure, we have the store, but to get that revenue you need to have a certain number of sales and frankly we don't have that many sales to sustain the site or even cash out a check.

Every month that we do not receive enough donations to cover the cost of the site the remaining cost is split between two people, St0rmTK421 and myself. While the first few months had been okay for server costs, towards the end of 2008 our donations were rather few, and we found that more often than not the two of us were footing most of the bill for the site.

So, why am I writing this? Well, I just want to let you guys know how revenue generation is going with the site. I also want to write this to make a personal plea to all of you to consider donating to keep the site running. Ninety dollars a month is not cheap, especially when one of the two people on the hook for the tab was smacked with a four day furlough, which while he appreciates the time off, hates the pay deduction. God bless America. So, please, please, consider donating. Every little bit helps. I mean, if the entire site donated a dollar we'd be good for about two years. That won't happen, but please, consider donating. RF Generation is great, we want to keep RF Generation ad free for as long as possible. Donations allow us to do that. While I can't guarantee any snazzy features for donating right now we would be forever grateful and you might get to see somethings in advance of their release, but then no guarantees there. Donating is a noble cause that keeps the community's site going. Please, consider donating.



This is TraderJake's Blog.
View Profile | RSS

This is where my thoughts go and are never heard from again.

Well, maybe not, but this is the repository for all of my published thoughts and rantings. It'll make my day if you find at least 10% of it amusing and enjoyable to read.


Sorry for the other 90%.


Blog Navigation
---
Browse Bloggers | My Blog
Hot Entries
---
Hot Community Entries
---