Hey now, my fellow esteemed RF Gentlemen. It's been an eventful couple weeks, rife with amazing scores and near-crippling illness. But since none of you care about the latter, I'll just focus on the former as...
Zagnorch Productions
in association with

presents
SEVEN FOURTEEN-DAY SCORE CARD:

SPUD FEVER!
Week of 11 May to 24 May 2014
Sun 5/11:
Found myself a PC classic, a complete
Wing Commander III: Heart of the Tiger
for $5.99. I also discovered Sony's less-than-stellar attempt to ape
Super Smash Bros.
, a complete
PlayStation All-Stars Battle Royale
for the PS3, for $1.99.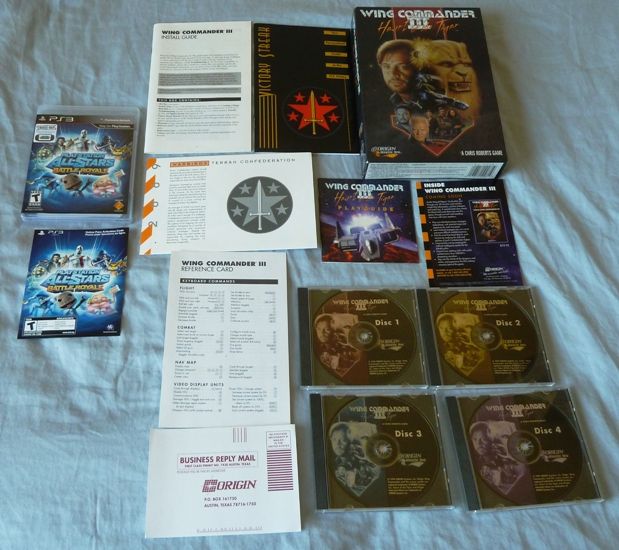 Mon 5/12 through Thu 5/15:
This sparse stretch of scores commenced with the discovery of a sealed
Balance of the Planet
, a self-published PC title from the early 90s, on special for $2.60. I also found a fuchsia GBA for $4.99, a complete
Dark Cloud
for $4.99, and a loose
Altered Beast
LCD watch game for $1.99.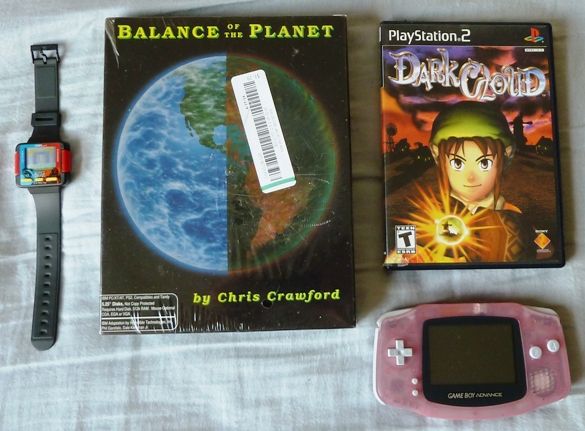 Fri 5/16:
Grabbed a nice chunk of reading material today, including ten back issues of
Nintendo Power
, two
EGMs
, and a
GamePro
, all for $3.50.
Sat 5/17:
My CIB PC game streak continued with the acquisition of
Disney's Stunt Island
at the local Savers for just $0.49. Then I hit the Goodwill down the street and picked up the following CIB DS titles for $9.99 each:
-
Legend of Zelda: Phantom Hourglass
- Diddy Kong Racing
- Tetris DS
- Yoshi's Island DS
- Animal Crossing Wild World
- Space Invaders Revolution
Sun 5/18 and Mon 5/19:
My last stretch of thrift scores before the failure of my health commenced with a Prima
Star Wars Battlefront
strategy guide for $2.99. Then there was the cache of CIB PS1 titles--
PaRappa the Rapper, Tempest X3
, and the Greatest Hits release of
Castlevania: Symphony of the Night
-- for $2.49 each.
Also uncovered: CIB copies of
Serious Sam, Cold Fear,
and
Super Monkey Ball adventure
for $3.49 a pop. Oh yes, there was also the GameShark v2.0 Video Game Enhancer unit for N64 for $4.99, and a small Sonic plush for $0.99.
But the most interesting score from this two-day stretch was the
Super Mario World
LCD watch game-- which sports a headphone jack-- for $2.99.
Tues 5/20 through Fri 5/23:
Absolutely no action at all as I recuperated from my first cold in over two years. And boy, was it a big one, just devastating in its intensity. Just how bad was it? So much so, that I resorted to using something I absolutely cannot stand:
So I rested and occupied myself with non-strenuous endeavors... which I might discuss at further length one day.
Sat 5/24:
I rebounded with a little lunch-break score at my fave Goodwill, which included
Donkey Kong Country, Super Mario World
and
StarFox 64
for $4.99 each.
Rounding out this two-week stretch of scores was a little "care package" from the wilds of Spudville, USA:
This box was the culmination of a trade between myself and RF Gen's very own 413th Technical Entity. He had an extra CIB copy of
Silpheed
for Sega-CD that I coveted, and I had an extra complete loose Dreamcast he was interested in.
So we agreed on a trade, and I dragged my feet for several months until I got off my ass and contacted him again, asking if he was still interested in the deal.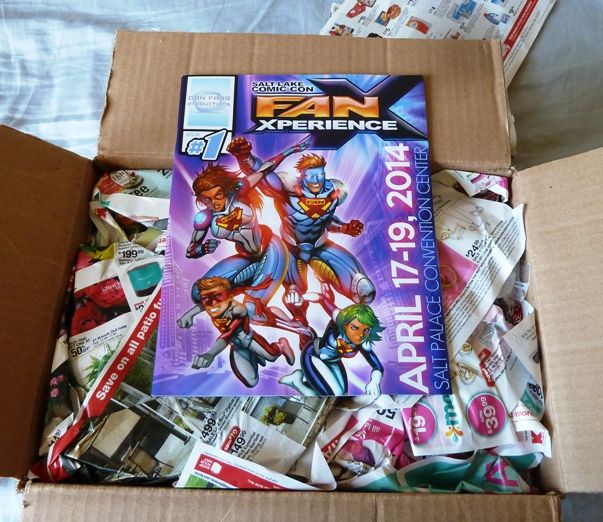 Being the extremely patient and fine, upstanding citizen he is, Mr. 413 was still game (so to speak). So I shipped my end of the trade off to the guy...
...and I waited patiently for my end of the deal to arrive. Little did I know he was gonna clean out his garage and send it to me.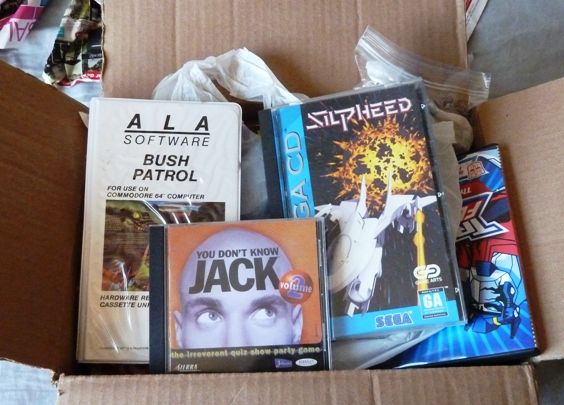 Just layer after layer after layer of (mostly) neat stuff. The man's generosity knows no bounds. The archaeological dig continued, my guilt level increasing with each new discovery. If I was getting all this in exchange for a lousy Dreamcast, imagine what I could have gotten in exchange for a real system. You know, like a Nokia N-Gage or a Virtual Boy.
Speaking of Virtual Boy: Mr. 413's first gesture of kindness towards me was a battery pack for the VB system. He also hooked me up with a
Silent Service
cart a few months back to go with my box and manual.
The most surprising portion of this care package: a Timex Sinclair 1000 computer unit with box, manual, AC cord...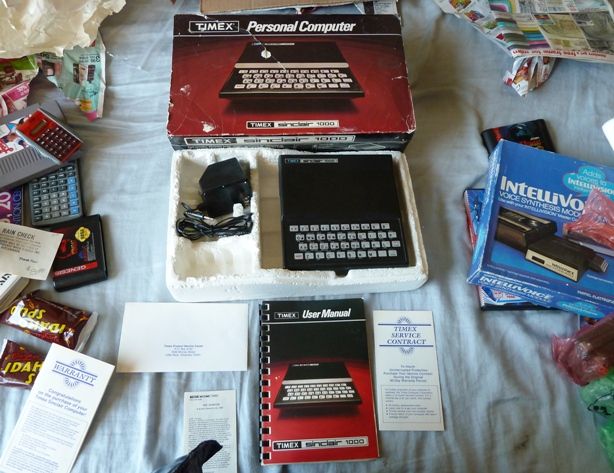 ...and a rain check.
Oh yeah, I also got these in the deal: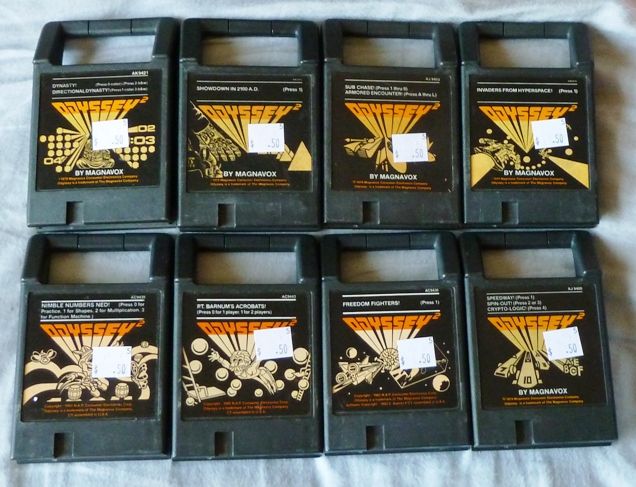 Gotta remember to throw the guy a couple PS3 bumper stickers and letter openers to show my thanks.
Non-Vidya Bonus Bonanza:
The usual suspects abound here, including:
- Three TI BA-II Plus calculators, $2.49, $2.99, & $3.49
- TI BA-35 $2.49
- TI BA-35 Solar $5.39
- Sporty's E6B Flight Computer Calculator $3.99
- TI BA-20 (Miller Pride), $2.49
Aaaaaand that's about it for now.
Catch y'all next week...
...'Late