Hey now!
Yikes... I've been working on this off and on for almost a month now. What can I say: the demands of work and other high-priority things kinda slow down the whole blog-writing process.
In any case, I'll now reveal to you my Tuesday finds from May, which was fairly weak right up to the final Tuesday... and then the floodgates opened somethin' fierce.
May 1:
I hit a couple places after work and came away with:
- Super NES console $5.00
-
Namco Museum 50th Anniversary
(Greatest Hits) PS2 $2.99
-
Super Mario Ball
(AKA Japanese
Mario Pinball Land
) $1.99
-
Super Donkey Kong 2
(AKA Japanese
Donkey Kong Country 2
) $1.99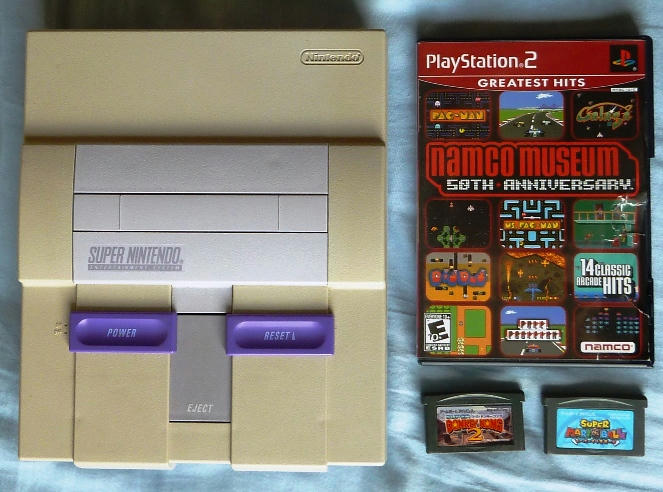 Weird thing about the Japanese GBA games: I bought 'em at a place that usually premium-prices imports and rare second-hand games. I was so sure they'd be priced above what I'd be willing to pay, I almost didn't bother to ask the clerk to pull 'em outta the display case. For the first time in a blue moon, going against my better instincts actually paid off...
May 8:
I found no games or hardware, just a lotta reading material.
- Fourteen
Nintendo Power, GamePro,
and
EGM
back issues, $0.29 each
-
Marvel Ultimate Alliance 2
strategy guide, $1.99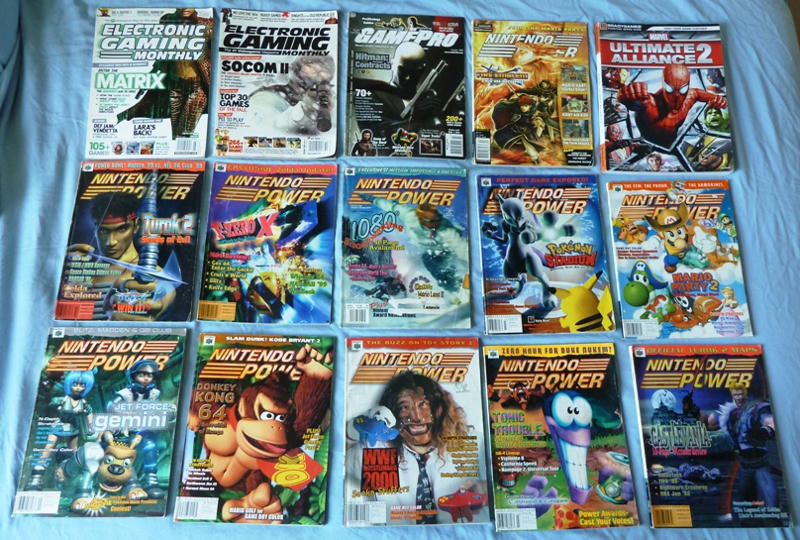 May 15:
-
TMNT: Mutant Melee
(Xbox) $3.19
- Nintendo 64 12-cartridge cabinet $2.60
I'm actually using the N64 cabinet to store my loose SNES carts in; apparently they were designed to hold either type.
May 22:
- Official
PlayStation
Magazine back issue $0.29
- Prima
Conker: Live & Reloaded
strategy guide $2.00
- BradyGames
GTA: San Andreas
strategy guide $2.00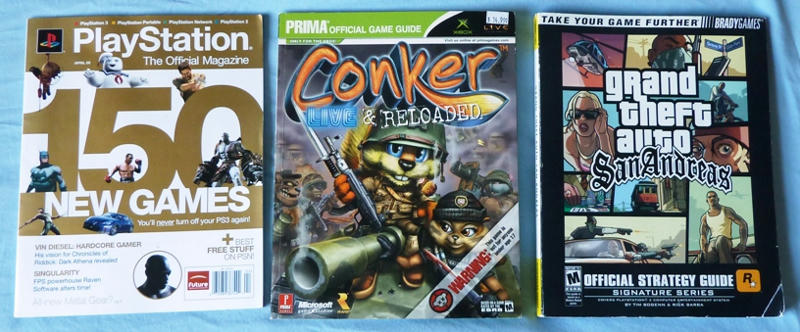 May 29:
Now, THIS is more like it:
- Four
Nintendo Power
back issues $0.29 each
- Six
Official Xbox Magazine
game demo discs with sleeves,
$1.99
$0.99 each
- Joytron Strap Touchpen for DS, $0.79
-
Pokemon Battle Revolution
Nintendo Power strategy guide $1.50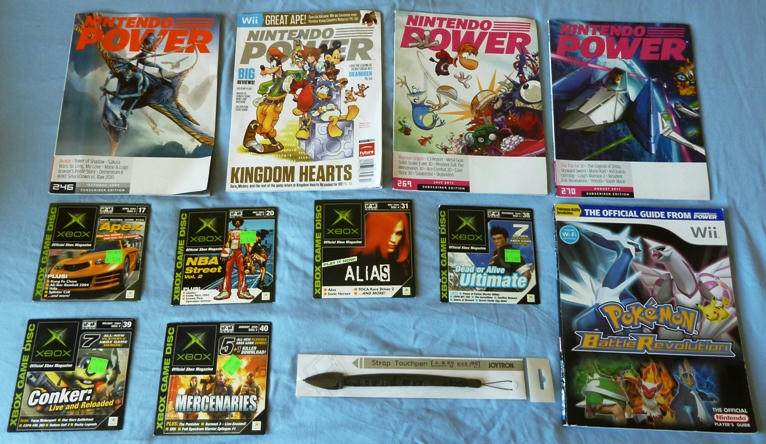 -
Populous
(SNES) $1.99
-
Namco Museum Remix
(Wii) $5.95
-
Pokemon XD: Gale of Darkness
(GC) $0.95
-
Guitar Hero
(PS2)
$3.99
$0.99
-
Guitar Hero II
(PS2)
$3.99
$0.99
- A trio of CIB Master System games for
$2.99
$2.09 each:
-
Choplifter
- Alien Syndrome
- Missile Defense 3D
- A pair of CIB PSP games for $1.95 each:
-
Crush
- Crisis Core: Final Fantasy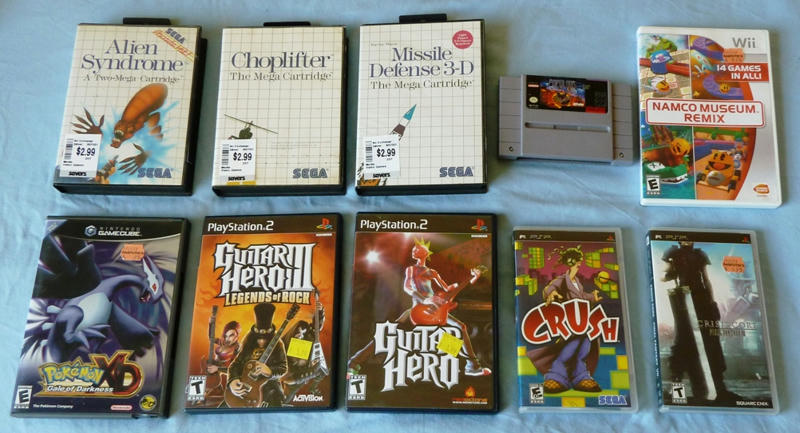 The biggest pick-up of the day, however, was:
- Blaze Twin Shock Home Arcade 2-player controller for PlayStation (and PS2), $11.99.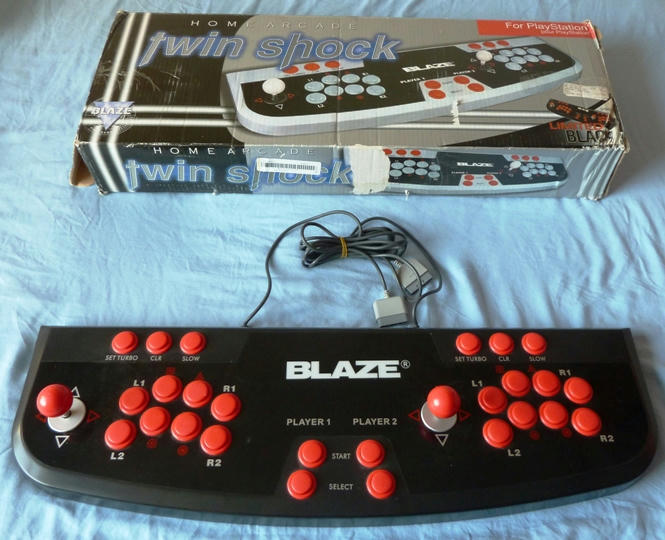 Finally, then there was this $1.99 grab: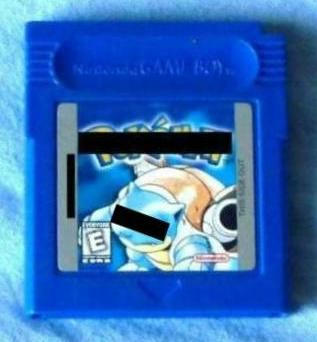 (Don't tell You-Know-Who about this one)
The TL;DR Sidebar
May's biggest non-gaming Tuesday score:
I found a boxed Nerf Vortex Praxis disc-shooter for just $5.99.
Like this, only the box wasn't in as good a condition.
I'm pretty sure someone messed up on the pricing at the Goodwill where I picked this up. Now,
that
is some crack-smoking pricing I can actually get behind! Speaking of which...
May's biggest crack-smoking moment
almost went to the Gilroy Goodwill, which was asking $19.99 for a standard-ish GameCube controller. That's right,
just
the controller; I asked about it, and they confirmed it.
But the Morgan Hill Goodwill claimed victory when I discovered a sealed pack of three Game Boy Advance 3-cartridge cases like these...
...for $19.99.
Yes, you read that price correctly.
$19.90-freakin'-9.
For plain ol' plastic cases.
Without any games in 'em.
Needless to say, they're really hittin' the pipe down in Morgan Hill...
'Late