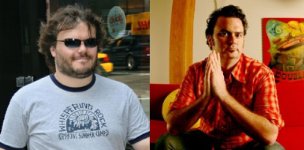 From the category of EXTREME RUMORS, Kotaku mentioned that The International House of Mojo, a LucasArts/Telltale Games/Double Fine fansite, ran a story talking about the new game from Double Fine that will supposedly be revealed at Leipzig during Tim Schafer's (head honcho of Double Fine and designer of Day of the Tentacle and Grim Fandago at LucasArts) keynote speech on creativity in the games industry. The new game is reportedly called Brutal Legend and will star Jack Black as a roadie who dies, is banished to hell, and must get to rock heaven. Since that story was posted at IHOM, Double Fine requested that they take down the story, which we all know means that there must be some merit to it.

Plus, notice the picture of Jack Black I included with this article? It's from Kotaku's article about the story. See what Jack Black is wearing in there? It's a Whispering Rock Psychic Summer Camp shirt from Double Fine's webstore! So, we know that Jack's a fan of the game, which gives this rumor even more merit since Jack is a huge star and Psychonauts, their first game, was critically lauded but not accepted by the public. Maybe they thought that by having Jack Black on board, they would be able to get more public attention and still keep the Psychonauts style of gameplay.

Personally, I think this rumor has a rather large amount of merit to it even though IHOM retracted the story. But of course, I'm a big fan of Tim Schafer and Jack Black, and it would be the most incredible thing ever if they were to team up. Maybe I think it's got merit because of how much of a fan I am of them.