Greetings bipedal organisms. It has come to my attention that we as human beings (or you as whatever you are) need food to live. While eating a few meals a day typically sustains us, we often crave something more: a snack! We also like to combine our snacking with doing things we love, such as playing video games. Woe is us, however, as many of us fall into bad snacking habits while playing. Since the holiday season is upon those of us in the good ol' US of A is mainly about eating (don't let anyone tell you otherwise), I figured it would be a good time to address the pressing issues about safe snacking.
This problem recently reached a head when I bought myself an Elite Controller (for $150, that's $201.29 for our Canadian friends, as of this posting). That is an obscene amount of money, and I am not trying to ruin it. I've always been conscious of what condition I keep my controllers in, but the recent acquisition of a small country's GDP in my hands led me to take a closer look at my gaming related snack habits, which I hope to share with you.
The culprit: Cookies
Why they are a bad choice:
Cookies are a pretty crummy choice (he he he) for snacking while getting your game on. Oreos typically crumble all over and chocolate chips leave candy residue on your hands. Sugar presents a hazard all its own. And don't even get me started on the introduction of a dunking-related accident to an already precarious situation, especially since no one likes crying over spilled milk.
What to replace with: Candy
Candy seems like an odd choice at first; it leaves the same chocolate smears, and leaves a mess. A smart choice and proper handling can be a great fix to your sugar rush needs. Candy bars are typically shipped in a wrapper, which is great for holding it in place. M&Ms have a thin candy shell. Rolled candy, like Sweet Tarts and Sprees, as well as other hard candy is usually not handled by hand, and fit in your mouth in one bite.
Stay away from sticky, taffy-like, candies. Sour Punch Straws should be avoided like the plague, and the Nerds Rope is a trap. It lures you in and then covers your hand in sticky residue that makes honey look jealous.
The culprit: Potato Chips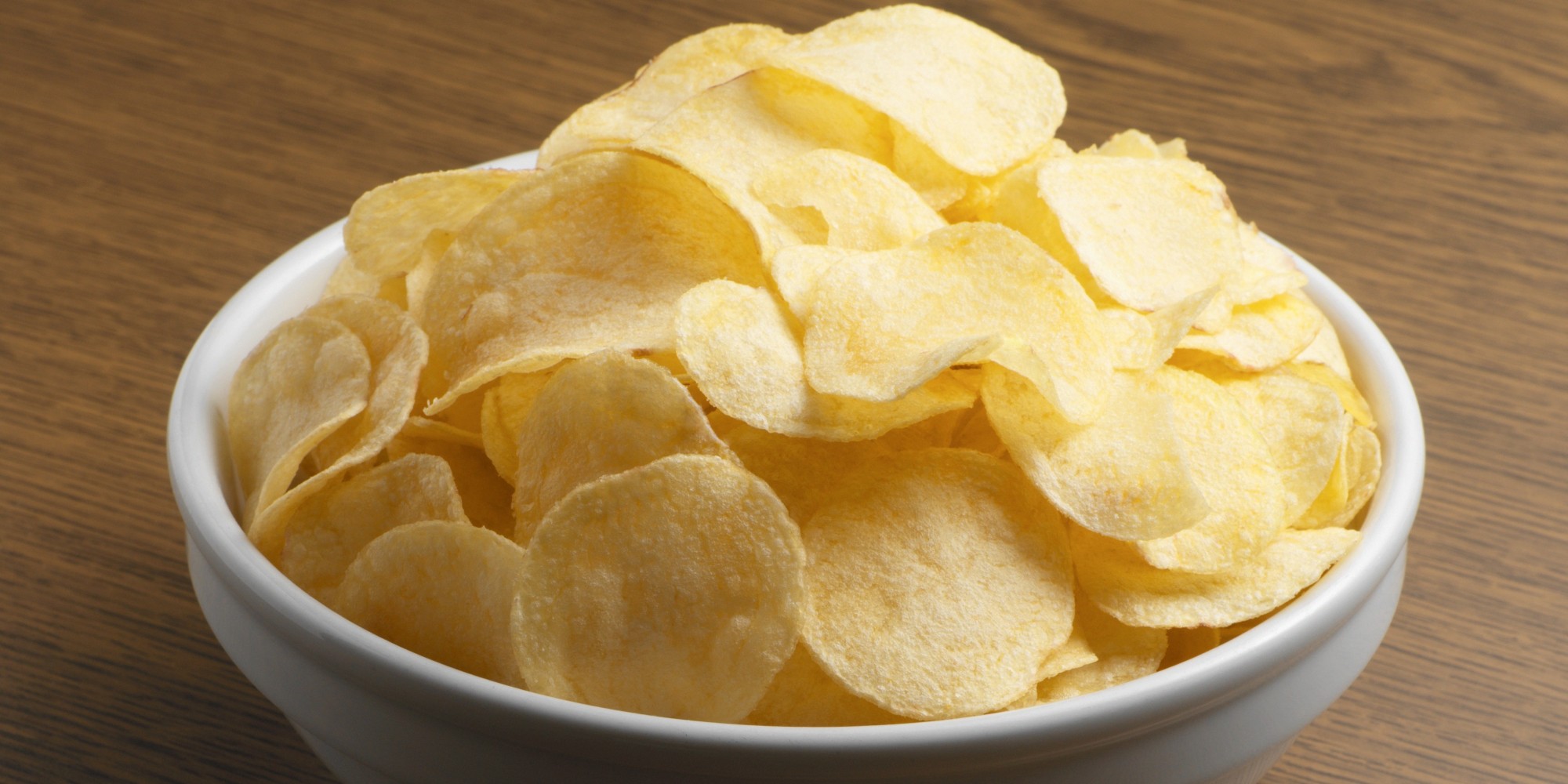 Made from taters. You know...Po-Ta-Tos. Boil 'em, mash 'em, stick 'em in a stew?!
[/b]
Why they are a bad choice:
Potato chips are greasy, which spells disaster for your controller. Salt and oil leaches into every crack and crevasse and is neigh impossible to clean. Chips tend to crumble at the slightest breeze and get everywhere...and I mean everywhere. Working in a game store, you find all sorts of stuff in controllers, and pieces of chips tended to be pretty frequent.
The crunch presents a problem all its own. Trying to hear anything in a game over the sound of a thousand tiny jackhammers going off inside your mouth is pretty much futile. Communicating with teammates in an online game is just as obnoxious. I've quit more games than I can count over someone eating chips into a microphone.
Flavored chips present a problem all their own, but I'll save most of that rant for a bit later.
What to replace with: Pretzels
The mighty pretzel is not a perfect choice, but nonetheless remains an acceptable alternative to the potato chip. The salty nature and flavor is a pretty good analogue, without all the grease. They are still crumbly, which is why you should stay away from any pretzels that are not bite sized. Their main drawback is that they are loud, even louder than the chip. Trainwreck loud. Save this snack for some solo play, or at least anything where sound isn't an integral part of the experience.
The culprit: Apples and Oranges


Everything is wrong with this.
Why they are a bad choice:
"But Neo! How could fruit be a bad choice?! It is good for you, and still tastes great!" you may ask. Oranges are filled with sticky juice that gets all over your hands, no matter how hard you try. Orange Oil, removed from the rind typically as L-limonene, is pervasive and stains anything within a five mile radius if mishandled. It also stays on your hands much better than what a typical napkin can remove. The constant rubbing onto a controller should do the job though.
Apples are just as bad. Once you remove the skin, via the first bite, apples literally hemorrhage juice! You also eat your handhold with each bite, leaving you less and less to grip. Speaking of gripping, who wants to hold an apple while they play a game?
What to replace with: Grapes
You should be noticing a theme here: bite sized is the way to go. Grapes, while still juicy and good for you, keep their juice inside very well. They also fit perfectly inside your mouth in one bite, making way less of a mess. Seedless grapes are the preferred fruit of choice here, as having to spit out seeds seems like a mess waiting to happen.
The culprit: Cheese Curls. You knew this was coming. I'm not sure why you are surprised.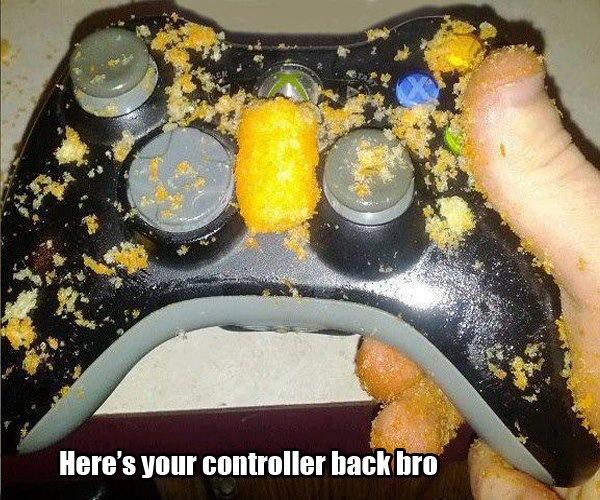 Why they are a bad choice:
Cheese curls get everywhere. No matter how hard you try, you will leave everything covered. No one is safe from your orange covered plague. Cheese curl dust is the kind of dust that makes regular dust think "Man, we should really clean up this joint." If it would be possible, I would file a restraining order against every bag of curls, puffs, and powder coated snacks (thought I forgot Doritos, didn't you!) on behalf of my controller collection.
Cheese curls are also super unhealthy for you. Oily, fatty, and greasy: the holy trinity of awful. Go drink motor oil...you might live longer.
On the plus side, they make excellent fire starters:
What to replace with: Goldfish
Goldfish still give you all the good parts of a cheese curl (crunch, cheese flavor, etc) without all the death and mess. Baked, not cultivated from the depths of the earth, Goldfish provide an easily accessible snack, with very little mess. Bonus: you can use the bag and just pour 'em into your mouth! Stay away from other cheese-based snack crackers (Cheez-its and Nips), as they are coated in powder usually and create almost as much mess as the curl.
This guy won't look so smug in my stomach.
This isn't even an exhaustive list of all the things that need to be considered when practicing "Safe Snacking." I could go on and on...but that will have to wait until part 2. Let me know what you think, and what foods you would like me to cover next! Enjoy your ThanksGaming, and until next time!
~ NeoMagicWarrior