Lately I've been digging deep into the world of Super Mario, from the 1985 NES release and working my way towards Odyssey, leaving no Goomba unstomped. Many of these games I've played many times, but there are several I hadn't played before and I got to experience them for the first time. Currently I'm 15 games into my project and got to revisit the GameCube staple, Super Mario Sunshine. This game has always stuck out in the series to me, but I haven't quite been able to articulate why. Having so many Mario experiences in such a short time I feel has finally given me the perspective I've always lacked and may allow me to better discuss why I think Super Mario Sunshine feels so out of place as a Super Mario title.


Continue reading We Need To Talk About Super Mario Sunshine




It seems weird highlighting a game that had a Player's Choice release and is based off of a hugely popular Nintendo character, but many people seem to look past this game. While Wario World definitely doesn't live up to the high standards of the 3D Mario Platforming games (which it would no doubt be compared to), it rightly deserves its own spotlight.




The graphics really aren't anything to write home about, but the overall art style makes up for that. The levels and characters are all brightly colored and vibrant (Carnival theme, jungle theme) or dark and gloomy (Ancient Egypt theme) when appropriate. Everything has a rounded slightly cartoonish look to it which suits Wario as a character. Sure he is a villain, but his reputation is as a comical villain so it works nicely.

The game is played almost in a 2D fashion. The camera is fixed on the side so it has a side-scroller feel to it, but at the same time you have some 3D depth to move around in. And the level design it really great! Along with your standard "reach the finish" goal of most platformers there is an excellent mix of fighting, exploring and puzzle solving. And it wouldn't be a true Wario title with out a little treasure hunting and mini-gaming thrown in for good measure. If you're one that finds typical platformers too repetitive you may enjoy this title more as it breaks up the platforming with the other styles of gameplay, although they are still very platforming based.

Now my (and many others) main gripe with this game is the length. Even if you're going for the perfect file with all treasures you probably won't spend more than 10-12 hours on this game. Just a straight ol' run through will probably net you around 7 hours of game time for a first playthrough.




If you're looking for a slightly unusual platformer with many little quirks thrown in this is probably the title for you. Or if you're just looking for a fun, cheap game to kill an afternoon or two with this would definitely do the trick. Looking for something with a lot of depth that you can really sink your teeth into... keep looking. For everything Wario World is it is wonderful.

6/10




This was the first release of the infamous Capcom Five (4 in reality and 1 if you want to be even pickier) for the Nintendo Gamecube. For myself PN03 really captured that old 2D Arcadish feeling but with a 3D environment. I cant really think of any other game that has done that for me.





First of all as far as 3D games go this one is quite short. This is remedied by having multiple difficulties and a large amount of unlockables. Even though this game can be finished within 2-3 hours on your first playthough I logged about 15hours into it in the first week I started playing. To unlock new suits and weapons you use the points you receive from destroying enemy robots. These same points are used to keep track of your highscore. I found that to be a very addictive combination. The ability to unlock loads of goodies is a great incentive to really push that highscore.

As for controls its really a matter of taste. It uses "tank controls" similar to the first few Resident Evil games. I just happened to have played a lot of RE2 as a kid and am a huge fan of the play style so I found it very comfortable to jump into. I understand most peoples reservations about them though. With that said its much more stylish and fluid than RE's tank controls. First of all there is very little back tracking. Your always pushing forward quickly to get a good time (which translates to good score) so you don't have to move around a lot. The shoulder buttons act as quick dodges to either side and your character runs at a nice speed when moving forward. This helps keep it seem much faster paced than the RE controls.

The art style and play style complement each other amazingly. The game mostly takes place inside futuristic, huge, white, strangely clean buildings. Your human/robotic character has all very charismatic movements that resemble dancing at times. With a neat techno style music it really ties your characters movements together with the atmosphere somehow.

The enemies in the game are quite boring and repetitive, but fit in well with the style of the game. The bosses on the other hand are enormous and interesting. The last few boss fights are intense, difficult but fair, and just all out fun.

The only real flaw I saw in this game was the story. Its really not a long enough game to develop a story properly yet they attempt to. It just makes the ending twist seem anti climactic. Add this to the fact that there are only 2 characters that ever interact and it just seemed pointless. It also disrupts the fast paced gameplay a few times which is annoying in a game like this.




Its really hard to describe the unique style this game has to it so I highly recommend checking out some youtube videos to see just what I mean. Heres a link to one to start you off:



It seems to be a very underrated game that falls under a lot of peoples radar. It is definitely one of my favorite Gamecube titles and can be found for very cheap though so grab it if you come across it. Easily worth the few bucks it costs!!

Final Score - 8.5/10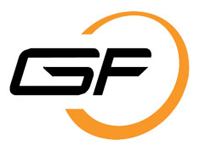 I recently decided to get GameFly because I found that there were so many new games I wanted to try out, but not necessarily buy them. So far, i've been very impressed by the service. So much so that I thought I'd let you all know about my experiences so far. If you don't know, GameFly is a rental service, much like NetFlix, that allows you to rent games by mail.

First, let's talk about the main part of the service, renting. Their library of games is extensive. They have almost any game you could want for PS3, 360, Wii, PS2, Xbox, GameCube, DS, PSP, and GBA. So far it seems like most of the games I've wanted to rent are readily available, with the exception of brand new games, which tend to have Low to Very Low availability. But usually they'll be more available in a week or two once the initial renters have returned their copies.

The process of selected what games you want is fairly simple. You simply search the site for the game you want to rent and add it to your GameQ. Once you have titles in your GameQ, you can rearrange them to tell GameFly which you would like to have top priority. When you return a game, they will pick the next available game out of your GameQ and send it. Pretty simple.

You receive the game disc/cart only in an envelope that opens up into a pre-paid return envelope. Inside the envelope you'll find a protective cardboard sleeve with a paper sleeve inside that contains your game. You can keep any game as long as you want. Once you are done with a game, just put it back in the envelope, drop it in the mail and they'll take care of the rest. Once they receive your game, they'll ship out the next available game on your GameQ

In addition to offering rental services, GameFly also has an extensive library of used games for you to buy at a discounted price. Often times, their used game prices beat out GameStop. For example, I bought Prince of Persia for PS3 from them for only $22, whereas GameStop was charging $27 at the time I bought it. Another example: GameStop wants $55 for Red Faction: Guerilla whereas GameFly only wants $43 for it. Another nice thing about GameFly is that if you rent a game and you end up enjoying it, you can opt to keep the game without having to send it back. Oh, and all you CIB whores out there, don't worry, if you decide to keep the game, they will mail you the case and instructions for free. Since the case and instructions haven't been touched by anyone, they're in perfect condition. Oh yeah, I should also mention that all 6 games I've rented from GameFly so far have been in mint condition with no scratches or fingerprints of any kind.

Their shipping times are pretty good too. I live in Minnesota, and it usually takes three days for me to get a game from them or for them to receive a game I send back. However, sometimes when sending a game back, they will use something called fast return, where they ship your next game as soon as they get tracking confirmation from the post office that you put the game in the mail. I haven't figured out how that works yet, however.

Their plans are pretty well-priced too. $15.95 per month for one game out at a time, $22.95 for two games, $29.95 for three games, and $36.95 for four games.

GameFly offers a program called GameFly Rewards to all of its members at no charge. Every three months you are a member, you will get $5 GameFly Dollars to used in their used game store. Also, if you're a member for six months, you will get 5% all purchases from them, and if you're a member for a year, you'll get 10% off. So the longer you remain a member, the better of a deal you'll get if you buy games from them. Add that on top of the $5 they give you every three months, and the savings start to stack up pretty well.

Click here to give it a shot! They have a free trial, and your first month is discounted if you decide to keep going with them.


Welcome to ask-a-blog, where I ask you! The reader! To answer a question posed in the blog. Today's questions comes from a bout of playing Katamari Damacy: What is the most trippy game you have ever played? Make sure to tell us what console the game is on, as well as what makes it so trip inducing. Is it the gameplay, music, visuals, or something else? Tell us all about it!



For me, the award for the trippiest game goes easily to Katamari Damacy on the PS2, pictured on the right. If you have played this game, you know what I am talking about. if you haven't, here's a little summary. You are the son of the King of All Cosmos. The king, your father, has accidentally made all of the stars go away, so he commissions you to roll "Katamari", and help bring the stars back. The Katamari is formed by rolling a ball into things that are smaller than it. This makes the smaller things stick to it. You can pick up anything. ANYTHING. People, cars, buildings, islands, towns, boats. The possibilities are endless. The game is quite short, but it has a high replay value. It is also highly trip inducing, and the music is even weirder. Man is that game odd. I recomend it to anyone wishing to have lots of fun playing a quirky type of game.

So, what do you feel the trippiest game is? Be it a shoot em up, a puzzle game, or a platformer, we want to hear about it! Let's see those comments!




Welcome to the third, and final, in my series retrospective on the Pokemon franchise. This final entry will cover the Advance Generation of the Pokemon series, which spanned even games on the Gameboy Advance, four on the GameCube, and three on the Nintendo DS. The Advance Generation was a sort of reboot for the franchise, when Ruby and Sapphire were originally released for the GBA, they were not connected in any way to the previous games in the series. The stories weren't connected like the first two generation games were, the new region, Hoenn, was in a completely different part of the Pokemon world, with no connection to either Kanto or Johto, and while Ruby and Sapphire contained data for all of the Pokemon from the previous games, a vast majority of them were unobtainable within the games themselves, without the use of a cheating device, and the games featured no way to connect to any of the previous releases. Some fans felt this lack of connection to the previous games was a step in the wrong direction and questioned whether or not Nitendo truely knew what they wanted to do with the franchise, little did we know that Nintendo did have something in mind, but we'd have to wait some time to see what it was...


Continue reading Gaming in Retrospect: Pokemon Generation III




The Gamecube was definately not known for its robust RPG library last generation. The PS2 did a good job of blowing both other systems (combined) out of the water in that category (I don't know enough about the Dreamcast to confindently add it to that remark). That said the Gamecube still has a surprisingly strong showing in the RPG arena if you look closely. Games like: Fire Emblem, Tales of Symphonia, Skies of Arcadia Legends, Paper Mario: The Thousand Year Door, Phantasy Star Online, X-Men Legends and Harvest Moon lead the pack. There are still a few other Cube RPGs that fell under the radar of most gamers.




Baten Kaitos: Eternal Wings and the Lost Ocean (henceforth known as BK) deserves a lot more attention then it gets. Lets take a closer look at its strengths and weaknesses, shall we?



STRENGHTS:



Story

This is "THE" most important factor of any RPG in my opinion. In most genres I'd say gameplay is key, but RPGs are the exception. If your going to be investing 20-40 hours of your life into a game it had better be darn interesting.

The game starts off with Kalas waking up in a small town after getting beaten up in the woods. After he regains his composure and figures out where he is he remembers his goal. Kill Giacomo the man who killed his family and burned his home down.

As you progress you find that the Empire is trying to ressurect the power of an ancient god that swalled the entire ocean leaving only a few islands left on the planet. Kalas eventually meets some others that join his party that are out to stop the emperor from suceeding in his plan. Kalas is reluctant to join, but because Giacomo is a higher up in the Empire he joins because their mission because it may eventually lead him to get the revenge he desires.

Visuals




This is by far my favorite looking game on the Cube. While some games may be more graphically impressive such as Resident Evil 4 the art sytle of BK game really shines above. The entire world and all the characters in it are very bright and vibrant and full of life. The world really seems to be alive as you explore it. Simple things such as running through some bushes and spooking some birds to see them take off in a large group gives an extra amount of depth to the islands you explore.

Each Island you explore in this game has its own unique visual identity, wheather it be a lush green forest like enviroment or a hazy mountain top covered in clouds each place you visit is vastly different from the last.

Battle

This is another area in which this game really shines. At first the game just throws you into battle without much explanation and you slowly learn some tricks to help increase your skills over the next couple hours of game play through both experimentation and NPC tutorials.

You fight using a card based battle system. Each card belongs to an element and has at least 1 spirit number assigned to it. At first you can only attack with a couple cards, but as you level up and progress throughout the game the amount of cards you can lay down during battle increases.

Each Element type obviously damages enemies of opposite types more than those of the same time (such as Water hurts Fire based Enemies more than Dark would). But if you use a water based attack and a fire based attack in the same turn they partially cancel each other out (attack for 10 water and 6 fire in the same turn would result in a final attack of 4 water). This keeps you on your toes and quite aware of what cards to use and when to use them. It also involves quick thinking on your part because after you use your first card you have a very limited time to use your next few cards.




As I mentioned above each card also has a spirit number. These numbers range from 1 to 8 and cards can have multiple numbers on them. If you manage to attack an enemy with a straight sequence of cards (such as 5-6-7) then a bonus percentage of damage is added to you final attack. As you become capable of playing more cards during battle later in the game you find more and more combinations become available to you (such as 2-2-2-3-3 or a full house) that will add more depth to your fights as you may choose to play less cards than you are capable of in order to receive a prize bonus to your final attack.

One more interesting note about battle combinations is that you can combine seemingly useless items (or useful items too) by using them together to create more helpful items. For example you can attack with a pot, some uncooked rice and charcoal to create a healing item of cooked rice.

Overworld Exploration

This is pretty standard as far as RPGs go, but if its not broken dont fix it right?

You explore the world as your main character Kalas (other party members only appear during non-playable areas such as cut sceens or NPC interactions). To enter a battle you simply touch an on screen enemy to initiate the battle.

Lots of items are hidden in ordinary scenery so make sure to check everything you come accross during your journey to collect a lot of helpful items and cards.

Puzzling

This is another one of my favorite parts of the game. Most of the puzzles in this game are not necessary to further the story so if you not all that into puzzling just skip most of them. You'll be out a few items that may help, but you can always grind your levels up a bit to make up for it if you prefer.

Throughout the game you get a limited number of Blank Magnus (Magnus is just a fancy name for cards). With these you can turn items, such as fire, into a card so that you can carry it to another location. So while your in town and you see someone has a roaring fire in their home you can take some of that flame with you into the forest and burn down a tree to gain access to a treasure chest.

Time Mechanic

This is something that is really cool to play around with and also a little frusterating at times. Lots of items change with time in BK.

For instance if you originally find a bunch of Bananas they might be Green Bananas. These are not good to eat yet and will function more as a weak weapon than anything else. After some time though they will ripen and become a useful healing item. After more time has passed then will rot and once again become a weapon.

This same mechanic has a few other functions such as puzzle solving. If an NPC is looking for a specific item such as yogurt or cheese and you only have access to milk, you simply have to wait until your milk has aged enough to turn into either item, just dont wait to long or it may not be they wanted when you get it to them!

One last fucntion the time mechanic plays is in gaining money. Instead of selling items in BK you take pictures of enemies during battle and sell those pictures to card shops. The pictures develop like a polaroid would. To get the most money for your picture you need to wait long enough for it to delevop properly, but dont wait to long or they will become damaged from your travels and the price you'll fetch will fall considerably.

Levelling up

Nothing ground breaking just something that I found quite unique and interesting.

Instead of simply gaining a level for a certain amount of experience, you hold onto that experience until you are able to visit a special "church". Once you are there you must pray in order to refect upon your past battles and only then can you increase in strength.

Along with this is the class increase which is treated much the same way as the level increase with the exception that a speical item is given to your character that you must pray with to unlock its potential. By increasing your class you are able to have more cards in your deck and increases the amount of cards you can use for each attack.



WEAKNESSES:



Characters

With the exception of Kalas I find the playable characters in this game quite annoying and stereotypical. Fortunately Kalas is the main character so it does oddly enough balance out. The reason for my annoyance isnt so much the characters themselves as it is the dialouge and voice acting.

I do however find Kalas interesting, as unlike most main characters, he isnt interested in doing any good. He just wants his revenge and could care less who dies or what nation falls in the process. He often voices his objection to joining his teammates and is reluctantly dragged along for a large portion of the story.

Dialouge/Voice Acting

Some of the worst I've heard. The old characters (70 years +) sound like a 13 year old is trying to make their voice raspy. The main characters that speak the most (Kalas and Xelha) both have shrill annoying voices and poorly written dialouge that often just sounds weird.






FINAL THOUGHTS:



BK is a great game for any RPG fan. The battles are a lot less boring than your typical grindfest because of the random element and depth added by the card based battle system. This game can also appeal to someone who loves puzzles/side quests or to someone who just loves an interesting story. It is also (in my opinion) one of the best looking Gamecube games. This game can easily be found for under $15 and I would highly recommend anyone interested in a new adventure to check it out if possible.

FINAL SCORE - 6.5/10




The Gamecube is sorely lacking in arcade style games and more specifically vertical scrolling shootem'ups. The two that it does have (in North America) are both quite well done. Ikaruga gets a lot of attention, and rightfully so. So I'm going to spend some time talking about Chaos Field, your only other choice for this style of game in the Americas.


Continue reading Unloved #1: Chaos Field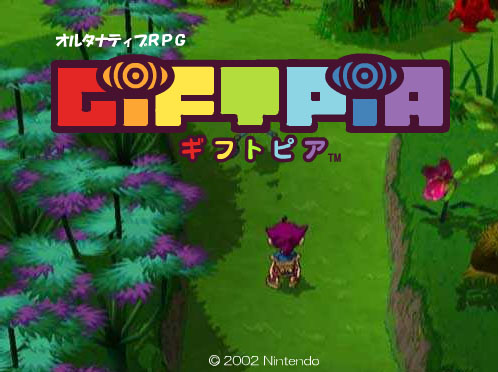 There is this rather quirky Japanese developer that goes by the name, Skip, Ltd. Stateside, you might know them as the developer of the Chibi Robo series. If you follow the Japanese scene also, you may know a bit more about them. In fact, most of their games have been released only in Japan. It's a real damn shame. You know, they developed many of the Bit Generations Games. These small, quirky games are sort of like the Wii Sports and Wii Play for the Game Boy Advance, but cooler. Way cooler. Of course, such is to be expected from the former Square employees, people who may have worked on one of the Best Games Ever, Chrono Trigger.

So, Skip really hasn't seen many releases Stateside aside from Chibi Robo, and it's a shame, a real damn shame. We've not only missed out on the Bit Generations series, but also other interesting and quirky games like GiFTPiA, a GameCube Game where you as the main character have to earn back your honor. It's a real interesting, and unique, game. Sadly, it's Japan only, and that pains me.

Skip has a new project, and I imagine that if you follow the gaming blogs at all you probably know what it is. The title is called Captain Rainbow, and aside from looking like a homoerotic fantasy, it looks pretty damn amazing. You play as a super hero, Captain Rainbow, who does all types of heroics on an island filled with washed up Nintendo Characters. The concept is absolutely genius, and given the track record, I bet it doesn't come out here. Very, very sad.

Check out the videos, after the jump.



Continue reading Why does NOA do this to US?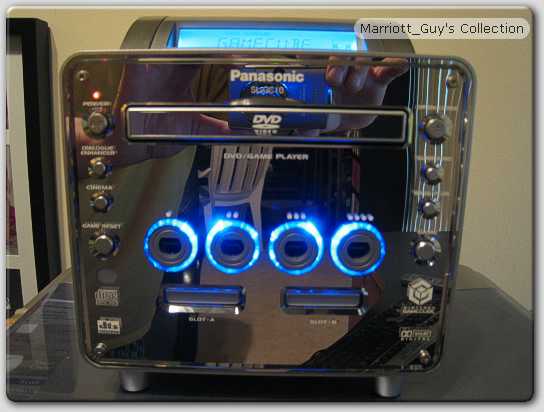 During the development of their GameCube gaming system, Nintendo partnered with Matsushita-owned Panasonic to manufacture the disc drive for their console. As part of this agreement, a license was issued to Panasonic to be able to utilize the base GameCube software technology for their own system, if they chose to do so. Needless to say, Panasonic decided to exercise this contract clause and released one of the most visually attractive hardware units of all time - the Panasonic Q. Debuting just three months after its parent in December, 2001, this system ultimately proved that the old adage "looks aren't everything" was true - especially if not priced correctly.

Released exclusively in Japan, the Panasonic Q was developed to address the fact that the GameCube's main competitors, the Sony Playstation 2 and shortly after the Microsoft Xbox, supported DVD movie playback out of the box while Nintendo did not incorporate this feature into its machine. Hoping to capitalize on this supposed oversight, the Panasonic Q was born. This was Nintendo's second attempt at licensing game hardware technology to a third party manufacturer, the first being the Sharp Twin Famicom. The initial venture did not prove to be successful for neither Nintendo nor Sharp. History would once again repeat itself with this new partnership with Matsushita.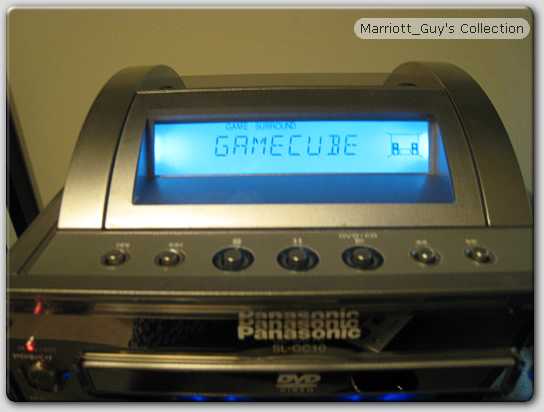 As stated earlier, the Panasonic Q is one of the most striking consoles ever released. Sporting a mirrored front facing with a scratch-protective coating, the overall design is extremely advanced and crisp. Soft-touch buttons line the respective left and right sides and give quick access to sound, game and other options. The subtle but tasteful use of the Panasonic label is centered at the top of the main interface, with a smooth front loading DVDGC hybrid player residing just below. Four controller ports, accented with neon ice-blue lighting around their circumference, are featured across the front of the unit with two standard GameCube memory card slots lying in unison just below. All button, port labeling and compatibility logos (DVD, CD, DTS, GameCube, and Dolby), are detailed in pure white and are surprising easy to read against the reflective background. Standard DVD buttons and controls are located on the top of the unit, along with the most stunning feature of the Panasonic Q - the backlit LCD display. This message center has a futuristic look and provides relevant data (mostly on DVD play). The 'Hello' and 'Goodbye' sequence that is displayed when powering onoff the system is also a nice touch that further exemplifies the extra care that was put into it's design.

Technically, the gaming hardware in the Panasonic Q is identical to the Nintendo GameCube. There are literally no variations - please see the overview of the Nintendo GameCube for these details. That being said, owners of the Panasonic Q will enjoy the following audio enhancements over their GameCube brethren: Dialog Enhancer, Cinema, Surround and Bass Plus. All of these audio modes modify or boost a respective frequency to produce subtle if not unremarkable effects during game and DVD play. These options do not have level adjustment or customizable settings that can be modified. This is unfortunate but really not that important considering that most televisions at the time incorporated these features anyway.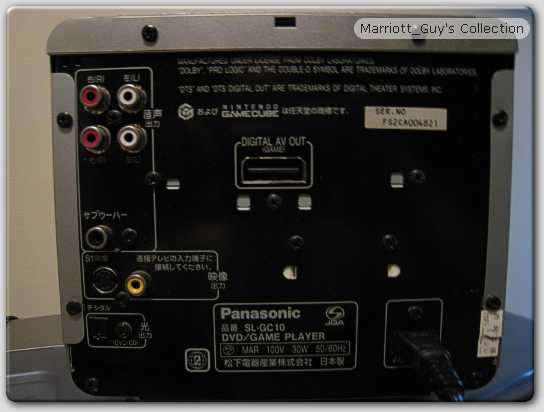 Matsushita's marketing plan was to develop a DVD player with gaming capabilities, rather than just producing a video game console. The Panasonic Q hit the mark in this area with a DVD player that exceeded the industry standards of the time. While lacking the bells and whistles of some of the higher-end players available, DVD playback is extremely detailed, displayed in bold and vibrant colors. The included DVD remote is easy to use (though all text is in Japanese) and contains the basic playback controls. At the time, the DVD player performance of the Sony Playstation 2 and Microsoft Xbox paled in comparison. There is another bonus feature in this area - region free game and movie support. The first model only supported NTSC Region 2 disks and Japanese-released GameCube software. After a very short period of time, a second model was made available that fully supported NTSC Regions 1 through 6 as well as USA game disks. Unfortunately, there was no official PAL released unit and VCD playback is also not supported.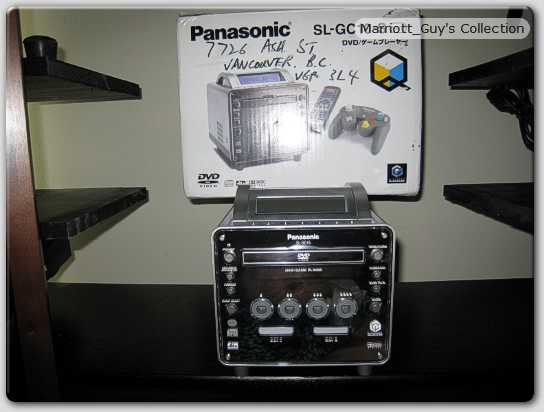 While the advantages of owning the Panasonic Q over the Nintendo GameCube are significant, the decision to purchase one was not an easy task in 2001. The first release debuted at $439 USD (equivalent to $545 USD in 2007) and the multi-region version could be yours for $499 ($635 USD in 2007). This price point severely limited the potential buying market, especially since the GameCube and a separate DVD player could be purchased for less.

With excellent DVD playback, multi-region media support, audio enhancements and its stylish look, the Panasonic Q is a definite upgrade to its Nintendo GameCube parent. Since the system was released in limited quantities, be prepared to spend a good amount to acquire one. A CIB (complete in box) unit will cost you around $200 to $300 dependant upon condition. Compare this to being to get a comparable GameCube system for around $20. If you are just looking for a video game console, the advantages of the Panasonic Q really can not be justified. For the collector, this system will definitely stand out on your gaming shelves.



Database Search
---
Site Statistics
---
Total Games:

136790

Total Hardware:

9947

Total Scans:

173607

Total Screenshots:

93351

[More Stats]
Our Friends
---
Updated Entries
---

(PS4)
---

(SW)
---

(PS4)
---

(PS4)
---

(SW)
---

(Wii)
---

(PSX)
---

(PS2)
Updated Collections
---
New Forum Topics
---
New on the Blogs
---
Nielsen's Favorite Articles
---