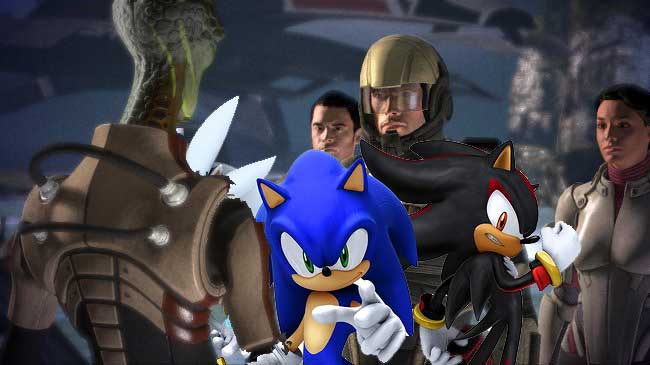 So, it has been known for some time that Bioware was going to be working on a Sonic RPG. Today, we have more news about the Sonic RPG that is sure to make fans of Sonic and Bioware squeal with excitement. A couple of highlights are as follows:
Watercolor Style of Animation
4 Members in you Party at once, 11 party members total.
No random battles, in a definite homage to Chrono Trigger
Turn Based Fighting
Special Moves play like Elite Beat Agents
If you wish to see more than a few highlights, perhaps scans hosted at

Jeux France

will tickle your fancy. Those scans are bright, colorful, and look as good as graphics seen in Zelda: Phantom Hourglass. I'm certainly impressed by the graphics... are you?

Certainly, this game has the potential to rock one's socks off. I am predicting pure awesome. We'll find out for sure when this game is released later in 2008.

Lock up your daughters: New info on Bioware's Sonic RPG

[Dtoid]

Sonic Chronicles: The Dark Brotherhood info

[GoNintendo]

Recent Entries

Remember Comic Books from the 80s? (3/22/2019)
A Personal Journey into Final Fantasy IX (3/20/2019)
Thoughts On Games As Service, Anger, And Modern Gaming (3/18/2019)
The People of RF Generation - GrayGhost81 (3/16/2019)
Shoot the Core-Cast Episode 009 - Zanac (3/21/2019)




Hopefully Sega has little to do with it's development, they wouldn't know a good Sonic game anymore if it bit them in the ass. I like the artstyle and the control sounds interesting, be keeping an eye on this one.

That actually looks like a really snazzy little game for the DS.
Pitty this didn't come out before Sonic's creator left Sega and Sega started running the poor hedgehog into the ground.

haha ha loll


I gotta say, when I first heard the announcement of "BioWare's makin' a Sonic RPG!" my first thought was "wtf". But with this information (and the fact that it IS BioWare), I'm not as worried about it. The game's art direction looks REALLY cool, too.

Login or register to comment
It appears as though you are not a member of our site, or are not logged in.
It appears as though you can not comment currently. Becoming able to comment though is easy! All you need to do is register for the site! Not only will you be able to access any other site features including the forum and collection tools. If you are a registered user and just need to login then you can do so here.

Comment! It's easy, thoughtful, and who knows you might just enjoy it!
Database Search
---
Site Statistics
---
Total Games:

130044

Total Hardware:

9342

Total Scans:

164692

Total Screenshots:

91889

[More Stats]
Our Friends
---
Updated Entries
---

(DC)
---

(SNES)
---

(SFC)
---

(SFC)
---

(SV318)
---

(SV318)
---

(Sat)
---

(Sat)
Updated Collections
---
New Forum Topics
---
New on the Blogs
---
Nielsen's Favorite Articles
---