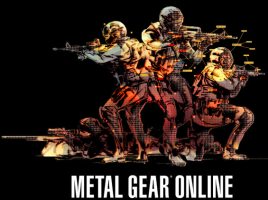 Attention all you PS3 owners with Metal Gear Solid 4 pre ordered (which should be all of you), Konami has posted the beta version of Metal Gear Online to the Playstation Store and is ready for you to download. The actual beta of the game does not start until Monday, but you can download it (and the update) now in preparation for Monday's big event.
How do you partake in this Snaky goodness? First of all, you have to pre-order Metal Gear Solid 4 from a participating retailer. Second, you need to obtain a copy of the Metal Gear Saga Vol. 2 DVD which should be free with your pre-order. This DVD contains a refresher course on the MGS franchise and a collection of trailers for MGS4, but most importantly it comes with your ticket to participate the beta. Now that you have your code to get into the beta, boot up your PS3. On the XMB, go to the Playstation Network menu and choose Account Management. Then on the next page that comes up, choose Transaction Management, and Redeem Playstation Network Card or Promotion Code. Next, enter in the code found on your ticket into the text boxes on the page. If all goes well, it should accept your code and give you access to download the Beta...
If it doesn't work, make sure you entered the code in all capital letters. Still no luck? Well, you're probably like me and effected by Konami's royal screwing up of this beta program. According to IGN, some of the codes given out in the Metal Gear Saga DVD are invalid. How do you tell if you have an invalid code? It all has to do with the length of your key. If you have less than 12 characters in your beta code, then you need to get a new one in order to download the beta. To get a new code, try emailing Konami at
mgobetasupport@konami.com
, or try going back to where you pre-ordered the game and see if they'll give you a new Metal Gear Saga DVD. Or you can try downloading the beta from the European Playstaion Store, because they are lucky and can download it without using this beta code nonsense.
However, the other area in which Konami totally screwed up this beta is that you have to sign up for a Konami ID
AND
a "Game ID" in order to play. But guess what?
The website to do that
is down. However, I was smart and registered as soon as I heard it required for the beta.
I just hope Konami fixes this beta soon. I can't wait to get into the game and face off against others online with the
man cannon
.
If you're participating in the beta, post a comment in the article here and let me know your PSN ID and Game ID so we can have some kind of an RFG MGO night.
[
Image
]