The fall release season marches on this week...if you're a PS3/360 owner. The rest of you get nothing much at all. Here's the lineup:
Playstation 3
Xbox 360
Nintendo Wii
•FaceBreaker
•Mercenaries 2: World in Flames
•NFL Head Coach 2009
•Rapala Fishing Frenzy
•Vampire Rain: Altered Species

•FaceBreaker
•Infinite Undiscovery
•Mercenaries 2: World in Flames
•NFL Head Coach 2009
•Rapala Fishing Frenzy
•Viva Pinata: Trouble in Paradise
•Warhammer: Battle March
•Rapala Fishing Frenzy ($10 more than the PS3/360 version?!)
PSP
Nintendo DS
Playstation 2
...
•Picto Image
•Mercenaries 2: World in Flames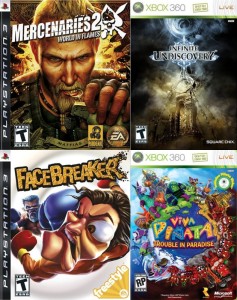 This is actually a pretty good week considering how early it is in the season. Mercenaries 2 is the sequel to the 2005 PS2/XBox original, and expands on its sandbox style of gameplay. This new installment features enhanced physics (powered by the ever-popular Havok engine), the ability to light things on fire, swimming (along with boats as an added vehicle type), air support, a grappling hook, and more. I haven't played the first game, but the new installment looks pretty neat.
Next up is a game that I have tried, Facebreaker. This is the first game to be published under EA's new label: EA Sports Freestyle. Freestyle, as explained by EA Sports head, Peter Moore, provides
"a lighter gaming experience and an easier entry point into EA Sports."
Enough with the businessy talk, the game is pretty damned fun based on the demo. It's a simplified version of EA's own Fight Night series but with cartoony characters and a humorous tone, much like Ready 2 Rumble for the Dreamcast. FaceBreaker is nothing outstanding, but it certainly should be worth getting when the price drops to around $20 or $30. If you're interested in the game, give the demo on PSN or Xbox Live a shot.
Next up: Infinite Undiscovery, the much anticipated (

) Xbox 360 exclusive RPG from Square-Enix (that's something you don't see every day). I honestly don't care about this game, I only highlighted it for Square fanboys (the most annoying variety) so that they don't totally deride me and rip me to shreds.
Finally, the true follow-up to possibly the greatest game on the 360 comes out this week. That's right, Viva Piñata: Trouble in Paradise. The new game includes 30 new species, new areas, and an Eye of Judgment
rip-off
like feature which allows you to scan cards using a Live Vision camera and get new Piñatas that way. But unlike Eye of Judgment, Rare is actually going to be making these cards free on their website and maybe bundled with promotional partner products.
That's all for this week. Be sure to check back next time!
The Live Vision Camera gimmick and those retarded cards that you have to print off, I'll be skipping Viva Pinata this time around because I won't be able to fully utilize the game without spending the cash on that stupid camera. A shame that.


Uh, that feature's totally optional? And pretty much all of the stuff you could get from the cards you can access within the game (albeit with more difficulty) except for maybe special not-otherwise-obtainable promotional items.

But yeah if I had money I would also have Viva Pinata 2 this week but I don't so I won't.

@Ando:

Well if everything is in-game then it's not so bad. It sure would suck to not have access to several species because of a missing peripheral with little other use.

@c2574:Atleast they don't charge €9.99 per package of 15 cards just like they do here for Eye of Judgement. And to think that buying that game itself isn't exactly cheap...

Anyone know if Head Coach is bundled with Madden? Or is it sold separately? Thanks

@y2richie:

It is bundled with the 20th Anniversary Edition of Madden, but not the regular release.

Thanks Tan. I am unsure if the 20th anniversary edition is going to be released in the UK so I may get it on import. Cheers!

I played and enjoyed the Facebreaker demo on the 360. It's definitely a fun, R2R-style game. I never had a chance to get into R2R (even though I eventually got a copy) when it came out, but FB seems to be a solid contribution to the genre for this generation.

Until I know more about it, I'm in agreement that waiting for it to go to $30 or less may be the way to go (even though it's starting list is $49.99).