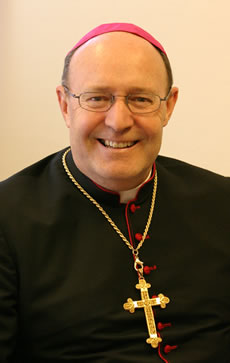 See this man to the right? His name is Julian Porteous, and he has something to say about video games. Clearly, being the auxiliary bishop of the Catholic Archdiocese of Sydney Australia just doesn't fancy all of his time. Never mind striving for that "Just Community" and other Catholic mumbo jumbo*, for now is the time to talk about video games.
See, Australia currently has a maximum rating of R15 on video games. As you know, the age 15 generally doesn't correlate to mature audiences. As such, there are quite a few games that just don't get released in Australia. I don't know what I'd do if I could not play Manhunt, Postal, or Marc Ecko's Getting Up. I'd probably go crazy. Regardless, that is how it is in Australia. Clearly, video games are a subversion where any game intended for people over the age of 15 should be banned.
Recently, it was mentioned by sometime in the Australia's Office of Film and Literature Classification that they may consider adding the R18 rating to the game ratings. Currently, the R18 rating exists for film, but not games. Certainly, there are a couple prudes that think that it is their God given right to think what other people should or should not do. Take for example Julian Porteous. As a ranking member of the Catholic clergy shouldn't he be worrying about something more important than what games are rated, such as clergy abuse, or is that strictly an American thing? Either way, the auxiliary bishop of Sydney opposes the proposal to add R18 to the Australian Classification system. Why? He thinks that video game violence can desensitize people into performing acts of violence. Hogwash. If that was the case, I would have gone out killing lots of people with a beam katana that I obtained at the local flea market. Thanks No More Heroes! Thankfully for everyone, I would never make such an absurd connection and my rationality and morality would keep me from performing such a heinous action. God knows though what would happen if I was subjected to sitting through one of Julian's homilies. Now that's desensitizing.
Julian, bugger off. Convince your congregation to perform acts of charity and see God in all things. Stay the hell off of our modes of entertainment, and I'll be less inclined to criticize the work that you and your cohorts do.
*David Murnan is a raised Catholic kid who was subjected to 12 years of Catholic education, of which four of those years were in an amazing Jesuit Institution. As such, he is allowed to be openly critical of his own faith.
via Gamepolitics
Ah the miracle of digital downloads and the fun to be had with Postal 2



The R rating should be introduced for games, and simply ban R 18+ games from being sold in toy stores.
Everyone is happy this way.

The argument that video game violence transfers into real life will never be won though, as it's all dependant on the individual, and in some cases it does, while in most it doesn't. But that is the same with anything such as music, movies, etc.

I'm with you on this one.....I went to Catholic school from Pre-School to 12th grade (not my choice.) I then went to a pompous liberal arts college and learned to not believe in god. The Catholic religion is a huge joke....it has become a business with no real concern for people or their faith.

I'm not really trying to attack Catholicism, just some of the people who think that they are on a high horse. The official (pre-Benedict) teachings were actually quite agreeable, it's just that a few asses think it's their God given right to dabble in places that they should not.


Agreed with David both times, and I'm Catholic!