We interrupt your regularly scheduled program to bring you August 2018's edition of
RF Generation's Site News
! In this issue, we unveil our September 2018 community playthrough title, announce the next game for our site shoot 'em up club, promote our current Pain Yourself With Submissions Contest, provide you with our Twitch channel updates, direct you to our new site Wiki, and of course, thank those members who sent in submissions to our site and registered approvals last month. Thanks for keeping it on Channel 3!
REMEMBER: If you have any news about upcoming events or topics that you think the site needs to hear about, please PM singlebanana and put "RFG Site News" in the subject line. Who knows, maybe your news will make our front page!
---------------------------------------------------------------------------------------------------------
SEPTEMBER 2018 COMMUNITY PLAYTHROUGH
This September, the Playcast guys return to a very familiar playthrough theme, but this time, with a game created by a very unique developer who offers a different type of gameplay mechanic. Shawn and Rich have often discussed and compared some of the titles they've played to "Telltale Games," but have yet to host one. Next month the Playcast once again dons the cowl of the Caped Crusader, but this time, we trade a more action-packed, button-mashie adventure for one more driven by story and player autonomy. So, join us in September as we playthrough one of Telltale's more recent releases,
Batman: The Telltale Series
.
We hope that you are as excited about these picks as we are, so be sure to grab yourself a copy of this game on most 7th and 8th generation consoles, as well as PC! Also, please join in to discuss the game by signing up on our
Batman: The Telltale Series
HERE
.
---------------------------------------------------------------------------------------------------------
RF GENERATION SHMUP CLUB - SEPTEMBER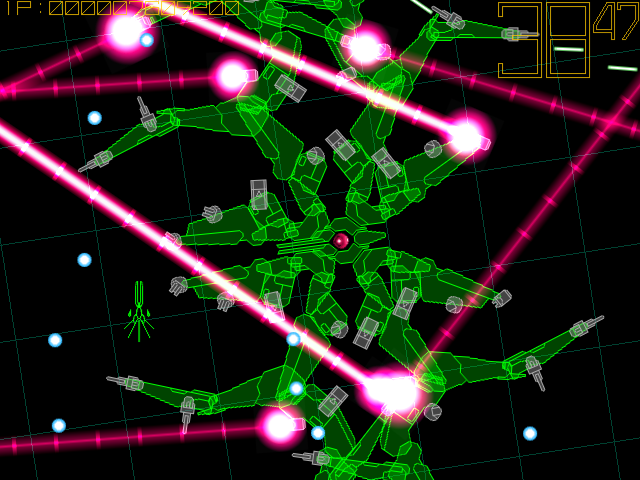 Warning Forever
is a freeware Japanese-developed doujin (indie) shoot-em-up that focuses exclusively on boss fights. It's a single-screen game, where you pilot a ship that can rotate 360 degrees and fly all around the screen to take on progressively larger and more complex boss enemies, to try and take them out. Each game has a time restriction, so you can't spend too long on any single boss. However, you score more points by picking off turrets and different ship sections of the boss. This sets up an interesting risk/reward scenario, where you can try to maximize your score, without running out of time, or getting destroyed by some iteration of the boss form. The game uses a throwback graphical style, partially mimicking the vector graphics style of early arcade shooters like
Space Duel
or
Tempest
, but also adding cool raster effects and explosions that echo 90's arcade games.
The best part?
Warning Forever
is free! Developer Hikware released beta versions of the game originally on PC back in 2003, and has been slowly iterating upon it for many years. The most recent version, 1.08, was released in 2012, and is playable on most any PC, from Windows XP to Windows 10. It supports game pads, as well as keyboard control. The game uses an interesting system where you can widen or narrow your ship's attack range with a special field, which can also be tilted to one side or the other, to help give you more control over your attacks. It's an interesting and unique system that is deceptively simple, and fun to master. Join in with us, and play this unique shoot-em-up experience!
Read more about the game, and see more screenshots (page in Japanese, you may need to translate it, if your browser doesn't do so automatically):
http://www.hikware.com/Prod/index.html#wf
Download the latest version of the game
HERE
.
----------------------------------------------------------------------------------------------------------
2018 PAIN YOURSELF WITH SUBMISSIONS CONTEST!!
RF Generation is currently in the midst of our annual
PAIN YOURSELF WITH SUBMISSIONS CONTEST
, but it's not too late to join! Members are encouraged to make as many submissions to the site as possible through the month of August and there's plenty of time to catch up with the leaders. Why submit you ask? Not only does it greatly increase the amount of useful information in our database for members, but YOU could be the winner of our fabulous grand prize: a $60 video game related shopping spree and an RF Generation ringer t-shirt!
So, here's how it works:
Submission Types, Point Breakdowns & Rules
Here's how the point breakdown will work:
Title Addition: 5 Points
Variation Addition: 6 Points
Page Edit*: 2 Points
Review*: 50 Points
Overview*: 20 Points
Image Upload: 10 Points
Submission Review**: 1 Point
Blog Post*: 30 Points
Blog Comment: 1 Point
Forum Post: 1 Point
Forum Karma: See Explanation
*Regarding the asterisk: For page edits, if it is noticed that you are consistently only adding one field per edit multiple times for a single title just to up your points,
you will be disqualified
. Any review or overview completed will count as a page edit as well the points for an overview or review. To get the points for an overview or review you
MUST
contact singlebanana via Personal Message so that he can keep a tally. In addition, the review or overview must be on the actual game / hardware page. A review or overview of poor quality could result in less points than stated being granted. The same statement holds true for blog posts.
Regarding Forum Karma: Because we want the forum to be a lively place of fun and interesting posts, we're enabling Karma during this contest. Karma rewards members that make good posts and smites those who do not. Your Karma will play a wildcard role in posts. Positive Karma at the end of the contest will increase your point total by a factor, while negative karma will decrease it. Please note that Karma may be disabled if it's being abused. Please be honest and fair in your karma assessments.
As with any contest, there is fine print. Any submission that you make must adhere to the RF Generation Policies and Guidelines. These policies and guidelines were written for a reason, and well, we'd like everyone to adhere to them. Failure to adhere to the guidelines could result in a disqualification.
Any point reduction or disqualification can be contested. In the event that you wish to contest, you must explain why the reduction or disqualification is unfair.
Since staff members can earn a point for each submission review that non-approvers cannot, and those staff members will have thousands of submissions to review in addition to their own, their total score will be halved to make things a bit more fair and lively.
----------------------------------------------------------------------------------------------------------
RF GENERATION TWITCH CHANNEL: WHAT'S NEW?
A big thanks to
wildbil52
and
NeoMagicWarrior
for working diligently in getting our site's new Twitch channel up and running. They are still working things out in terms of the broadcasting schedule, but be sure to join the channel so that you can receive updates on new broadcasts. Missed a show? No worries, most of the streams are uploaded to the site's YouTube channel located
HERE
. Please do us a favor and subscribe today!
I would also like to take this opportunity to congratulate site members
ReddMcKnight
and
Disposed Hero
for joining our Twitch group and helping to provide content. Thanks for the support guys!
The current schedule and games being played are as follows:
Wednesday - Neomagicwarrior (Startropics then ??)
Thursday - WildBil52 (Metal Gear V: The Phantom Pain)
Friday - ReddMcKnight (Final Fantasy XV)
Check the Twitch page, the RF Generation Twitter, and RF Generation Discord for stream times. For more information about our site's stream, check out:
http://www.rfgeneration.c...n-Invades-Twitch-3761.php
**
If YOU would be interested in contributing to our site Twitch channel, please send a PM to NeoMagicWarrior or wildbil52
**
----------------------------------------------------------------------------------------------------------
RF GENERATION WIKI
Over the past few months, the new directors at RF Generation have worked on creating an informative staff Wiki for general site members, for those who work in different areas of our site, and for those interested in learning more about joining our staff. The Wiki currently houses a section for
General Policies & Guidelines
, as well as more specific areas dedicated to the database, the writing staff, and the administration. Some of these areas are password restricted for security purposes, so if you are a current staff member require access, please notify one of our directors (bickman2k, Duke.Togo, or singlebanana) via PM.
The purpose of this Wiki is not only to house our guidelines, but to also help new staff members fulfill their duties. The Wiki is an organic tool and will be ever-changing in terms of additional content and revisions. If you have any questions or concerns, or have information you feel would be beneficial as a new addition to our Wiki, please PM a director.
So, you might be asking yourself, "How do I access this new tool?" From the top tool bar, simply hover over the "About" tab and click on "RFG Wiki" or click
HERE
.
----------------------------------------------------------------------------------------------------------
JULY 2018 THANK YOU
In July, site members contributed a total of
1,348
submissions to our database! Of these additions,
1,324
were game submissions and
24
were related to hardware items. Of this total,
529
contributions were new images and
522
of these images were game submissions. A big thanks to all who submitted items to our database and to those who reviewed them all for the month of July! We appreciate your efforts in making our database and community a great tool for our users.
Our top submitters (those with a minimum of 50) for July 2018 were:
Schlibby 268
kaysow 220
Raidou 138
ApolloBoy 123
Fleabitten 78
Bear78 67
amprice5474 52
sharp 46*
(so close it deserves recognition)
Thanks for another great month!
Top approvers for the month included:
Raidou 325
Schlibby 205
Fleabitten 106
ApolloBoy 23
Great work everyone!