We interrupt your regularly scheduled program to bring you this month's edition of
RF Generation's Site News
! In this issue, we announce our November community playthrough game, try to convince you one last time to attend Retro World Expo, remind you about an annual event we participate in called Play Your Vectrex Day, and of course, thank those members who sent in submissions to our site and registered approvals during the month of September. We are changing our submission "focus" again, so stay tuned to the end of our broadcast for more details. Thanks for tuning in!
REMEMBER: If you have any news about upcoming events or topics that you think the site needs to hear about, please PM singlebanana and put "RFG Site News" in the subject line. Who knows, maybe your news will make our front page!
----------------------------------------------------------------------------------------------------------
NOVEMBER 2017 PLAYTHROUGH ANNOUNCEMENT
Over the past 5 years, the Playcast has co-piloted numerous adventures for our awesome members, and in the process, we've played tons of games across numerous consoles. Though we've always tried to take a "No Consoles Left Behind" approach to our choices, it's not always easy to garner good participation among all of them. However, this month we're taking our first dive into a very popular system that we've somehow neglected in over 110+ titles....the Nintendo Game Boy. And further surprising is that the game we will be hosting will also be our first Final Fantasy game.......well..........somewhat.
Seiken Densetsu: Final Fantasy Gaiden
, better known to us Westerners as
Final Fantasy Adventure
, is an action RPG with gameplay similar to that of
The Legend of Zelda
and our January 2017 playthrough title,
Secret of Mana
. In fact,
Final Fantasy Adventure
was responsible for spawning an entirely new game series, the Mana series, which stands apart from the Final Fantasy series and has become a successful video game RPG franchise of its own.
So, how does this handheld iteration stack up against its console counterparts? Find out by joining us in November's playthrough of
Final Fantasy Adventure
.
**Important note - We are aware that a two remakes of
Final Fantasy Adventure
,
Sword of Mana
for the Gameboy Advance and
Adventures of Mana
for the Playstation Vita exist. While we would love for any of you to join us by playing either of those titles next month, due to differing plots and gameplay aspects, our checkpoints and podcast discussion will be centered around the original Gameboy title.**
We hope that you are as excited about this pick as we are, so be sure to grab yourself a copy today! Also, please join in to discuss the game by signing up on our
Final Fantasy Adventure
discussion thread located
HERE
.
----------------------------------------------------------------------------------------------------------
RWX: WE'RE HERE!!!
RetroWorld Expo is now only a few days away (October 14th & 15th). If you're attending this year's event, be sure to stop by the RF Generation table and say hello to some of our site members. We would love to meet you.
Visit this thread, and let us know if you plan to attend:
http://www.rfgeneration.c...m/index.php?topic=17677.0
Also, there will be some fun games and events for attendees this year. Shop for games, systems, and other video game related merchandise from many of the vendors on hand. Take a break in the arcade/pinball lounge or head over to the tabletop section to compete. Listen to the live bands, attend some guest panels (including one by the Collectorcast), and check out the auction. All of this and more at the 2017 Retro World Expo. Be There!!
For a complete list of Exhibitors, Vendors, Guest Panels, Bands, and more happening at RWX, check out
http://www.retroworldexpo.com
----------------------------------------------------------------------------------------------------------
INTERNATIONAL PLAY YOUR VECTREX DAY 2017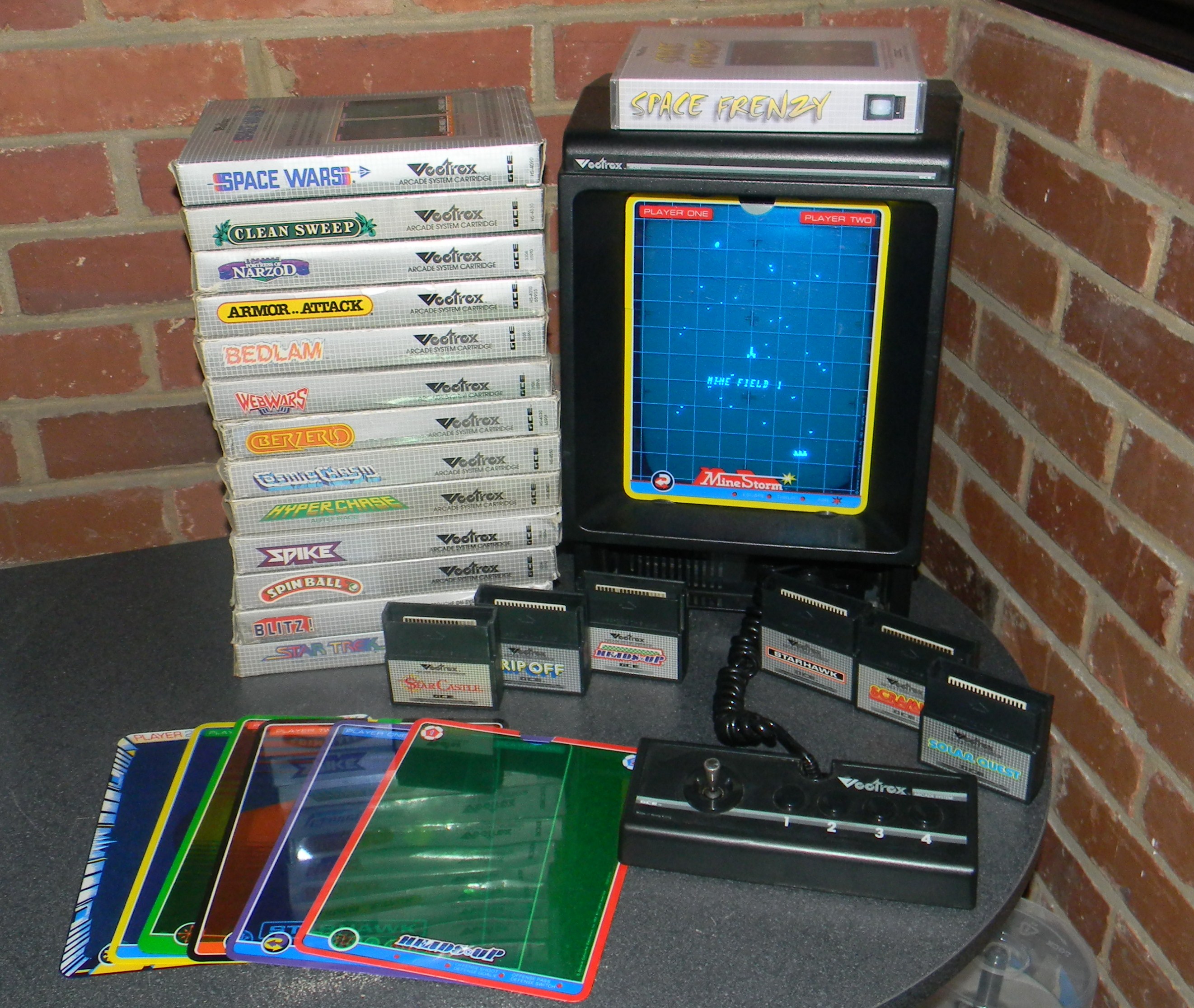 November 1st is coming, which, what does that mean to video game players? Are they going to play their Xbox? Their PlayStation? Their Switch? Heck no! They'll play their Vectrex, then report it to the Vectrex wiki (
http://vectrex.wikia.com/...nal_Play_Your_Vectrex_Day
) or to VectorX at the Vector gaming forums (
http://vectorgaming.proboards.com/
) or on here to Vectorguy as to what they played on that day so it can be shared with classic (vector) gamers around the world. See the wiki page for the rules.
(Ok, sure, you can play any of the other aforementioned consoles or any others if you wish on that day, but don't bother reporting it to the wiki!)

To join in on International Play Your Vectrex Day:
1. Play your Vectrex on
November 1, 2017
;
2. Keep track of what you played; and
3. Edit the Vectrex
wiki page
or contact
Vectorguy
via private message and he will enter it for you.
4. Have fun!
----------------------------------------------------------------------------------------------------------
SEPTEMBER 2017 THANK YOU
In September, site members contributed a total of
3,413
submissions to our database. Of these additions,
3,308
were game submissions and
105
were hardware items. Of this total,
2,193
contributions were new images and
2,135
of these images were game submissions. A big thanks to all who submitted items to our database and to those who reviewed them all for the month of September! We appreciate your efforts in making our database and community a great tool for our users.
Our top submitters (those with a minimum of 50) for September were:
FatherJack 1755
toze3 387
Kam1Kaz3 NL77 250
Schlibby 223
ApolloBoy 182
gary76 126
Goodwill_Gamer 66
GamerNick 60
Fleabitten 51
Thanks for another great month!
Top approvers for the month included:
FatherJack 259
Schlibby 125
Fleabitten 86
ApolloBoy 50

Great work everyone!
Let's keep those submissions coming. Our special focus for the remainder of October will be
Playstation Vita
scans!
----------------------------------------------------------------------------------------------------------