---

Posted on Oct 25th 2022 at 08:00:00 AM by (

MetalFRO

)

Posted under

Operation STEEL

,

Shoot the Corecast

,

podcast

,

Shmup Club

,

Undermog Games

,

indie game

,

arcade

,

shooting game

,

shoot em up

,

STG

,

shooter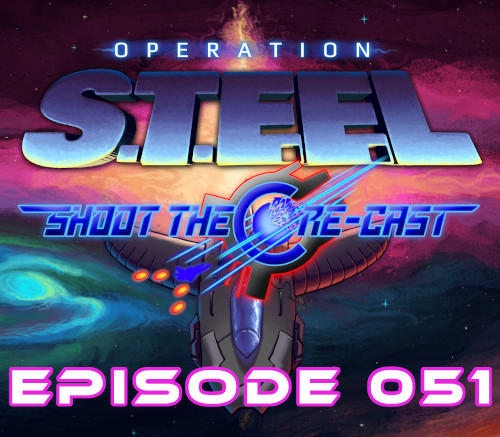 In Episode 051, MetalFRO and Addicted dive deep into the game

Operation STEEL

with Ben, the developer behind it! We talk about the game's influences and inspirations, challenges during development, and all the things that make this game tick. It was a really fun discussion! Check out the original discussion thread for the game here:

Listen to the episode right here at RF Generation:

https://www.rfgeneration.com/podcasts/shmupclub/?name=2022-10-18_stcc_ep_051_operation_steel.mp3

Or check our Linktree page for the feed on your favorite podcast service:

https://linktr.ee/shootthecorecast

Check the original discussion thread here:

http://www.rfgeneration.com/forum/index.php?topic=19685.0

Thanks for listening!

Recent Entries

Press Playcast Episode 92 - Bioshock Infinite (3/10/2023)
Shoot the Core-cast Episode 053 - Fire Shark (1/6/2023)
Shmup Club January 2023 - Metal Black (1/4/2023)
Press Playcast Episode 91 - Doki Doki Literature Club (1/2/2023)
Shoot the Core-cast Episode 052 - Deathsmiles (12/6/2022)




No one has yet added any comments to this entry. Why not be the first? Of course, you must be a registered user of RF Generation to comment, and if you are and are also logged in you will see the comment box below. If you see that, then comment til your heart is content! Not logged in? this login page will get you logged in!




Login or register to comment

It appears as though you are not a member of our site, or are not logged in.

It appears as though you can not comment currently. Becoming able to comment though is easy! All you need to do is register for the site! Not only will you be able to access any other site features including the forum and collection tools. If you are a registered user and just need to login then you can do so here.

Comment! It's easy, thoughtful, and who knows you might just enjoy it!
Database Search
---
Site Statistics
---
Total Games:

145856

Total Hardware:

10631

Total Scans:

182388

Total Screenshots:

83255

[More Stats]
Our Friends
---
Updated Entries
---

(SW)
---

(MSX)
---

(MSX)
---

(MSX)
---

(MSX)
---

(MSX)
---

(XBLA)
---

(MSX)
Updated Collections
---
New Forum Topics
---
New on the Blogs
---
Nielsen's Favorite Articles
---