Well, it's been a while since I've done one of these! I was replaying Final Fantasy VII recently, and this track really stood out to me when it played in the game. I've heard it plenty of times while listening to the soundtrack on its own, but something about hearing it in the context of the game really made it hit that much harder. On the Other Side of the Mountain is already a pretty straightforward acoustic piece, so my cover is just a 1:1 recreation. Nothing fancy, no frills, just a quick playthrough of a nice tune. A little bit different from my usual metal covers, but I hope you all enjoy this one just the same!




Title: Phantasy Star
Developer: Sega
Publisher: Sega
Platforms: Sega Mark III/Master System
Release Years: 1987 JP, 1988 NA/EU

In the now rather long history of role playing games there have been a surprisingly small number of examples of science fiction settings. It has become more common in recent years, and there are examples from every era, but it would not surprise me to see the difference between traditional fantasy settings skewed in a near ten to one favor against the smaller sample pool of science fiction. The late 1980s saw a huge growth in Japanese role playing games. They had existed for years, even before Dragon Quest became the consensus Grandfather of Japanese RPGs. However, only small developers really played around with them until Chunsoft struck sales gold with Dragon Quest III, coupled with Squaresoft's Final Fantasy series. Larger developers began looking at this design formula as an emerging market and began developing their own projects. Sega was rather quick to fill this growing niche on its own hardware, developing Phantasy Star for the Sega Mark III or Master System as it was also known as.



Continue reading Phantasy Star




In February, get ready for the return of RF Generation's community playthrough and another great title presented by the Shoot the Corecast!



FEBRUARY 2022 COMMUNITY PLAYTHROUGH


After a few month hiatus, the Playcast boys are back with a different kind of James Bond adventure than you might be used to. In February, join the community playthrough as we make our way through one of the limited RPG titles offered on the original Game Boy, James Bond 007. Released a year after the smash hit Goldeneye on the N64, James Bond on the Game Boy is an action/adventure RPG where you play as the famed Agent 007. While most games in this franchise were 1st and 3rd person shooters, this rarely discussed Game Boy title bunked the typical format and created a fresh narrative outside of the film series. However, fans of the movies won't be disappointed as they can expect some welcome fan service via appearances from a few favorite Bond villains! The overhead view and mechanics are reminiscent of the original Legend of Zelda and similarly, your inventory can be assigned to your A & B buttons. Was James Bond 007's lack of popularity due to its late release on the Gameboy, or is this game best left CONFIDENTIAL? Join us in February and find out!

James Bond 007 is available on the original Game Boy. We are very excited about February's pick, so be sure to obtain your copy as soon as possible and join us.

Also, be sure to join our forum HERE to discuss the game with fellow site members.

----------------------------------------------------------------------------------------------------------



FEBRUARY 2022 SHMUP PLAYTHROUGH




Sometimes, a game developer comes up with a winner, a real hit. When that happens, and they follow that up with something different, the results aren't always as successful. That lack of success may be creative in nature, or purely financial. Or sometimes, the enormity of the initial success simply uses up all the oxygen in the room, so that subsequent attempts to replicate that success never quite get the same traction. It could be said that Irem's initial success of R-Type was a detriment to some of their subsequent games, because it's difficult to capture lightning in a bottle in the same manner. Such could be said about their vertical shooting game follow-up, Image Fight. While it was far from a failure, it certainly didn't replicate the success of its predecessor, both in terms of broad appeal, and overall success. Even so, the game was a popular arcade title, and saw conversions on a number of platforms, such as the PC Engine, Famicom and NES, Sharp X68000, and the FM Towns computer. More recently, the arcade version has been made available on PS4 and Switch, thanks to Hamster's Arcade Archives line.

On a fateful day in 20XX, the Earth's moon exploded into four large fragments and a multitude of meteors. Aliens from afar had succeeded in destroying the West's moon base. One after another, mankind's other military industrial space complexes were being lost. What mankind dreaded had come to pass. Scores of unidentified fighters were in the area. In addition, the moon's main computer, still intact after the explosion, had a strange vegetation coiled around it. Their trademark evil exploits being a dead giveaway, invaders from the Boondoggle Galaxy had arrived to take over the Earth. To counter these evil forces, leading scientists from all over the globe created the "OF-1" Fightership. Combat pilots depart the Earth to fend off the invaders and earn everlasting glory. Join the RF Generation Shmup Club in February 2022 as we take on the "vertical R-Type" known as Image Fight!





Giddyap Partner!, you'll be late for this month's "A Brief Look At" with Neo!

This month, we check out West of Dead for Switch (shown), and all the other usual suspects!



Photo by cottonbro from Pexels


Tetris Effect - Like many before me I wondered "how can they make Tetris worth playing in VR?" before firing this up. I tried it out last year when I acquired my physical copy from Limited Run, but it didn't get its hooks in me at the time. In my search for VR titles to play, I discovered that the main game mode for this game (which is all I have played), is rather short, so I dove back in. The pull of Tetris Effect is that yes, it's the Tetris that we all know and love but set against some beautiful and fantastic backdrops and integrated with an amazing soundtrack by Hydelic.


Continue reading VR Season Part III





Now that we are a couple of weeks into '22, and since co-op is kinda my jam, I figured I'd do a quick recap on some co-op games you may have missed last year. This quick list excludes some better known titles such as It Takes Two, The Ascent, and Back 4 Blood, and instead focuses on some that may have slipped through the cracks. Oh, and I won't mention how much I enjoyed Aliens: Fireteam Elite because I've already mentioned it in a few articles, so I won't bring up how much fun I had with Aliens: Fireteam Elite again in this article and how you should find two friends and play through Aliens: Fireteam Elite. Also, I didn't get around to KeyWe or Very Very Valet, both of which I intend to pick up but have yet to do so.


Continue reading Some of 2021's Lesser Known Co-Op Games Worth Playing Into 2022



I can't say that 2021 was the best year ever for video games. Many of the games I was looking forward to got delayed. Some came out and just weren't that good. But, there are always gems out there, especially in the indie space. Here are my top 10 games from 2021, which include both indies, major releases, action, racing and a lot of comedy.



Truth be told, I've only dabbled in Final Fantasy XIV a bit, and I'm not sure if I actually heard this theme in the game or not. But when Torn From the Heavens came up as an 8BBG track, I was really intrigued and was looking forward to working on it. I was working on my recently posted Those Who Fight cover at the same time as this one, so that's where most of my creative energy went during that time, so this ended up being pretty much a simple recreation of the original track. Nonetheless, I still think this cover turned out pretty decent, and I hope you all enjoy it!




It is the express purpose of this column to bring light into dark subjects, to bring hope where there is despair. For every great game or game genre, there is a trope, game mechanic, or other characteristic that is often maligned, even hated. I am here to defend the defenseless, to uphold justice where none has prevailed, to give meaning where once none was found. No game is perfect, but not every flaw is glaring. My job is to show that some of these things have redeeming value.


Continue reading In Defense Of...The Mega Man Slide



Final Fantasy VII's main battle theme Those Who Fight has always been one of my favorite tracks in all of VGM and was one of the main tracks I wanted to cover when I started my channel. I purposely held off on doing it though because I didn't think I could do it justice at the time and wasn't confident that I would be able to make the cover I really wanted to make until I had some experience under my belt. So fast forward about a year and half later, I've improved and somewhat learned the ropes with making these covers, and I finally feel like I've 'found my sound' if that makes sense. The time finally felt right to create my own interpretation of a very important piece of music. Was it worth the wait? Yes, it was. I can confidently say that I made the cover that I always wanted to make. I still don't consider it perfect, but after delaying it and working on it for an extra week, I knew I would never be 100% satisfied with it. It's time to call it done and move on. It's extremely gratifying for all the ideas I had swirling around in my head for the last couple of years to finally come to fruition, and I really hope you all enjoy this one as much as I enjoyed making it!



It's time to Duel with this month's "A Brief Look At" with Neo!

This month, we check out Ascension for PC and Mobile (and a physical card game)!




---

Posted on Dec 20th 2021 at 01:00:00 PM by (

GrayGhost81

)

Posted under

vr
Photo by Mikhail Nilov from Pexels


Bood & Truth - Originally conceived as a sequel in the Getaway series, Blood & Truth sees the player as a small time London gangster embroiled in a battle with a rival family who are trying to execute a "hostile" takeover. With the move controllers, you will mostly be shooting at your foes with a decent variety of guns but also interacting with objects in the environment, including some electronics hacking and lock-picking. The movement is teleportation only but it works pretty well and feels smooth. There is a very minor weapon upgrade system that can be utilized between levels but it is nothing special, especially given the fact that there are only a handful of weapons in the game overall. The game is story driven, but the story never gets in the way of the action. However, I found the characters hard to take seriously. Dramatic moments didn't have quite the impact on me that the developers intended, because the whole thing seemed a little goofy to me, especially given that you can emote with a button press, and one of the gestures you can make is a particular one finger salute. Having said that, Blood & Truth is a must-play for PSVR owners.


Continue reading VR Season Part II



Pictured: Another mainstream media/futurist/political/conspiratorial lie. It is the end of 2021, and not only do we not have flying cars, no one I know has a Hydrosub either. I blame the supply chain breakdown. Giant birds, ornithopters, and 1970s TVs not included.

Merry Christmas and Happy New Year, fellow RFGeners! As we close out the last 365 24 hours together, let us focus on the positive, and not the errors I keep accidentally adding to the database.



Continue reading State of Play 2021 Wrap Up



Symphony of the Night is a game I've dabbled with over the years. Around the time the PlayStation was current, a friend lent it to me and I had some fun with it before getting lost in the castle and having to give it back. Then I tried playing the digital edition that released for XBox many years later, and fell off it again. I finally sat down to play it for real, from a disc on a PS2, and I absolutely loved it. I've grown a huge appreciation for metroidvanias over the last few years, and this one is still one of the best.



---

Posted on Dec 14th 2021 at 01:00:00 PM by (

MetalFRO

)

Posted under

Shoot the Corecast

,

Shmup Club

,

Irem

,

Tamtex

,

R Type

,

SNES

,

Super Famicom

,

Super Nintendo

,

shooting game

,

shoot em up

,

shooter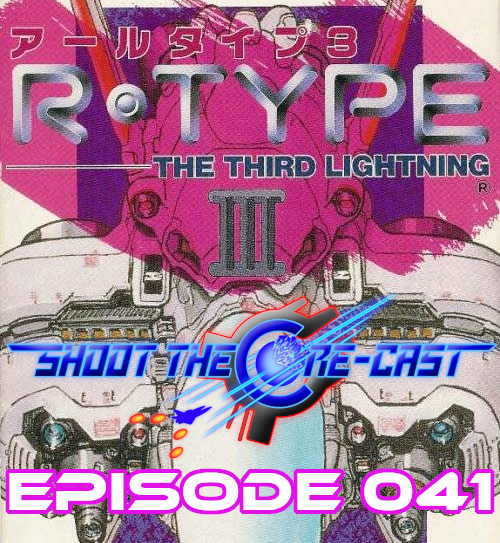 In Episode 041, MetalFRO and Addicted take a close look at a game from a venerable arcade developer, as it moved away from the arcade setting, and into people's living rooms. How does this third entry in the R-Type series fare against its arcade forbears, and does it successfully bring the formula home?

You can stream or download the episode right here on RF Generation:
https://www.rfgeneration.com/podcasts/shmupclub/?name=2021-12-13_stcc_ep_041_r-type_iii.mp3

Or check out our Linktree page, to find the feed for your preferred podcast platform:
https://linktr.ee/shootthecorecast

Check out the original discussion thread for the game here:
http://www.rfgeneration.com/forum/index.php?topic=19618.0

Thanks for listening!