I bet you were wondering if this was ever going to get posted, well I am happy to report that here it is and I now have a functioning pinball machine, although it still has its fair share of problems....
As I said in a previous blog I am posting the website that I sent my PCBs off to.
www.hucks.biz/
The owner and repair guy is Les and he did a great job and his prices are very reasonable. What finally made me pick him was his repair time quote of 4 days. I had gotten a quote from another website of 2 months. I recommend him to anyone who does not feel comfortable repairing PCBs as he is very friendly and had no problem answering my multitude of questions.
Anyway enough about that, back to the game at hand. So I got the boards back Tuesday but I was not able to get them from the post office until Wednesday. So Wednesday morning I head out at eight in the morning so that I can be there at open. I quickly run in and grab the box and rush home at which point I head to my computer so that I can look at all the pictures I took before I sent the boards off. For anyone who has not seen inside the top of a pinball machine, here is what it looks like: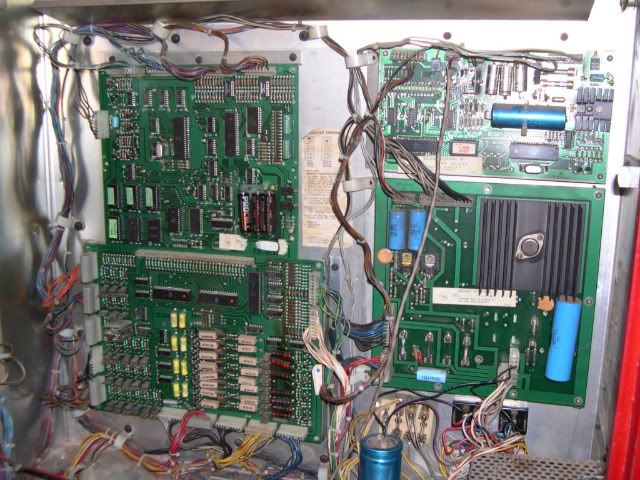 As you can see there are one or two sets of wires that need to be reattached. I pulled up the pictures that I had taken so that I would be able to tell what wire went where, and I am glad that I did since a few of the wires could have gone in a couple places. After checking and rechecking that I had put the wires in the right place it was time to turn it on. I was a bit nervous since I hoped that I had not spent the money getting the boards repaired for nothing. I turn the power on and the game boots up as it did before but this time the lights go into attract mode. I flip the coin sensor a couple of times and it registered that there are credits. I push the start button and begin my first game at which point the game tilts and I notice that one of the stickers has come off a drop target. I have the glass off so I reach in and pull it off. Getting back to the tilt, this is odd I think to myself, but I pull the plunger and let the ball fall all the way down and begin the second ball. This time I have no problems and send the ball up and start to play, the ball comes down and I hit the flipper and the ball goes "shooting" all the way up to mid-field where it arcs and starts to come back down, at which point repair the flippers gets added to my "To do List." After playing a bit more there is some technique to getting the flippers to work well but I have ordered some replacement parts so they will be fixed shortly. I have a great run on the two balls and I manage to pull off a free game on my first game.
Another repair job that I now have on my list is to reset all the inserts in the playfield. Although not as bad as some pinball machines where the ball will actually get stuck on mine the ball with get deflected and change trajectory. Although not always a bad thing since it has saved the ball from going down it can get annoying and is damaging the playfield. I have started to work on this project since the last of the cleaning supplies that I ordered has not come in yet. What this entails, for those who do not know, is lifting the playfield so that you can use a hair dryer to heat up the glue that is still holding the insert in place then pushing on it so it pops out and finally gluing it back in place. I worked on some of the worst ones first and there is a definite improvement but I did not do the greatest of jobs so I will need to go back and refit them again in the future. Also these are the ones where the playfield has the most damage from them being sunken so that also plays into the problems I am having with the inserts not being in perfect position.
Something else that I have noticed is that the decals on the drop targets have seen better days so those will need to be replaced and the spinners do not seem to spin as well as they should, I am not sure what the problem is with these so I am going to try taking them apart and cleaning them before I just buy new ones.
One other project that I have started on is cleaning the rollover switches, as seen here: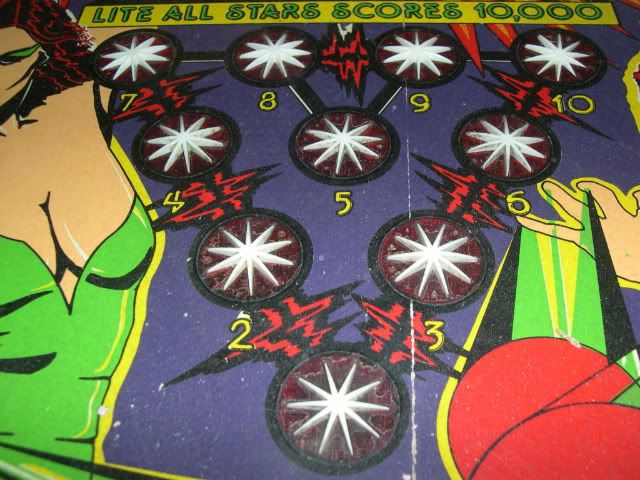 The four at the top are the ones that I have cleaned and the others are going to be cleaned shortly after posting this. Three out of the four are now registering hit better but number Seven is still having some minor problems but I think that might be a connection issue.
I am still waiting on the cleaning supply that I need and I may even end up just ordering another one. I keep telling myself not to play it because I will end up damaging the playfield due to the dirt that is still there, also the ball needs to be replaced so I have ordered a couple of those. In this order I also have 13 boxes of light bulbs so that I can replace them all with more energy efficient ones.
That about sums up all that has gone on since my last post. Hopefully by the time I post again I will have some before and after photos of the playfield but at this point I am not holding my breath.