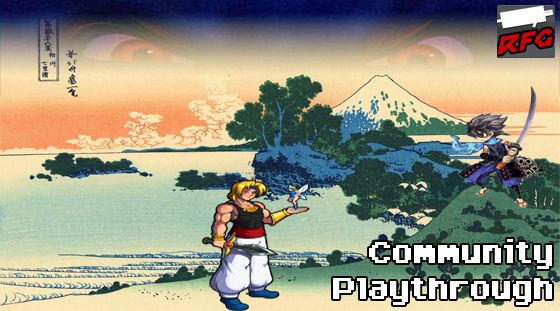 As a means to be better host to our playthrough participants, we are announcing our August playthrough selections a bit early. Though these titles will not break your bank, they can be a little troublesome to locate, so we are giving you a bit of additional time to
track down these games
.
This month on the Retro Playthrough, we head back to Sega with
Beyond Oasis
for the Genesis. Many have criticized Sega for not having a game or series on the Genesis similar to or rivaling Nintendo's Zelda series. Others argue that
Beyond Oasis
is this "missing link" and provides a somewhat similar overhead gameplay experience with an added touch of beat 'em up stylistics. In
Beyond Oasis
the player controls Prince Ali, a young man who discovers a sacred golden armlet with the power to summon elemental spirits. Ali must do battle across the land in an attempt to stop the person who has located the silver armlet and is using it for evil.
Beyond Oasis
can be played on the Sega Genesis, the Wii's Virtual Console, on
Sonic's Ultimate Genesis Collection
for the XBox 360 and PS3, and is currently on Steam. Please join us this month on what promises to be an exciting adventure.
Link to
Beyond Oasis
discussion thread:
http://www.rfgeneration.c...m/index.php?topic=14245.0
In the Modern Playthrough for August, an amnesic fugitive and possessed princess cross paths in the intertwining story lines of
Muramasa: The Demon Blade
. Power hungry leaders are after legendary swords, and it is your duty to stop them. It is the height of the shogun era of Japan and you will have to hack and slash your way to saving the country from dragons and demons. Muramasa is by the same developers as
Odin Sphere
and is similarly a side scrolling hack and slash RPG.
Muramasa: The Demon Blade
is available for play on the Nintendo Wii, PS Vita, PSN, and is a free game this month on PS Plus (be sure to download it before August).
Link to
Muramasa: The Demon Blade
discussion thread:
http://www.rfgeneration.c...m/index.php?topic=14246.0
Interesting note for Muramasa - it's one of the few Wii titles to have a physical Demo copy. It was only available through Play 'n Trade stores. I've got a couple copies of it, and damn I wish I'd taken the 40 or so that he still had...


I've already got Beyond Oasis on Steam, so I'll have to plan to jump in.

Sheesh... first you're way late on the RF Gen Thanks blog, now you're way early on the latest Community Playthrough. Now I love ya and all, but... you really gotta work on your scheduling skills. Just don't turn to me for help, 'cuz mine aren't all that great, either.

@Shadow Kisuragi: Thanks for giving me another reason to bum out over Play-'n-Trade not having any stores within 200 miles of me. That's some major bullsh*t right there...

What can I say Zag? I'm an international man of mystery and have to keep you guys on your toes.

@singlebanana: Oh, behave.

BTW still trying to make your "special request" work properly. Oh, and I really gotta send your prize stuff to you one of these days...

Well wasn't I just about a month too early. Check out my next review on Friday.

Prince Ali?
Fabulous he!

@SirPsycho: You could just postpone the review for a more timely release, you know.

@SirPsycho: I feel the "force" within this site. I recommend Chrono Trigger and bam! Then I ask if Beyond Oasis was tied to Legend of Oasis, and bam! Next thing you know I will start thinking to myself about some random old school title I loved growing up with and bam! ha ha


I would personally say that Crusader of Centy stands out as more of the Genesis/Sega equivalent to the Zelda games, but the Oasis series is all rather good.